Vanilla Crème Brûlée a Classic French Dessert
Some things are just better in France, including dessert. There is no debating the fact that Vanilla Crème Brûlée sounds more appealing than Vanilla Burnt Cream. This baked custard is a classic French dessert. For this recipe, I chose to flavour it with vanilla bean. However, the custard is versatile; you can change the flavouring according to your taste, or the season. The recipe works well with lavender or saffron, but you can stretch the boundaries to more exotic citrus or even coconut.
Enjoy!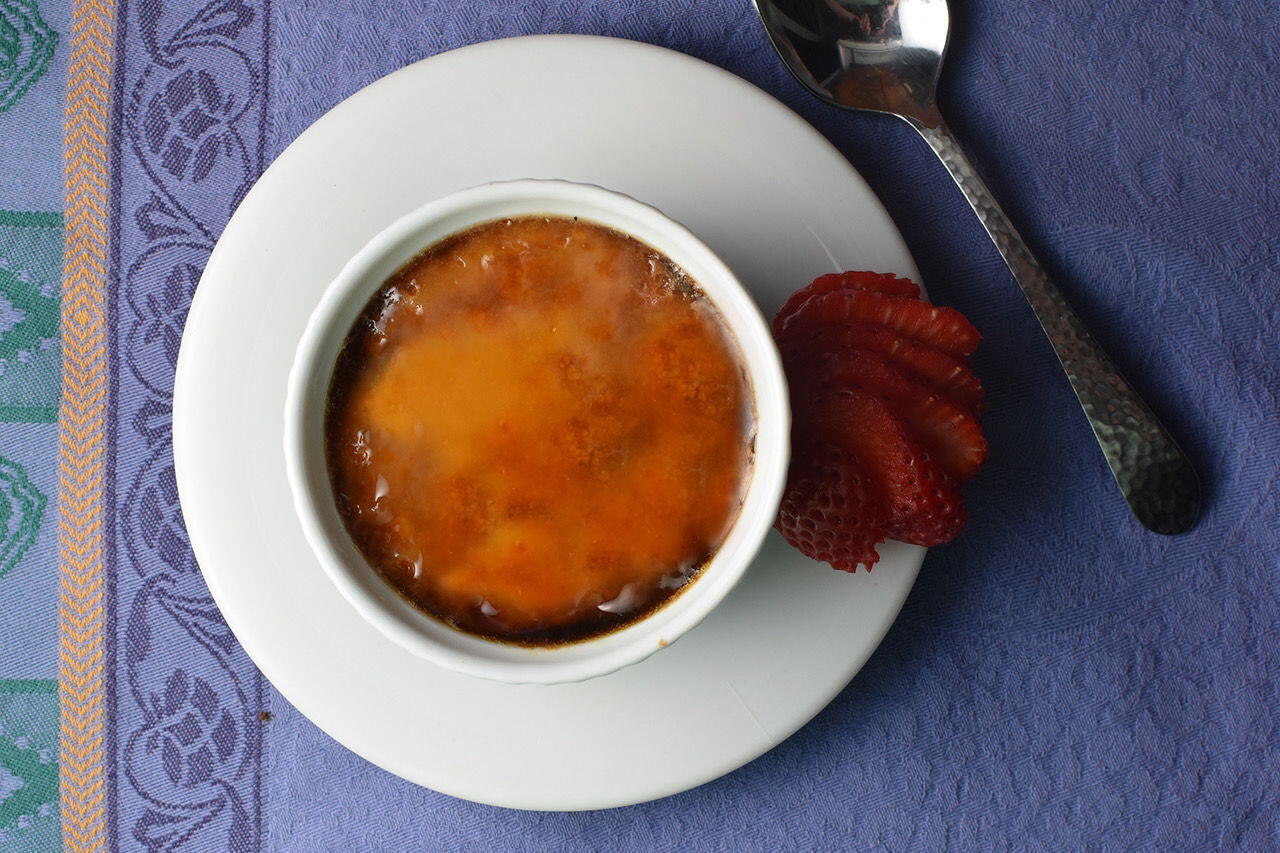 Vanilla Crème Brûlée
Custards are easy to make, but you need to allow enough time for the mixture to cool an set. For this Crème Brûlée version I used a vanilla bean, but feel free to play with the flavourings.
Ingredients
1/2

cup

Granulated Sugar

1

Vanilla Bean

split lengthwise and seeds scraped

8

large

Egg Yolks

2

cups

Whipping cream

6

tsp

Superfine Sugar

6

Fresh Strawberries

for garnish, optional
Instructions
Preheat oven to 325°F. Set a tea kettle, full of water, to boil.

Put 1/2 cup granulated sugar into a medium bowl and add the scraped seeds from the vanilla bean. Using your fingers, mix the bean into the sugar. This will help to avoid clumps of vanilla, and will make your fingers smell fabulous!

Add the egg yolks and whisk to blend, then gradually whisk in cream.

Strain through a fine-mesh sieve into a spouted bowl or pitcher - this will make it easier to fill the ramekins.

Divide mixture among six 1/2-cup ramekins. Arrange ramekins in 13-inch by 9-inch by 2-inch baking pan.

Pour enough boiling water form the tea kettle into the pan to come halfway up sides of ramekins. (I find it a little hard to pour boiling water between the ramekins without getting water into at least one of the custards! To make this a bit easier, I remove one ramekin from the baking pan, pour in the water from the tea kettle, and then put the ramekin back in.)

Bake custards until set in center, about 40-45 minutes (time will vary with the diameter of ramekins and depth to which you filled them). Check at 40 minutes: they should jiggle slightly when they are done.

Place pan on a work surface, and let the custards cool, still standing in the water, for an hour. Remove from water; chill overnight. (Cover after first 30 minutes of chilling so they don't absorb refrigerator smells).

Preheat broiler and set the rack 4-5 inches away from the element. Sprinkle 1 1/2 teaspoons sugar atop each custard; swirl and tilt each ramekin to make an even coating of sugar.

Place dishes on a baking sheet. Broil until sugar caramelizes, rotating sheet often for even browning, about 3-5 minutes. (If you have a torch, you can use it, but the mini torches don't brûlée evenly, so I sometimes start them in the broiler and finish them with the torch.)

Chill until topping hardens, at least 20 minutes and up to 2 hours. Garnish with sliced strawberries.
Notes
- The custards can be made up to two days in advance and kept covered and refrigerated.
- Make sure they are cool before covering them in the fridge. If you cover them too soon, condensation will form, making the custard tops damp, which will make it difficult for the sugar to caramelize.
- If you are going to use dried herbs and spices to flavour the custard, start by placing them in a small saucepan with the cream. Bring the mixture to a simmer, then remove from the heat, cover, and let steep for at least 10-15 minutes to infuse the cream. Strain, cool completely, then continue with the recipe.