Roasted Pears with Crème Anglaise for Dessert
Pears are a fruit that is well-suited to desserts like this one with Roasted Pears and Crème Anglaise. They get sweeter with baking or poaching and add a nice texture to cakes or muffins.
Join us from May 21 – June 1, 2020, for the Pitcher & Powell culinary adventure in Provence. Based out of a comfortable home near Aix-en-Provence, where we will hike, cook, explore and practice yoga. You will come away with new recipes and new friends.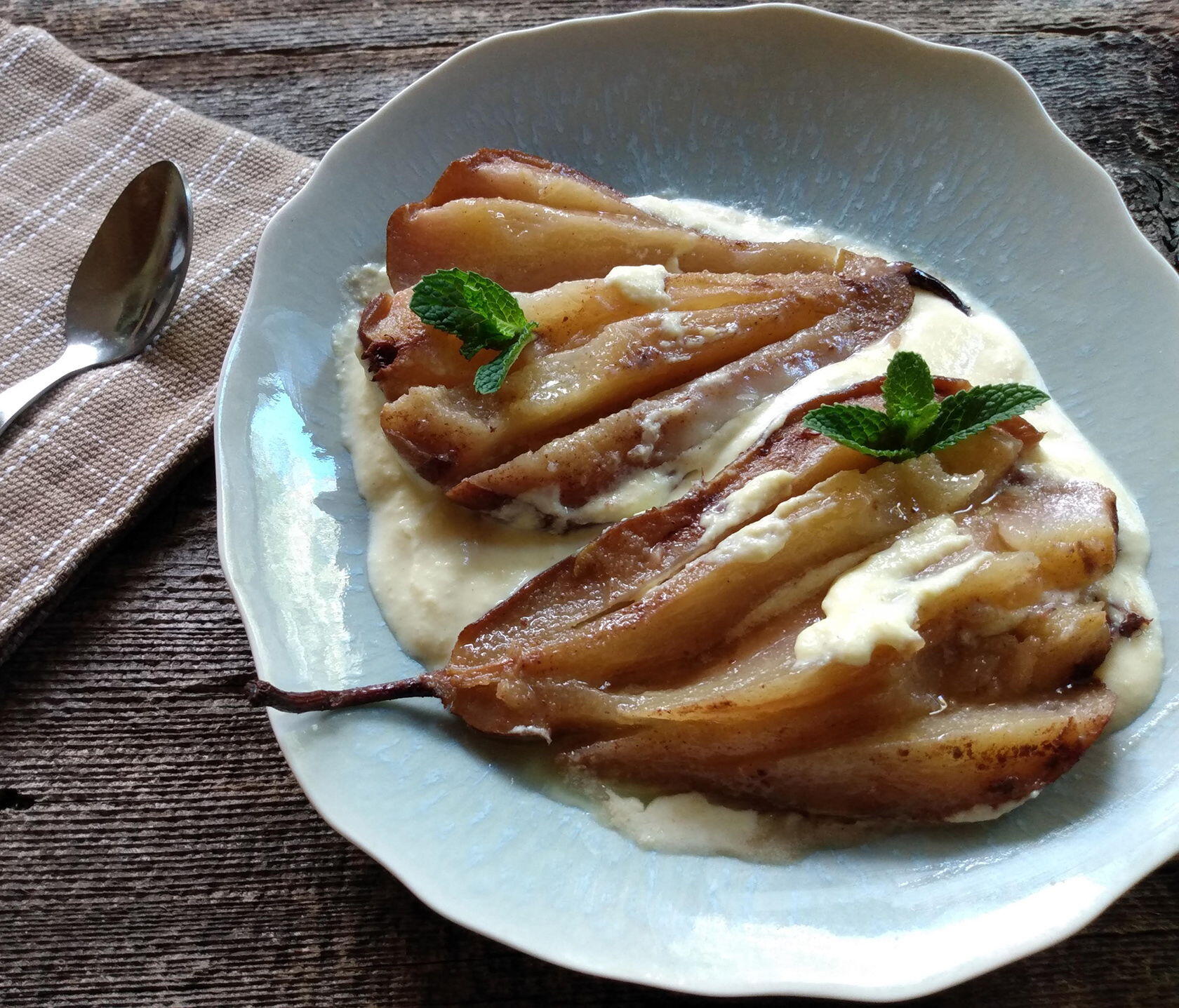 Roasted Pears with Crème Anglaise
Serve one to two pear halves per person, adjust the proportions after deciding the serving size. In this case, I used 1/2 pear per person, but it doesn't hurt to make extra.
Ingredients
For the Pears:
4

Bosc Pears

1/2 per person, or add more pears

½

tsp

Cinnamon

1

tsp

Cardamom

1/2

cup (120 ml)

Honey

4

oz (114 g)

Butter

pinch of

Salt

8

Star Anise

remove after roasting the pears
For the Crème Anglaise:
4

Egg Yolks

1

cup (225 g)

Sugar

1

cup (240ml)

Heavy Cream

1

cup (240 ml)

whole milk

1

Vanilla Bean

split and scraped
Instructions
Method for the Pears:
Heat honey and butter until melted and whisk in spices and salt.

Using a pastry brush, coat the mixture on the pears.

Roast for 20 minutes at 175˚C or 350˚F unless the pears are not ripe, then roast until tender, which may take up to 40 minutes.

Serve with Crème Anglaise.
Method for the Crème Anglaise:
In a medium saucepan, combine milk and cream over medium-high heat.

Scrape vanilla bean seeds into pan, add the pod as well.

Heat over medium heat, just until mixture starts to bubble around the edges of the pan, about 2 minutes.

Remove from heat; cover and let stand 15 minutes.

In a medium mixing bowl, whisk the egg yolks with sugar.

Pour a small amount of the hot milk mixture into the egg mixture, then whisk to combine.

Add more of the milk mixture, and whisk to combine.

Pour this mixture into the remaining cream mixture in the pan.

Cook over medium heat, stirring constantly until custard is thick enough to coat the back of a spoon, about 5 to 7 minutes.

Strain through a fine sieve into a medium bowl to remove the vanilla pod over an ice-water bath. Let stand until cold, stirring occasionally.
Other Dessert Recipes with Pears:
Stuffed Poached Pears with Berry Purée
Tart Provencal Pears and Chocolate