Exploring from Apt 4 Day Trips in the Vaucluse
Jen and Chris Mallon decided to move from England to Apt quickly. They decided in June 2018 and arrived in France that September. Leaving their jobs, selling a house, they headed through the channel tunnel to Provence. After four years in the Luberon, they are busy running Cent Cinq self-catered apartments and welcoming guests from around the globe. So when we asked for some ideas on exploring the region, they gave us four (4) day trips covering different geography.
---
Day Tripping from Apt
I think Apt as a base location lends itself to day trips in every direction – you can do the Gorges du Verdon, Cassis and the calanques, Sisteron, with ease from here. These are four (4) full-day tours that our friends and guests have enjoyed. One of the best things about Provence is slowing things down. So, our advice is not to rush through these itineraries but enjoy the scenery and our tips for places to eat and wine taste.
Day Trip 1: Head for the Hills
Up early for breakfast and a look around in Sault. Make sure to grab some nougat while you're there! Then drive up and over Mont Ventoux, allowing plenty of time to enjoy the incredible views – take a jacket though, as even in summer, the breeze can be cold! Then, down the other side and on to Vaison-la-Romaine for lunch and exploring the Roman and medieval history and cathedral.

Finally, take a gentle route back to Apt while enjoying the wonderful winemaking countryside and stopping for wine tastings along the way. We can thoroughly recommend these two vineyards:
Domaine Rabasse Charavin (website)
1040 Chemin des Girard
84290 Cairanne
Telephone: +33 (0)4 90 30 70 05
Closed on Sundays
Domaine de Durban (website)
2523 Chemin Durban
84190 Beaumes-de-Venise
Telephone: +33 (0)4 90 62 94 26
Closed on Sundays
Day Trip 2: Antiques and Swimming
Head to l'Isle-sur-la-Sorgue – famous as one of the best places in Europe to find antiques – enjoy the mixture of art, antiques and brocantes to be found across the many beautiful shops and antique villages. There are loads of great cafés and restaurant options for a mid-morning pause or lunch alongside the river. Take time to visit the Villa Datris foundation for contemporary sculpture and wander around the exhibits in the house and garden. The excellent weekly market in l'Isle-sur-la-Sorgue is Sunday morning. However, avoid this market in August if you don't like crowds!
Fondation Villa Datris
7 Avenue des Quatre Otages
Telephone: +33 (0)4 90 95 23 70
Entry is free.
Hours and opening days vary through the year.

After lunch, follow the river Sorgue up to Fontaine-de-Vaucluse. A short stroll up the side of the river brings you to the "Fountain." According to experts, the chasm in the rock is large enough to submerge the Eiffel Tower. Then, jump back in the car and follow the river back down a little until you reach Kayak Vert, where you can get on the river in a kayak for an hour or so, enjoying the cool water and the beautiful views as you drift downstream. Travel tip: You get very wet, so swimwear and a towel are recommended! Before heading home to Apt, pick up some excellent wine from Cave de Lumieres – you've earned it!
Cave de Lumières (website)
19 route de Joucas
84220 Goult
Telephone: +33 (0)4 90 72 20 04
Open daily
Day Trip 3: Village Tour
Tour the Southern Luberon. Start your day in Lourmarin for coffee and croissants in the bustling cafés in the centre of town. Then spend some time exploring its wonderful boutique shops. If time permits, pop into quaint Vaugines and then on to beautiful Cucuron and find an excellent spot for lunch along the edge of the "étang" in the shade of the plane trees. Follow lunch with ice cream from La Glacière.

After lunch, head to Ansouis with its stunning fortified church and breathtaking views, then carry on the east to Tour d'Aigues, where the magnificent ruined château dominates. Just on the edge of the town centre, you'll find the shop of an excellent wine domaine, Marrenon. With a vast range of local wines and a wealth of knowledge, you'll be sure to pick up something that you can take home to go with dinner. If it's a hot day, finish up with a swim in the Etang de la Bonde.
Marrenon (website)
Rue Amédée Giniès
84240 La Tour d'Aigues
Telephone: +33 (0)4 90 07 40 65
Day Trip 4:Views with Wine and Cheese
Start the day in Simiane-la-Rotonde. Enjoy a coffee and croissant from the bakery on the main road below the village. Then, explore the town, working your way up to the château and its incredible rotonde. Be sure to buy a joint ticket for the Jardin de l'Abbaye de Valsaintes – that's where you're headed next – just in time lunch in their fabulous restaurant. A haven of tranquillity and excellent food right in the middle of nowhere! Afterwards, wander and enjoy the heady scents of the rose garden.

Next, you've got a choice of direction – continue up to Banon. The perched village is famous for its strong goat cheeses. Or head south to Oppedette and Viens for strolling around the lovely stone villages – if you like honey, then the specialist shop in Viens is a must.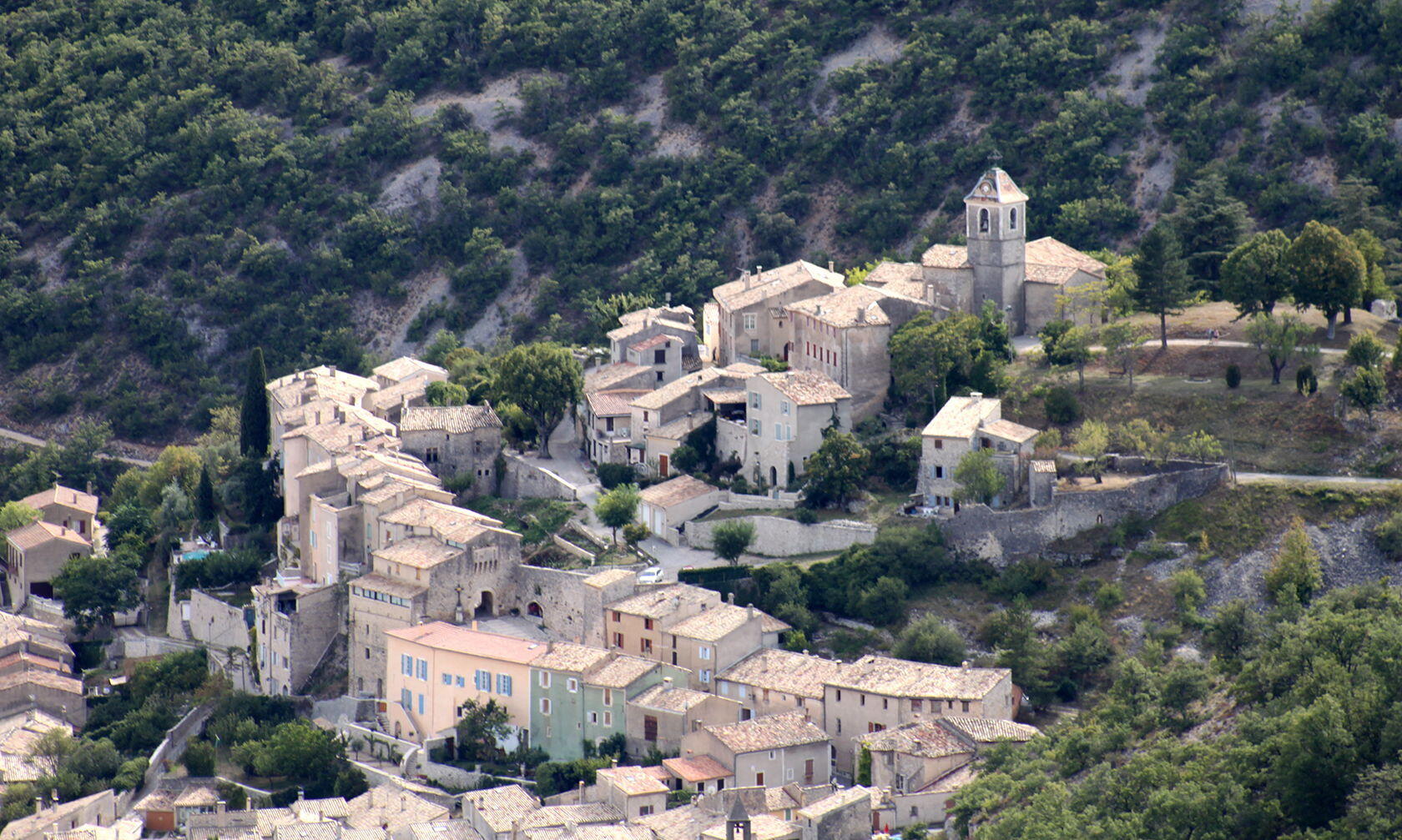 Then head south and back to Apt along the main D900 – keep an eye out for the signs to Domaine Alloïs, where you'll find lovely local wine.
Domaine Alloïs (website)
84750 Caseneuve
Telephone: +33 (0)4 90 74 41 16
Closed on Sundays
---
Where to Stay?
Perfect for a family: With 5-bedrooms, Chez Manon is at the end of a private driveway, surrounded by grounds and farmland. It is a tranquil, relaxing place to unwind and explore Provence.
Apartment in Apt: Cent Cinq welcomes guests all year round for short and long stays. These fully renovated self-catering apartments are located in an 18th-century townhouse in Apt, a vibrant market town in the heart of the Luberon. Each apartment has a bedroom and bathroom and an open plan kitchen and living area and sleeps a maximum of 3 guests.
Village townhouse: Au Coin des Amis is a gem of a village home in Rustrel, a quiet Luberon Valley. Dating from the 1700s, this fully-restored three (3)-bedroom house is just this side of heaven. The 190 sm / 2,000 sq ft home was previously owned and elegantly and meticulously restored by an antiquarian. This village house has three (3) luxurious bedrooms and 2.5 bathrooms. The bedrooms offer plenty of privacy and breathtaking views of the famous wine-producing Luberon Valley.
All rights reserved. Perfectly Provence articles and other content may not be published, broadcast, rewritten (including translations into other languages) or redistributed without written permission. For usage information, please contact us.
Syndication Information
Affiliate Information
As an Amazon Associate, this website earns from qualifying purchases. Some recipes, posts and pages may have affiliate links. If you purchase via these links, we receive a small commission that does not impact your price. Thank you in advance for supporting our work to maintain Perfectly Provence.