Holiday Apartments in Apt a Place to Explore Provence
Jen and Chris Mallon are British transplants. They sold everything in 2018 and moved from England to Apt in the South of France. It was a quick move they decided to relocate in June and arrived in France at the end of September. They left their jobs, sold a house, put everything into storage and headed through the channel tunnel to begin a new life in Provence.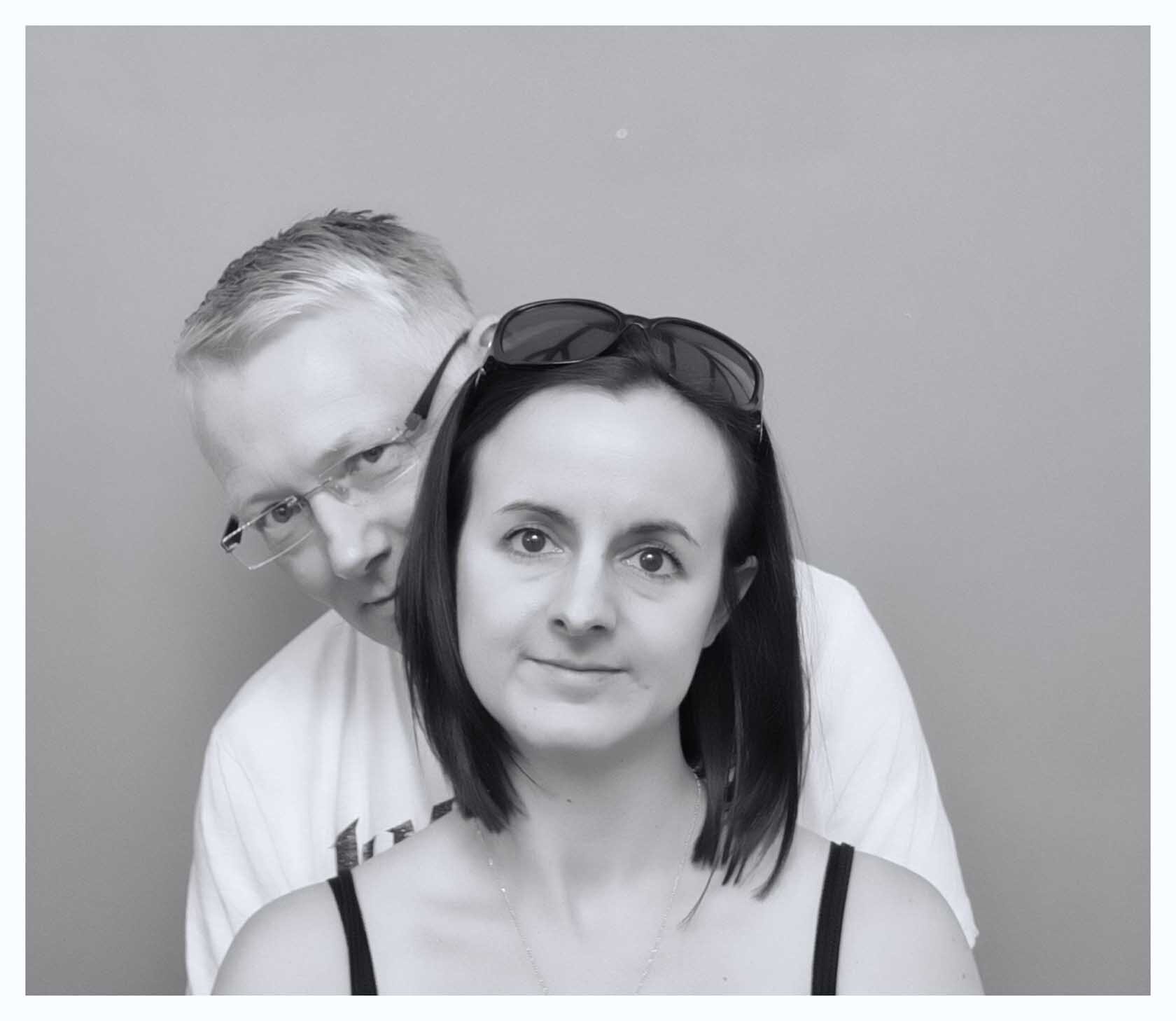 They had always planned to move "eventually," but instead made it happen "now." Jen's parents have lived in Provence for 14 years, which gave the young couple a home base while they looked for their home. Since arrival, their language skills have improved from basic "restaurant French" to conversing with trades and suppliers for their renovation project.
They have an excellent French teacher.
The Mallons agreed to answer some questions about Apt, their home in Provence, and the place where they decided to create rental holiday apartments "Cent Cinq" for visitors. With 11,000 + residents, Apt is one of the larger towns in the Vaucluse. There is plenty to see, do and eat without leaving Apt. This location is also perfect for exploring the Luberon Valley and further afield in the Vaucluse.
---
Where I Live, Apt
Tell us a bit about where you live in Provence?
We live right in the heart of Apt, just a few paces from the Cathédrale Saint Anne. Apt was a Roman town (Apta Julia), and our house sits on Roman remains from the 2nd century, located just on the edge of the site of the Roman amphitheatre. Today, Apt is a thriving market town – with the biggest market in the area every Saturday. It serves a big rural community, with schools and hospitals and is the capital of the Luberon, a stunning area to visit by car, on foot or by bike.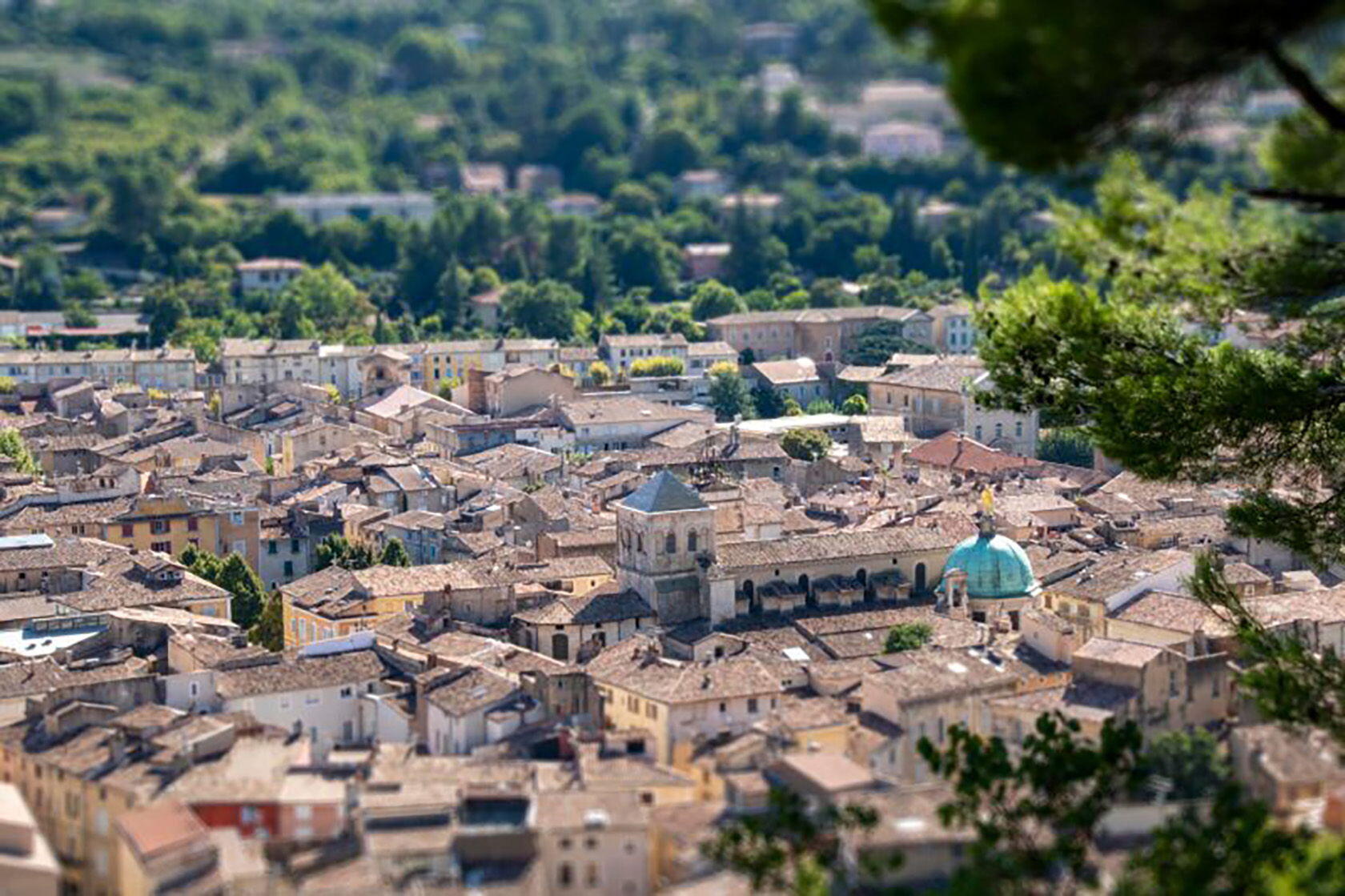 We've been here a year – we chose Apt because it offers a balance of things to do and places to eat but at the same time is quiet and relaxed. Also, so many villages are empty and closed in winter, and we wanted somewhere that stayed open as we live here permanently. With its thriving community, there is always something going on in Apt – art, theatre, cinema, talks, concerts.
Apt is a treat to visit any time of the year and a great base to explore gorgeous Provence. Because Apt is a "working" town, it feels more vibrant, authentic, and French than some of the well-known tourist spots.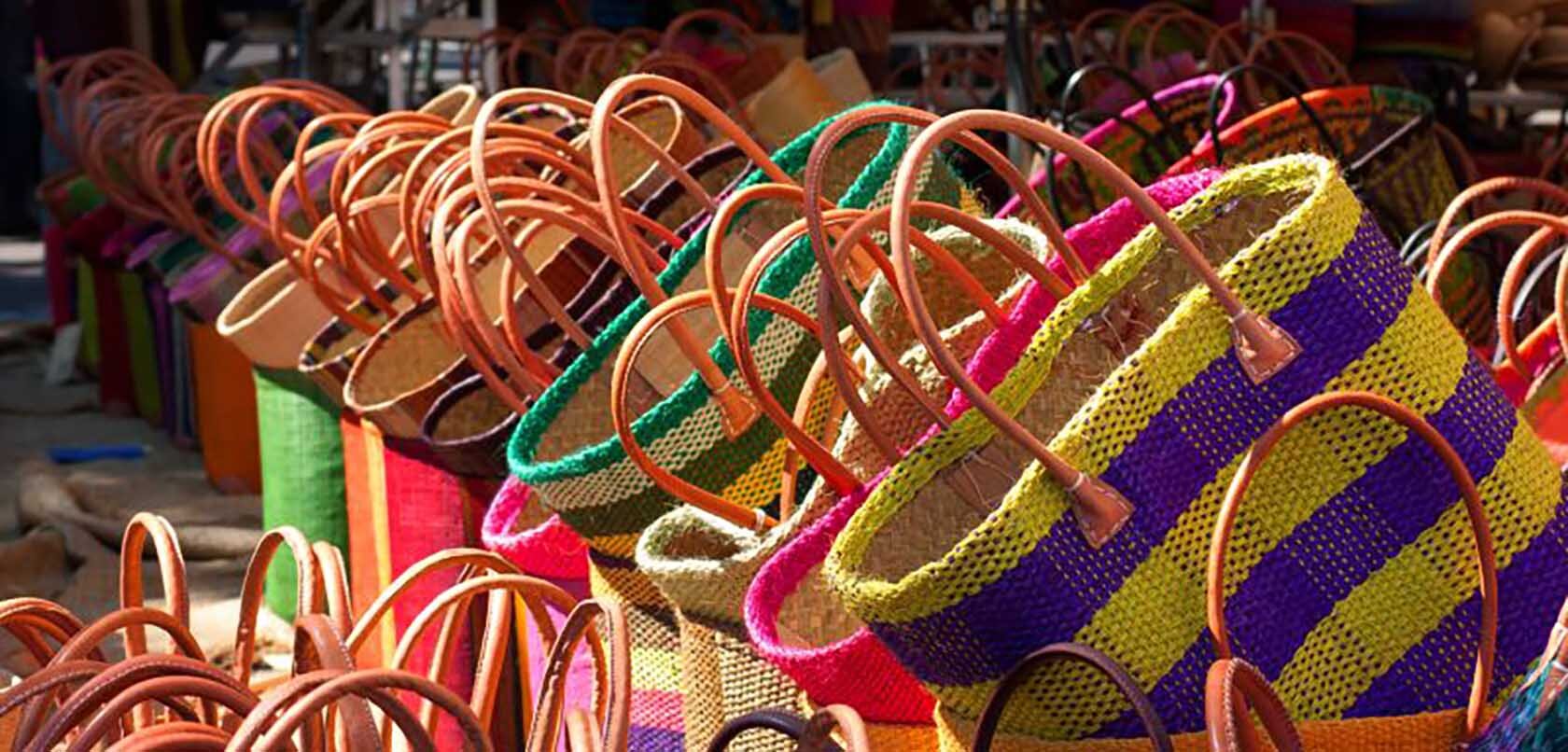 The main market day is on Saturdays, with a smaller farmer's market on Tuesdays. Luckily for us, there is a big cheese stall that stall sets up right outside our front door, and it's much too tempting. There are far too many vendors to pick a favourite!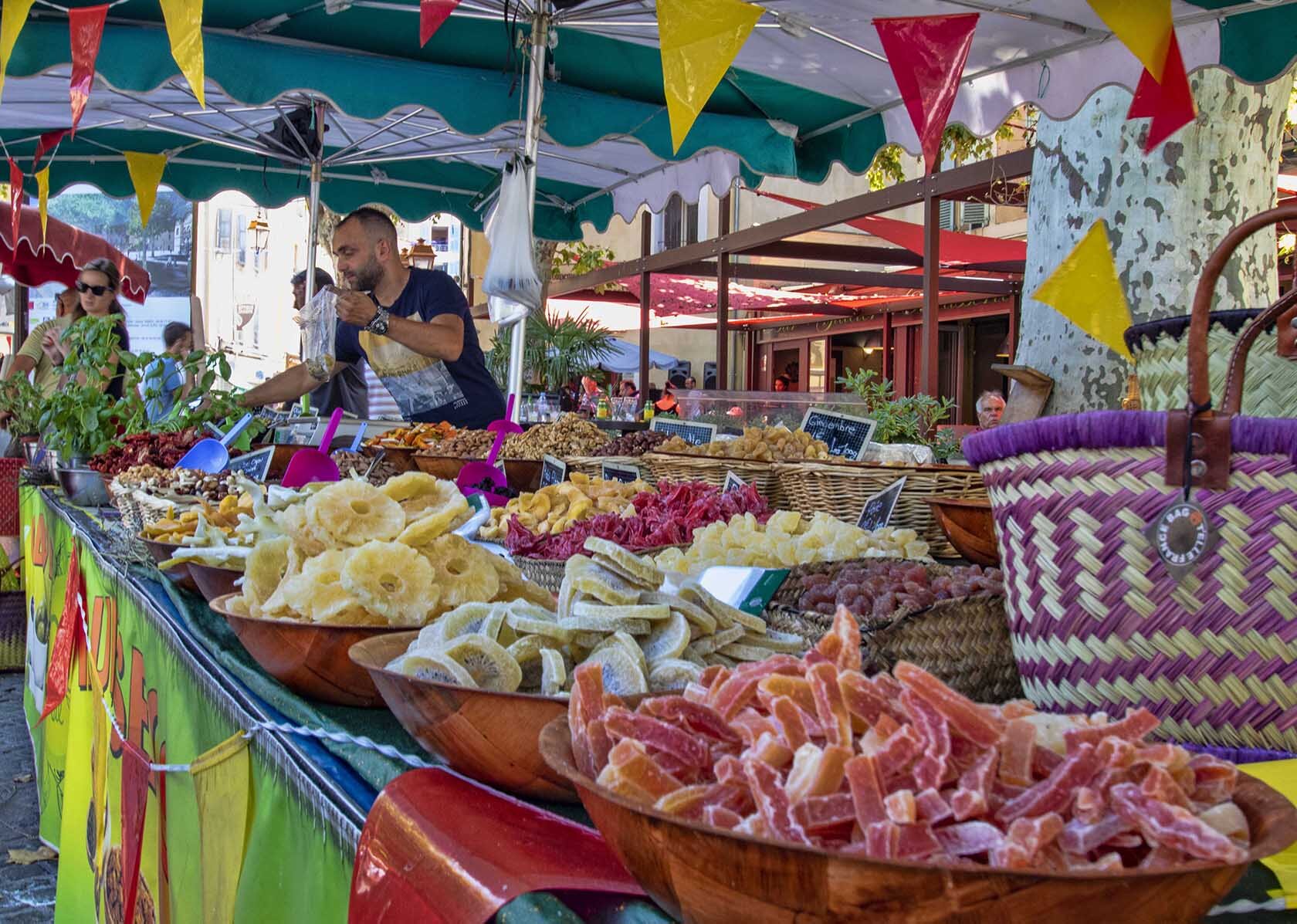 Why (in your opinion) is Apt a great place for someone to visit?
Apt is the perfect combination of town and country. There are cafes, restaurants, bakeries and amenities, but within minutes you can be sampling wine in nearby vineyards or climbing the hills of the Luberon.
Is there a must-see attraction in Apt?
The Cathédrale Saint Anne with her dome is pretty spectacular, but the winner for us is the Saturday market. The market is an experience for all of the senses. Every Saturday, you find fresh produce, Provencal gifts, lovely cafes made for relaxing and a finish with delicious lunch from the shopping venture.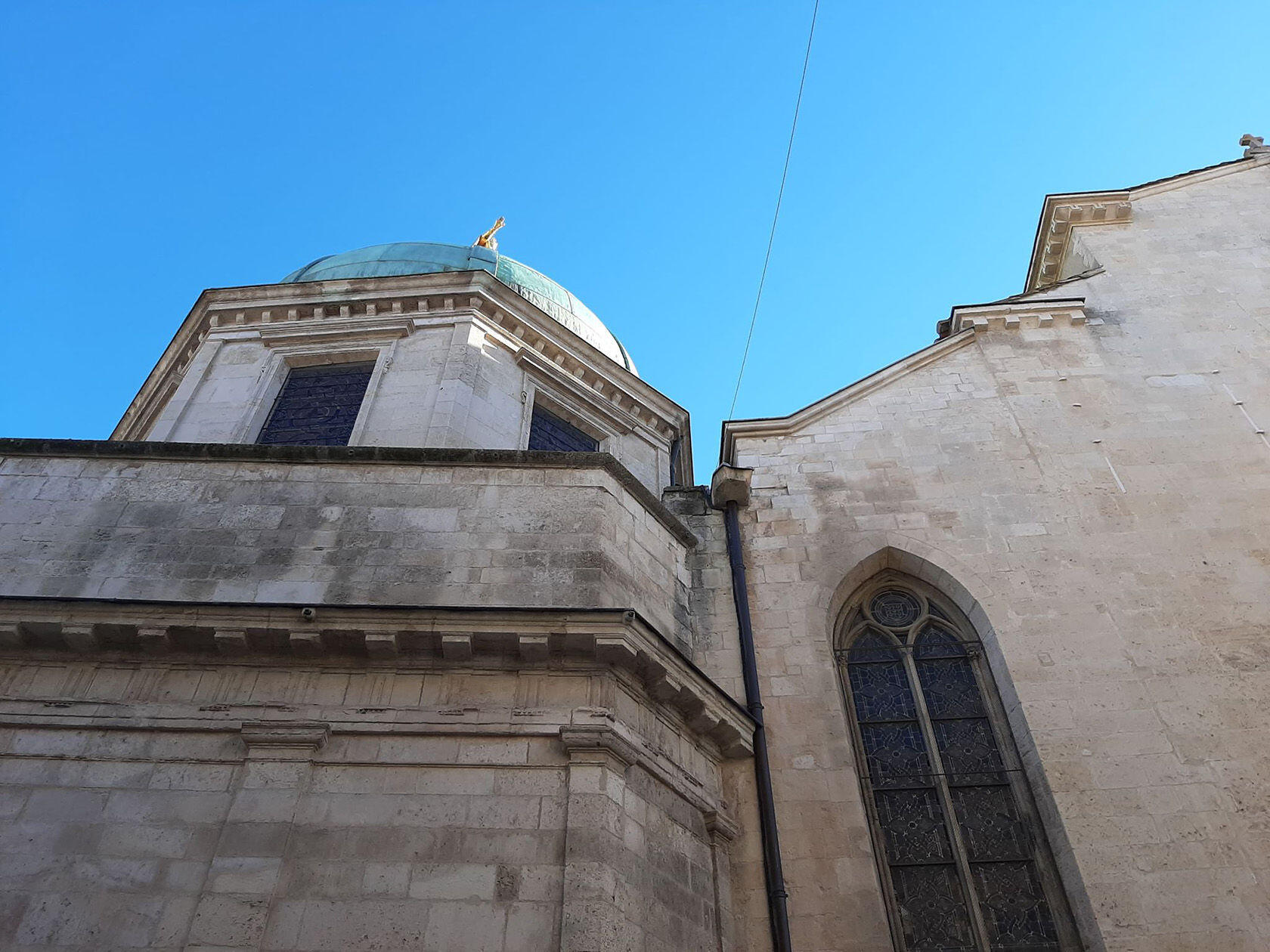 Eating and Drinking in Town
Where do you go for coffee?
Les Colibris is just a few doors down from us at 152 Rue des Marchands. They offer a fabulous selection of teas, coffees and cold drinks as well as cakes, biscuits and chocolates. Decorated in a bright collection of colours and prints, the interior of the building is charming. The courtyard is an excellent place to spend a quiet hour with friends (or with a book).
Do you have a favourite bakery?
Is it wrong to say all of them! Although, the Boulangerie Banette on Place de la Bouquerie does have a fabulous almond croissant.
Where do you recommend for a casual lunch with friends?
The crêperie Le Chant De L'Heure on Rue Saint Pierre is a lovely relaxed spot for dining. In the winter months, there is a log fire and during the summer a beautiful shaded terrace.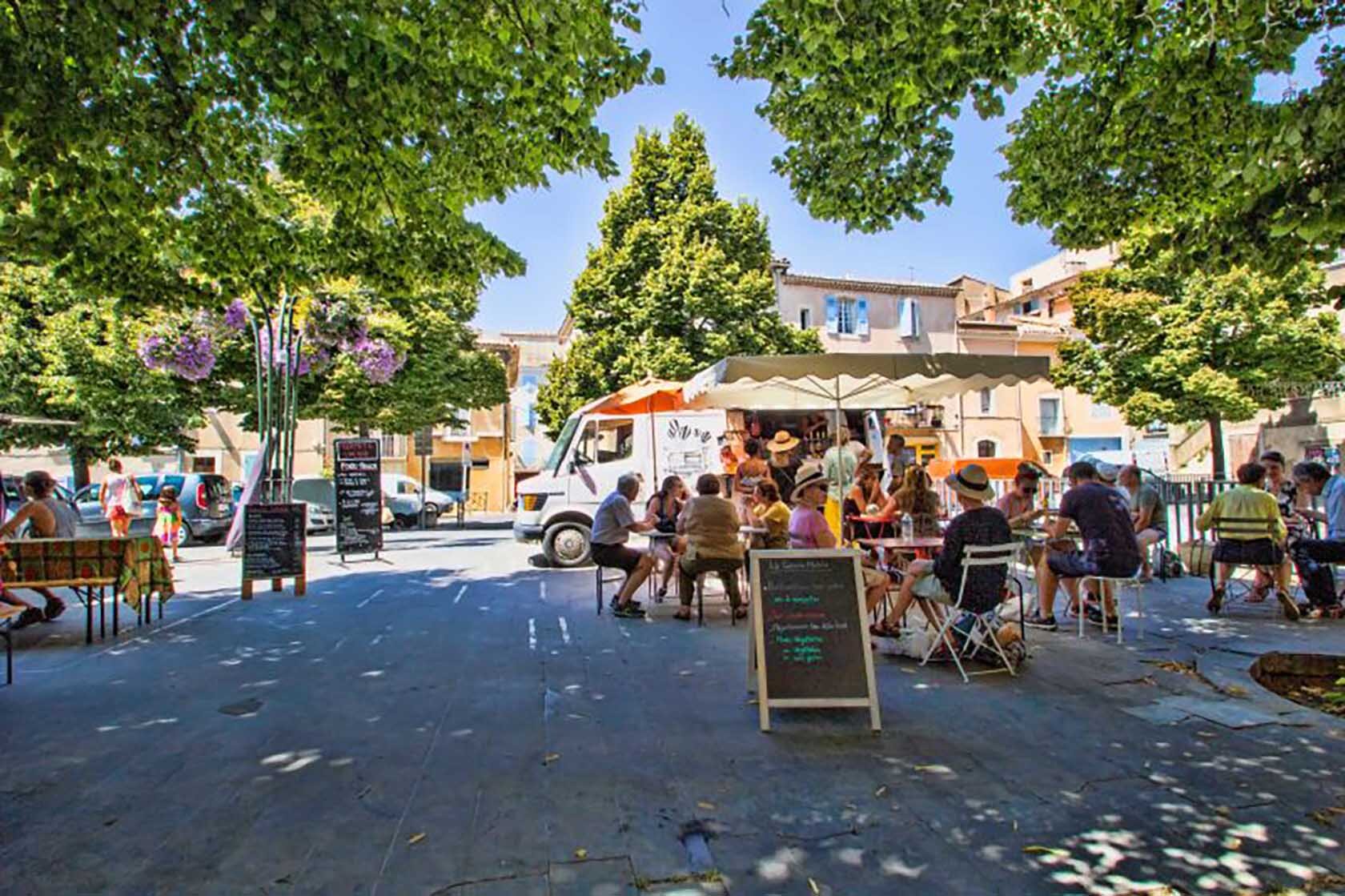 Where is your go-to spot for an apéro?
Café Les Valseuses and Le Bistrot du Septier – just across from each other on Place du Septier are both great for a drink. In the summer, there are outside tables areas and deck chairs – perfect for reclining with a cold beer or a sangria.
Café Les Valseuses
16 Place du Septier
Le Bistrot du Septier
17 Place du Septier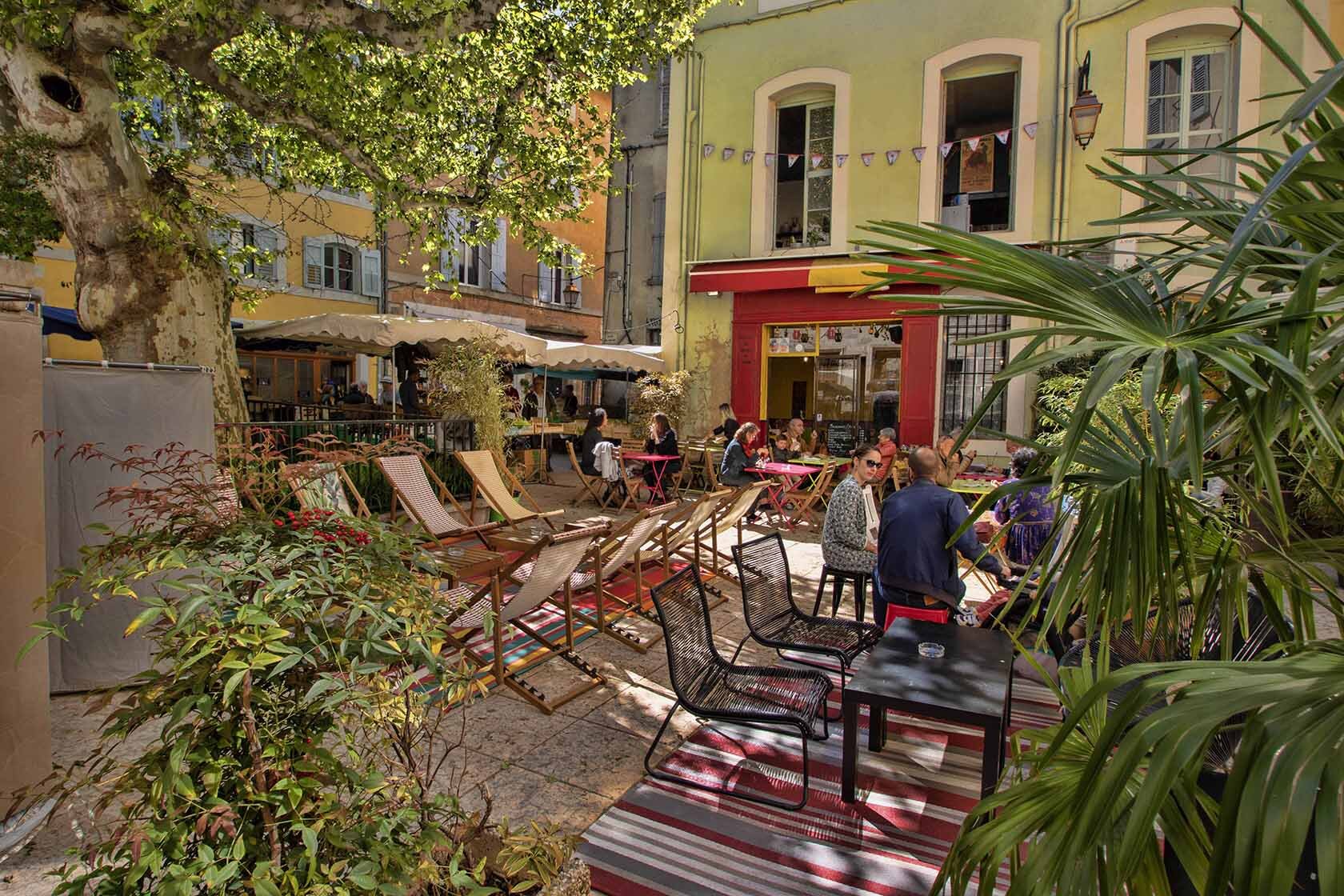 What is your top pick for a romantic dinner?
In Apt, there's so much choice, but dining under the trees on the terrace at Au Platane on a summer evening is just perfect. I'd also pick Le Bistrot du Coing, which is just outside Apt in Saignon. Renovated last year, the restaurant's new team produces delicious food and offers fantastic service.
Au Platane
25 Place Jules Ferry
Closed Sundays and Wednesdays
Le Bistrot du Coing
Le fangas
84400 Saignon
Where do you like to go for dinner with friends?
Le Flamand Rose is right around the corner from us at 39 Rue René Cassin. The menu includes fabulous wood-fired pizza and local wine from Domaine de Mayol.
What about Shopping in Apt?
Where do you head to for clothes (sport/fashion or other) shopping?
Apt's Saturday market. There is so much selection in clothing, and the colours are so vibrant.
What about shopping for home decor?
For a combination of old and new – local brocantes and antique markets are such great places to find interesting pieces. Fabric for reupholstery and curtains almost always comes from Tissue Gregoire (the main shop is at Saint-Saturnin-lès-Avignon, but they have a big stall at Apt market ). For painting furniture, we love the range from Libéron.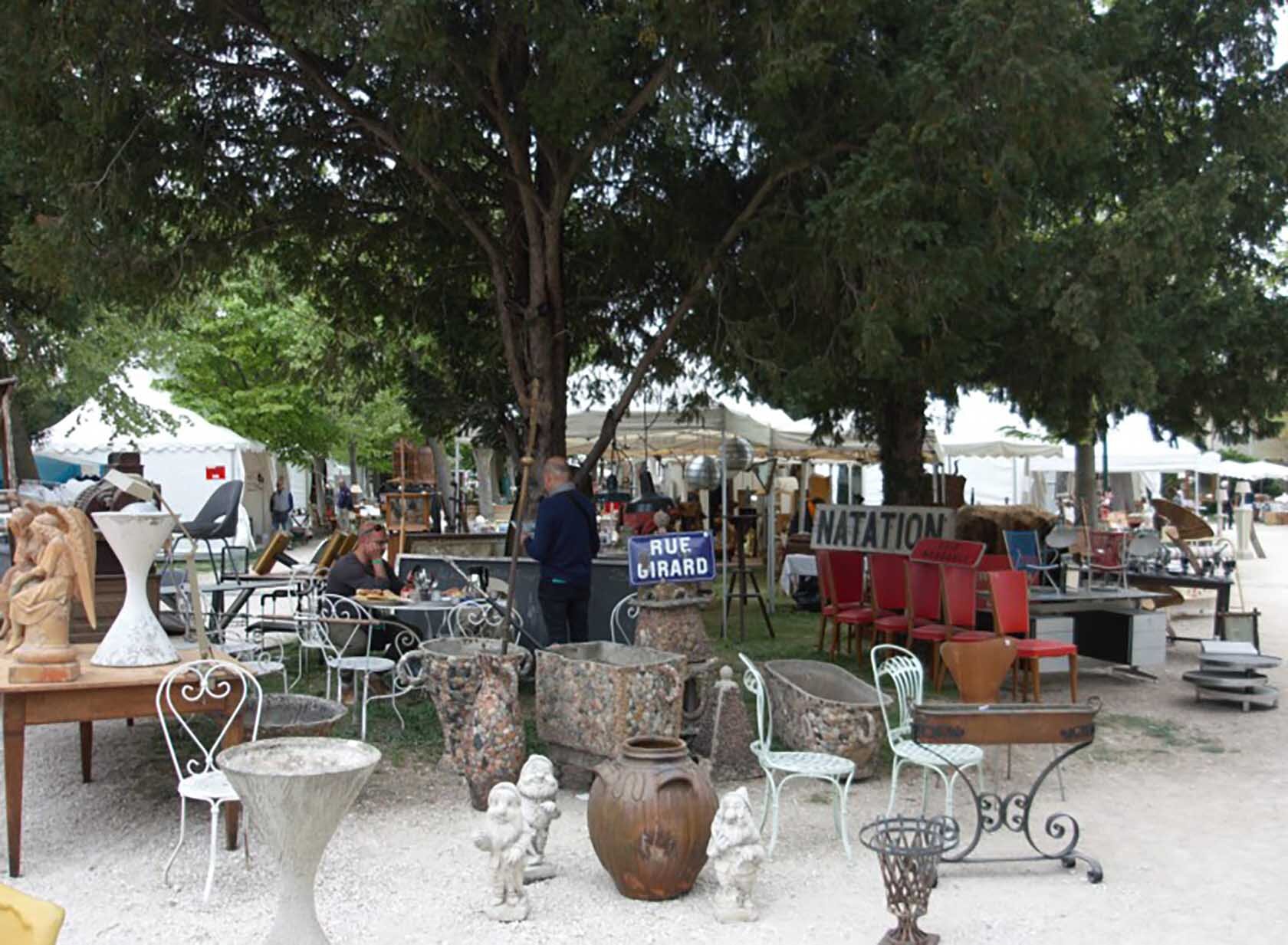 The twice-yearly art & antique market at L'Isle sur la Sorgue is excellent for decorative inspiration. We have found contemporary items at Àlinea and Maison du Monde.
Touring Provence from Apt
What is the best day trip from Apt?
There are so many as Apt is well situated for sightseeing. For a day out in the city, Avignon is less than an hour away (and only 3€ on the bus). Or for something more rural, head to the Forêt des Cèdres and walk out to the most amazing views.
Where to Stay in Apt
If money was no object, where would you recommend staying?
Five-star La Coquillade is just up the road – although we've only ever been to look round.
Where do you recommend for comfortable accommodation?
Right here at Cent Cinq! We completed all of the renovations with help from Jen's parents. We've employed trades when necessary for new sockets, copper pipes and shutters on the front façade. Otherwise, we've fitted all of the kitchens, bathrooms, painted and furnished ourselves. The building's sizeable central staircase provided an exciting challenge getting all of the furniture into the apartments.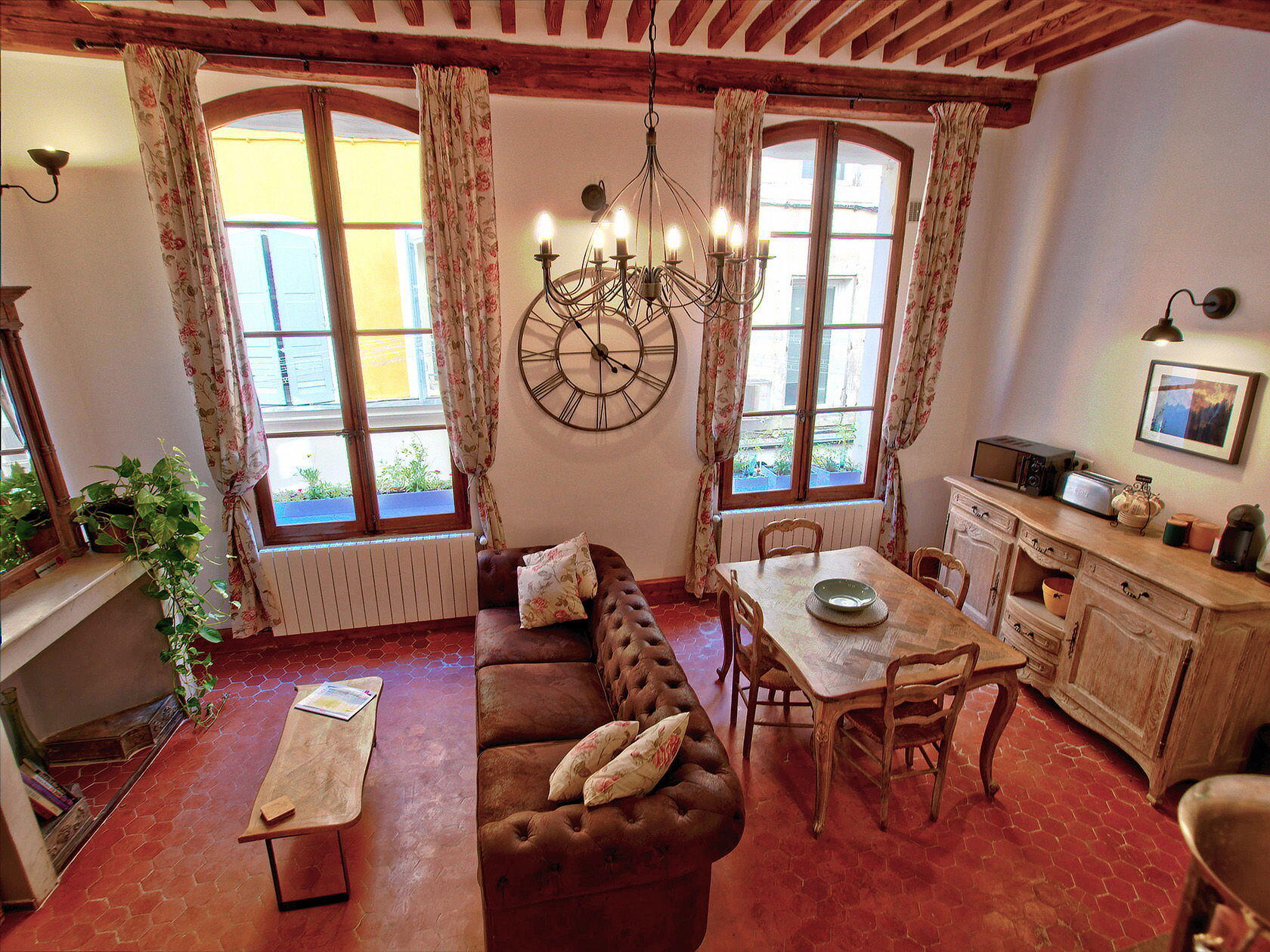 ---
Book Your Room In Apt
Cent Cinq is an 18th-century townhouse right in the heart of Apt – on the Rue des Marchands. The Mallons fell in love with its tall beamed ceilings and fabulous windows and bought all six floors in January 2019. Then they set about renovating the building into self-contained holiday apartments.
Each apartment has a bedroom and bathroom and an open plan kitchen and living area and sleeps a maximum of 3 guests. There is also an en-suite bedroom available for rental independently or in addition to an apartment. Exclusive rental of all accommodation is available (to sleep a maximum of 8). There is an internal courtyard for the use of all guests, as well as storage for bicycles.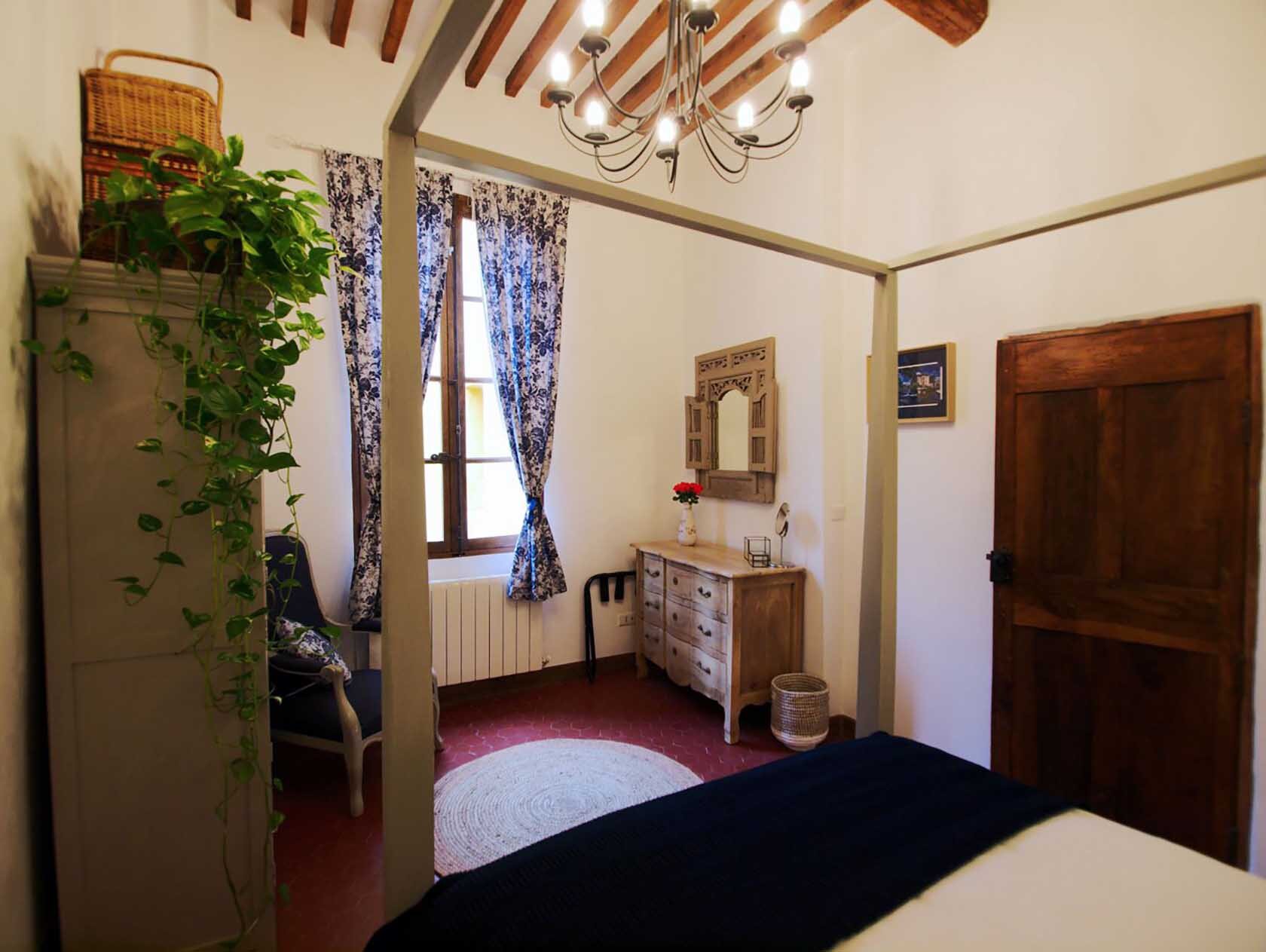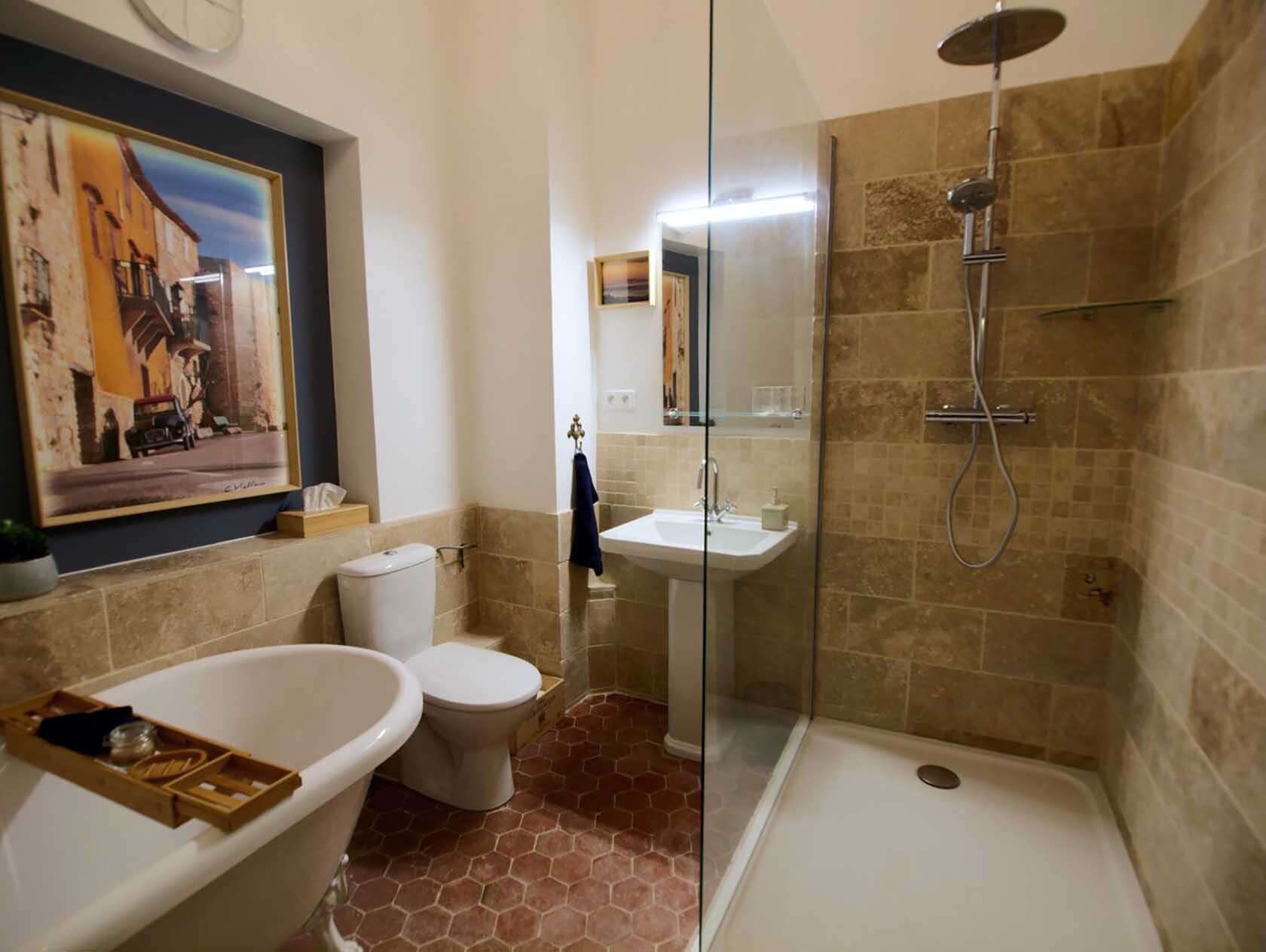 Cent Cinq is open all year (thanks to central heating and cozy bedding). Guests are free to use the internal courtyard, it's a quiet space with a comfortable day bed for relaxing. A few paces from the front door of Cent Cinq, there are bakeries, cafes and restaurants in every direction!
Jen and Chris are happy to help guests with planning, booking trips, restaurants, and so on. They send a welcome app before arrival so that their clients can research and plan in advance.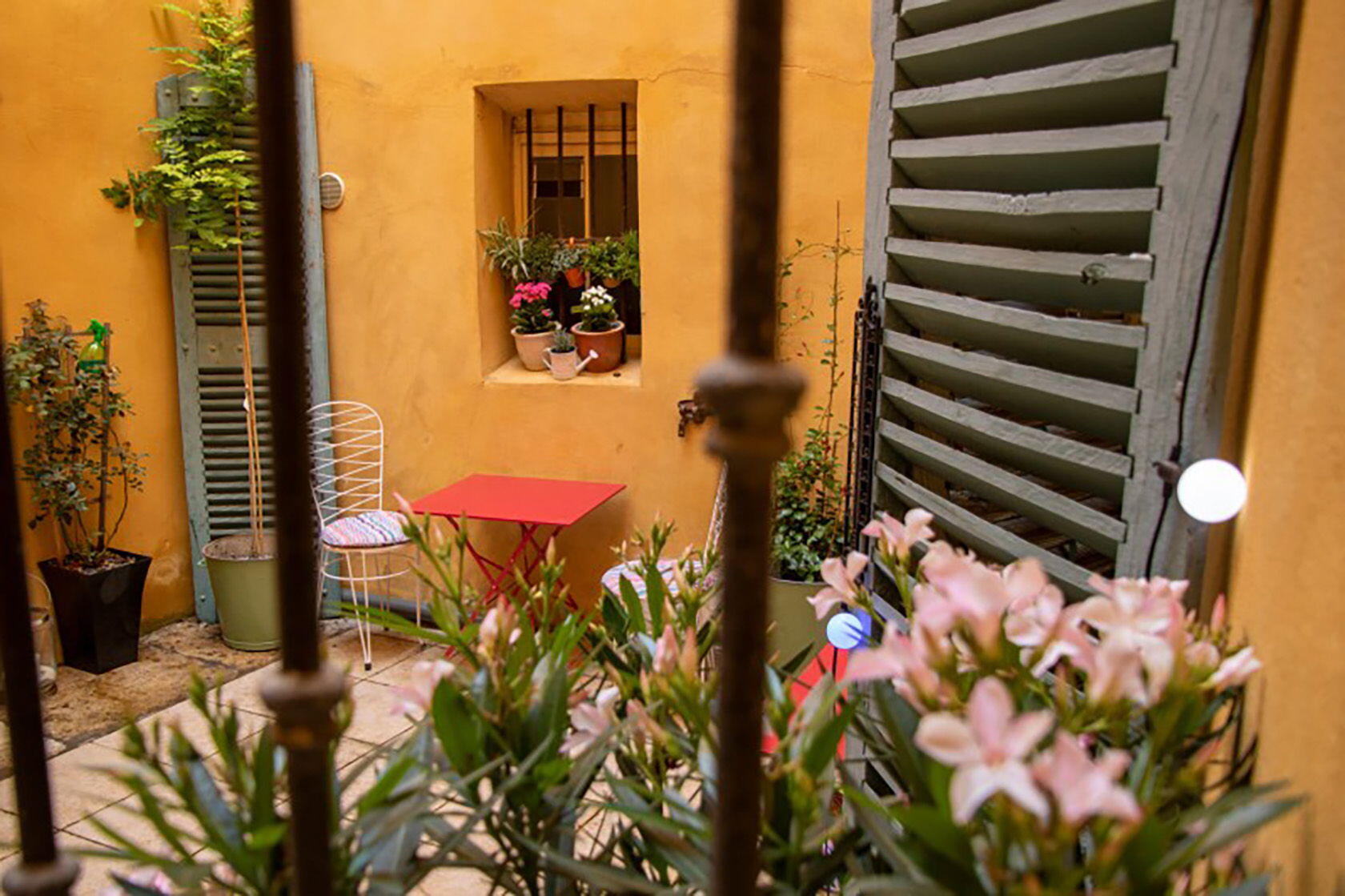 Image credits: the photos supplied by and published with the permission of Chris Mallon.