Our Top Ideas for a Day in L'Isle-sur-la-Sorgue
Antiques, art, waterwheels, and shopping are among the many reasons to visit the "Venice of Provence" – L'Isle-sur-la-Sorgue. The busy town on the Sorgue River was at one time a fishing village. Below are some ideas on spending a day in L'Isle-sur-la-Sorgue exploring the boutiques, galleries and taking in the sites.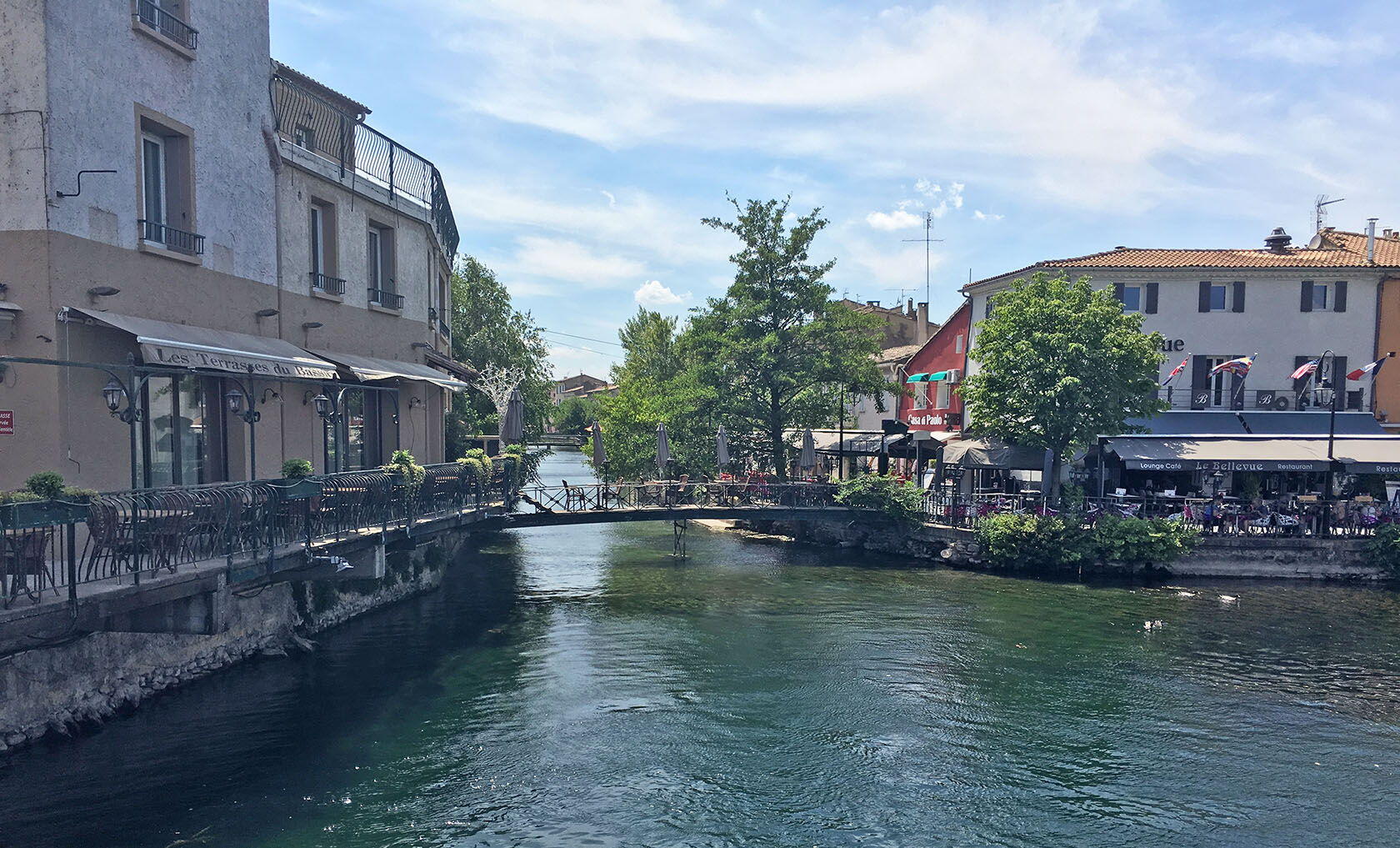 A River Town
The source of the shimmering turquoise Sorgue river is seven (7) kilometres away at Fontaine-de-Vaucluse. Once an island, as noted in an 1126 reference to Insula or Isla, the river passes the old townsite. However, it was not until August 18, 1890, that L'Isle sur la Sorgue became official. The Sorgue River and moss-covered waterwheels remain a pretty backdrop differentiating this town from its sun-baked neighbours in the Luberon.
Today, the Sorgue is a shallow meandering river, making it difficult, if not impossible, to imagine a time when this town was an island. During the Middle Ages, the town's inhabitants depended on the river for nourishment (fishing) and commercial production. Water wheels turned to crush olives for oil, mill flour, produce paper, and weave silks and woollens. At one time, 66 wheels operated, leveraging the Sorgue's flow for energy to run these mills. Now, the remaining 14 waterwheels highlight the picturesque setting.
Ditch the Car
The old centre of L'Isle-sur-la-Sorgue is pedestrian-friendly and limited only to essential traffic. However, are almost 2,800 spots, and all the parking lots are an easy walk from the core. While there is a mix of paid and free parking to choose from, space is at a premium on market days (Thursdays and Sundays), so plan accordingly.
Hop aboard the Petit Train at Avenue des Quatres Otages near the Caisse d'Epargne bank. Sit back and enjoy a 35-minute tour of the main sites in L'Isle-sur-la-Sorgue.
Get a Map
Centrally located in the old town on Place de la Liberté, the Tourism Office is open daily. The customer-facing staff are amicable, and the shelves have plenty of brochures on local activities.
Tourist Office (Office de Tourisme)
Place de la Liberté
Telephone: +33 (0)4 90 38 04 78
Go for a Walk
From the Tourism Office, there are two options a discovery walk and a nature walk. Each takes roughly 1 to 1.5 hours, depending on the number of photo stops.

Take a stroll along the quays and through the centre of town on the discovery walk. Along the way, you will see some of the famous waterwheels, the Collégiale Notre Dame des Anges church, a public garden, and several attractive plazas.
The nature walk takes you out of the urban centre to the place where the Sorgue splits into two branches. Walk, cycle, or catch a ride on the Petit Train.

Time for Lunch
There is no lack of good food in and near to L'Isle sur la Sorgue. The following list is not comprehensive but provides a few options for different tastes and budgets.
Le Carre d'Herbes
13 avenue des 4 otages
Telephone: +33 (0)4 90 38 23 97
The restaurant is inside an antique village, and the Provencal-style food is delicious.
Closed on Wednesdays and Thursdays.
Open for lunch and dinner.
Reservations recommended.
Café Fleurs
9 Rue Théodore Aubanel
Telephone: +33 (0)9 54 12 31 29
Dine on the terrace with river views. This lovely restaurant delivers creative French cuisine inspired by the flavours of the globe.
Closed on Mondays and Tuesdays.
Reservations are required.
Restaurant Le Vivier
800 Cours Fernande Peyre
Telephone: +33 (0)4 90 38 52 80
A Michelin* star restaurant where Chef Romain Gandolphe and his team create meals to remember.
Closed on Mondays and Tuesdays.
Take out is available.
Reservations are required.
Pizzeria Au Fil de L'Eau
15 Quai Rouget de l'Isle
Telephone: +33 (0)4 90 38 11 70
Located on the edge of the Sorgue.
They offer vegetarian options and take out.
le Jardin du Quai
91 Av. Julien Guigue
Telephone: +33 (0)4 90 20 14 98
Chef Daniel Hébet's culinary skills take you through the seasons of Provence with a fresh creative menu. Enjoy your meal in a quiet garden setting.
Closed on Tuesday and Wednesdays.
Reservations recommended.
Le Café du Village
5Bis Av. de l'Égalité
Telephone: +33 (0)4 90 15 47 49
Closed on Tuesdays and Wednesdays.
The rest of the week, they open for coffee in the morning and welcome you for cocktails.
In the heart of one of the town's antique villages, this café-restaurant is popular with dealers and locals. The menu features daily specials and traditional Provencal recipes with a modern twist. Make sure to book a table in advance.
Le Café de France
14 Place de la Liberté
Telephone: +33 (0)9 62 25 76 28
Open from 7 am to 11 pm daily for breakfast, lunch, dinner, and l'heure de l'apéro, this café is a local's favourite.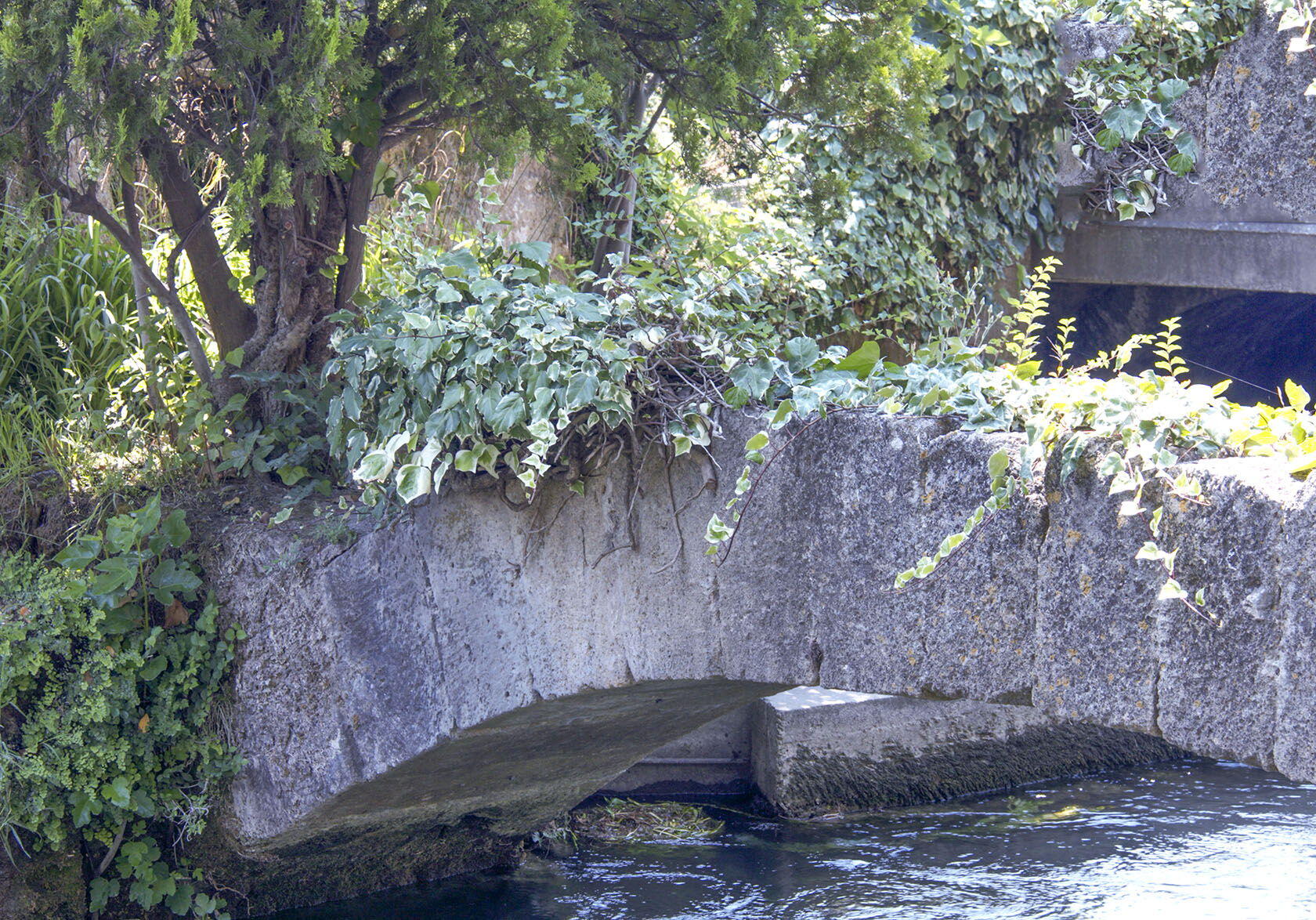 Need a Snack
La Cour au Saveurs
4, rue Louis Lopez
Telephone: +33 (0)4 90 21 53 91
Closed on Mondays and daily from 12h30 to 15h
They have the best chocolate in town, and maybe even all of Provence.
Patisserie Jouvaud
5 avenue des 4 Otages
Telephone +33 (0)4 90 26 72 97
Open daily. For a sweet snack, succumb to the temptation at this family-run operation that produces fabulous chocolates, candied fruit (fruit confit), and bonbons. Did we mention the cakes?
Art in the Afternoon
Aside from markets and antiques, L'Isle sur la Sorgue treats art lovers to contemporary art exhibitions in historical settings.

Campredon Centre d'art
20 rue du Docteur Tallet
Telephone: +33 04 90 38 17 41
Closed on Mondays
The Campredon art centre features rotating exhibitions of emerging artists and workshops and lectures in an 18th-century mansion. Hôtel Donadeï de Campredon was built as a private residence in 1746 for Charles-Joseph de Campredon. Since 1979, a portion of the structure has been a French Historic Monument. The museum includes a permanent collection devoted to the works of locally born poet René Char.
Fondation Villa Datris
7 Avenue des Quatre Otages
Telephone: +33 (0)4 90 95 23 70
Entry is free.
Hours and opening days vary through the year.
In 2011, contemporary art lovers Danièle Kapel-Marcovici and Tristan Fourtine established a foundation in a stately 19th-century mansion on the banks of the Sorgue. The restoration project retained original architectural elements to unite historical features with modern sculptures and other works. Access to the Villa Datris (a combination of their names) is free. The annual exhibitions typically run from the end of May through October.
Retour de Voyage
Place Rose Goudard
Telephone: +33 (0)6 87 32 58 68
This art gallery and concept store reflects the owners' artistic tastes and worldly travels. Marie-Claude Marseille and Frédéric Dol display artwork, photography, and exquisite objects from exotic locals and local artisans inside a thoughtfully restored building.
Where to Stay

La Maison Sur La Sorgue is boutique hotel in near the banks of the Sorgue River. Discover this small, luxury hotel situated in the heart of the historic town of l'Isle sur la Sorgue. Housed in a former 17th-century mansion with remarkable architecture, La Maison Sur La Sorgue has four spacious, well-appointed guest suites. Climb the elegant 18th-century staircase to the guest rooms, including two suites and two junior suites, each one bathed in natural light. Uniquely furnished with carefully selected materials and decorative touches from the owners' world travels, the suites are intimate and romantic. Book your stay!
Worth a Visit
Brun de Vian-Tiran's sensory museum – "La Filaventure."
2 Cr Victor Hugo, 84800
Established in 1808, the woollen factory is still operating in L'Isle-sur-la-Sorgue. The museum opened in 2018, and here the Brun de Vian-Tiran family share their process and passion for transforming raw materials into beautiful woollen products.
Open daily.
Collégiale Notre Dame des Anges Church
Place de la Liberté
The 12th-century Basilica of Saint-Laurent changed names in the 13th century. Notre Dame des Anges, renovated in Italian Baroque style in the 17th century, is beautiful inside. However, the austere exterior gives no clue about the remarkable interior, a splendid example of Baroque architecture in southern France. The 15th-century Mentasti organ is a Historic Monument.