Ansouis one of Les Plus Beaux Villages in Provence
Perched on a craggy outcrop with its back to the Mistral wind, Ansouis is a gem of a village in Provence's Vaucluse that deserves its status as one of les Plus Beaux Villages de France.
Ansouis sits in the heart of the Luberon, surrounded by vineyards and endless olive trees. Walk the narrow laneways to the top of the village, by the church, for expansive views of the Grand Luberon range and the Durance River Valley. Physically elevated above the main route between Aix-en-Provence and Apt, the fortified hamlet's residents had visibility to movement in the area during the Middle Ages.
Ansouis Visitor Tips
Located in the Luberon Regional Natural Park, Ansouis remains a hamlet today with barely more than 1,000 permanent residents. Yet, due to the compact footprint, Ansouis delivers photo opportunities at every turn. There are tiny alleys, homes built into the ancient ramparts, stone facades with brightly painted shutters, and a medieval castle.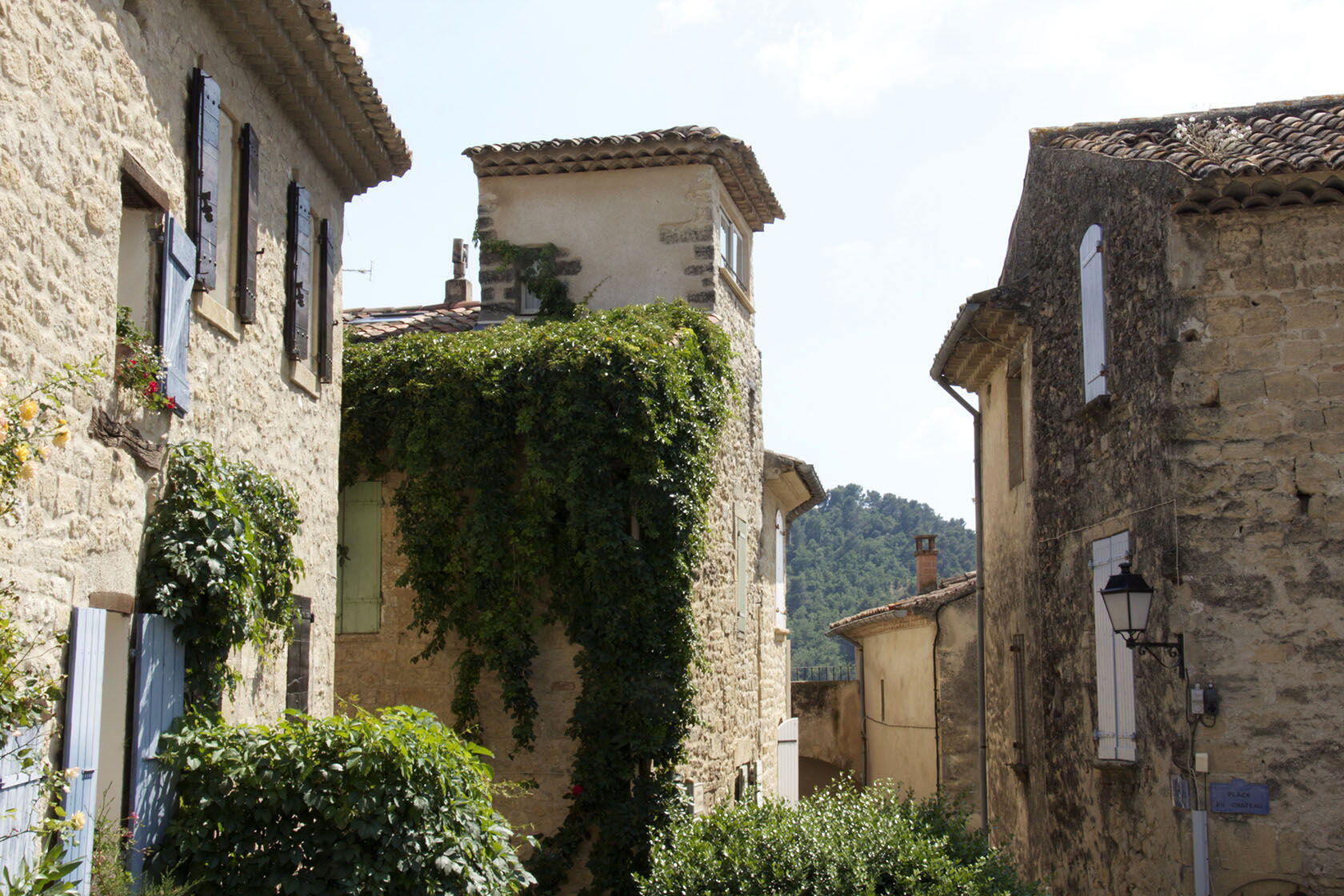 Parking can be challenging during busy times of the year. However, the village is small, so it's not far away from the old town once you find a spot.
The Ansouis market takes place on Sunday mornings.
Make sure to Visit
Église Saint-Martin d'Ansouis, dating from the 12th century, this medieval church has a commanding position at the top of the village. Unfortunately, the austere exterior does not give any clues to the light-filled interior.


Château d'Ansouis (the castle) dominates the upper reaches of the village. The residence of the Sabran-Pontévès family for several generations is privately owned and accessible for guided tours on a limited basis. The owners have renovated the chateau respecting all the conditions of Bâtiment de France. Even when it's closed for tours, you can peek through the iron gate and get glimpses of the castle. Once a medieval stronghold, the château is visible from different angles in the village.

Where to Eat
La Closerie (website)
Boulevard des Platanes
84240 Ansouis
Plan to arrive in Ansouis hungry, with a reservation, for Michelin 1-star restaurant La Closerie. Owners Delphine and Olivier, the chef, will treat you to a fabulous culinary experience.
The restaurant is closed on Wednesdays, Thursdays, and Sunday evenings.
Bookings are required by telephone +33 (0)4 90 09 90 54. There are only 30 places in the restaurant and 16 on the terrace.

L'Art Glacier
767 Chemin des Hautes Terres,
84240 Ansouis
Ice cream fans do not miss L'Art Glacier with 50 flavours produced by the Perrière family, who have held the titles of Maîtres Glacier and Maîtres Artisans Glacier for two generations.
Château d'Ansouis (website)
ansouis84@gmail.com