Leftover Eggplant Make a Savoury Caponata Tart
Recently, I shared my simple vegetable Napoleons with you as a side dish for the goat cheese-stuffed chicken. If you make it, you will probably end up in the same boat I did: lots of leftover parts — zucchini, yellow squash, eggplant, tomatoes. While that sounds like all the fixings for a good ratatouille, there's a catch: Markipedia doesn't really like ratatouille. Oh, he would eat it if it's served, but why push?
He does, however, love caponata. And so do I. But caponata does not make a meal. So I created a savoury caponata tart, and for some culinary fun, I put the pastry on top of the fillings. Continue reading here for the original article.

Upside Down Caponata Tart
This tart is perfect if you're looking for a recipe to remind you of bright, fresh summer flavours! The Mediterranean juices combine beautifully for a gorgeous appetizer that's sure to impress.
Ingredients
5

tbsp

Extra Virgin Olive Oil

divided

1

large

Onion

peeled and diced

1

lb

Roma Tomatoes

seeded and diced

1/2

lb

Japanese Eggplant

peeled and diced

2

stalks

Celery

diced

Salt and Freshly Ground Black Pepper

to taste

1

tbsp

Tomato Paste

1/4

cup

Pine Nuts

1/4

cup

Black Olives

pitted and diced

1/4

cup

Sultanas

2

tbsp

Chopped Fresh Oregano

2

tsp

Red Wine Vinegar

1

tsp

Sugar

1

Zucchini

cut in 1/8-inch slices

1

Yellow Squash

cut in 1/8-inch slices

1/2

cup

Grated Parmigiano-Reggiano

plus extra

Butter for Pie Crust for a 10-inch Pie
Instructions
Heat 2 tablespoons olive oil in a large skillet. Add diced onions, tomatoes, eggplant, and celery. Season well with salt and pepper; cook over medium heat for 10 minutes.

Add the tomato paste, mix well, and cook an additional 5 minutes. Add the pine nuts, black olives, sultanas, and oregano. Cook 1 minute longer, then add the vinegar, mix well, and turn off the heat. Set aside.

Preheat oven to 425°F (220°C).

Add the remaining 3 tablespoons olive oil to a 10-inch cast-iron skillet over medium heat. Sprinkle evenly with the teaspoon sugar. Arrange zucchini and yellow squash slices, overlapping, in a decorative pattern in the bottom of the skillet. Season lightly with salt and pepper.

Make a second layer of squash slices and season lightly with salt and pepper. Cook for 2-3 minutes without disturbing, then spread the eggplant-tomato filling on top. Remove from heat and sprinkle evenly with the Parmigiano-Reggiano.

Roll out the piecrust, and place it on top of the filling and cheese. Trim edges and tuck them in around the perimeter. Using a fork, poke several steam holes in the crust. Bake the tart for 25 minutes or until the crust is golden brown.

Remove from the oven and allow to sit for 5 minutes. If the crust seems stuck to the pan, run a paring knife around the edges. Flip the Caponata Tart over onto a large platter. Sprinkle with additional Parmigiano-Reggiano, slice and serve. The tart can be served hot or at room temperature.
Savoury and Sweet Cooking with Vegetables
Tarte Provençal à la Tomate
Obviously the best outcome is a tart baked with your own garden harvested tomatoes. This quick and easy tart makes a fast and fancy meal that everyone will enjoy. The sweetness of the tomatoes pairs well with the Herb de Provence, spicy mustard and flaky pastry crust. For a quick change -p, try using coloured tomatoes in a rainbow pinwheel pattern. It will look and taste as if it took you hours, but that can be your little secret!

Leek and Goat Cheese Tart
This light tart recipe is the perfect accompaniment for a crisp glass of Provencal rosé on the patio or by the fire. No matter what the weather is like, this savoury and creamy tart is absolutely delicious. With leeks and goat cheese being easily accessible in most regions year-round, make this tart with a fresh green salad for a dish that is sure to impress. Make sure to allow enough time for your dough to rest before using it.
Check out this recipe

Stuffed Zucchini Blossoms: Goat Cheese, Sun-Dried Tomatoes, and Tapenade
This recipe is easy to prepare and delicious to eat. Serve hot with chilled rosé.
Check out this recipe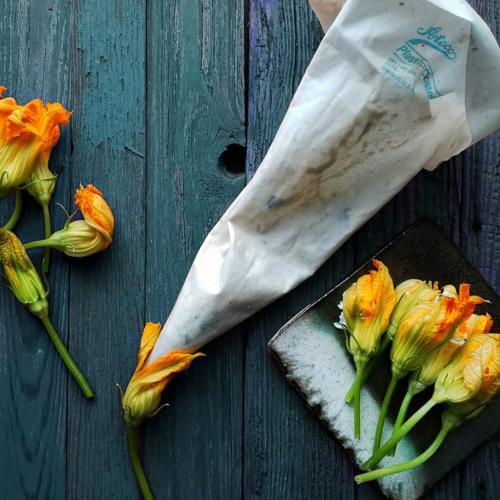 Swiss Chard, Raisin and Pine Nuts Tart
Tarte niçoise aux blettes et pignons de pin is such mouthful, of words, for a dessert. On my last visit to Nice, I tasted this fabulous local délice. French cooking is absolutely regional like its weather, and you can only find certain specialities in specific towns. Ok, I have to say this tart is not for everyone. Dessert with veggies in it does sound strange. Some might sprinkle confectioner's sugar before serving. The tart is even better the next day.
Check out this recipe