Dinner Party: Apple Tarts – Tartes aux Pommes
Admittedly not everyone can manage a weekday dinner party with an hour (maximum) to prepare the meal before your guests arrive…but I like that sort of challenge. However, to be able to pull it off you need to be organized. After many years of entertaining, there are several tips I can offer, but perhaps the most important one is that this is not the time to experiment! No, this is the moment to head to the tried and true recipes you can make without fail like these individual apple tarts.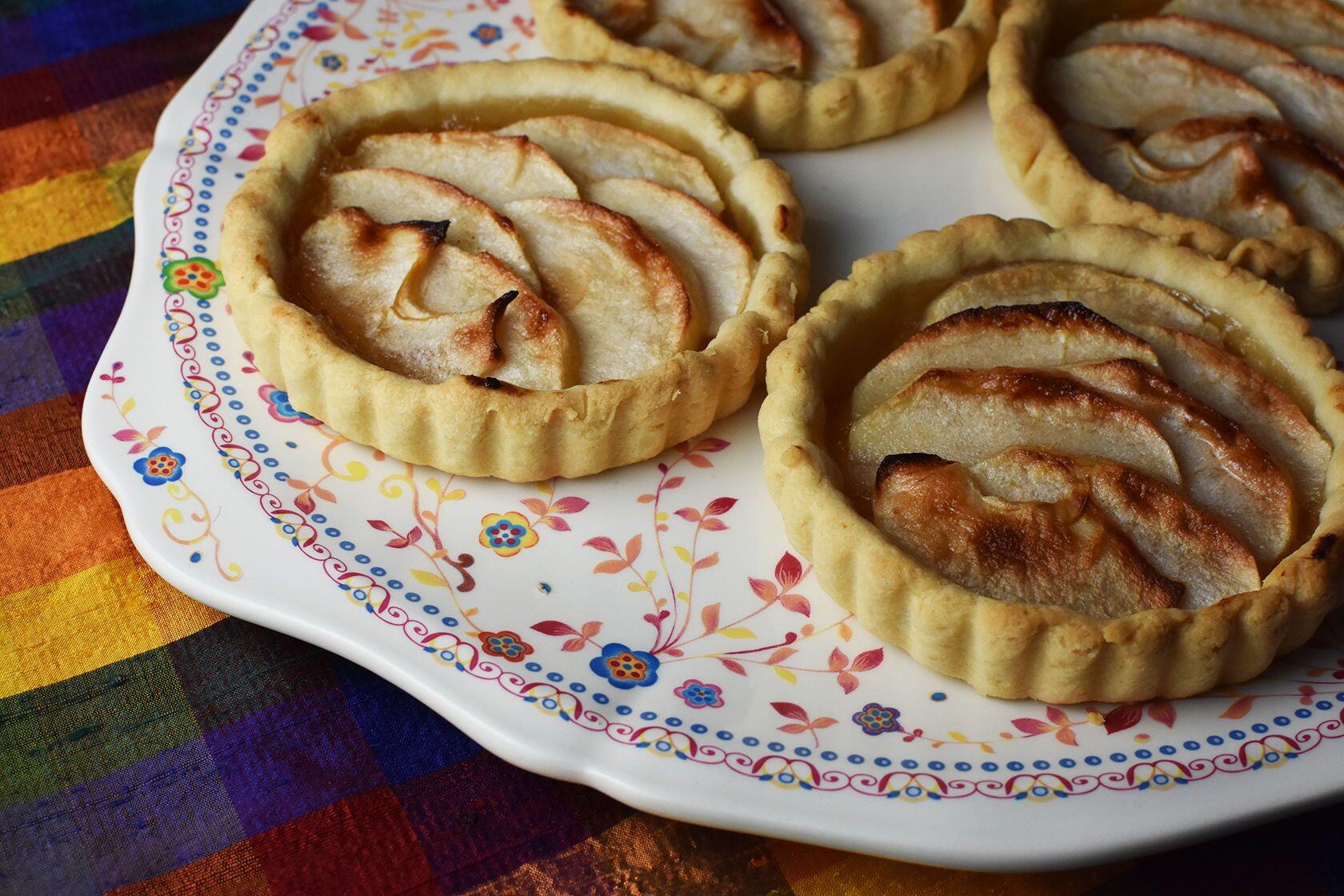 Individual Apple Tarts
These little tarts (tartlettes) are easy to make and a perfect finish to any meal. The ice cream is optional, but most guest will likely be happy with that addition.
Ingredients
1 1/3

cups

Flour

8

tbsp

Unsalted Butter

1/4

cup

ice water

4

tbsp

Apple Cider

or apricot jam

1

large

Apple

1

tsp

Superfine Sugar

optional:

Vanilla Ice Cream

for serving
Instructions
Make the Crust:
Preheat the oven to 400°F (200°C).

Place flour in the bowl of a food processor, and add the butter (cut into 16 pieces). Feel free to add a pinch of salt, if you like. I do sometimes, but generally not with fruit desserts.

Pulse 10 times, then sprinkle with the water. Process until it forms a ball.

Roll the dough to 1/8-inch thick.

Cut out four 6-inch circles of dough. Place each circle into a 4-inch tart pan with removable bottom.

Fold edges down and press into the sides of the pan. Trip tops, if necessary.

Spread 1 tablespoon of apple cider or jam evenly onto each crust.
Make the Filling:
Peel, core apple, and quarter the apple.

Cut each quarter into 7 even slices. Arrange 8 slices onto the top of each crust in a shingle pattern.

Sprinkle each with 1/4 teaspoon of superfine sugar.

Bake for 30 minutes, until the apple cider (or jam) is bubbling away under the apples.

Let cool on a rack and then remove from the tart pan.

Serve each tart with a scoop of vanilla ice cream, if desired.