Cheese and Charcuterie Pairings: Showcasing the Best of Provençal Artisanal Products
Do as the French do and bring a flair of Provencal culture to your tabletop with this exquisite selection of artisanal French cheese and charcuterie pairings ready to serve. Mix honey, berries, walnuts, olives, fresh baguettes and excellent wine. As you curate the perfect French charcuterie board, remember that balance makes the perfect plate. Include a variety of cheeses with different milk types, textures and flavours.
Soon you'll have a simple but luxurious selection to serve your family or entertain houseguests. Here are a few of our favourite specialty artisanal French cheeses and some suggested pairings from Provence that are sure to please even the most discerning palette!
1. Brousse du Rove
Brousse du Rove is a rare artisanal goat cheese handcrafted in small cone-shaped batches in the region west of Marseille. As one of the newest members of AOC cheeses on the block, Brousse du Rove is a rare Provencal gem if you can get your hands on it.
Its creamy texture and mildly sweet flavour pair well with a drizzle of honey, fresh figs, lemon jelly or berries. If you want something unique and unforgettable, this is your go-to cheese. C'est magnifique!
2. Banon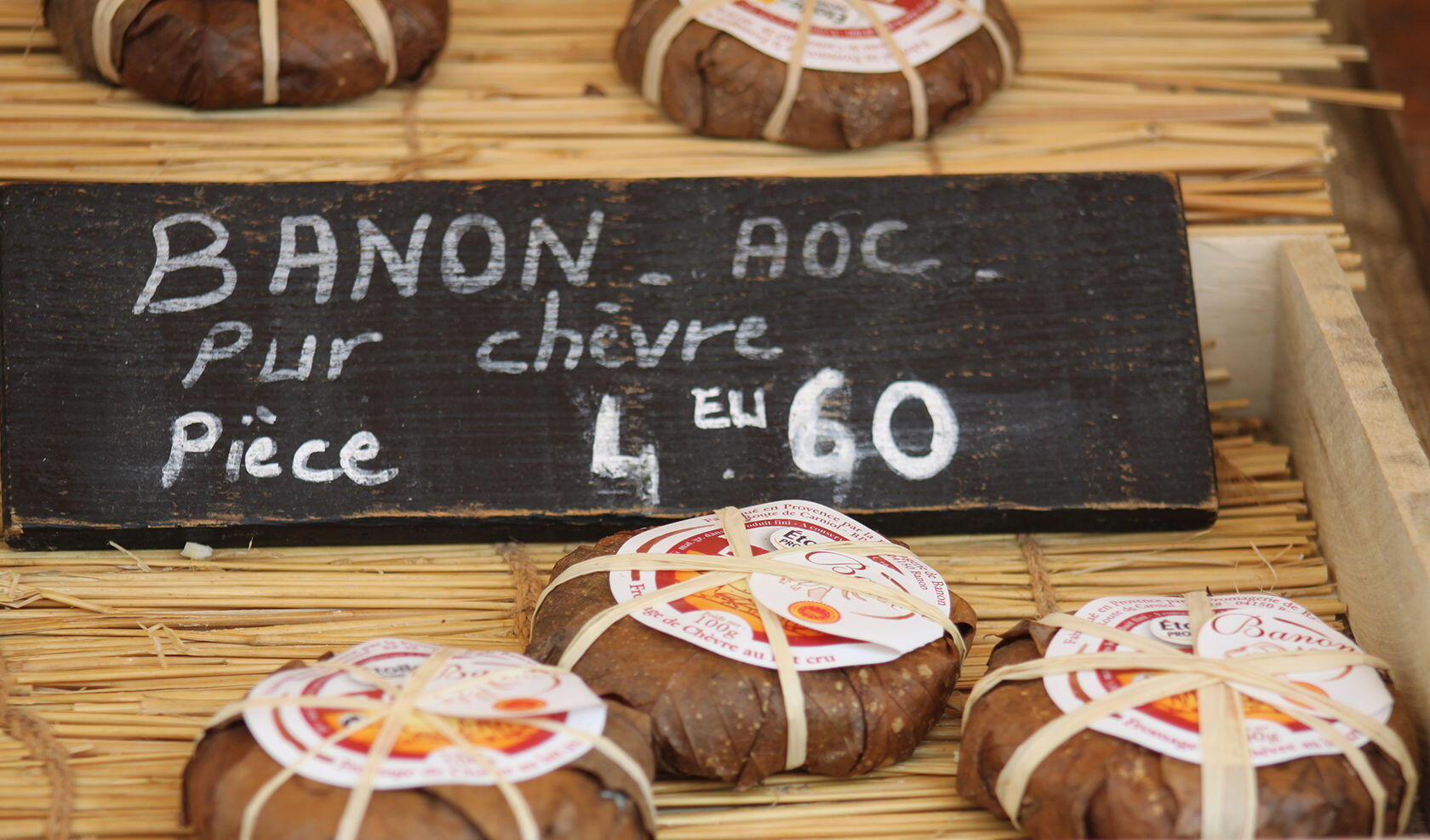 This dainty cheese originating in Alpes-de-Haute-Provence is an artisanal goat cheese family member. Unlike the modern Brousse du Rove, however, Banon is created using centuries-old traditional methods, and Banon is one of the most recognizable cheeses in the Provence region. It comes distinctly wrapped in chestnut leaves, giving it a creamy texture and earthy flavour.
We suggest a sprinkle of herbs, a drizzle of honey and pairing it with fresh fruits, including berries, apples and grapes. Add a small glass of rosé on the side with some slices of spicy dried sausage or prosciutto, and you have the perfect Provencal plate to share.
3. Roquefort
No charcuterie plate is complete without at least one classic cut of Roquefort cheese. Although many blue cheeses are produced in France, Roquefort cheese is uniquely produced in the town of Roquefort-sur-Soulzon in the Aveyron. This intense blue must be aged in the natural Combalou caves using traditional methods to carry the Roquefort name. This sheep's milk cheese stands its ground with distinctive tangy, salty flavours that are sure to please.
It can be perfectly paired with walnuts, crusty bread or various crackers. You can crumble it on a baguette or lightly douse it in honey or fig jelly as part of a mix & match plate. Wow, your out-of-town guests, with decorative artisan gifts to complement the tabletop and create the perfect cheese plate presentation. Roquefort is often served with a sweet white wine.
4. Tomme de Provence & Tomme de Savoie

Many cheeses are made using the Tomme method, including Tomme de Provence and Tomme de Savoie. The latter is crafted using cow's milk and often paired with a pinot grigio white wine.
Its counterpart Tomme de Provence has a soft inner texture with a mouldy rind reminiscent of ancient methods, and it's a more firm. It's commonly moulded into small rounds and served with nuts and figs. The rounds can also be made with goat or sheep milk and are traditionally served with a refreshing glass of light red wine or rosé.
Other great pairings bring out the distinctive aromas and textures of Tomme cheeses. Add some dry-cured meats or an array of fruits, and you'll have a Provencal picnic for the books.
5. Crottin de Chavignol
Another classic goat cheese with a thick interior, Crottin de Chavignol boasts luxurious nutty flavours. Originating in the Loire Valley, its shape is cylindrical, and it's often served warmed or grilled on top of a chevre (goat cheese) salad.
This cheese goes amazingly well with a great pork paté or savoury meats. It's produced in an area known for outstanding white wines, making an excellent mid-afternoon selection with refreshing chilled sauvignon blanc wine to match.

6. Pélardon
Pélardon originates in the Languedoc-Roussillon and Provence regions of Southern France. As such, it is crafted using traditional methods like hand ladling and fermentation. It becomes creamier in texture when it ages but can be more firm depending on how long it has fermented — usually in the two to four weeks range.
Pélardon pairs well with honey, prosciutto and smoked salmon. It should be matched with a bold, full-bodied red wine to offset its slightly pungent flavours.
7. Bleu d'Auvergne
This cheese is frequently indulged in across Provence. First developed in the mid-1850s, the cheese is produced using a mechanical needling process to induce the optimal blue veins and soft texture.
A faint, spicy tang perfectly matches chutney jellies, dessert wine, or a riesling. For a twist, serve it with roast beef or duck breast and watch your guests take in its bold flavours with a slight drizzle of honey or a small square of dark chocolate.
Indulge in Your Perfect Charcuterie Plate
You should include 4-6 cheeses of different types and textures for the typical charcuterie board. A good rule of thumb is to have at least one blue cheese, one firm cheese, one creamier cheese and one crumbly cheese. Add a traditional pairing or two for each on your board, and get ready for a lovely afternoon indulgence or dinnertime snack. Add the perfect bottle or two of wine and get ready to say, "Santé!" (Cheers!) to an evening in Provence anywhere you like.
---
Author Bio
Julia Nikolaus is a content strategist for an LA-based company. She enjoys working with food and drink brands along with pet clients. In her free time, Julia likes to bake new recipes, take dance classes, and spend time outdoors.