Sweet Treats the Candied Fruit Makers in Provence
What is Candied Fruit?
Don't ask your nutritionist's permission when it comes to candied fruit. The answer is obviously yes. The process of converting fresh fruit to a crystallized version takes lots of time and even more sugar syrup. Sometimes referred to as fruit glacé in France. The Arabs brought the methodology for saturating fruit in syrup to Europe in the 14th century.
Fruit, like many crops, often delivers its bounty all at the same time. Converting the fruit into a candied form was a way to preserve some of the harvests.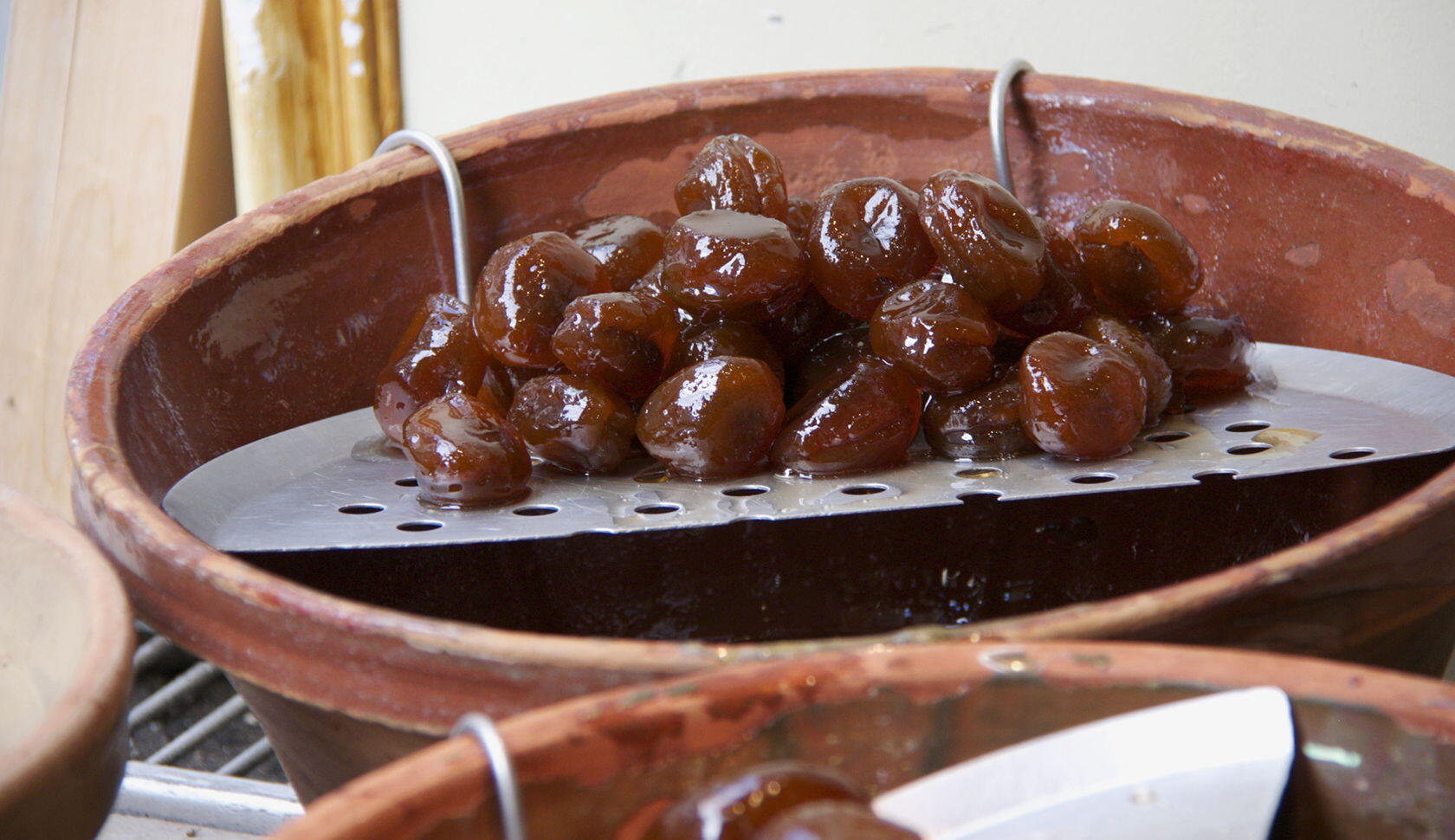 Making candied fruit is not complicated, but requires patience and know-how. The fruit should be ripe, but not overly so. The process works with whole fruit, slices or in some cases, such as citrus, just the peel. The maker pours a heated sugar syrup (sugar and water) over the fruit, which then soaks in the syrup for about 24 hours. The process is repeated several times with ever-increasingly sweet syrup as the water content reduces. Gradually the fruit's water ratio is replaced by syrup. The process can take days, weeks or months, depending on the fruit. Once preserved, the crystallized fruit lasts for as long as a year.
Read: FARE OF THE COUNTRY; Candied Fruit of Provence: Sweet Tradition ~ New York Times 1989
Candied Fruit Makers in Provence
Alpilles and Isle sur la Sorgue
According to Caroline at Shutters and Sunflowers: If you get the chance to go to L'Isle sur la Sorgue do visit the stunning candied fruit shop of Lilamand Confiseur. The little sister to the one in Saint-Rémy de Provence, where the business was founded by Marius Lilamand in 1866 but just as enticing!
Confiserie Lilamand is a family-owned business, five generations after the first production. Today's owner, Pierre Lilamand, applies the same recipes used by Nostradamus and Olivier de Serres from over four centuries earlier.
There are three boutiques in Provence; two in Saint Rémy de Provence and one in l'Isle sur la Sorgue. Enter it feels like you have walked into a high-end jewellery store. Artfully displayed inside a glass-fronted counter, it's challenging to decide which fruit is the most beautiful. If you are struggling for a hostess gift. Head to Lilamand Confiseur where the staff will arrange your selection along with gift wrapping.
Confiserie Lilamand
13 Rue de la République, 84800 L'Isle-sur-la-Sorgue
5 Avenue Albert Schweitzer, 13210 Saint-Rémy-de-Provence
20 Rue de la Commune, 13210 Saint-Rémy-de-Provence
Or order online.
Discover the range of syrups and jams in beautiful glass containers.
After planting some 2000 almond trees in the Alpilles, Lilamand Confiseur has begun fabricating calisson d'Aix. Read more about this regional specialty that requires almonds, candied melon and other crystallized fruit.
Apt
Production of candied fruit from Apt dates back to the time of the Popes in Avignon (1309 to 1376). According to archival texts, these religious figures enjoyed crystallized fruit as gifts. Much later in the 19th century the popularity of this specialty from Apt spread as far as England for use in fruit cakes and other desserts. The candied clementine is so perfect it looks like a glass paperweight.
Marcel Richaud Confectionery
112 Quai de la Liberté, 84400 Apt
Closed Sundays
In 1962, several of the remaining confiseurs (candy makers) in Apt joined forces to form a cooperative called Aptunion. This collective operation allowed players to modernize their operations, share marketing expenses and other costs. La Maison du Fruit Confit opened its doors in 1988 with a wide selection of candied fruit and other products. There is also a small museum and tea room.
La Maison du Fruit Confit
538 Quartier Salignan D900
84400 Apt
Telephone: +33 (0)4 90 76 31 66
Open daily
French Riviera
The tempting wares in the Maison Auer storefront are located right behind the Opera House in Nice. A family operation since 1820, Maison Auer produces candied fruit, chocolates, glazed chestnuts, and fruit pastes. You can order online, but visiting this store decorated with Victorian-era finishes is half the fun. Learn about Maison Auer and other traditional Nicoise food stops here.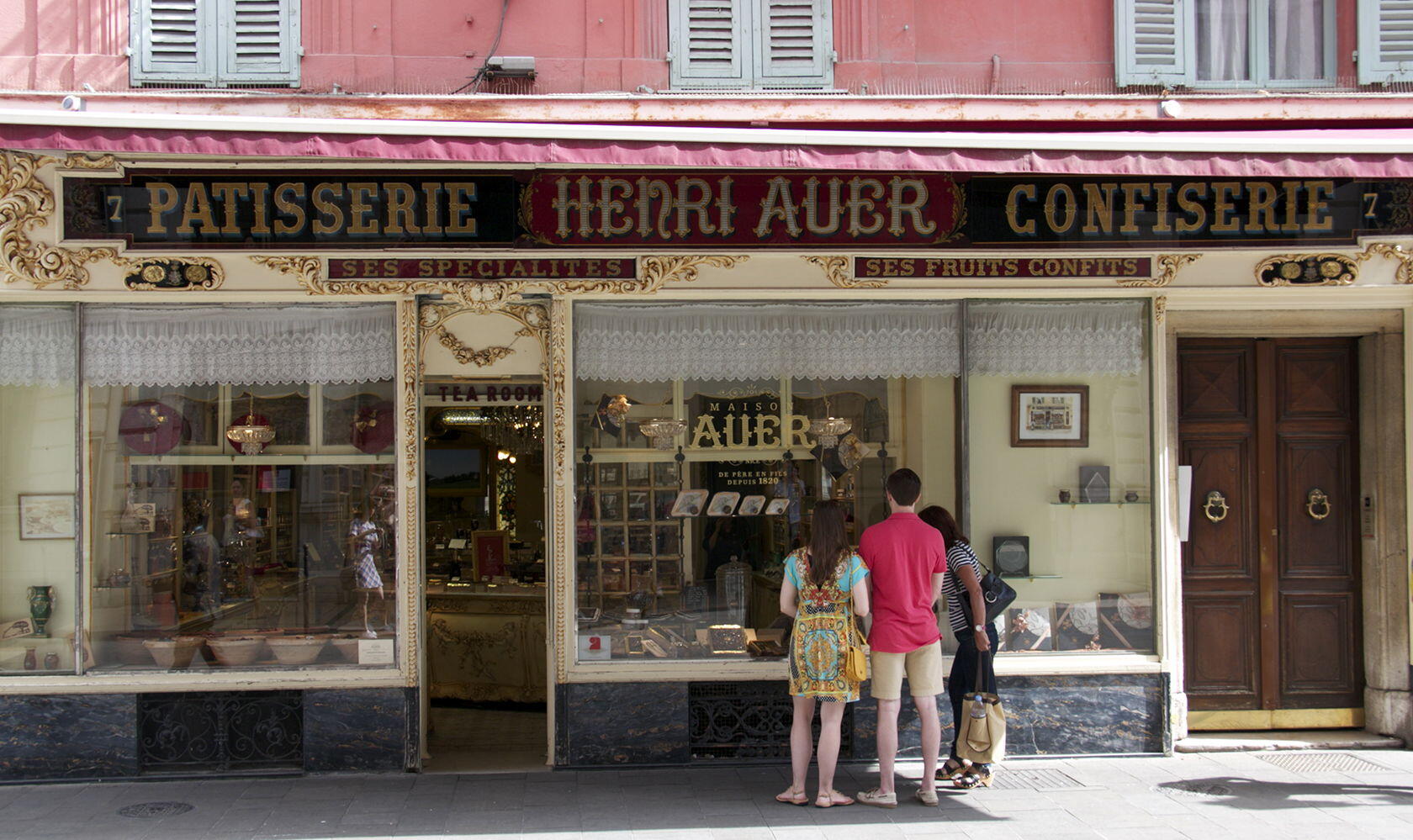 La Maison Auer
7 rue Saint-François de Paule
06300 Nice
Open Tuesday – Saturday
Telephone: +33 (0)4 93 85 77 98

Try making Candied Clementines Confit with Moroccan spices at home a recipe from Tasha Powell.
Fruits confits often feature on the dessert table during the holidays in December. Discover the Tradition of the 13 Desserts of Christmas in Provence