Traditional Food Tour in Nice
Let's just say it had been a few years since I had spent any time in Nice. My last visit was during an era when backpacks with external frames were acceptable, walkmans were hip, travel on $20 a day was possible and the Euro had not been invented. I was confident that my recall of Vieux Nice and the Promenade des Anglais might have been a bit hazy.
It was time to enlist some professional help!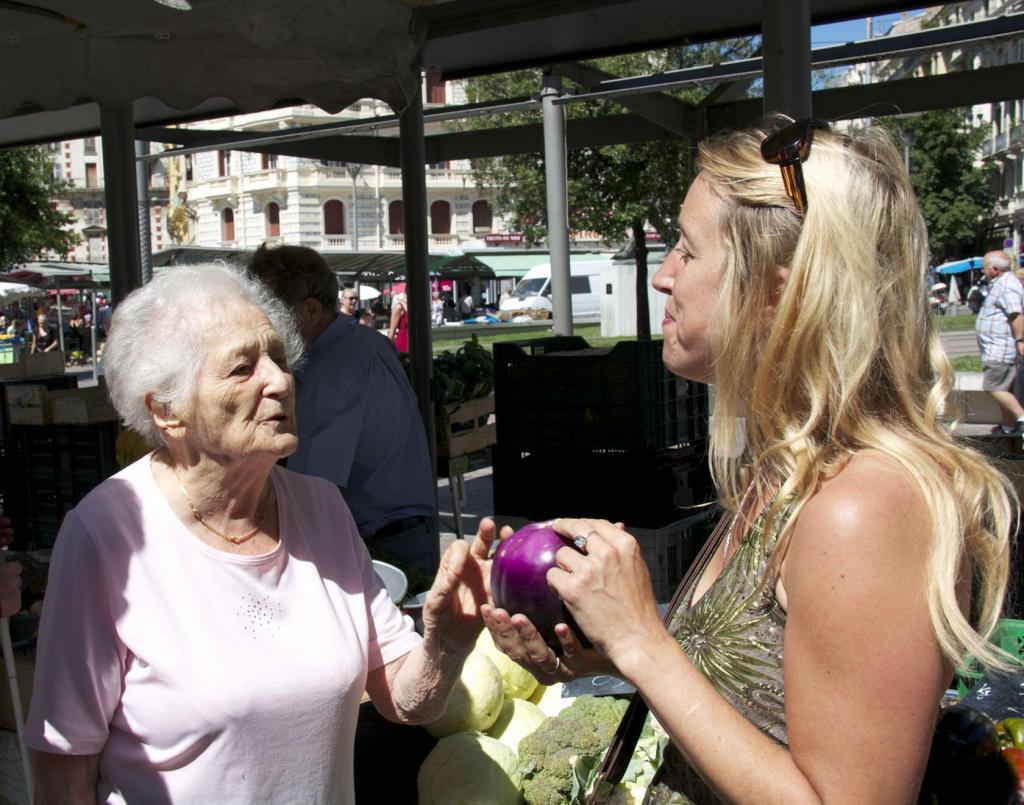 On the advice of Chrissie our regular contributor from The Riviera Grapevine, I signed up for A Taste of Nice's "Pure Nice Food Tour." The group met as instructed in front of the Opera Plage sign on the Promenade des Anglais. Coming from all corners of the globe – Australia, England, Norway and Canada we all wanted to discover Nice and her foodie traditions. Our guide Kelly is Franco-American, extremely proud of her city and 100% bilingual.
Our food sampling began even before we left the meeting point with a piece of Tourte de blette sucrée. Think of a date tart only with a green spinach-like interior it is a surprising way to turn a leafy garden green into a sweet temptation that would meet Popeye's approval. The story behind this Niçoise favourite is that the locals had so much Swiss chard (blette) that they needed to find another recipe to use up the surplus.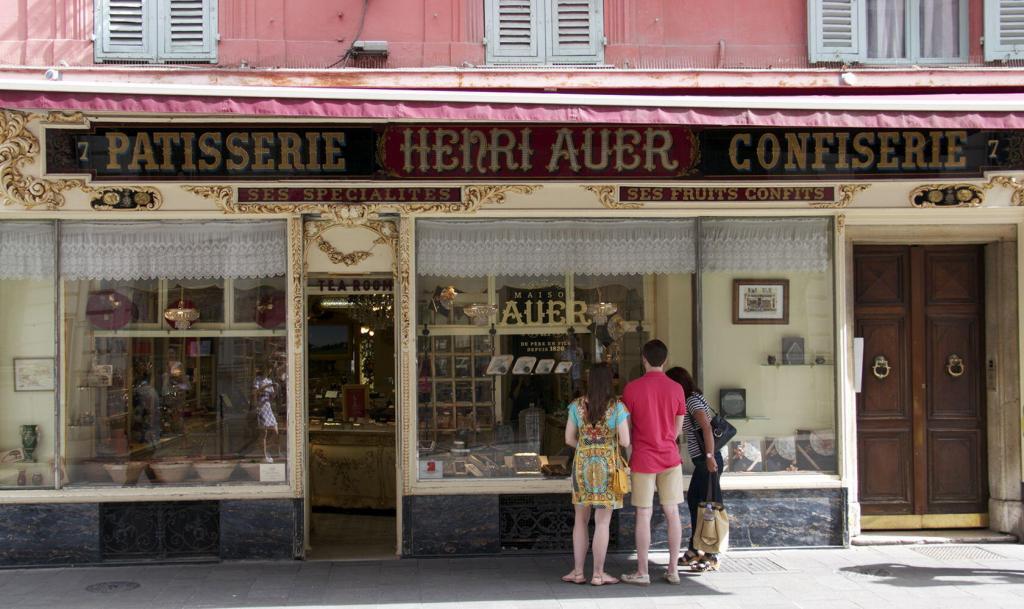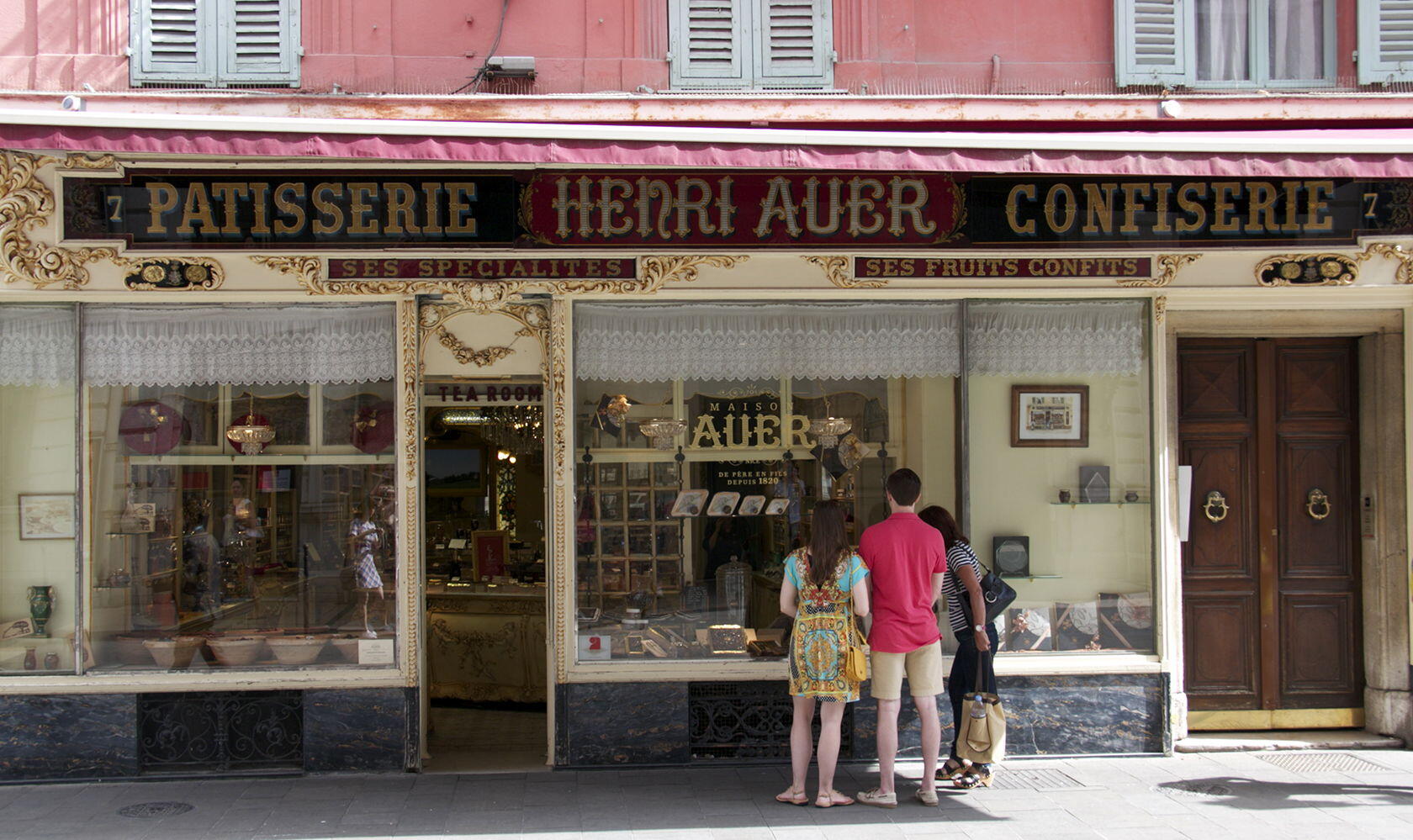 After a bit of a history lesson and overview of Nice today we started walking to Maison Auer one of the oldest candy stores in Nice. This store sells many tempting sweets within its Victorian-era décor. We sampled fruits confits, which are traditionally used in ice creams, cakes or as sweet dessert decoration. It was a Roman discovery that they could conserve fruit in honey. Using osmosis the water is eventually replaced by sugar so the fruit will last for a long time.
Sampling wine before noon is not mainstream in North America, in Nice it seemed perfectly reasonable – when in Nice… We had strolled through the narrow, cobweb of streets in Vieux Nice with Kelly providing interesting facts along the way. Now, it was time to sample the 2 Euro Vin de Pays du Var. A wine that was dispensed from a spigot into whatever container you choose to provide, in this case, it was a plastic bottle that had previously contained a litre of water.
Fortified, we headed to le Tramway a shiny component of the Niçoise public transport system that certainly did not exist on my previous trip. The owners at A Taste of Nice have designed this tour to make sure their clients see the real Nice. So, we headed to the local's food market at Place de Liberation.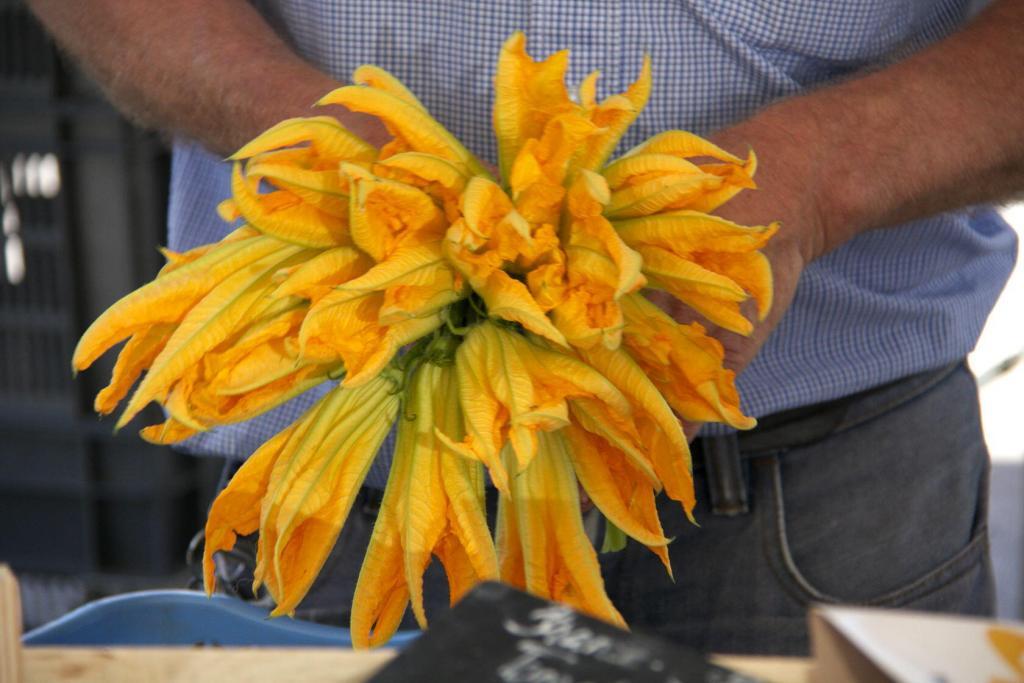 On a sunny Wednesday morning, we gawked at the farmers' stands filled with regional, seasonal produce such as artichokes, aubergine, tomatoes and zucchini flowers. It had been at least 30 minutes since our last food sample. We simply could not leave the market without tasting a piece of homemade pissaladière before we got back on the tram to return to the old town.
The noon bells had rung and Nice's cannon had boomed, it was lunchtime in Nice. We shared a delicious lunch of piping hot socca straight from its cast iron baking pan, petits farcis and some Provencal rosé.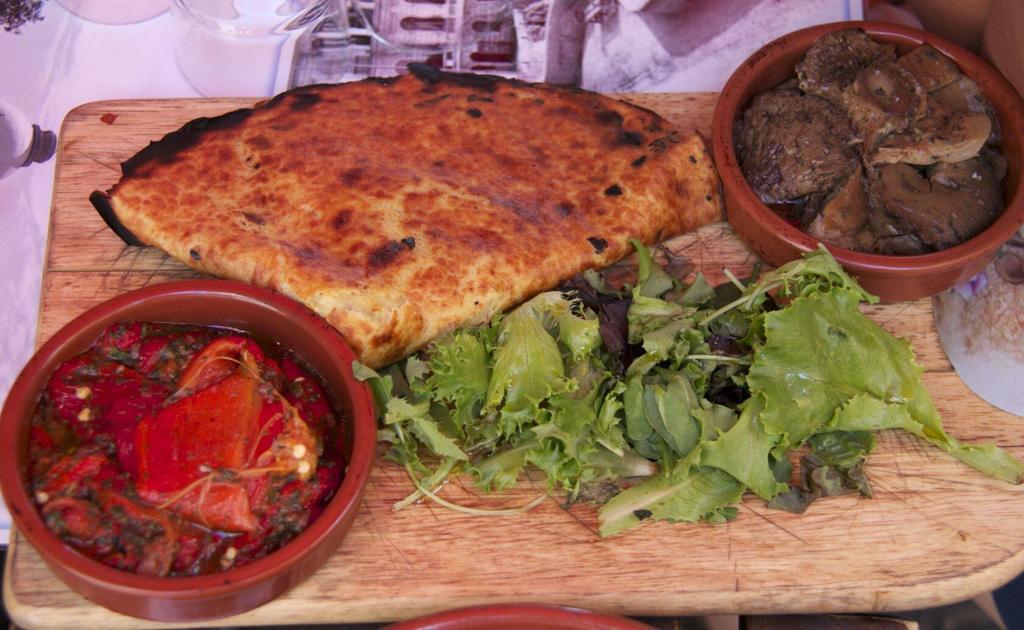 We probably could have sat there all afternoon, but no there were still a few stops left on our foodie tour. It is true that I had some warning when I booked the trip that a light breakfast might be a good idea…and maybe no dinner. In all, 3 1/2 hours after we started I certainly felt like I had discovered some of Nice's traditional food and gained some knowledge of Nice past and present.
What to sign-up for a tour?
Book a Tour:
A Taste of Nice (website)
Tel: +33 (0)9 86 68 93 81
admin@atasteofnice.com