Win a Festive Gift Package from Provence Enter Today
Online store Remember Provence sells authentic Provencal-themed housewares, gift items and culinary ingredients to customers worldwide.
You could be the lucky winner of a festive holiday package from Remember Provence. Plus there is a holiday shopping bonus! Perfectly Provence readers receive a 20% discount on Remember Provence products until December 31, 2021. Use this code PP2021 at checkout.
Gift Package
The team at Remember Provence put together a lovely gift package, including Provencal linens by Marat d'Avignon® and a small ceramic surprise. While we can't guarantee arrival before Christmas, we will do our best. One winner will enjoy a Bastide print apron, with a matching potholder and breadbasket, along with a few extras.

The contest entry details are below – bonne chance!
How to Enter the Giveaway
Sign-up for the Perfectly Provence Newsletter
NOTE: If you are already a newsletter subscriber, share this article with a friend and let us know that you did here with the subject line "Remember Provence Gift." We will enter your name in the draw for each referral that you make.
The Fine Print
This promotion is open to entrants worldwide.
The contest runs from November 29 – December 4, 2021, @ 18:00 (Mountain Time). We publish the results after contacting the winner.
One (1) winner will be selected from the eligible names via a random draw.
Tell us about Remember Provence
Remember Provence started as a home-based business selling artisanal products from the South of France in 1997. In 2013, all the products moved to a web-based platform. Owners Marie-Helene and Emmanuel Benoit are involved in all the operations, from purchasing to marketing to shipping. Having grown up in Provence, Marie Helene has an innate ability to separate the genuine, authentic French creations from those that might be mass-produced elsewhere. Please read more about how this business is promoting authentic made-in-Provence products.
Since 1948, the Marat d'Avignon® has specialized in Provencal table linens. This textile manufacturer continues to honour the past with traditional processes, high-quality materials and historical patterns. For example, Bastide print has calissons (the famous candy from Aix-en-Provence) in contrasting colours.
Here is a recipe:
Calissons d'Aix
A truly enjoyable treat to make and connect with bakers long ago. Patience will be your reward if you can let them sit overnight to set. And while this is a traditional recipe, it is by no means easy to master. So even if it doesn't look perfect, it will taste just as delicious. Served alongside afternoon tea or at the end of a delicious evening meal, these sweet delicate Calissons will be a welcome addition to your baking repertoire.
Check out this recipe

For Pinterest Fans

Holiday Cheer Cocktail Ideas
The Best Mulled Rosé Wine Recipe
One could say, this seasonal cocktail is back by popular demand! Following the many requests from its warm welcome at Covent Gardens last Christmas, we're delighted to share the recipe for our mulled rosé wine. Great way to keep warm during these cold winter months. Santé everyone!
Check out this recipe

Mistletoe Martini
This fruity, lightly sweet cocktail is a perfect addition to any holiday event or party. Not only does the deep pink colour suit any festive outfit, but it's also a perfect match for any treats you may want to have out for your guests!
Check out this recipe

Rosé Christmas Punch
Like most punch recipes, this one with gin and rosé is quick to make, and your guests will love it. Cheers to the season!
Check out this recipe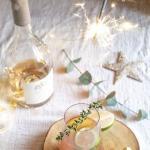 Cinnamon Royale with La Folie Rosé Cocktail
This is an easy cocktail, but oh so festive for any special occasion. Make the sugar syrup in advance so you can create this sweet aperitif for Valentines, a wedding toast, Christmas or any good reason.
Check out this recipe