Fall Tart Quince Almond Tarte Tatin
When ripe, a quince is a light golden colour. This fruit looks like an oversized, lumpy pear but, despite their shape, they make for a sweet dessert. Apples, pears, apricots, plums, peaches, almonds and quince share the same genetic heritage, they all come from the rose (Rosaceae) family.
This quince almond tarte tatin (tatin aux coings et aux amandes) is a fall dessert that celebrates the slow-ripening fruit. It's a bit of work to peel quince, but you will be pleased with the sweet end result.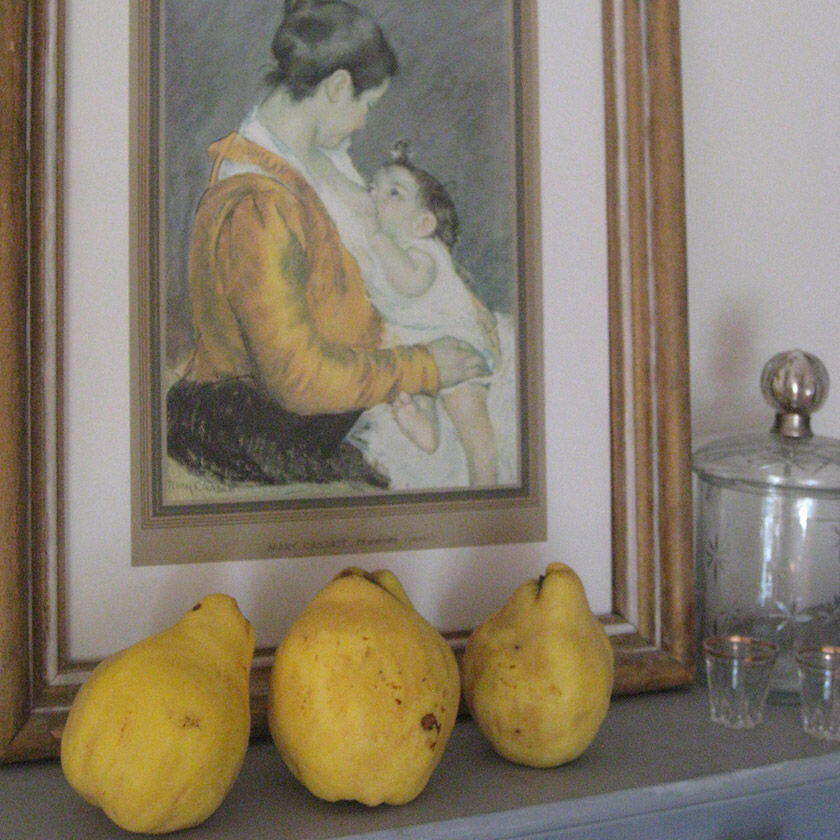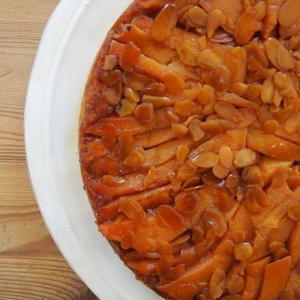 Quince Almond Tarte Tatin
This tart tatin aux coings et aux amandes (quince and almond) is a twist on the classic apple version. Quince takes a bit of work to peel, but the result is worth the effort.
Ingredients
6-8

Coings

Quince - see note

1

litre (4 cups)

d'Eau

Water

200

g (3/4 cup)

Sucre

Sugar

1

cup

Caramel

Caramel

1

cup

Amandes Effilées

Sliced Almonds
For Topping (like a crumble):
1

cup

Farine

Flour

1

cup

Amandes en Poudre

Ground Almonds

1

large

Oeuf

Egg

a pinch of

Sel

Salt

1/2

cup

Beurre

Butter
Instructions
Eplucher les coings avec un bon couteau. (Peel the quince and remove seeds. This is not an easy job.)

Jeter les tranches de coings au fur et à mesure dans (1 litre d'eau pour 200g de sucre) un sirop frémissant. (Drop the slices of quince into a simmering syrup made with 1 litre of water and 200g of sugar.)

Laisser cuire jusqu'à ce qu'ils soient tendres. (Cook until the pieces are tender.)

Faire couler du caramel au fond d'un moule et parsemer d'amandes effilées. (Pour caramel into the bottom of a cake mold and sprinkle with almond slivers.)

Disposer les coings et recouvrir d'une pâte à l'amande avec 1 cup farine, 1 cup amandes en poudre, 1 oeuf, 1 pincée de sel at 1/2 cup de beurre. (Arrange the quince in the pan and cover with an almond paste made with 1 cup flour, 1 cup ground almonds, 1 egg, a pinch of salt and 1/2 cup of butter).

Faire cuire 15 mn à 20 mn th.7. (Bake in a hot oven at 220C (425F) (7Gas) for 15-20 minutes.)

Inverser votre moule à gâteau pour servir. (To serve, invert your cake mold.)
Notes
Eplucher les coings (il faut un bon couteau mais finalement, ça n'est pas plus difficile que de couper de la courge...) et en prévoir beaucoup car s'ils sont "d'un jardin", ils sont forcément un peu abîmés.
To peel the quince it takes a good knife but finally, it's no more difficult than cutting squash. Select more fruit than you think you will need because if they are fresh from the garden, they are usually a little less than perfect.