Serving a Cheese Course in France is Culinary Tradition
"How can you govern a country which has two hundred and forty-six varieties of cheese?"

~ French President, Charles de Gaulle in 1962
Serving a cheese course after the main dish is customary in France but certainly not mandatory. Typically the host provides a selection of cheeses ranging from mild to strong in flavour, along with some crusty baguette and oftentimes a green salad.
The "recipe" below is more of a guideline as the choice of cheese and quantities depend on the number of people you expect to serve.  The seasonal cheese tray below includes fresh figs, dried fruit and nuts. While this presentation is not traditional, it is still delicious. Regardless, it is best to limit the choices if you plan to serve a dessert following the cheese course.

Cheese plate with Seasonal Figs
The quantities will vary depending on the numbers at your table. However, as a rule, provide a selection of cheeses from mild to strong. You can prepare individual plates for each person or one larger board allowing everyone to select their favourite cheeses.
Ingredients
1

Mild Cheese

Such as brie, fresh chevre, Camenbert

1

Medium Cheese

Comté, Cantal, Tomme, Mimolette

1

Cheese with a stronger flavour

Reblochon, Epoisses, SaintNectaire

1

Blue Cheese

Such as Roquefort

Walnuts or other nuts

allow 3-4 person

Fresh Figs

allow 1-2 person

Dried Fruit

dried figs, prunes, apricots

1

Baguette

sliced
Instructions
Prepare your cheese tray, placing the cheese in order of mild to strongest.

Wash the figs. Cut off the tops and slice in half or quarters.

Decorate the cheese plate as you wish and serve with fresh sliced baguette.
Recipes with Goat Cheese
Goat Cheese and Pear Salad
Quick to prepare, this salad is a perfect compliment with the Acquiesce Roussanne and Belle Blanc wines.
Check out this recipe

Baby Greens with Fried Goat Cheese and Pears
Look no further if you're looking for a light main course for a warm summer evening. This recipe combines sweet, fresh greens with rich, creamy goat cheese for an impeccable combination that will impresses. Want to take it a step further? Pair this dish with a crisp, dry white wine and watch your guests fawn over your expertise.
Check out this recipe

Leek and Goat Cheese Tart
This light tart recipe is the perfect accompaniment for a crisp glass of Provencal rosé on the patio or by the fire. No matter what the weather is like, this savoury and creamy tart is absolutely delicious. With leeks and goat cheese being easily accessible in most regions year-round, make this tart with a fresh green salad for a dish that is sure to impress. Make sure to allow enough time for your dough to rest before using it.
Check out this recipe

Warm Goat Cheese Salad with Honey Mustard Dressing
This salad is quick to prepare. Use fresh, local ingredients, where possible. Enjoy for lunch or divide into smaller portions and serve as a starter course.
Check out this recipe

Stuffed Zucchini Blossoms: Goat Cheese, Sun-Dried Tomatoes, and Tapenade
This recipe is easy to prepare and delicious to eat. Serve hot with chilled rosé.
Check out this recipe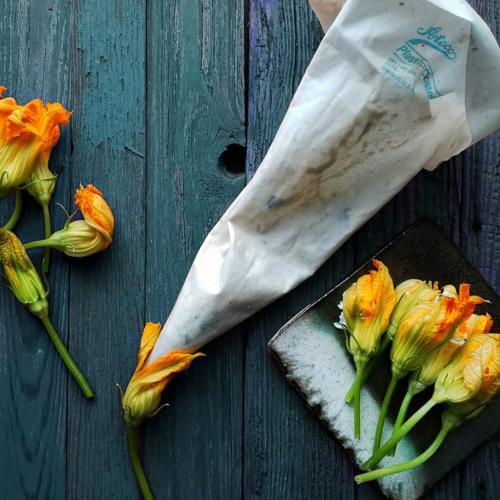 Whether cooking is your passion or not, entertaining should be enjoyable. Perhaps the climate in Provence lends itself to outdoor dining, but traditional cuisine generally involves a few seasonal ingredients and simple techniques. Below we share five (5) easy entertaining ideas inspired by the South of France, including cocktail nibbles, picnics, Sunday lunch and more.
Sometimes when life calls for relaxed, stress-free dining, try an indoor picnic. Make a charcuterie cheese board as an appetizer or add more ingredients for a light meal – apéro dinatoire.  According to Saveur Magazine, the Hungarians have perfected this low-key form of entertaining. Here is how to make a charcuterie cheese board.