Seafood Pot Pie Makes Every Day a Holiday
I think the healthiest thing that any of us can do is to look at each day as a holiday. Every day we have is a gift, and we should treat it as such.
This recipe was posted in The New York Times around the holidays as a way to make a one-dish version of the traditional Italian "feast of the seven fishes." I turned it into more of a fancy "pot pie." Of course, it's a delicious dish for the holidays. However, if there is one thing that 2020 taught us, there is no reason to wait for an occasion. Every day is special. Continue reading here for step-by-step photos.

Seafood Pot Pie
Simple to prepare, this seafood dish delivers "wow" factor with the golden, puff pastry crust.
Ingredients
6

tbsp

Unsalted Butter

plus extra for dishes

2

large

Leeks

white and light green parts only, halved and thinly sliced

2

tsp

Kosher Salt

2

Anchovies

minced

½

cup

Dry Vermouth

¼

cup

All-purpose Flour

more for rolling out pastry

1 1/4

cups

Shrimp or Seafood stock

1

lb

Mixed Mild White Fish Fillets

cut into 1-inch thick cubes

1/2

lb

Large Shelled Shrimp

halved lengthwise

1/2

lb

Sea Scallops

side muscle removed, halved

1

cup

Frozen Peas

1

tbsp

Fresh Tarragon

chopped

1

tbsp

Fresh Parsley

chopped

2

tbsp

Drained Capers

chopped

1

large

Egg

1

pound

All-butter Puff Pastry

thawed
Instructions
Butter 4 shallow gratin dishes.

Melt 2 tablespoons butter in a large skillet over medium-high heat, then stir in leeks and 1 teaspoon salt, and cook until soft, stirring frequently 5 to 7 minutes.

Stir in anchovies and cook 1 minute, until the anchovies dissolve.

Add vermouth and bring to a boil, then let simmer until the wine evaporates almost completely. Remove from heat and scrape into a bowl.

In the same skillet, melt the remaining 4 tablespoons butter over medium heat. Whisk in flour and cook until pale golden, about 3 minutes. Slowly whisk in shrimp or seafood broth, and bring to a simmer, whisking constantly. Cook until very thick, then remove from heat.

Pat the fish cubes, shrimp and scallops dry. Stir them into the sauce along with the sautéed leeks, peas, tarragon, parsley, capers and remaining 1 teaspoon salt. Spoon mixture into prepared dishes.

Chill uncovered, for 1 hour.

Preheat oven to 425°F (220°C).

In a small bowl, whisk together the egg with 1 teaspoon water. On a lightly floured surface, unroll pastry dough. Roll it 1/8-inch thick. Cut into 4 pieces to fit your gratin dishes (I cut mine into ovals). Place pastry on top of the pie but don't seal the edges (it will stop the pastry from puffing). Brush the egg wash all over the pastry.

Place pies on a rimmed baking sheet and bake until the crust is golden about 25 minutes. Remove from oven and serve immediately.
Notes
Note: you can use any mixture of seafood and fish (I think I prefer all seafood)
Holiday Menu Ideas: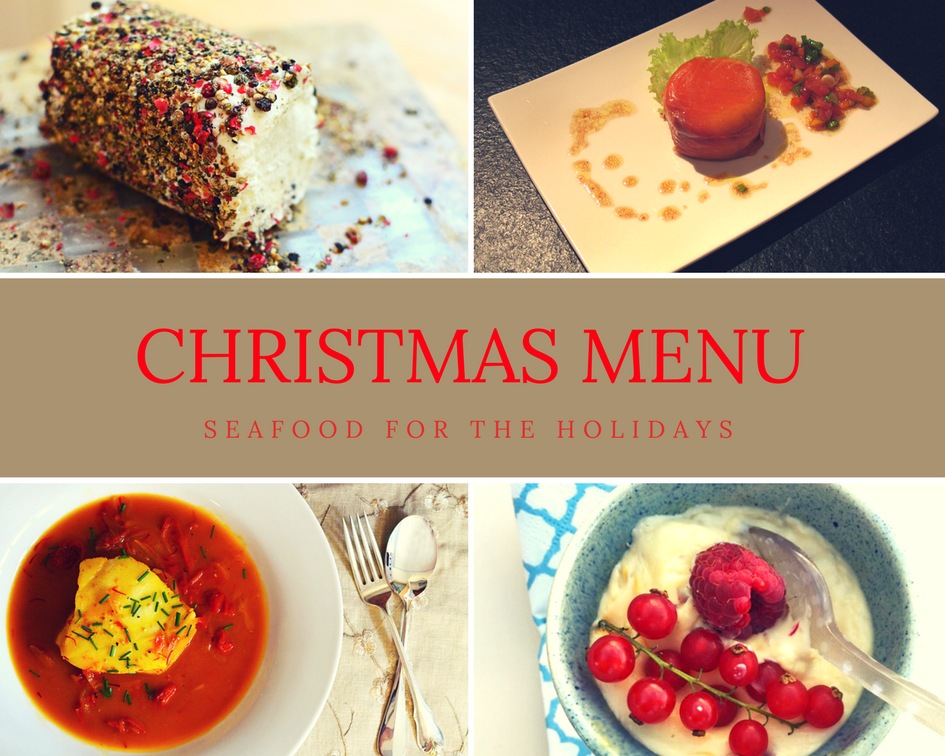 Any occasion is a great reason to try a new recipe or return to that one that never fails. December festivities are an excuse to pull out the china, the fancy wine glasses and great a special feast. We hope you enjoy this Seafood Holiday Menu.


With its natural abundance of local produce, Provence offers lots of flexibility for entertaining all year. Graced with plenty of sunny days and just enough moisture the region provides delicious foraging experiences. This holiday-inspired menu pulls together regional olives in a savoury cake to nibble on with drinks. Duck satays with a fig compote follows as the entrée. The main event is a French classic of coq au vin with mushrooms and a hint of bacon flavour. The salad combines endive, apples and walnuts, and the final touch is a tangy sweet lemon Madeleines.


This holiday menu is not exclusive to the Christmas season; however, the heavier flavours lend themselves to cooler evenings and Rhône Valley red wines. This meal combines some real Provencal classics including garlic aioli, local lamb with herbes de Provence, tomatoes, a hint of Pastis and a not too sweet dessert.


Sometimes you just need to go green for the holidays. This tastes of Provence Vegetarian Holiday Menu will impress even the die-hard carnivores in the crowd. Lead off with tiny zucchini cakes a savoury snack with cocktails. Master chef Gérald Passedat's version of ratatouille combines classic Provencal ingredients (zucchini, eggplant, tomato) in a beautiful tian form. The vegetable terrine adds colour and a touch of curry to the main course. And finally, a dessert for chocolate lovers made with five ingredients.