Rosé and good food: a heavenly match made in Provence
Since I can remember rosés have occupied the fun aperitif/pub by the river/swimming pool wine or perfect BBQ beverage slot, but only very few people have considered them with nicer foods or ordered a bottle at a restaurant. The reasons for this are many-fold, not least the fact that quality hasn't always been paramount in rosé production
…Continue reading here to find out why that has all changed. Rosé quality from Provence (and other countries) has not only improved it is winning awards (Mirabeau Classic won gold @ IWC2016). Rosé also tends to build a liquid "bridge" between the red and white drinkers. However, best of all a dry rosé is a good pairing with everything from sushi to ratatouille.
Rosé Cocktails and Recipes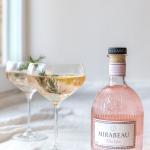 Rosé Christmas Punch
Like most punch recipes, this one with gin and rosé is quick to make, and your guests will love it. Cheers to the season!
Check out this recipe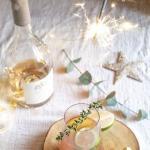 Gin and Rosé Sparkling cocktail
All you need is a cocktail shaker to craft this festive gin-based sparkling start to the evening.
Check out this recipe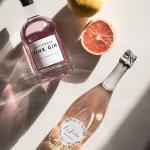 Rosé Royale
This drink is festive, slightly stronger than a glsss of wine, and a lovely way to start and evening with friends. The recipe serves 5-6 people depending on the size of glasses.
Check out this recipe

Roast Chicken with Rosé Cranberry Sauce
While the chicken is roasting, enjoy some cocktail and nibbles with your guests. Make sure to leave enough time to rest the bird after it comes out of the oven. Make the cranberry sauce in advance; it goes well with chicken.
Check out this recipe

Roast Lamb with Rosé Glaze
Slow-roasted leg of lamb might is very easy to make. The rosé with pink peppercorns and honey make for a delicious glaze. The lamb looks almost lacquered when it's finished cooking.
Check out this recipe

A Savoury Prawn​ ​and​ ​Rosé​ ​Linguine​ Recipe
This meal is simple a perfect weekday dinner or for a crowd.
Check out this recipe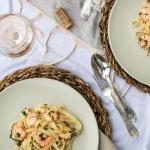 Rosé Poached Pears
This dessert is delicious either served warm or chilled. Once cooked the pears will keep covered in the fridge for three days.
Check out this recipe

Strawberries and Cream with Verbena and Mirabeau rosé gin jelly
Make the rosé gin jelly and verbena syrup at least four hours before serving.
Check out this recipe