Recipe for Eggplant Gratin with Parmesan and Tomatoes
Let me start by saying this is not eggplant parmesan. Yes, it has eggplant and includes Parmigiano-Reggiano, but it is not the dish you might expect. This side dish is delicious in every season. Serve hot in the fall and winter and at room temperature in other months.
The eggplant is not floured, egged, dredged in breadcrumbs and fried. (In that preparation, how does one even taste the eggplant?) In this preparation, there is Parmigiano-Reggiano but no mozzarella. This dish has no "gooey" factor. Please look at the preparation photos for this unexpected Eggplant Tomato Gratin recipe.
Both tomatoes and eggplant (aubergine) are readily available in Provence through the end of the summer months and into the fall. For the lavender buds, make sure that you use culinary-grade lavender.

Eggplant Tomato Gratin
A new way to enjoy eggplant cooked with fresh local tomatoes! Use a heavy baking dish like a lasagna pan or pyrex.
Ingredients
2

large

Eggplants

cut into 1/2-inch rounds (peeled or not, your preference)

1/2

cup

Extra Virgin Olive Oil

plus extra as needed

Salt

2-3

Shallots

peeled and diced

5

Plum Tomatoes

quartered, seeds removed, and diced

1 1/2

cups

Tomato Passata

purée

3

tbsp

Mixed Fresh Herbs

chopped, see note**

1/2

tsp

Dried Lavender Buds

1/2

tsp

Red Pepper Flakes

or to taste

splash

White Wine

1

tsp

Salt

Freshly Ground Black Pepper

1/2

cup and 2 ounces

Parmigiano-Reggiano

grated

2

tbsp

Bread Crumbs

or panko
Instructions
Spread eggplant slices in one layer, sprinkle with salt (on both sides) and set aside for 45 minutes to allow the eggplants to sweat and lose their bitterness.

Preheat the broiler with the rack 4 inches from the element. Pat eggplant slices dry and arrange as many slices as possible in one single layer on a parchment-lined baking sheet. Brush slices generously with olive oil on both sides. Broil until the eggplant is golden on top, turn and broil until the second side is golden. Set the eggplant slices aside and repeat the process until all the eggplant is done. This will take a total of 8-10 minutes per batch.

Turn off the broiler, and pre-heat your oven to 400°F (200°C) moving the rack to the middle/upper third.

In a 4-quart saucepan, heat 2 tablespoons of olive oil and sauté onion until golden. Add chopped tomatoes, and sauté for 3 minutes. Add herbs, lavender buds, red pepper flakes, a splash of wine, salt, and black pepper, and cook for 2 minutes. Add the passata and cook over medium heat for 10-15 minutes, or until thick.

Lightly coat a gratin dish with olive oil. Arrange a third of the eggplant In the bottom of the dish. The slices should overlap slightly. Spoon a third of the tomato sauce over the eggplant followed by a third of the Parmigiano-Reggiano. Repeat twice, ending with the tomato sauce and Parmigiano-Reggiano. Top with breadcrumbs, a drizzle of oil, and salt and pepper to taste.

Bake for 35-40 minutes, until golden brown.
Notes
* Tomato Passata is used in many Italian recipes. It is not the same as tomato sauce. Passata is made with ripe tomatoes strained of their seeds and skins. 
** Combine your herbs; we used rosemary, marjoram, thyme, basil, and mint.
Additional Recipes with Eggplant:
Eggplant Cakes with a Pesto Sauce
Think of this as a savoury cake. Once the eggplant is cooked, simply combine it with the rest of the ingredients and bake. The dish can be served with the pesto sauce (below), a tomato sauce or combine the two sauces for a rich flavour experience.
Check out this recipe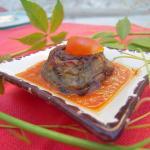 Eggplant Poupetton with Tomato Vinaigrette
Although terrine is traditionally a meat-based pâté, you can create a plant-based meal that is just as delicious and packed full of nutrients! This dish could fool even the strictest of carnivores and is sure to impress your friends that follow a vegetarian or vegan diet (you can substitute the cream for a dairy-free alternative to make a stunning vegan dish).
Check out this recipe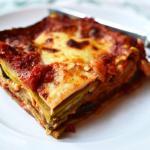 Baked Eggplant and Lamb with Tomatoes and Pine Nuts a Perfect Casserole
This casserole is delicious comforting blend of ground lamb, rich eggplant and melted mozzarella.
Check out this recipe