Zucchini Flowers Stuffed with Artichokes and Goat Cheese
Zucchini flowers are beautiful, delicate, and can be a bit tricky to cook. However, they are also delicious, so don't shy away from trying this recipe below for zucchini flowers stuffed with fresh goat cheese and artichokes. Serve as a starter course or with a bit more mesclun for a lunch-size salad.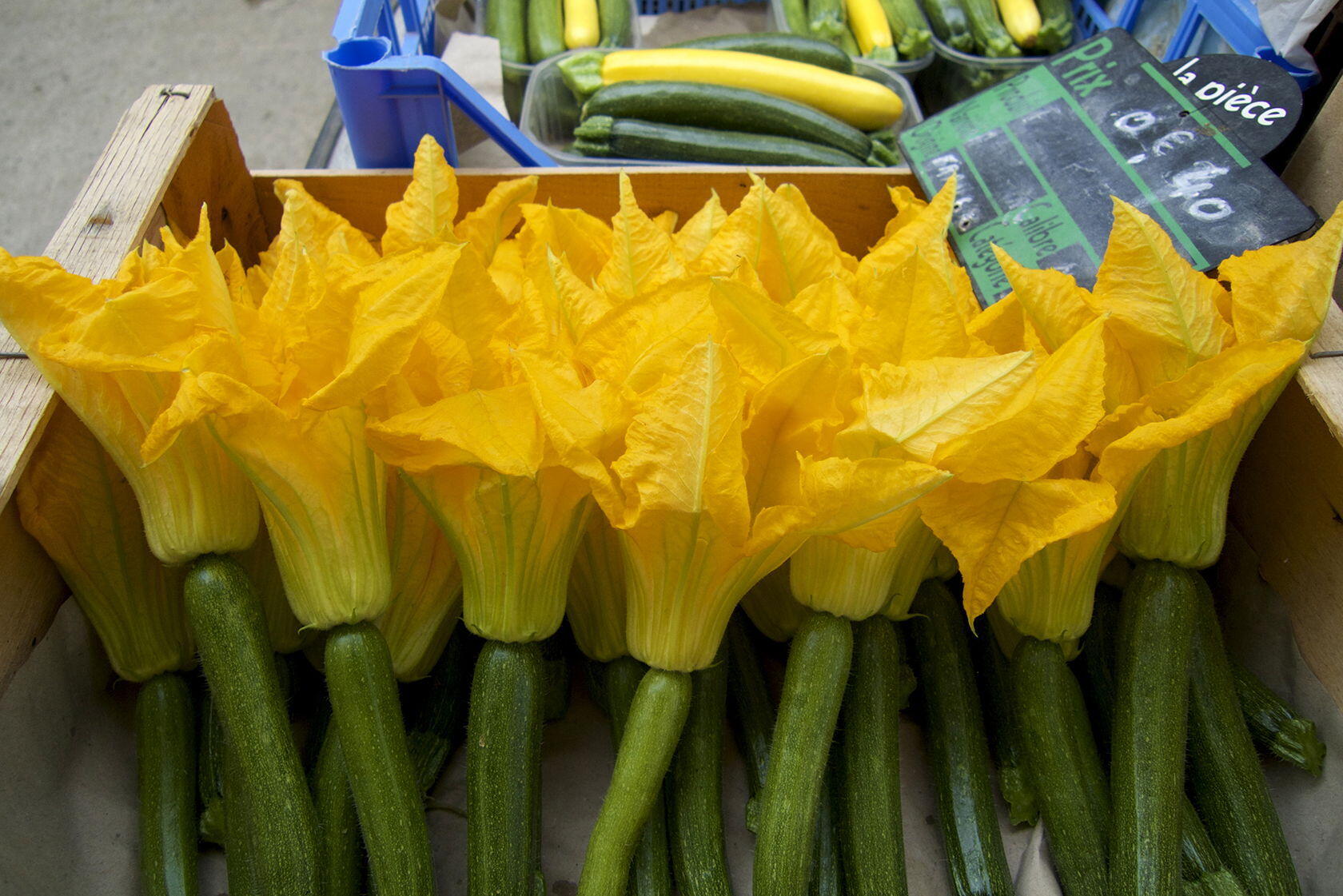 Zucchini Flowers Stuffed with Artichoke and Goat Cheese
Zucchini flowers are one of the delicacies of Provence. They are best stuffed with a young, mild goat cheese that won't overwhelm the delicate flavour of the flower. Pair the dish with a delicate, dry Provence rosé.
Ingredients
4

large or 8 small

fresh Artichokes

juice of 1

Lemon

1

cup

Vegetable stock

½

cup

Extra virgin olive oil

2

Garlic Cloves

¼

tsp

Coriander

Sea Salt and Pepper

to taste

6

oz (2/3 cup)

Fresh, Mild Goat Cheese (chèvre)

½

Celery Rib

chopped finely

8

Zucchini flowers

2-3

cups

Mesclun Salad

2

tbsp

Balsamic Vinegar

4

Cherry Tomatoes

for garnish
Instructions
Fill up a medium bowl with water and add the lemon juice.

Clean the artichokes: Cut off top 1/3 of the artichoke, including spiny tops. Remove the outer leaves by peeling them back until they snap. Using a paring knife, peel stem to remove fibrous outer layer. Remove any remaining tough, fibrous, dark green parts on the outside of the artichoke heart. With a spoon, scoop out the chokes and clean the inside of the artichoke. Immediately put artichokes in bowl of water with lemon.

Preheat the oven to 400 degrees F (200C).

In a small (1-quart [948-mL]) saucepan, bring to a boil the vegetable stock, oil, garlic, coriander, a pinch of salt and a grinding of black pepper.

Add the artichokes, lower the heat to medium, and cook for 10 minutes.

Drain and artichokes and save the cooking liquid. When the artichokes are cool enough to handle, dice them.

In a medium bowl, combine the chèvre, artichokes, celery, and 3-4 tablespoons of the artichoke cooking liquid. Stir well.

Gently open the zucchini flowers and using a spoon, fill each flower with as much of the goat cheese (chèvre) mix as it will hold. Arrange the flowers in an oven-safe dish, drizzle with 3 tablespoons the cooking liquid and bake for 5-7 minutes.

Cool and refrigerate for 2-4 hours.

To serve, place two zucchini flowers on each plate. Add some mesclun and dress it with a little of the artichoke cooking liquid and ¼ to ½ tablespoon balsamic vinegar.

Garnish with the tomato and serve.
Other Recipes with Zucchini:
Financiers aux Courgettes (Zucchini Financiers) from Martine @ Goût et Voyage
Savoury Zucchini Tart Appetizer
Zucchini Tuna Rolls Appetizer by David at Cocoa & Lavender
Zucchini and Basil Velouté from Martine @ Goût et Voyage
Salmon with Herbed Provencal Chèvre Wrapped in Zucchini by David at Cocoa & Lavender