Made in Dorset: Ratatouille Recipe Inspired by Provence
We're still going strong with homegrown tomatoes, courgettes and aubergines here in Dorset, and with a solitary, ripe pepper this week (yes, just the one), the whipping up of a ratatouille seems unavoidable.
Now, if Jacques Médecin is to be believed, each of the vegetables should be cooked separately before being combined into the final mélange, and I'm quite taken with the Ligurian tendency to throw in a few toasted pignoli (pine nuts) at the end for added crunch.  I like to sprinkle on a few pitted black olives or crumble fresh goat's cheese just before serving.  Explore this Post
Ratatouille Recipes
Provencal Ratatouille Recipe
The traditional ratatouille recipe calls for vegetables to be browned in olive oil in a frying pan, each one separately and do not peel them at all. All the vegetables are cooked with their skin to preserve a maximum of taste. Then, they will be mixed and will confit together in an earthenware casserole.
Check out this recipe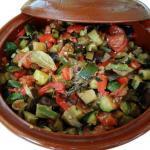 Mama Régine's Ratatouille from Cassis Bistro
Ratatouille is a delightful aromatic casserole. This bright and chunky summer vegetable blend will compliment any roasted or barbecued meat dish.
Check out this recipe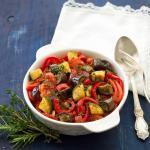 Remy's Ratatouille
This Cocoa & Lavender recipe was adapted from Thomas Keller's French Laundry cookbook.
Check out this recipe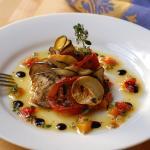 Gérald Passedat's Ratatouille My Way
"Ratatouille My Way" is from Gérald Passedat's new cookbook Flavors From The French Mediterranean. Ratatouille is a classic Provencal recipe that uses ingredients readily found in the region (tomatoes, zucchini, onions, eggplant).
Check out this recipe

Ratatouille Tian Estival
This tian is easy to prepare. It can be served hot from the oven or at room temperature. This baked ratatouille casserole is a variation on the traditional Provencal recipe.
Check out this recipe