How to Make Moroccan Pastillas at Home
Pastilla is a typical Moroccan dish, which we learned to make on our last culinary adventure to Marrakesh. Layers of pastry similar to phyllo wrap around a savoury filling of shredded chicken, spicy seafood or a vegetarian mixture. The traditional pastilla (bastilla or b'stilla) found in Marrakech is a sweet and savoury combination with squab or chicken. Often served as a starter course, pastilla is hearty enough to serve as a main course with a side salad. When you are making pastilla at home, have fun experimenting with fillings that suit your tastes. Or, in this case, what I found in my pantry, to create two pastilla variations, one with vegetarian and the other with shrimp.
Enjoy my video of the process, with the recipe details below.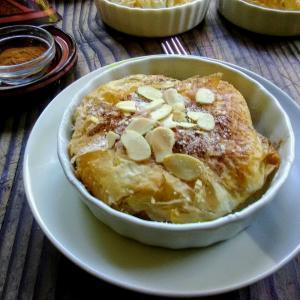 Moroccan Pastillas - Vegetable and Shrimp
The methodology for making pastilla is the same whether you create vegetarian, poultry or seafood versions. First, prepare the filling, wrap it in the dough and bake until hot. Enjoy!
Ingredients
1/4

lb

raw shrimp

cleaned, (defrosted if frozen)

1/4

cup

olive oil

to marinate the shrimp

1

tsp

Red Pepper Flakes

2

medium

Carrots

2

medium

Zucchini

1

Yellow Onion

sliced thin

1

package of

Phyllo sheets

found at most supermarkets

2

Eggs

1/4

lb

Unsalted Butter

melted
Dry Ingredients for the Filling:
1

tsp

Dried Ginger

1

tsp

Cinnamon

1

tsp

Paprika

2

tsp

Salt

1

tsp

Black pepper

1

tsp

Coriander

1

tsp

Garlic Powder

1

pinch

Saffron

2

tsp

Cumin

2

tsp

Dried Parsley

or 1 tbsp fresh, chopped

1/2

Lemon

for juice
To Finish:
6

oz

Toasted Almond Slices

2

tbsp

Cinnamon

2

tbsp

Powdered Sugar
Instructions
Marinate the ½ pound of shrimp with olive oil and red pepper flakes for one hour.

Mix all dry ingredients for the filling in a bowl and whisk together and set aside.

Saute the onion slices until translucent and set aside.

Grate zucchini and carrots and cook on medium/low heat and add the onions to the pan.

Sprinkle the dry spice mixture over the grated, cooking vegetables, add the lemon juice and allow to cook for about 10 minutes (until some of the moisture from the zucchini and carrots is cooked off).

Let the mixture cool for 15 minutes.

Whip 2 eggs with a fork for 30 seconds and add to the cooled mixture. Mix well.

Place a mound (3 oz) of the filling on a ½ sheet of phyllo dough. Brush the inside dough sheet with butter and fold over the top of the filling. Flip this on to a new sheet of phyllo, paint the sheet with butter and fold towards the center. Repeat this process 4 more times and place in ramekins.

For the shrimp version, add 2 medium uncooked shrimp (cut in half lengthwise) to each pastilla.

Bake for 20 minutes at 400 degrees Fahrenheit (200.

Sprinkle each pastilla with powdered sugar, cinnamon and top with toasted almonds!
Notes
Note: Phyllo (or filo) dough works well for this recipe. The traditional pastry in Morocco is called warka, and it is a highlight of our culinary tours to see the dough made by specialists with quick hands.
Exploring Morocco
Getting to Marrakech from Provence is an easy two and a half (2.5) hour flight. The Riad selected by Pitcher & Powell is an oasis in the Medina. Beautifully renovated and decorated by an Italian-Swiss couple who have lived on the African continent for 35+ years, the hotel has only eight (8) rooms. Ideally suited for Pitcher and Powell, the group enjoys the Riad in its entirety, providing guests with a "home away from home" experience. Keep reading here to learn about our culinary adventure in Morocco.