Le Bistrot du Paradou, Most Enjoyable Dining in the Alpilles
One Friday a few months back, we had a date for a rendezvous with cousins Jean-Marc and Christine for dinner. It was my responsibility to choose a restaurant somewhere between Montpellier and Sablet. After making some calls, I landed on Le Bistrot du Paradou. I was informed they had one table left but apologetically said it was out of the main dining room near the kitchen.
Le Bistrot du Paradou
57 Avenue de la Vallée des Baux
13520 Paradou, France
Tel: +33 (0)4 90 54 32 70
…Continue reading here for Michel's review of this long-established restaurant in the Alpilles village of Paradou. They serve one four-course prix fixe menu at each meal. They serve many traditional favourites including soupe au pistou and on Friday lunch is  always aioli.
When you go, do make a reservation!
Soupe au Pistou
This soup tastes better the next day after the ingredients have had a chance to get to know each other. Make both the soup and the pistou in advance that way when your guests arrive you can enjoy their company. See recipe note on making pistou.
Check out this recipe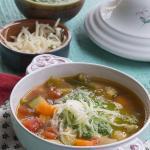 Grand Aioli is a Provencal Classic
Allow enough time as each vegetable should be cooked separately to ensure they are not overcooked. The dish can be served warm or at room temperature making it a perfect main course for hot days too.
Check out this recipe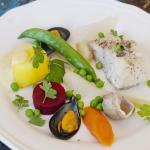 Things to do in the Alpilles
Biking Routes in Provence: Maussane-les-Alpilles to Eygalières by Keith Van Sickle
Alpilles Wine Tasting the Vineyards AOC Les Baux de Provence by Ashley @CuriousProvence