Homemade French Lemon Tart to Beat the Blues
This spring when were house-bound due to the Covid-19 pandemic, it would have been easy to feel down. But, that's not the way we roll in our home, we start baking and cooking to lift the spirits. When life gives you lemons you might make lemonade. I will always make a French Lemon Tart instead. I have always been an optimistic kind of person. I definitely see the glass as half full rather than half empty. The recipe below uses a pâté sucrée or sweet pastry dough in English, you can also find it in my latest cookbook French Cooking For Beginners. In the original Pistou and Pastis blog post, I included an option for a gluten-free version from Beatrice Peltre's amazing cookbook La Tartine Gourmande.
Enjoy!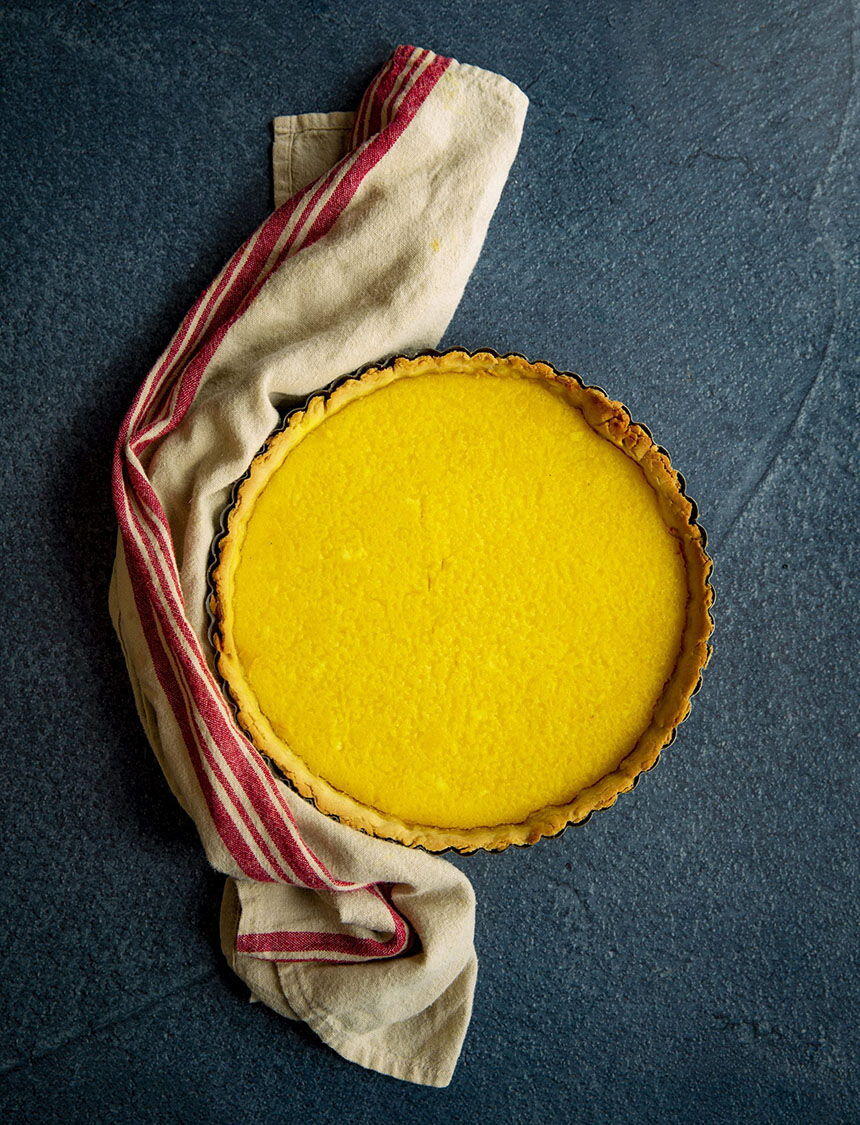 Classic French Lemon Tart
There are three (3) steps to prepare this lemon tart: make the dough, prepare the filling, and bake. The recipe (below) is the beginner's version of a quick and easy filling that will satisfy everyone in your family.
Ingredients
For the Sweet Pastry Dough:
1/2

cup (115 g)

confectioners' sugar

(10X fine sugar)

1/2

stick

Unsalted Butter

(2 ounces - 56 grams)

1

tsp

Vanilla extract

or 1 vanilla bean scraped

3

large

Egg Yolks

1

cup (225 g)

All Purpose Flour

you may need up to 1/4 more
For the Filling:
3

large

Eggs

3

large

Egg Yolks

2/3

cup (170 g)

Granulated Sugar

1/2

cup (120 ml)

Fresh Lemon Juice

from about 3 lemons

2

Lemons

for the zest and juice

3

tbsp

Butter

Melted

1

pinch of

Sea Salt
Instructions
To Make the Dough:
To make the dough, in a food processor, combine the confectioners' sugar, butter, and vanilla extract and process until well mixed.

Add the egg yolks and process until blended. Add the flour and pulse several times. Do not worry if the dough does not form a ball.

Press the dough together and cover it with plastic wrap. Refrigerate for at least 2 hours or, even better, overnight.

On a lightly floured work surface, roll out the dough to an 11-inch circle about 1/8 inch thick. Wrap the dough around the rolling pin and unwind it over a 9-inch tart pan.

Press the dough deep down into the corners, letting 1/4 inch hang over the edges. Crimp the edges tightly, and then let the dough relax for 30 minutes in the refrigerator.

Preheat the oven to 375°F (190°C). Bake the tart shell until very lightly browned, about 10 minutes.
To Make the Filling:
To make the filling, in a medium bowl, whisk together the eggs, yolks, granulated sugar, lemon juice and zest, butter, and salt until smooth.

Pour the filling into a pre-baked tart shell and bake at 375°F (190°C) until just set, 30 to 35 minutes.

Let the tart cool to room temperature before slicing.
Notes
I do not use baking beans or other weights to hold the crust in place when I bake a tart shell blind (empty). Crimping the edges tightly holds the dough in place and then later, I roll a rolling pin over to cut the edges clean.
As mentioned above, the filling in this recipe is the simpler version. If you are up for a challenge, please refer to my original post for the more complicated version involves two (2) steps, first making lemon curd and then finally a lemon mousse.
More Lemon Desserts from France:
Lemon-Lavender Hearts with Lemon Curd
Lemony Sweet Verbena Ice Cream