A Savoury Chicken, Leek and Ham Pie
Beautiful leeks in the market this morning and a bit of frost on the ground, so what better for supper than a lovely creamy, warming pie. The recipe for chicken, leek and ham pie is below.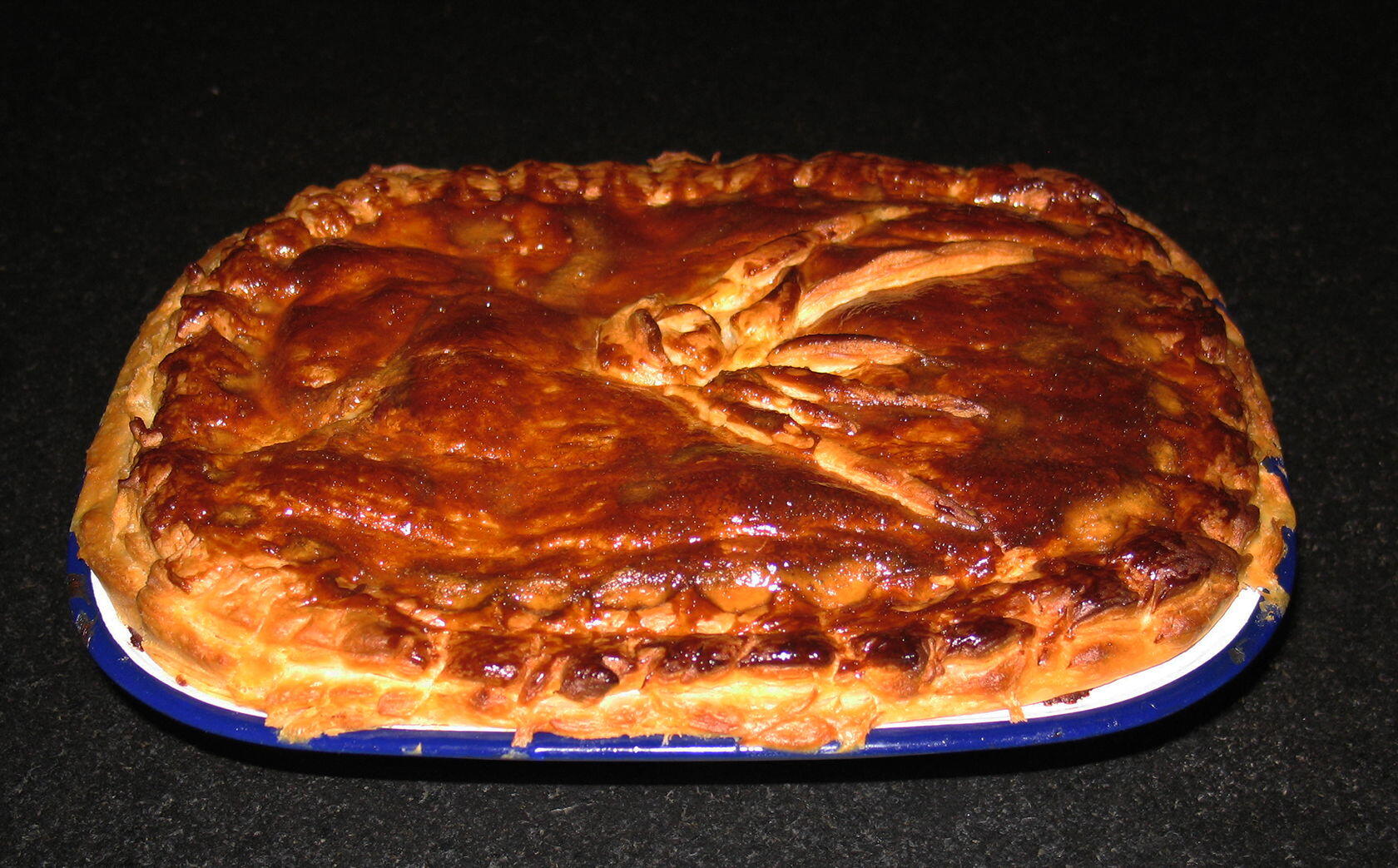 Chicken, Leek and Ham Pie
Tender chicken and ham chunks with leeks in a creamy sauce topped with flaky puff pastry.
Ingredients
4

Chicken breasts

250

gr

Ham

cut into chunky cubes

3

large

Leeks

finely sliced

1

pkt

Flaky pastry

100

ml

Dry White Wine

300

ml

Full fat milk

200

ml

double cream

75

gr

Butter

75

gr

Plain Flour

1

tbsp

olive oil

1

Egg Yolk

beaten

Salt and pepper to season
Instructions
Preheat the oven to 200C.

Roll the chicken breasts in cling film so they are tightly sealed.

Place them in a large saucepan and fill with water until the chicken breasts are completely covered.

Bring the water to the boil and simmer gently for 20 – 30 minutes, depending on the size of the breasts.

Remove from the heat, set aside and leave them in the water to cool.

In a sauté pan, add the olive oil and gently sauté the leeks until soft, being careful not to brown them, as this will affect the flavour.

Remove from the heat and set aside.

Melt the butter in a medium sized saucepan, then add the flour and stir until completely mixed into a paste.

Cook for a further two minutes, then add the wine and stir well.

When mixed, remove from the heat and add the milk a little at a time, beating well with a wooden spoon. The sauce should be thick and lump free.

When all the milk has been added, return the pan to the heat and gradually bring the sauce to the boil, stirring continuously.

Reduce the heat and continue to cook the sauce for 10 minutes, then remove from the heat and stir in the cream.

The sauce should now be very thick and glossy.

Season with salt and pepper to taste.

Unwrap the chicken breasts and slice into large chunks.

Add the chunks of chicken and ham to the sauce and then fold in the leeks.

Ensure everything is well mixed.

Unwrap the pastry, roll out to 3mm thick and then cut out a shape just slightly larger than your pie dish to make the lid of your pie.

With the left over pastry, line the lip of the dish.

Fill the dish with the chicken, ham and leek mixture.

Brush a half inch wide strip around the edge of the lid with beaten egg and place the pastry lid egg side down on top of the pie.

Firmly pinch the edges to make a good seal.

Trim off any excess pastry. Brush the pastry lid with the remaining beaten egg yolk and make a small slit in the centre.

Place the pie in the oven and bake for 30 minutes until golden brown.