Roasted Sheet Pan Chicken for Easy Entertaining
Sheet pan chicken is all the rage these days. I resisted the idea for a long time, figuring it was just another culinary fad that would fade. But then I realized that one of my favourite chicken dishes ever is a sheet pan chicken recipe by Ottolenghi. Chicken with Fennel and Clementines. He doesn't call it a "sheet pan chicken," so I didn't resist. Continue reading here for the original post and photos.

Roasted Chicken with Shallots and Grapes
This recipe was adapted from The New York Times. Like all sheet pan recipes, it is quite simple and quick to prepare. The dish will feed 6-8 people, depending on the sides that you choose to serve.
Ingredients
8

Chicken Thighs (bone-in, skin-on)

patted dry

2-3

tbsp

Olive Oil plus extra

2

tbsp

Za'atar

Kosher Salt and Black Pepper

12

large

Shallots

peeled and quartered root to stem

1

lb (450 g)

Seedless Red Grapes

8

sprigs

Thyme

2

tsp

Finely Chopped Thyme

Flaky Salt

for serving
Instructions
Heat the oven to 450°F (230°C).

In a large bowl, toss together the chicken with 2-3 tablespoons olive oil and za'atar. Season well with salt and pepper. Reserve 4 small bunches of grapes (for garnish when serving) and pluck the rest. Place the shallots and the plucked grapes on the sheet pan and gently toss with sufficient olive oil and season well with salt.

Nestle the chicken, skin side up, between the shallots and grapes and lay the thyme sprigs on top of the chicken thighs. Roast for 40 minutes. Add the bunches of grapes after 10 minutes.  Continue roasting until the chicken is cooked through and the shallots and grapes are softened and caramelized.

Remove thyme sprigs. Scatter with chopped thyme and season with flaky salt.
Easy Chicken Recipes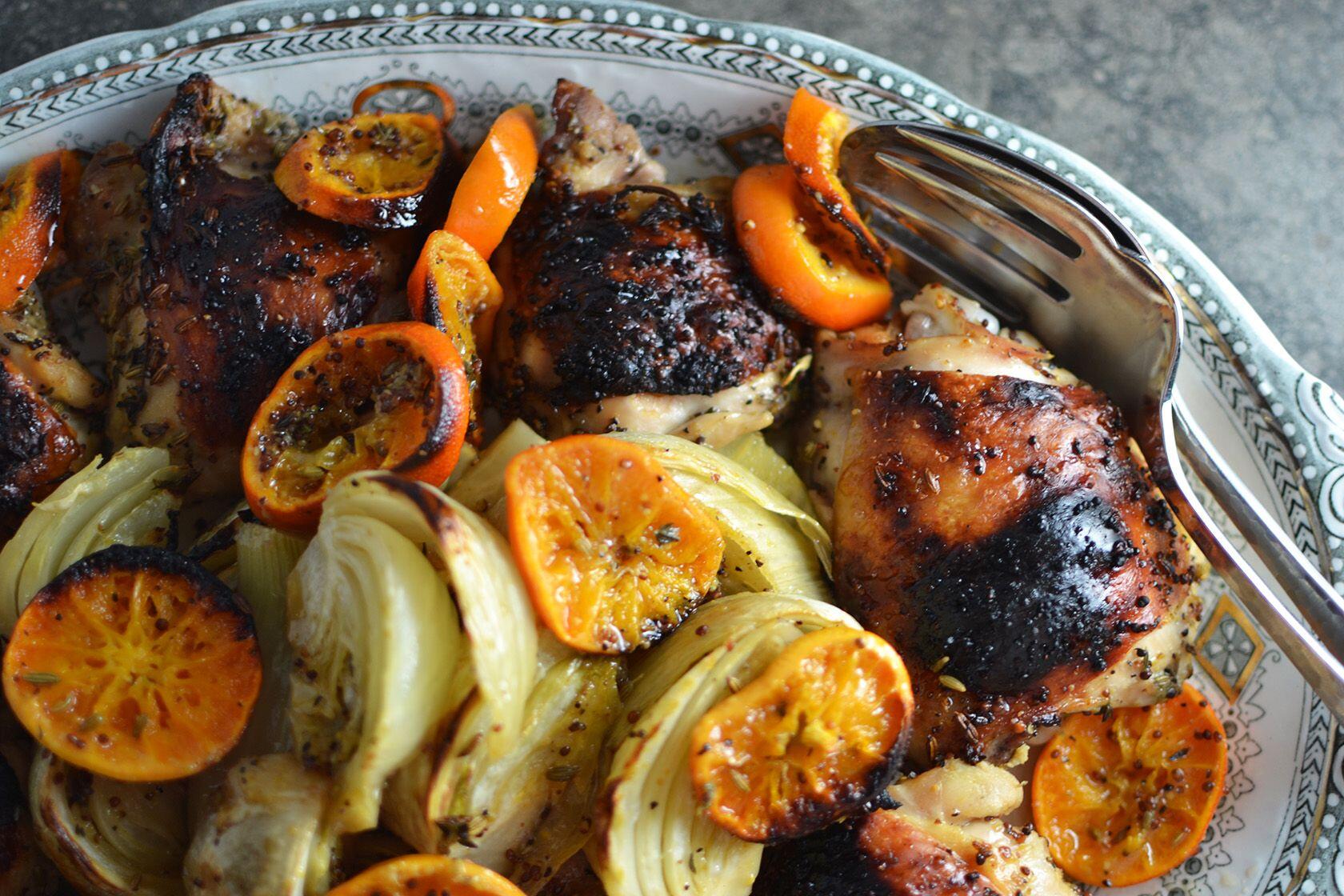 Chicken with Fennel and Clementines
A easy one pan dish combining the great flavours of fennel, citrus and roasted chicken. This recipe was inspired by Yotam Ottolenghi, and minimally adapted from his cookbook Jerusalem. 
Check out this recipe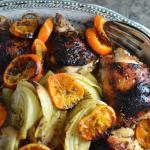 Roasted Chicken or Guinea Fowl
This quick and easy roast chicken or guinea fowl dinner will give you the taste of a day-long slow roast in around 1 hour. The garlic, lemon and rosemary season and tenderize the bird from the inside out, and add tremendous flavour with minimal effort. Serve with mashed potatoes, French fries, salad, green beans or other sides that you like. Don't forget to eat the garlic cloves, they are good for you and taste great!
Check out this recipe

Roast Chicken with Rosé Cranberry Sauce
While the chicken is roasting, enjoy some cocktail and nibbles with your guests. Make sure to leave enough time to rest the bird after it comes out of the oven. Make the cranberry sauce in advance; it goes well with chicken.
Check out this recipe

Chicken Tagine with Green Olives and Preserved Lemon
Adapted from a recipe by Tyler Florence.
Check out this recipe

Chicken Roasted with Saffron, Rosemary, and Lemon
Really, nothing could be easier to make than a roast chicken. There is very little preparation required, and plenty of time to make your sides while the chicken is roasting. Plus, the bonus is your kitchen will smell delicious.
Check out this recipe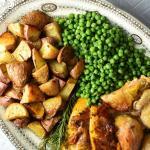 Mom's Dijon Chicken
This poultry dish is a no-fail, quick dinner that your guests will love every time.
Check out this recipe