Easy Banana Flan: A Twist on Far Breton
Delphine, the owner of Crêpes, Cidre et Companie, in Aix en Provence, is a lovely blend of Spanish roots and a childhood spent in northern France. She recreates her Bretonaise recipes daily at 23, rue de la Cépède in Aix. Her crêpes and galettes (savoury crêpes) are made with love. She does not skimp on ingredients – lots of butter, whole milk and eggs.
Delphine serves some other traditional treats from her oven. There are usually (if not sold out) delicious, buttery cookies and sometimes, if you are lucky, a slice of her traditional Far Breton. This dessert from Brittany is a tasty delight somewhere between a flan and a pudding. A Far Breton is similar to a Clafoutis or a Fiadone from Corsica. The key ingredient, much like for perfect crêpe batter, is flour.
Far is the word for flour in Brittany. With origins as a savoury dish made with buckwheat flour, Far Breton was traditionally served with roasts in the 18th century. As tastes changed and refined products became readily available, the recipe evolved into a sweet dessert.

Far Breton aux Bananas (Banana Flan)
"Simplicity is the ultimate sophistication," said Leonardo da Vinci. It's particularly true in patisserie! Most people really enjoy straightforward pastries such as crepes, clafouti and quatre quarts, where you only need a bit of milk, flour, sugar and eggs. Today, we want to add a twist to an established recipe by replacing the traditional pruneaux (prunes) with bananas in a far Breton. You could, of course, replace them with another fruit of your liking (peaches, strawberries, or rhubarb).
Ingredients
2

cups

Milk

3

Bananas

4

oz

Sifted Flour

3.8

oz

Sugar

pinch

Salt

4

large

Eggs

1 1/3

oz

Rum
Instructions
Preheat the oven to 180°C (350°F).

In an electric mixer, mix the sifted flour, sugar, salt, and eggs.

Beat the mixture until you reach a dough with a homogeneous consistency.

Next, add the milk, little by little, and then add the rum.

Next, butter and lightly flour a cake pan.

Cut two (2) of the bananas into round slices, and place them in the pan with the mixture.

Then, add the third banana, cut lengthwise, for the cake decoration.

Finally, cook the cake for 10 minutes at 180°C (350°F), then for another 35 minutes at 170°C (340°F).
Desserts with Bananas and Cherries
Banana Tarte Tatin
This delicate and flavourful dessert is a twist on the French Apple Tarte Tatin, a classic. Enjoy it with some creamy vanilla ice cream for a delicious treat that's sure to impress!
Check out this recipe

Chocolate Banana Charlotte
Creamy chocolate mousse and ladyfingers with flambe bananas dripping in chocolate sauce.
Check out this recipe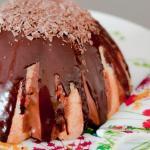 French Cherry Cafoutis
A traditional clafoutis boasting fresh fruit baked in to a delicious flan like batter.
Check out this recipe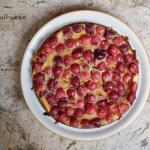 Fruit Clafoutis
Similar to a flan, delicious warm fruits baked in a sweet creamy batter sprinkled with sugar.
Check out this recipe