French Desserts Make Plum Clafoutis
During a Provence Gourmet cooking class, Gilles Conchy showed the group how to prepare a plum clafoutis a classic French dessert from the region. The traditional recipe for clafoutis, a flan-type dessert is made with cherries. However, the dessert can be prepared with many different types of fruit, except berries as they contain too much water. The recipe works well with stone fruit including plums, nectarines, apricots or peaches. It is equally delicious with grapes and pears.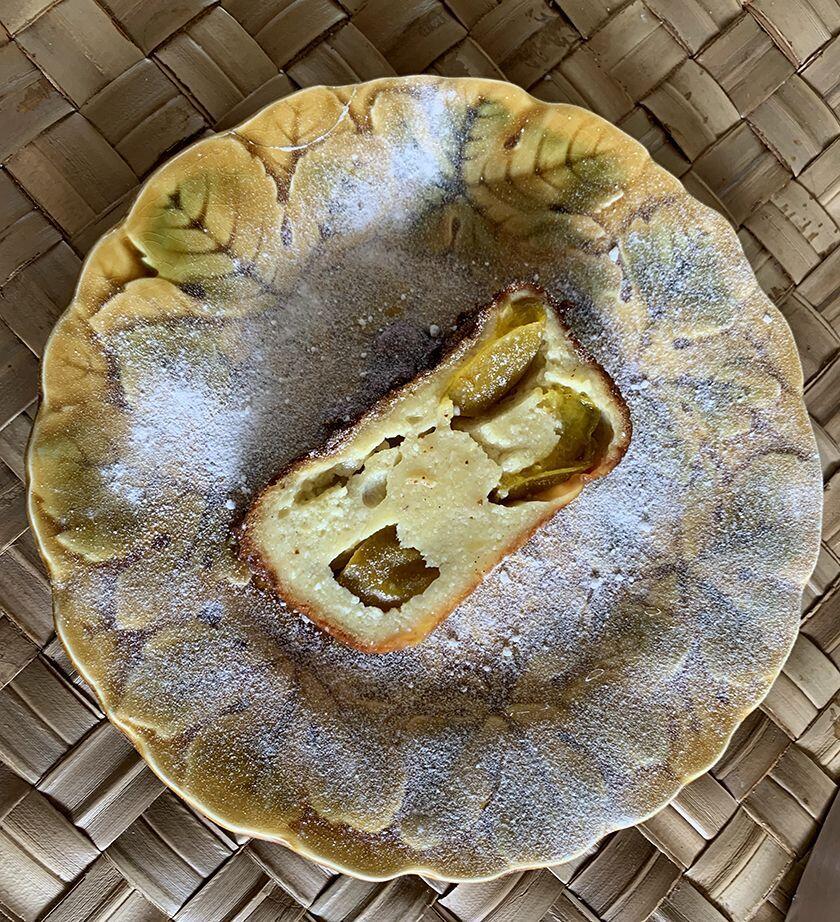 Reine Claude Plum Clafoutis
Reine Claude plums are a mid-size variety and delicious in this dessert. A clafoutis is easy to prepare and can be made in advance.
Ingredients
10-12

Reine Claude Plums

(Greengage plums)

4

Eggs

25

g (1 oz)

Flour

+ a bit extra to flour the pan

75

g (3 oz)

Ground Almonds

60

g (2 oz)

Sugar

250

ml (1 cup)

Heavy Cream

10

g

Butter

to grease your pan

pinch of

Salt

2

tbsp

brown sugar
Instructions
Mix 3 eggs and 1 egg yolk, add sugar and salt.

Once your mixture is creamy, add in the cream, the flour and ground almonds.

Butter and flour your loaf pan.

Cut the plums in half and remove the pits.

Place half of the plums (cut side up) on the bottom of the pan.

Pour half of the batter into the pan and complete a layer with the second half of plums. [recipe-video]

Pour the last part of the batter over the fruit.

Top your cake with 2 tablespoons of brown sugar.

Bake for 45 minutes 180C°(350F°).

Best served at room temperature.
Other Recipes for Clafoutis
A sweet cherry clafoutis recipe comes from Elizabeth Bard's book Picnic in Provence: A memoir with Recipes.
Clafoutis aux cérises noires (black cherries) from Cocoa and Lavender.
Paula from A Table in Provence shared her recipe for clafoutis with muscat grapes. She says it's a great recipe for a small kitchen. "When I am in Provence I am always asked to bring a dessert when going to a dinner party. I have a minimalist kitchen so I have to come up with a dessert such as clafoutis that is simple."
Please share this with friends and family.