Cocktail Twist Try a Rosé Negroni
Our limited edition Rosé Vermouth collaboration with Vault Vermouth was born out of a shared love for the aperitif culture and our passion to re-use and upcycle. Using our rosé wine from previous vintages and grape spirit from our gin production, we've created an aromatic Rosé Vermouth inspired by the South of France.
Handcrafted in small batches at Vault's distillery, this wine-based aperitif celebrates beautiful botanicals inspired by the French Rivera. Gentle sweet notes from the fig, lemon leaf, rose petal and pink pepper embrace the palate, followed by a long gentle bitter finish carefully balanced with notes of lavender, rosemary and thyme.

Rosé Negroni Cocktail
This cocktail is best served over ice or with a splash of tonic.
Ingredients
35

ml

Mirabeau Dry Rosé Gin

35

ml

Vault x Mirabeau Rosé Vermouth

15

ml

Bitters
Instructions
The secret of a great Negroni is in the ice. Make sure you have plenty in a rocks glass, and then add the Gin, Vermouth and Bitters. Give it a gentle stir to start the ice melting and diluting to your preferred taste. Next, take a long peel of orange zest, wipe it around the rim of the glass and pinch the peel over the drink to express a little oil. Perfection.
Additional Cocktail Recipes:
Cocktail Time Pomegranate Gin and Tonic
A refreshing gin and tonic drink alternative for any occasion
Check out this recipe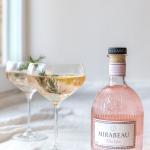 Gin and Rosé Sparkling cocktail
All you need is a cocktail shaker to craft this festive gin-based sparkling start to the evening.
Check out this recipe