Visiting Les Baux de Provence and Nearby Dining Options
Les Baux de Provence is a picturesque village about 46 miles southwest of our house in Sablet in the Vaucluse. The town sits on an elevated site with ancient dwellings and ruins of a castle perched on top overlooking plains to the south.
The village is classified as one of the "Plus Beaux Villages de France". The beauty of the village and surrounding Alpilles, a small range of mountains, make Les Baux de Provence a very popular place for visitors all year long.
The name Les Baux refers to its site. In Provencal, a baou is a rocky spur. Bauxite, a rock with high aluminium content, was mined extensively in the area, but all the Bauxite was entirely extracted by the end of the 20th century.
The area surrounding Les Baux de Provence is known for producing high-quality olive oil. The olive oil pressed from this area is labelled AOC Vallee des Baux, an area covering about 4,250 acres in the heart of Les Alpilles. Continue reading here for Michel's photos of beautiful Les Baux and some highlights from their lunch.
Carrières de Lumières
Within walking distance of Les Baux de Provence is Val d'Enfer (Valley of Hell): the site of old quarries. There you will find an original permanent exhibition entitled "Carrières de Lumières" (formerly "Cathédrale d'Images"). Opened originally in 1977, the show is located in an abandoned limestone quarry.
Carrières de Lumières is the largest fixed multimedia installation in France. The 14-metre high walls are the backdrop that 70 video projectors use to broadcast images. To avoid the wait in line, buy your tickets online in advance. A combination ticket also allows access to the Château des Baux-de-Provence.
The best time to visit Carrières de Lumières is early in the morning or late afternoon after 17h. Otherwise, parking can be a bit of a nightmare. The projection typically lasts about 35-40 minutes, repeating a loop throughout the day. So unless it is jam-packed, you can stay and watch the loop as many times as you like.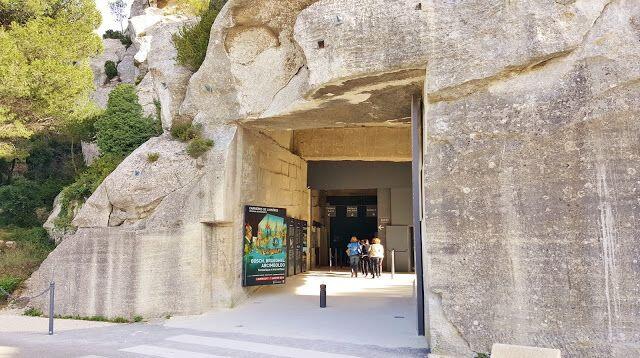 While the show is suitable for anyone with mobility issues, there are few stairs and wheelchair (or baby pram) ramps where necessary. The space's interior is fresh, which is fabulous on a hot summer day. However, it can feel cold even then, so it is best to bring a sweater or coverup. There is a small café on-site for a drink or light snack.
Lunch Near Les Baux
While our favourite local restaurant, Le Bistrot du Paradou was open, we decided to try a new-to-us bistro called Bistrot de l'Aupiho a little south of Les Baux off the D27 in the direction of Maussanne-les-Alpilles.
Le Bistrot du Paradou
57 Avenue de la Vallée des Baux
13520 Paradou, France
Tel: +33 (0)4 90 54 32 70
Domaine de Manville
Bistrot de l'Aupiho
13520, les Baux de Provence
Tel: + 33 (0)4 90 54 40 20
Book your table or a golf and/or spa package
Le Clos Saint Roch
87 Avenue de la Vallée des Baux
13520 Maussane-les-Alpilles
Tel / Fax: +33 (0)4 90 98 77 15
leclosaintroch@yahoo.com
Reservations are accepted by email or phone
Closed: Wednesdays and Thursdays