Classic Gin Sour a Pink Gin Gimlet Cocktail
When it comes to classic cocktails, a Gimlet has been popular since at least 1928, when the word was first used to describe this libation. Short on ingredients gin, lime juice and sugar, this cocktail packs a punch. The Gimlet is also classified as a gin sour which we've given a rosé touch with our Original Rosé Gin. Santé!

Pink Gin Gimlet
The key to a refreshing Gimlet cocktail is the combination of fresh lime and citrus served ice cold. 
Ingredients
1 1/2

oz

Mirabeau Dry Gin

25ml for a lighter serve

1 1/2

oz

Fresh Kaffir Lime Juice

regular limes work too

3/4

oz

Sugar Syrup

Ice Cubes

Lime Rind

for garnish
Instructions
Add a generous handful of ice cubes to a shaker and combine the ingredients. Shake the ingredients and strain over your martini glass. For that bar-chic garnish, carefully peel the rind around the width of the lime and roll once to create a glass-ready twirl.
Notes
Piece de Resistance
For that ice-cool serve, pop your martini glass in the freezer 1-2 hours before serving. For an aromatic boost, add a touch of the Kaffir lime rind to your sugar syrup, heat through and re-cool.
More Classic Cocktails

Valentine's Gin Spritz Cocktail
The perfect Valentine's Day cocktail, featuring our Dry Gin and sparkling rosé La Folie.
Check out this recipe

Pink Elephant Martini Cocktail
This cocktail is festive, fun and easy to mix. Enjoy!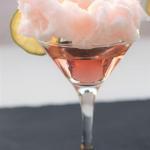 Pure Rosé Cocktail Recipe with rose ice cubes
The most time-consuming part of this drink recipe is making the ice cubes in advance. Find some beautiful miniature roses and freeze them in ice cube trays with water. The cocktail is delicious (of course), but the frozen rose ice cubes make the presentation.
Check out this recipe