A Classic French Cheese Soufflé Recipe
A French cheese soufflé was part of a menu that I created for a virtual cooking class. The class Fusion Vegetarian Menu Inspired by My Travels in France and Morocco! included a delicious line-up of dishes. The menu included four vegetarian courses: a classic Cheese Soufflé, Grilled Moroccan Vegetable Kabobs, Roasted Sweet Potatoes with Lime Crème Fraiche & Floating Islands (Iles Flottantes). During the class, I gave attendees tips on how to plate your courses in the style of Michelin Star restaurants.

Cheese Soufflé
Mastering a soufflé is a skill that every French chef and many cooks should learn. It is not difficult, but timing is the key. And, you have to serve the soufflé right away or risk that it falls. Enjoy this recipe as a starter course or a lunch dish with a salad.
Equipment
Kitchen Aid-Style Mixer

8 3-inch Ramekins

Sheet pan

Cheese grater
Ingredients
5

oz

Butter

5

oz

All-purpose Flour

12

oz

Milk

5

Eggs

split, room temperature

7

oz

Grated Cheese

like Parmesan (set aside 2 oz to line the ramekins)

to taste

Salt and Freshly Ground Black Pepper
Instructions
A soufflé is made of 3 components; the base (roux, milk, egg yolks), the flavouring (in this case, cheese), and an aerator - whipped egg whites.

Butter the ramekins and line the ramekins with grated cheese so the souffle can climb, but wipe the edge around the top with your finger to remove the cheese.

Make a roux with flour and butter. Cook 2-3 minutes. (Melt the butter in a pot and slowly add the flour while whisking until the mixture turns a golden brown). Now add the milk over heat, stirring constantly. Next, add 5 egg yolks and keep stirring. And finally, add the grated cheese and stir until it is melted. This is now called your "base."

Whip egg whites (making the aerator) with a pinch of salt and 1/4 teaspoon cream of tartar (either with a hand mixer or stand mixer) until firm peaks are formed. Always start with eggs that are room temperature!

In another bowl to fold (mix gently): Put ¼ of the whipped egg whites (called a sacrifice) to loosen up the base. Fold the rest of the egg whites gently in 3 more increments.

Then, pour the mixture into a large pastry bag. Next, fill each of the ramekins ¾ full with the mixture.

Bake in a convection oven at 375 degrees Fahrenheit for 12-15 minutes.

Serve immediately!
Notes
Gluten-free version: Use white rice flour and 1 tablespoon of potato starch as a substitution for the all-purpose flour in the roux.
Other Recipe with Cheese
Brandade de Morue Nimoise (Mini Brandade Souffle)
A southern French classic recipe. It's usually served with slices of crusty bread and raw vegetables, and goes well with a crisp, dry white wine.This is a Brandade that is served hot as opposed to the aperitif version that is spread on bread.
Check out this recipe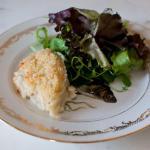 Zucchini Rolls with Italian Cheeses
The recipe serves four people as a main course. It's a lighter version of lasagna. I recommend that the zucchini roll-ups are placed close together when baking. This prevents them from unravelling.  I also recommend using a mandolin, so your zucchini slices are thin and easy to roll.
Check out this recipe

Pumpkin and Comté Cheese Muffins
These muffins (like most) are easy to make. Make sure to roast the pumpkin ahead of time. Switch out the cheese if you don't have, or can't find, comté. Make as muffins or a loaf. Serve as a snack or an aperitif. Enjoy!
Check out this recipe

Zucchini Flowers Stuffed with Artichoke and Goat Cheese
Zucchini flowers are one of the delicacies of Provence. They are best stuffed with a young, mild goat cheese that won't overwhelm the delicate flavour of the flower. Pair the dish with a delicate, dry Provence rosé.
Check out this recipe

Fresh Tomato Goat Cheese Tart
This easy-to-make tart combines flavourful tomatoes and tangy goat cheese in a pretty shape.
Check out this recipe