Chicken with Saffron and Quince a Fall Recipe
Qunice, or coing in French, is a lemon-yellow coloured fruit that looks like a lumpy pear. Although it is a genetic relative to apples and pears, the only way to eat quince is to cook it.  One popular preparation is membrillo (pate de coing), a dense, sweet, sliceable paste often served with cheeses in Spain, France and Arizona. The recipe below uses quince in a savoury combination of chicken and saffron, perfect for a fall dinner.
I don't think I had ever seen a quince until I moved to the Southwest US. After a recent quince jam cooking class, I came home with a bag of lumpy, fuzzy fruit. Aside from jam, what was I to make? Continue reading here for the original Cocoa & Lavender post.

Saffron Chicken with Quince
If you want a new way to enjoy your chicken the next time you make dinner, you should try this recipe! 
Ingredients
1

lb

Quince

4

tbsp

Clarified butter or Ghee

1

tsp

Saffron Threads

1

tsp

Sugar

4-6

large

Boneless and Skinless Chicken Thighs

trimmed

1

large

Onion

thinly sliced lengthwise

2

tbsp

Tomato Paste

dissolved in 1/2 cup water

1

Lemon

for juice

Salt

Ground Black Pepper
Instructions
Do not peel the quinces. Rub off all the fuzz with a terrycloth or damp paper towel, and wash them. Quarter them and remove the core with a melon baller or sharp knife. Cut into 3/4-inch wedges.

Heat 2 tablespoons of clarified butter over medium heat in a large frying pan. Add the quince and cook for 5 minutes, stirring occasionally. Add saffron and sugar and cook for another 5 minutes, stirring and tumbling occasionally to coat the quince with the saffron. Remove from heat.

Heat the remaining 2 tablespoons of clarified butter over medium heat in a separate large frying pan. Add the chicken and brown, turning once, for about 6-7 minutes.

Add the onion and cook with the chicken for another 8 minutes. Next, add the tomato paste mixture and cook another 5 minutes until the liquid thickens slightly.

Add the quince and lemon juice to the chicken and season with salt and pepper to taste. Reduce the heat to medium-low and simmer, covered, for about 20 minutes or until the chicken and quince are tender.
Cooking with Quince
Quince Almond Tarte Tatin
This tart tatin aux coings et aux amandes (quince and almond) is a twist on the classic apple version. Quince takes a bit of work to peel, but the result is worth the effort.
Check out this recipe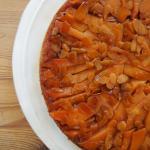 Quince Puff Pastry Tarts with Roasted Pecans and Vanilla Sauce
The colours of fall (orange quince, brown nuts and vanilla sauce) come together in this dessert. The trick if you are having company is to make the pieces (pastry, quince compote and toppings) in advance.
Check out this recipe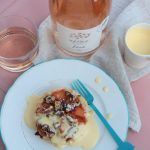 Pâte de coings (Quince Cheese) with a Cheese Course
The following recipe for pâte de coings a Provencal mother's tried and true method. Pâte de coings or quince cheese a traditional Provençale recipe, which takes time to make. This thick jelly is lovely served on its own or with aged Compté cheese. It's also one of the 13 traditional Christmas desserts served in France. 
Check out this recipe

Quince Paste - Pâte de Fruit de Coings from Provence
Quince resembles large, tough pears. The cooking time for this recipe will vary depending on the fruit. Serve quince paste (pâte de fruit de coings) with a selection of hard cheeses for an appetizer or an alternative to a sweet dessert.
Check out this recipe

Additional Chicken Recipes
Roast Chicken in a Mustard Sauce
An easy and delicious roasted chicken covered in mustard sauce. This recipe requires very minimal prep only one minute!
Check out this recipe

Chicken Piccata "Marccata"
If you're looking to elevate chicken breast, this recipe is absolutely exquisite. Pair it with a creamy mushroom risotto, fresh baby greens, and a dry white wine for a well-rounded meal perfect to share with a loved one.
Check out this recipe

Chicken Fricassé à la Provencal
You can serve this dish with couscous, potatoes, or even plain rice. It's great with a little bit of spice to heat your mouth. Traditionally, we use Piment d'Espelette in France, but any good chilli pepper sauce will work.
Check out this recipe

Classic Chicken Provencal
This juicy, tender chicken is a perfect addition to a crisp autumn evening. With classic flavours from the fennel and garlic, accompanied by the perfect touch of sweetness from the rosé, this dish is a guaranteed showstopper.
Check out this recipe

Stuffed Chicken Breasts with Red Bell Pepper Sauce
If you're looking for a dinner idea that's bound to impress, these stuffed chicken breasts are juicy and full of flavour! Not to mention, they're totally easy to make with a little love and patience!
Check out this recipe

Saffron in Provence
In October, the Provencal sun rises slowly above the horizon, like an old dog mentally weighing the effort of its next move. In the Jabron Valley, at 600 meters, about 10 kilometres from Sisteron, autumn mornings can be particularly frosty with single-digit temperatures. However, the saffron harvest at le Moulin de Jarjayes cannot wait for warmer weather. The tiny purple-hued crocus blooms only last a few hours.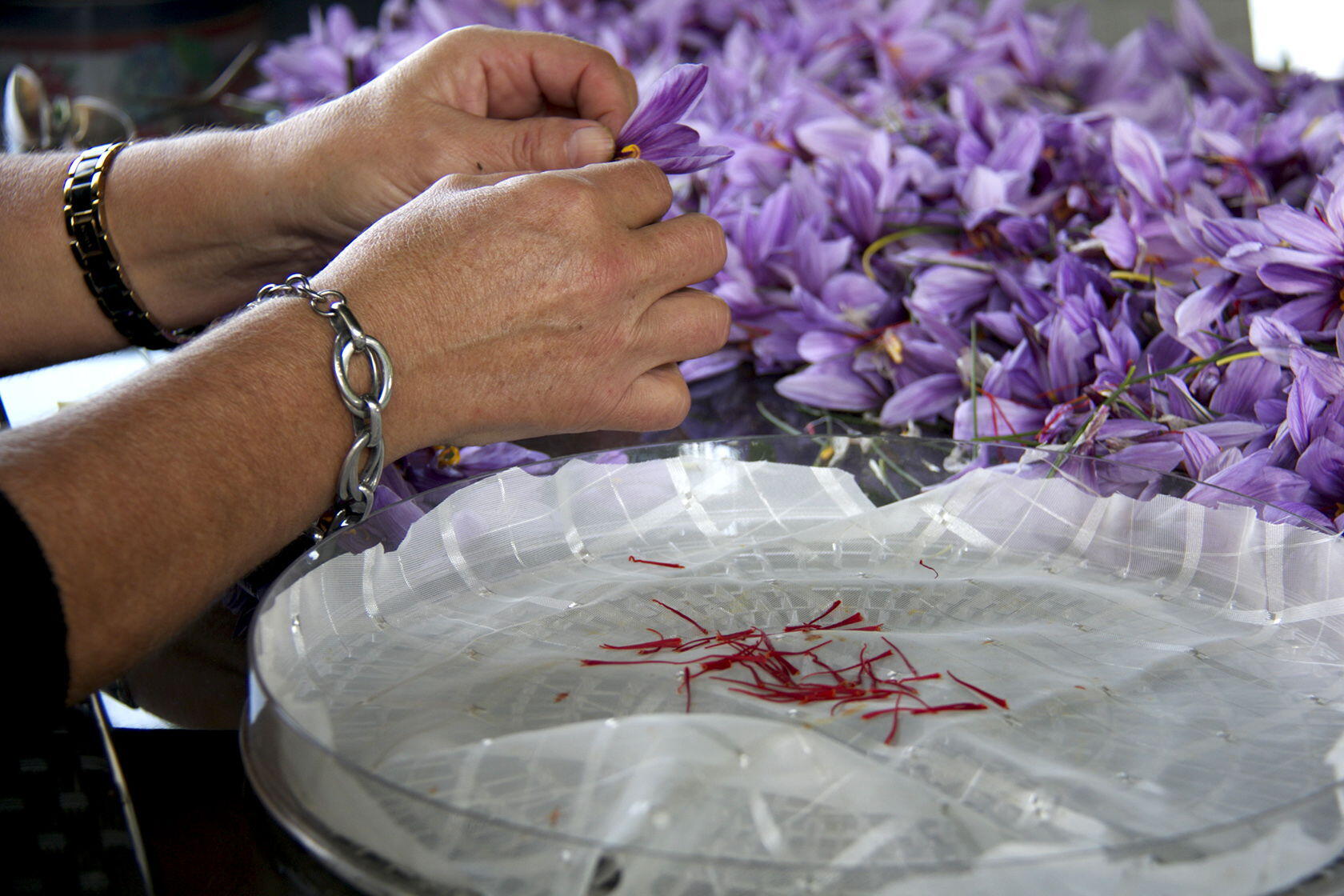 Saffron, like grapes, milk and other natural products, is impacted by terroir. Apparently, crocuses grown in North Africa will produce saffron with a slightly different colour and aroma from that grown in Haute Provence. This spice is one of the most expensive in the world due to the intensely laborious production process. There are roughly four flowers for each bulb, and each bloom has three stigmas. It takes about 200-220 flowers to produce 1 gram of saffron (or between 150-200,000 flowers for 1 kilogram).
All rights reserved. Perfectly Provence articles and other content may not be published, broadcast, rewritten (including translations into other languages) or redistributed without written permission. For usage information, please contact us.
Syndication Information
Affiliate Information
As an Amazon Associate, this website earns from qualifying purchases. Some recipes, posts and pages may have affiliate links. If you purchase via these links, we receive a small commission that does not impact your price. Thank you in advance for supporting our work to maintain Perfectly Provence.