Here are 10 Great Reasons to Visit Provence
Narrowing down the reasons to visit this corner of France to only 10 is a difficult task. Provence covers broad geography in the southeastern section of the country. It's here where the Rhône River reaches the Mediterranean, and the Southern Alps give way to fields and beaches. The Romans left a permanent imprint with magnificent structures that remain standing centuries after construction. However, perhaps it was the shoots of the first grapevines they planted over 2000 years ago that make Provence famous around the world. The region offers something for every level of interest, here are at least 10 reasons to visit Provence (in alphabetical order).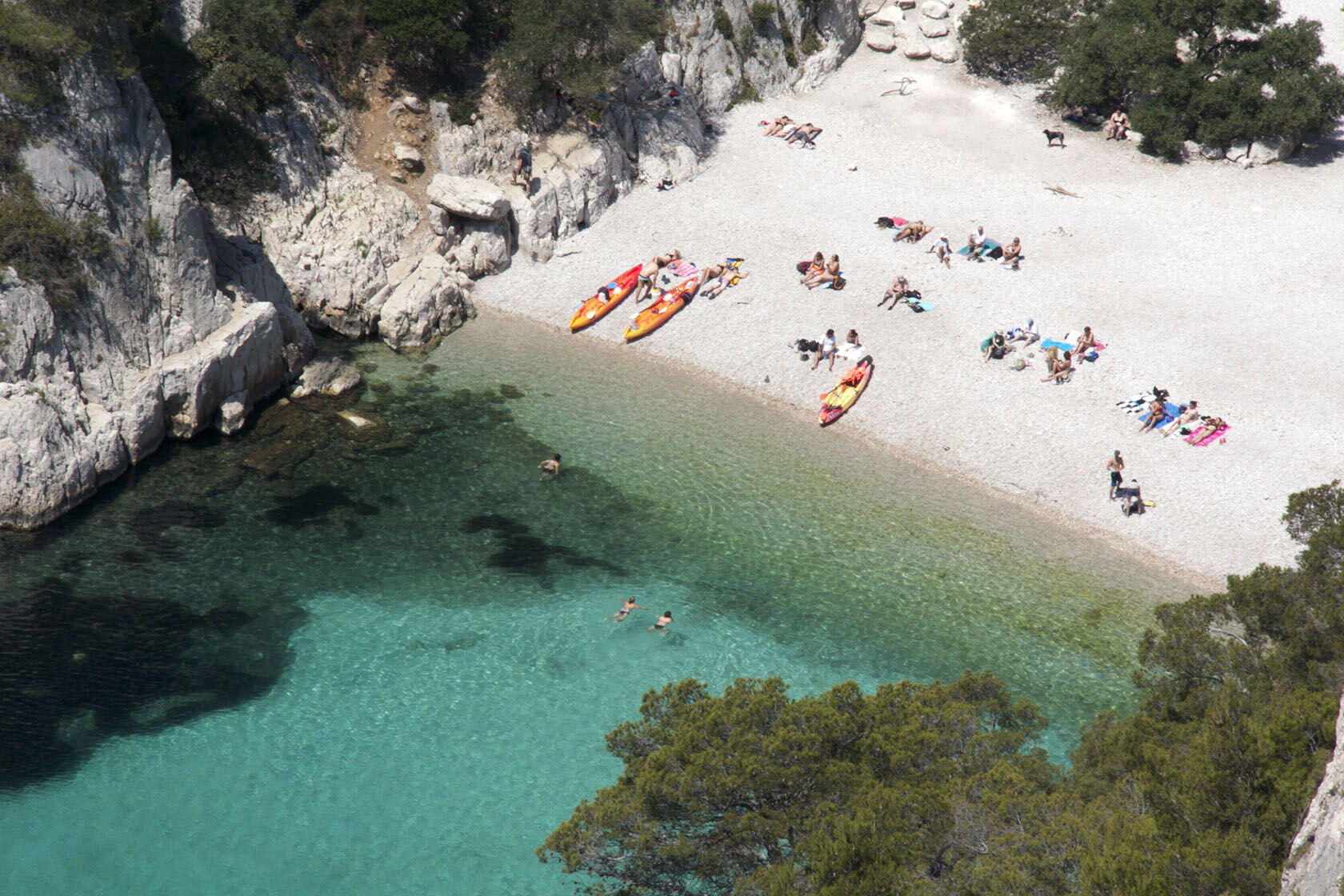 Artists
Paul Cézanne (1839-1906) was born in Aix-en-Provence on Rue de l'Opéra. The particular light of Provence guided his creative path to the threshold of abstraction. The work of Post-Impressionist French painter Paul Cézanne forms the bridge between late 19th century Impressionism and the early 20th century's new line of artistic inquiry, Cubism. The mastery of design, tone, composition and colour that spans his life's work is highly characteristic and recognizable around the world. Cézanne's work influenced both Henri Matisse and Pablo Picasso. Read more about Cézanne, from an artist's point of view.
Travel tip: Make sure to watch the film on Paul Cézanne at Hotel de Caumont.

After two years of struggling to make a living in Paris, Vincent Van Gogh arrived in Provence for the first time on February 20, 1888. For Van Gogh, who grew up in Holland with its muted hues, the comparison to Provence's radiant luminosity was stark. This profound change spurred his creative abilities, some might say to obsessive reaches. During his two years in the South of France, Van Gogh produced over 200 paintings and many drawings. He spent a year (1889 to 1890) in a mental hospital in St Remy de Provence. While at St. Paul de Mausole, Van Gogh painted some of his most famous canvases.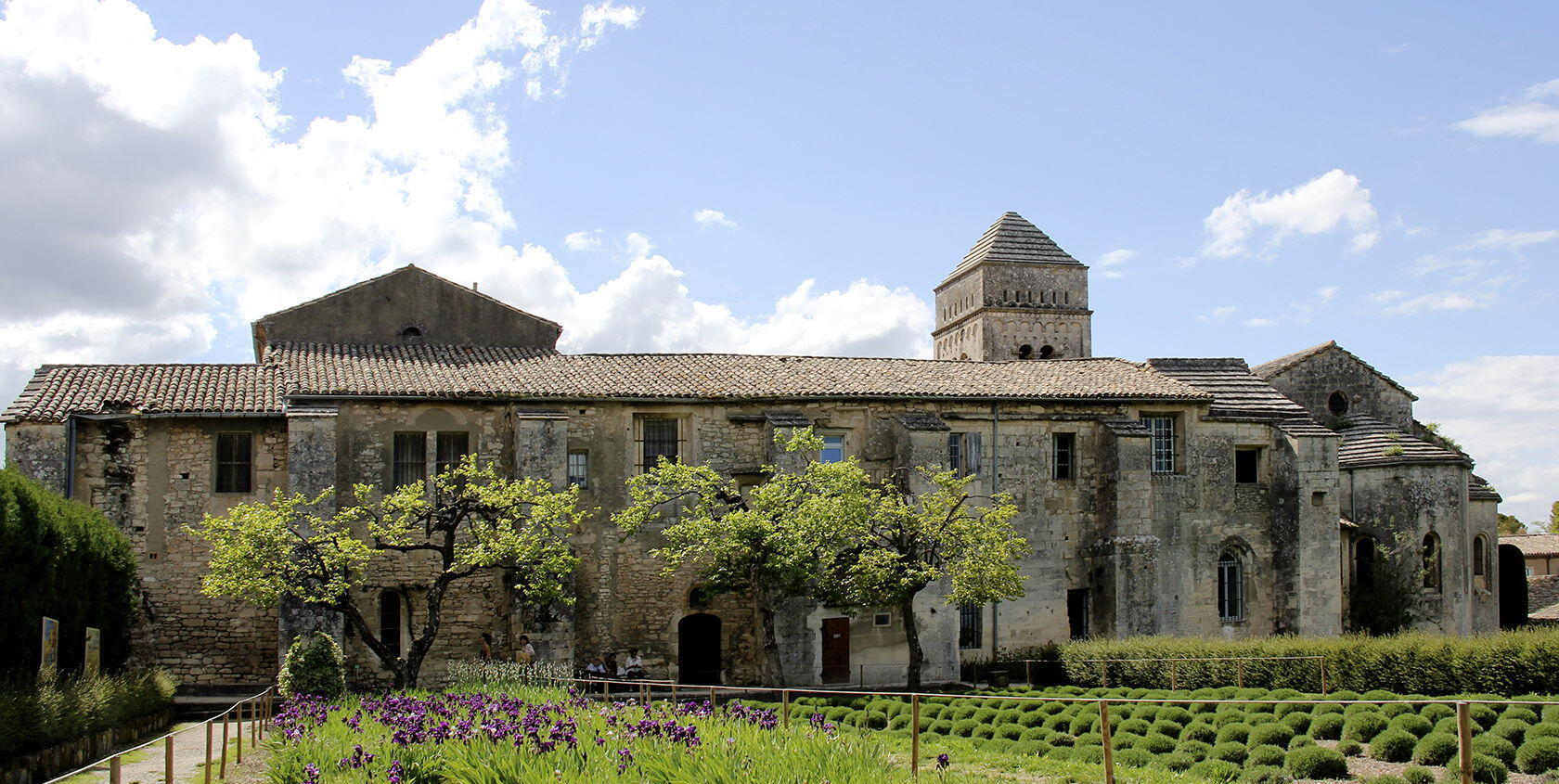 To explore Van Gogh's St Remy, start at Musée Estrine, previously a private house, constructed in 1749. Visit the museum's interpretative centre and make sure to watch the film on Vincent Van Gogh. Read more about Van Gogh and St Remy de Provence here.
Camargue
Where the Rhône River joins the Mediterranean, the marshland and brackish waters typify Provence's "wild west" – the Camargue. Since 1986, 100,000 hectares fall under the protection of a wetland preserve. There is nothing pristine about the Camargue, which is the very reason to visit this area. This weathered landscape is home to semi-feral animals and rugged ranchers. Striking white manes and mottled grey-white coats characterize the traditional horses that appear, almost like ghosts, in this swampy terrain. The Camargue black bulls (raço di biou) are stocky, never much higher than 4-5 feet with long, pointy horns. Discover the Camargue; it's a great place to visit with kids.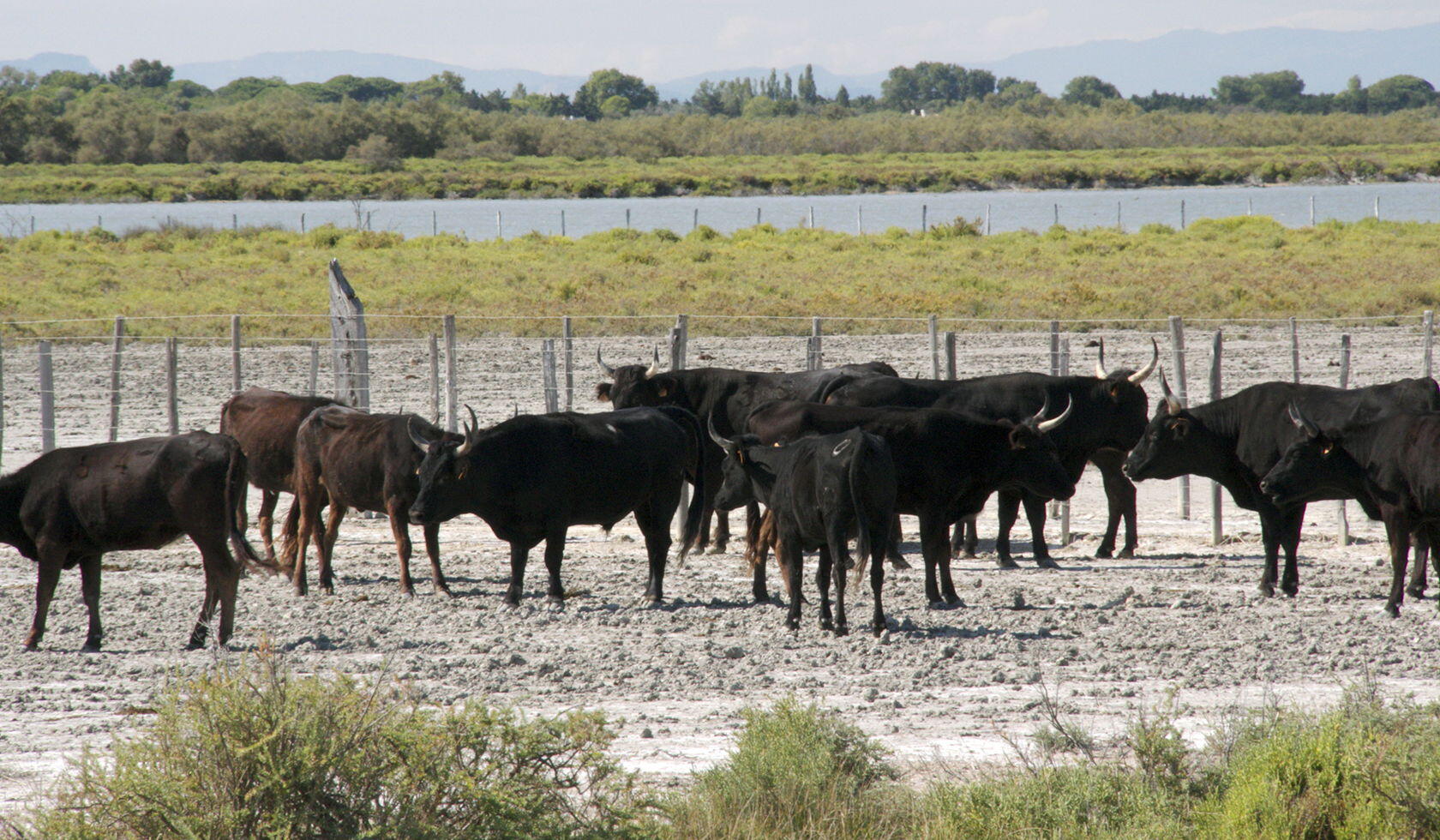 Coastline and Calanques
The Calanques National Park stretches between Marseille and Cassis, features stunning geologic fiords. Dominated by stark grey limestone and dabbed with greenery here and there, the park provides a sharp contrast to the deep blue waters of the Med. Eons ago, ancient rivers carved canyons through this limestone on their way to the sea, forming the calanques we see today. By boat or on foot, do not miss seeing this part of the coastline.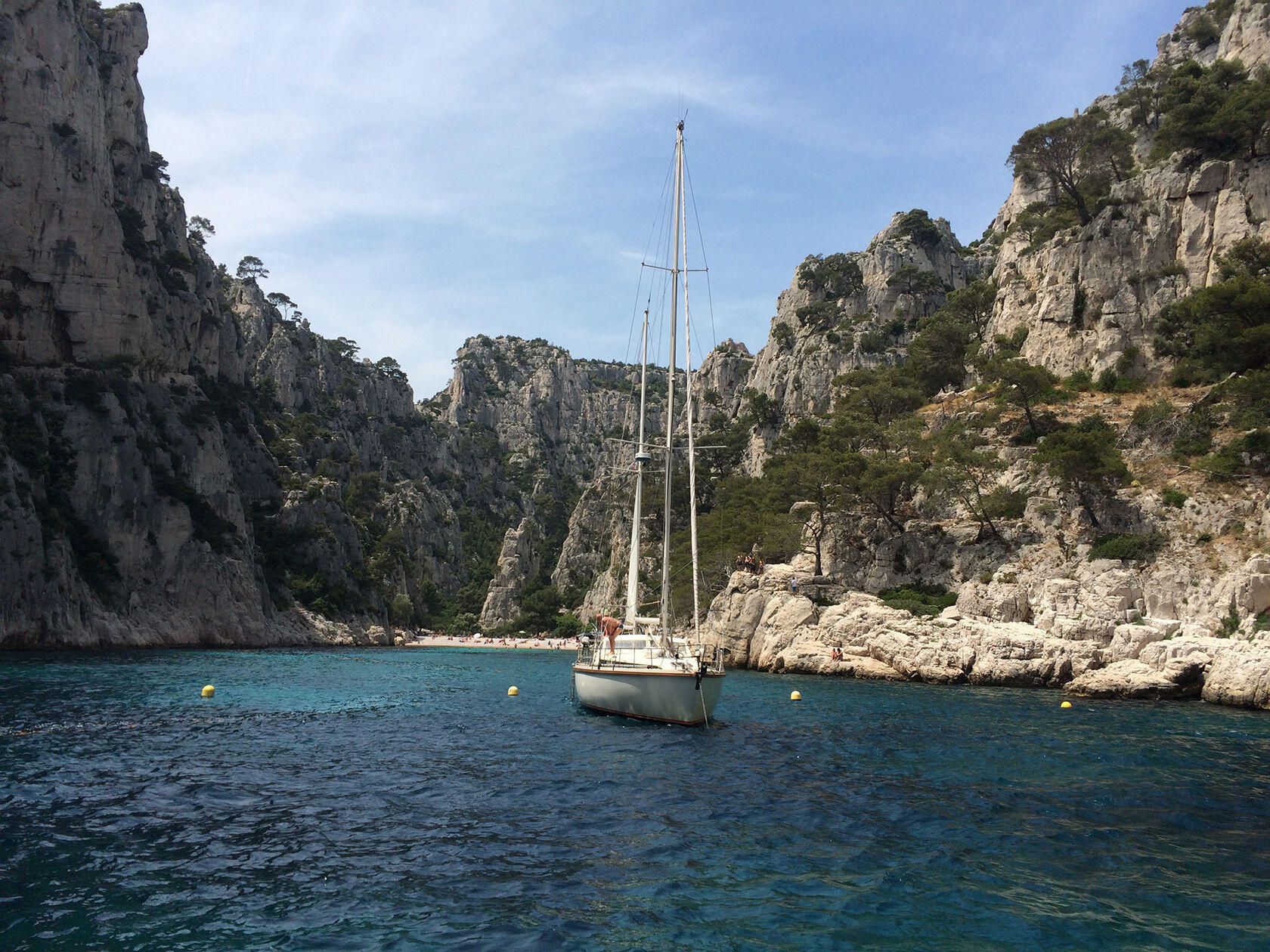 The Côte Bleu is understated compared to the Côte d'Azur, and let's keep it that way. Even Camille Moirenc, a 30+ year photographer and native of Provence, was surprised at the vast coastline. His most ambitious project to date might be "Exposition 438, Notre Littoral." This photo pursuit took two years to complete and covered 438 km of French coastline (littoral). Enjoy the Côte Bleu from the Camargue to Toulon in stunning photos.
Islands
When it's hot in Marseille, catch a ferry for a short ride to the Îles du Frioul archipelago with its four islands. During summer months, ferries run from the Vieux Port regularly. You can easily spend a day hiking the trails or lounging on the beaches of Ratonneau. Do not miss visiting the smallest island – If – with the fortress-prison Château d'If (home to fictional character Count of Monte Cristo). These islands are one of many reasons to visit Marseille.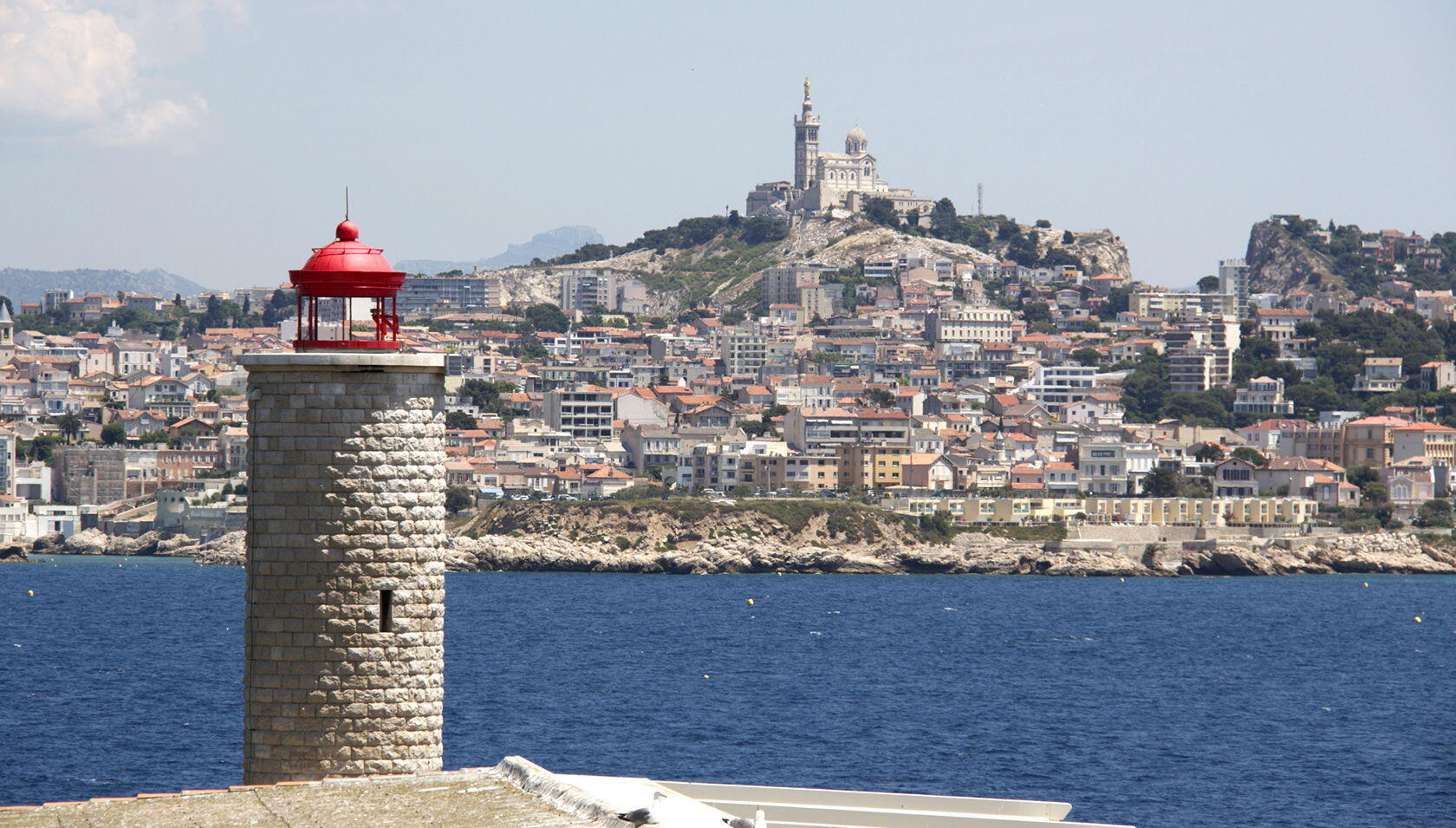 Just 15 minutes by ferry from Cannes, the two Lérins islands, Saint Honorat and Saint-Marguerite, are popular with folks who want to spend a day lounging on the Mediterranean. The island is home to 19th century Abbaye de Lérins, which has been a religious refuge for 16 centuries. Its separation from the mainland afforded the monks from the Cistercian Congregation of the Immaculate Conception a place for reflection. L'Île Saint Honorat's excellent position near the coast with moderate breezes has allowed the community of monks to live a chaste life surviving off the kitchen garden, local seafood and, of course, some wine. Escape Cannes for a day of island hopping and wine tasting.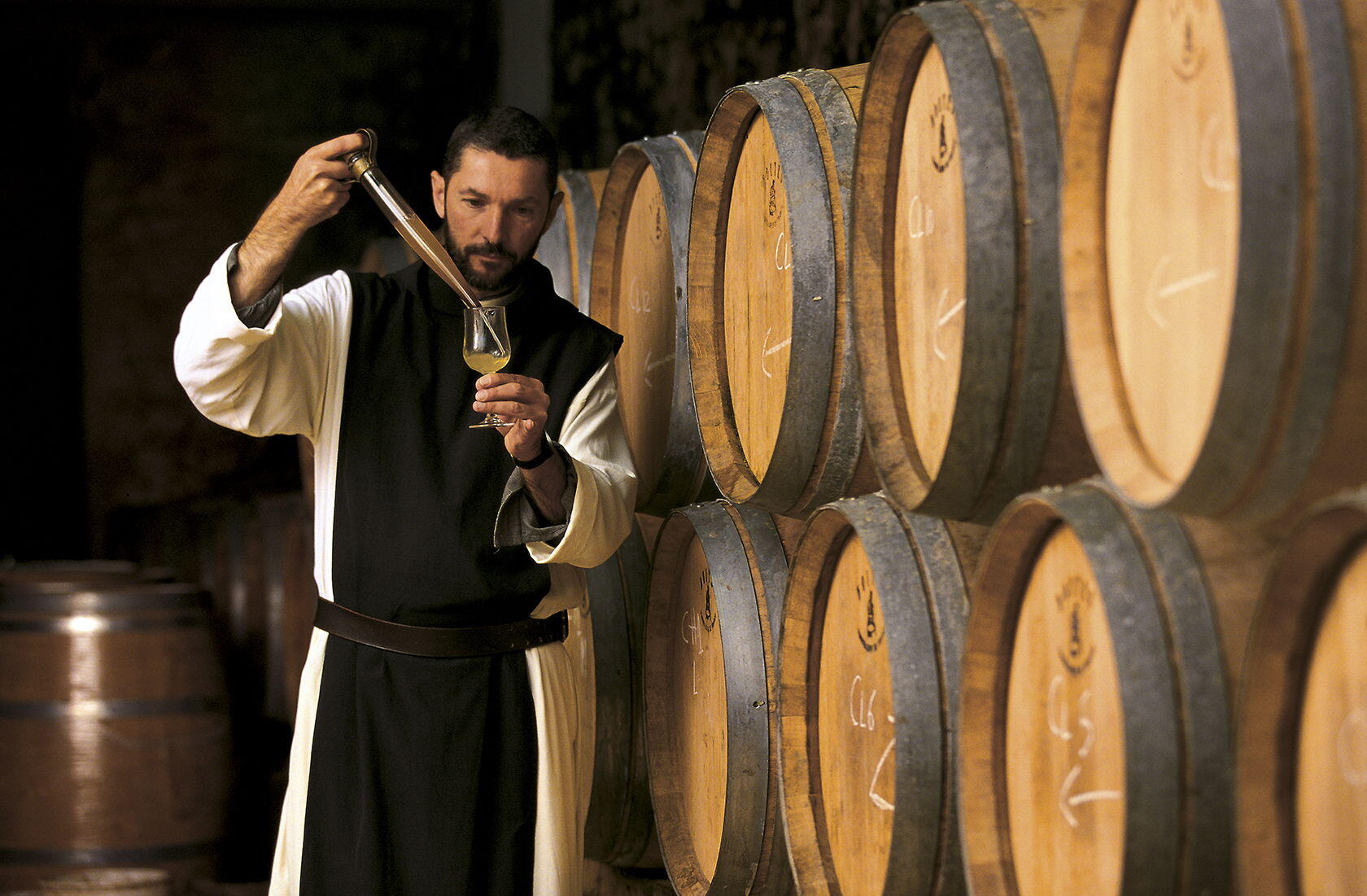 Porquerolles is one of three islands that form the Îles d'Hyères Archipelago. Only a 10-minute ferry ride from the mainland this island is only 7 km long and 3 km wide, but larger than its two neighbours, Port-Cros (a national park) and Île du Levant (a military installation and a nudist colony). Porquerolles attracts day-trippers from Hyères and vacationers who are looking for an escape from the crowds and hoping to experience the more "native" side of the Cote D'Azur. Discover why Porquerolles is worth visiting.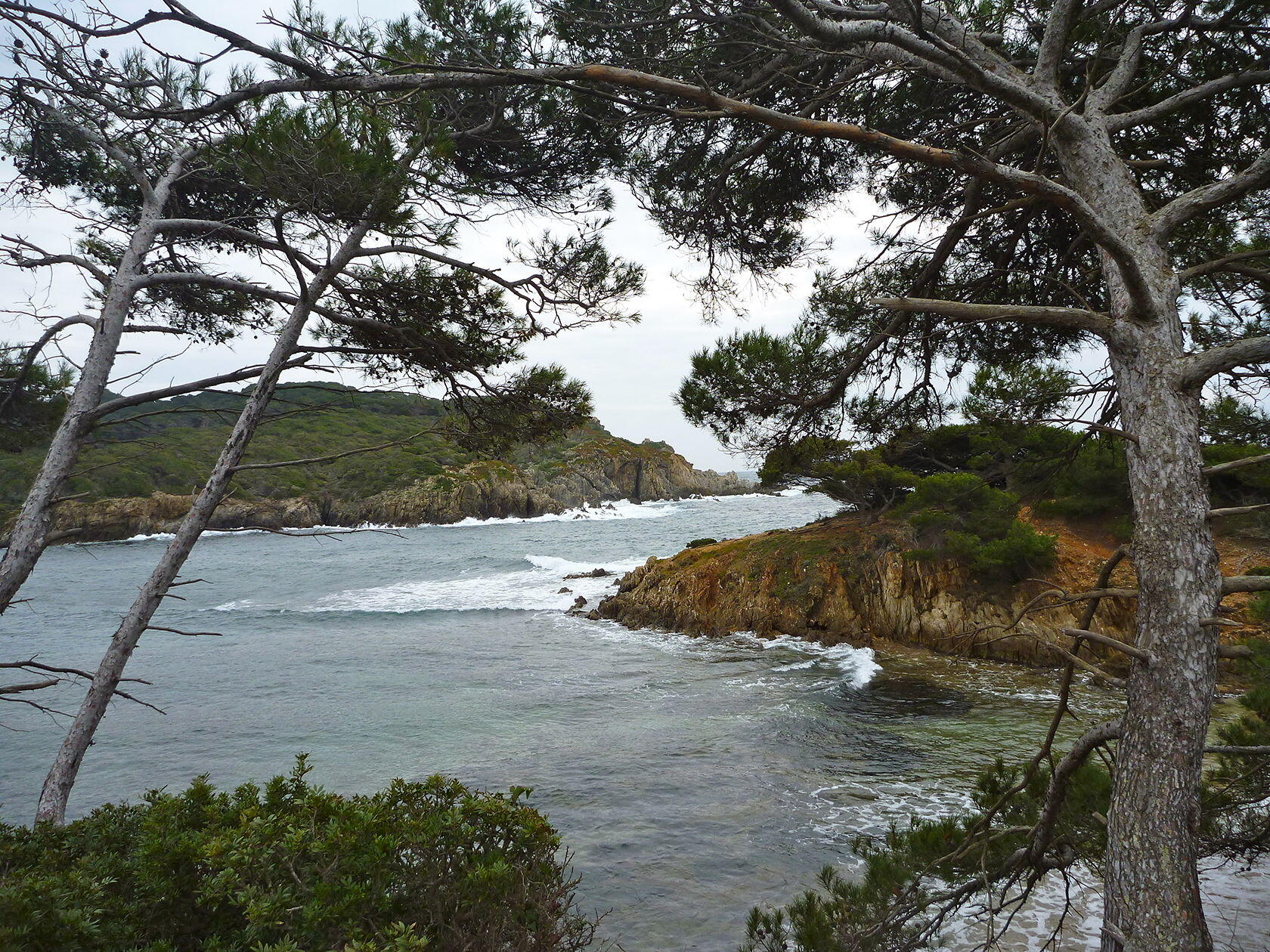 Lavender, Mimosas, Sunflowers and Poppies
There's a flower for almost every season in Provence, but the most sought-after photos are of the lavender fields in bloom. The lavender industry in Provence is a significant economic driver impacting agriculture, tourism, manufacturing, and retail. There are 2,000 producers and roughly 25,000 people employed in the industry, with over 20,000 hectares under cultivation. The main growing areas are the four (4) departments the Drôme, Alpes-de-Haute-Provence, Hautes-Alpes, Vaucluse, with some small production in the Auvergne, Quercy and the Ardèche (source: FranceAgriMer). More reading about Lavender essentials.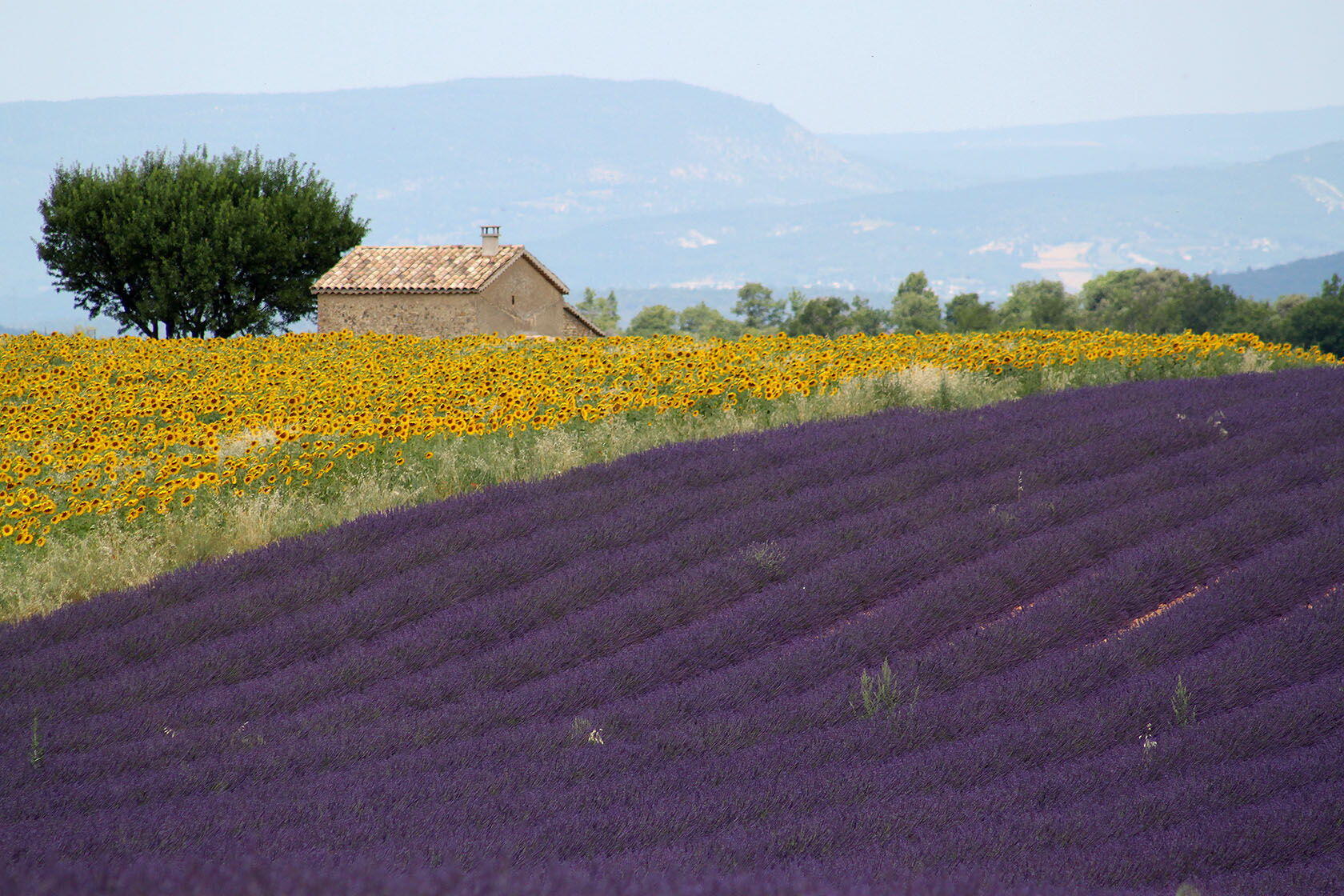 Markets
Provence is a paradise for food lovers, rest assured that a local market is never far away. Almost every city, town and village have a market day, and some locations have several markets per week. Temptation at a market lies in the piles of produce and fresh fruit, ripening goat cheese, and buckets of olives. Most markets begin around 8 am and end by 1 pm. Although, there are also several evening markets in the summer months. Check the exact times of the market you are planning to visit as there can be some variation throughout the year. Here is a comprehensive list of markets in Provence and the Côte d'Azur.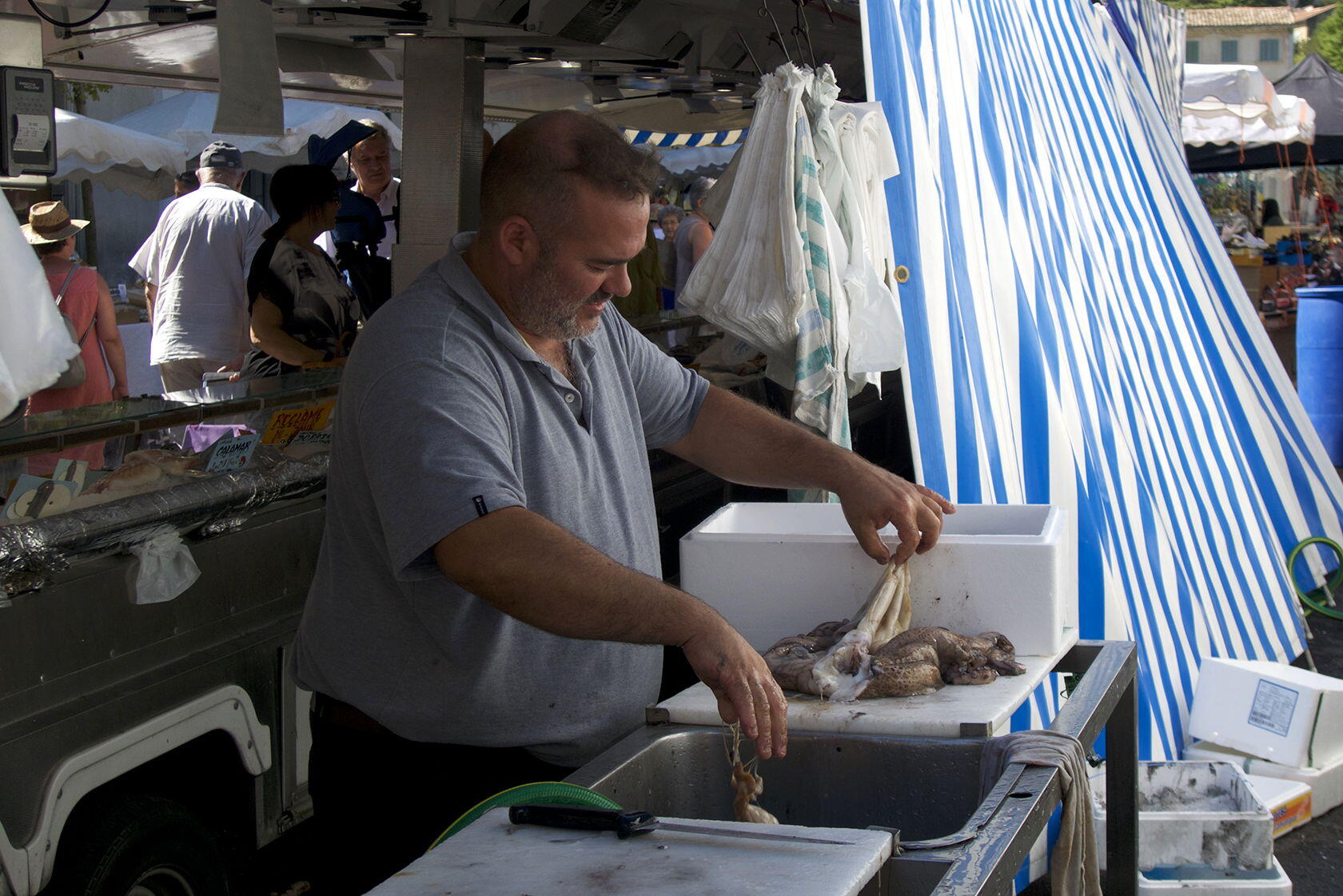 Perched Villages
Cobbled streets, sweeping views, rampart walls and limestone buildings, it's some of these towns that meet the Beaux Villages de France criteria. There are several perched villages in the Vaucluse that meet the requirements. Here are some of the top-ranked villages in Provence to add to your itinerary.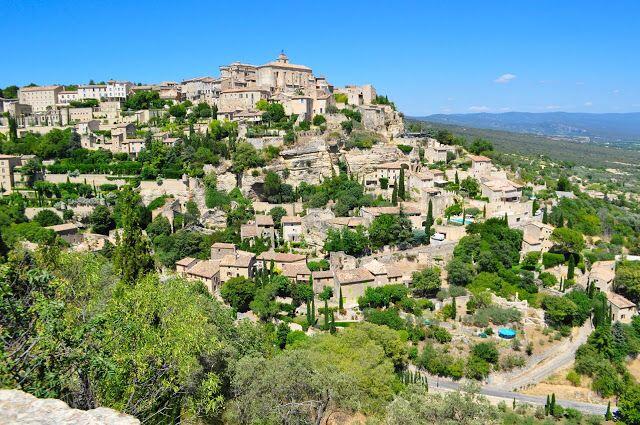 Roman Sites
Scattered throughout the region, is evidence of Roman's presence from aqueducts to arenas. One must-see Roman-era site is the Pont du Gard, which formed part of a 50km aqueduct constructed in the 1st century between 41 and 54 AD to bring fresh water from a spring near Uzès to Nîmes.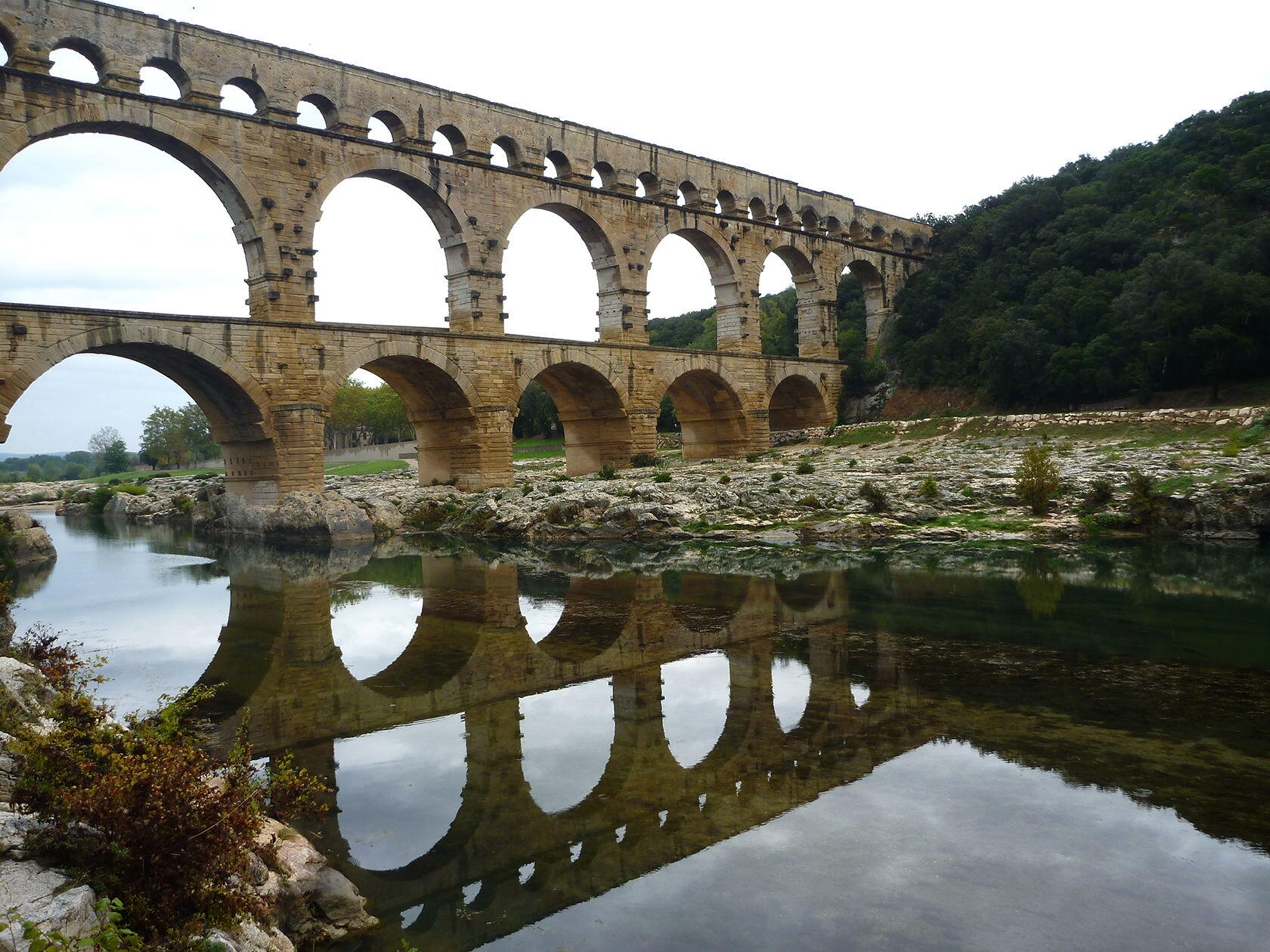 The Roman Amphitheatre of Nîmes is considered one of the best-preserved in the world. Like many of the Roman engineering projects, this one required smart minds and manual labour. The building is an oval 133m long, 101m wide and rises 21m high. The four-story structure includes 60 symmetrical arches, which allowed for a canvas roof to protect viewers' from the elements. Plan your visit Nîmes to include the Roman sites, the new Museum de la Romanité, which houses some 5000+ artifacts, and for the shopping.
Arles was once an important Roman town and a trading center with a significant port. Barges with cargo from all over the Empire plied the waters of the Rhône River. Around 2,000 years ago, one of those barges sank. It lay there quietly, covered by mud until scientists surveying the river discovered it about ten years ago. You can now see this barge in the Arles Museum of Antiquity. While visiting Arles, step outside the walls of the old town to Alyscamps, the main burial ground for almost 1,500 years.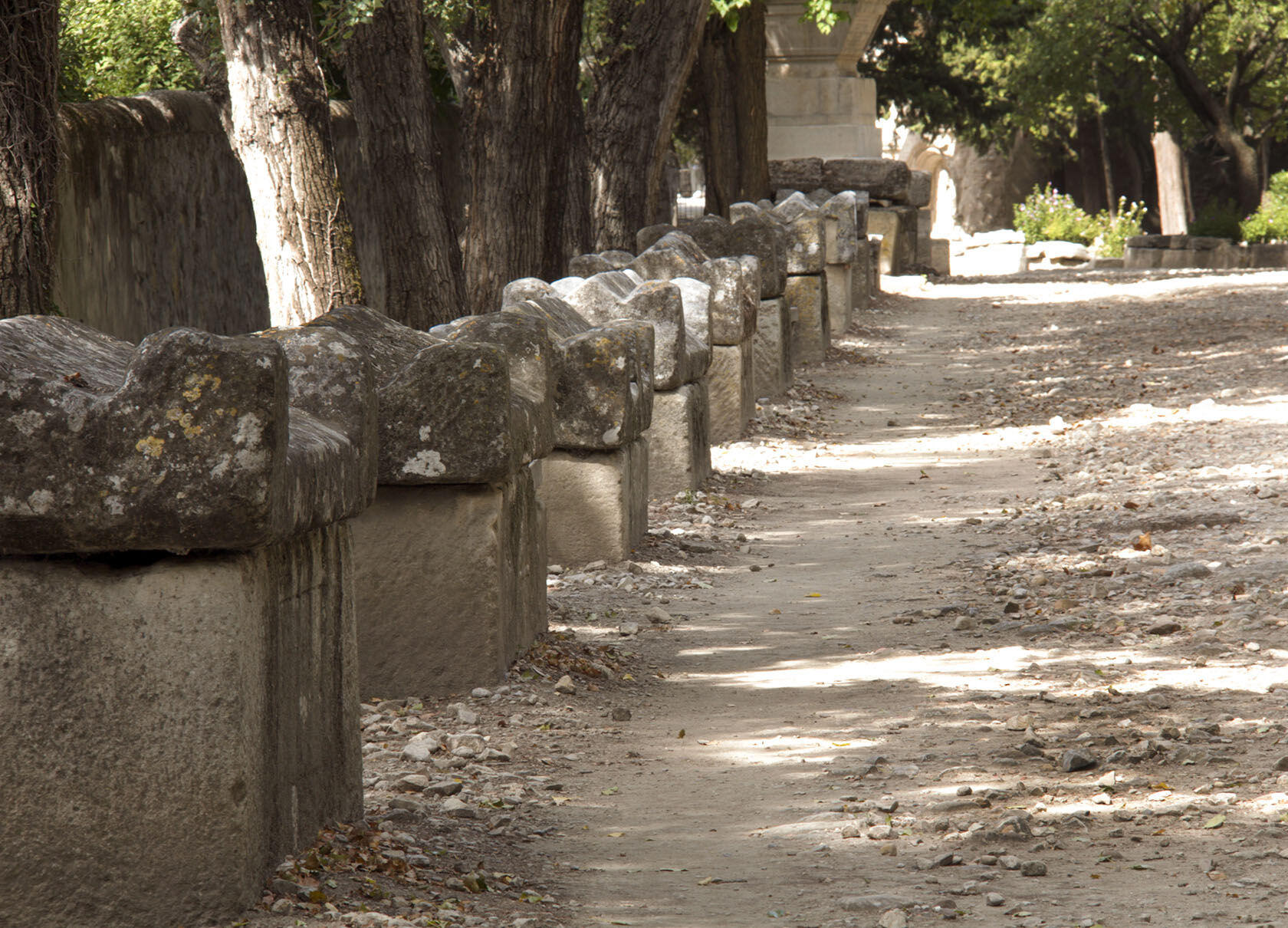 Orange is an agricultural working town located a short distance from Avignon and neighbouring the Rhône Valley vineyards. The city has had a UNESCO World Heritage classification since 1981. Founded by the Romans in 35 BC and the Celtics before them, Orange's former glory is evidenced by the monumental traces left standing 2000+ years hence. At 21 m wide the heavily decorated Roman Triumphal Arch now straddles a roundabout. This ornate stone gateway marked the ancient trade route linking Lyon to Arles and eventually to Spain.

Truffles
The soil and weather conditions in the South of France are suitable for growing culinary gold – black truffles. They grow underground, usually close to the roots of certain species of shrub oaks and hazel trees. Truffle hunters used to rely on luck to find them and have, for centuries, depended on sows to locate them. Turn a sow loose in a truffle orchard, and she'll sniff like a bloodhound. And then she'll dig with manic passion. Read more about "sexy truffles" here.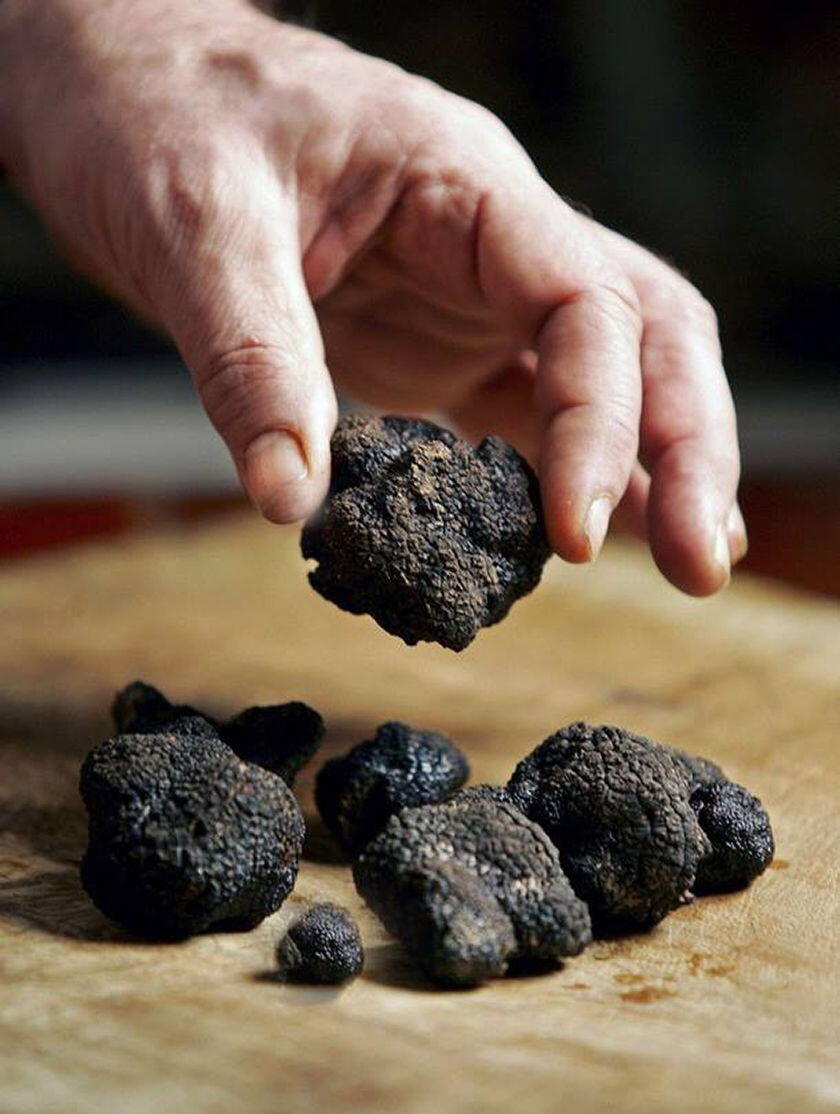 In Europe, the typical period for harvesting black truffles is from November through early March. The market demand generally peaks around Christmas and New Year's holidays. Some food lovers claim that the tastier truffles appear in the first part of the year. Like any other commodity market, pricing varies. Quality truffles command wholesale prices between 400-1000 €/kilogram. Retail buyers should expect to pay two or three times that number. Read more details on truffle hunting (with dogs) and the markets dedicated to truffles.
Wine
Millions of years ago, the Southern Rhone Valley was created by geological changes and volcanic eruptions. The soil varieties left behind from this violent environmental activity range from sandy to limestone to clay. It is this diverse topsoil in combination with bedrock that creates an excellent terroir for cultivating grape varietals.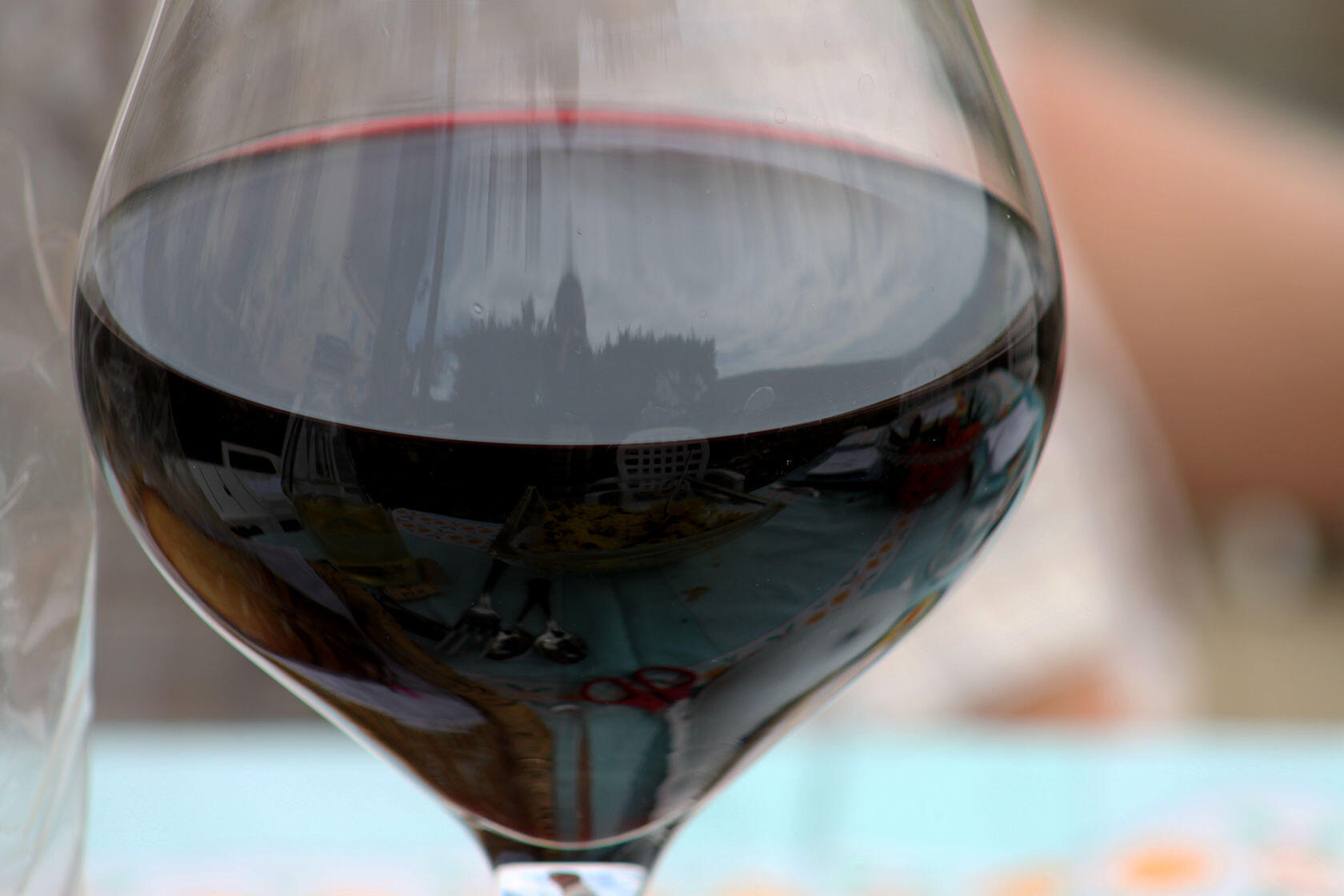 The wines of Provence have almost a mythical attraction. This image is fueled by the fact that the Greeks brought the first non-indigenous vines to Massalia (Marseille) in about 600 BC. These would have been the earliest intentionally cultivated grapes and certainly the first rosés in France. In roughly 125 BC, the Romans arrived in Nostra Provincia ("our province") and began expanding their commodity trade routes.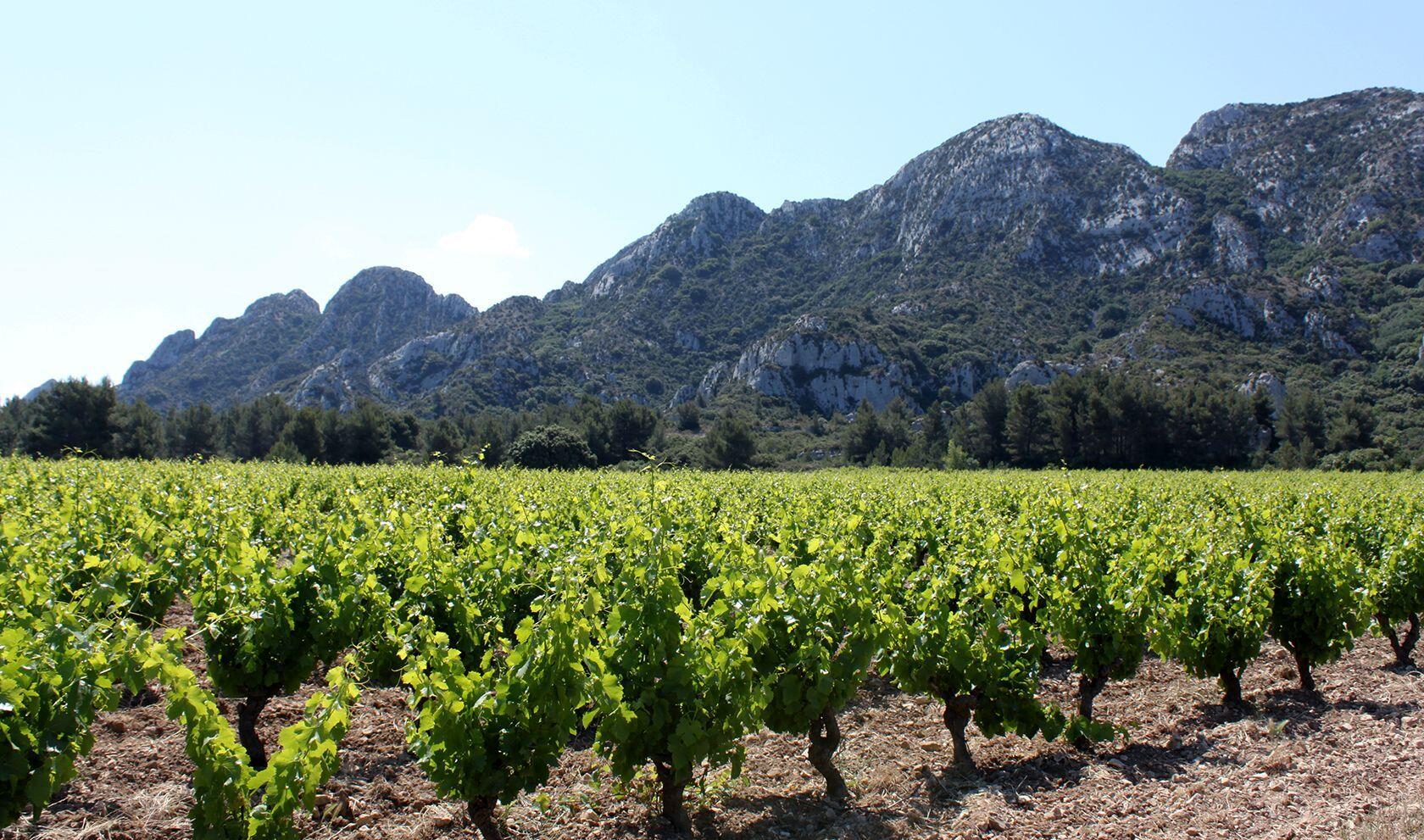 Provence has a reputation as the rosé producer of France. However, the region is number two in annual production volume (160 million bottles) after Languedoc-Roussillon (320 million bottles). According to the Vins de Provence website, 89% of the yield in the region goes to making rosé wines. Although the volume of red and white is limited, there are some excellent wines in both categories. Read more about understanding the colours and terminology of wines of Provence.
What are you waiting for? Let us help you plan your itinerary:
Error: Contact form not found.