Wines of Les Baux-de-Provence to Enjoy with Steak Frites
This month we celebrate Wine Pairing Weekend (#wineWP) with a declaration of our indulgence on Open That Bottle Night (#OTBN), an evening set aside to encourage wine lovers to pop open a bottle that's been considered "too special" to drink on a regular night. The event was first celebrated in the year 2000. Continue reading here to read further about the tradition, and to get some ideas for wines from Les Baux de Provence and what to pair with Steak Frites.
Steak au Poivre with Caramelized Shallots 
Filet de Bœuf Poêlé au Poivre Concassé sur Échalotes Confites  recipe by Chef Giselle Philippi, from Made in Marseille by Daniel Young
Check out this recipe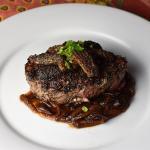 Steak au Chocolat with Sunchoke Purée
This chocolate-based sauce for the steak adds a slightly decadent finish to the grilled meat. The sauce worked well in a pairing with the Hermitage La Petite Chapelle (2012) from Paul Jaboulet-Aîné, a red wine from the Northern Rhône Valley.
Check out this recipe