Vegetarian Dish: Chickpea and Spinach Gratin Provencal
The inspiration for my recipe for Chickpea and Spinach Gratin is Richard Olney's delicious classic cookbook Simple French Food. It is a traditional Provencal vegetarian preparation that is easy to make and will impress your friends. In keeping with the book's title, this recipe is an easy preparation that does not use milk or cheese for the gratin. Instead, the rich flavour comes from eggs, ground almonds and saffron. Please take a look at my video for this recipe.

Chickpea and Spinach Gratin
A Vegetarian dish made with Chickpea and Spinach Gratin baked in breadcrumbs and drizzled in olive oil! 
Ingredients
2

quarts of

Boiling Water

2

lbs

Baby Spinach

12

Marcona Almonds

1/2

tsp

Piment d'Ville or Espelette Pepper

a big pinch

Saffron Threads

pinch

Cracked Black Pepper

2

large

Hard-Boiled Eggs

separated

2

cups

Chickpeas

cooked ** how to video in notes

1/2

cup

Tomato Sauce

1/4

cup

Breadcrumbs

1/4

cup

Olive Oil
Instructions
Preheat the oven to 400°F (200°C).

Bring water to a rapid boil in a large stockpot and cook spinach for 3 minutes. You probably will not believe that all the spinach will fit into your pot, and you may even reread the recipe to ensure you read it correctly. When the spinach is cooked, drain and keep BOTH the spinach and the spinach water. Reduce the spinach water in a pot over medium heat until 1 cup of liquid remains.

With a mortar and pestle, pound the almonds until they are smooth and almost like peanut butter in consistency. Add the piment, saffron, and black pepper and continue beating until they are well incorporated into the mixture. Add the egg yolks and mix until smooth and well combined. Separately, slice the egg whites and reserve them. You can use a food processor if you do not have a mortar.

Mix the spinach, spinach water, egg yolk mixture, egg whites, chickpeas, and tomato sauce in a large bowl. Taste and adjust seasoning to your preferences. Oil a 9X5 oval gratin dish with half the olive oil. Pour in the chickpea mixture. Top with breadcrumbs and drizzle the remaining olive oil over. Bake for 25-30 minutes or until bubbling and golden brown on top.
Additional Gratin Recipes:
Cauliflower, Tomato, and Chèvre Gratin
The recipe below is a nod to the tastes of Provence with cauliflower, tomato, and goat cheese. It is a delicious side dish especially during the cooler months of the year.
Check out this recipe

Endives au Gratin
Au gratin dishes are traditional fare from northern France and the Haute Savoie. This recipe is easy to make and served with a green salad is perfect for lunch or a light dinner.
Check out this recipe

Cauliflower Gratin
If you are looking for an easy and delicious side dish to complete your meal you should try this recipe!
Check out this recipe

White Asparagus Gratin
Depending on availability and preference, you can use green or white asparagus. This dish is a terrific, tasty way to celebrate spring. It serves 2 as a main course or 4 as a side dish.
Check out this recipe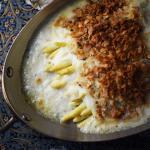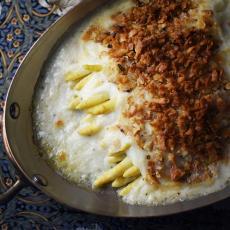 Provencal Tomatoes and Potatoes Gratin
Easy side dishes to accompany roasted meats or fish or even just a green salad
Check out this recipe