Easy Side Dish: Sautéed Potatoes, Peppers and Onions
Potatoes are versatile vegetables that can be prepared in a myriad of ways. This recipe for simple sautéed potatoes with peppers and onions is so delicious it could steal the spotlight, but also make a wonderful addition to almost any dish! Pair them with eggs for a hearty breakfast, a roast chicken for lunch, or simply enjoy them on their own with a dollop of sour cream!

Sautéed Potatoes, Peppers, and Onions
Potatoes are a popular vegetable that are prepared as additions to meals all over the world. Fun fact: did you know potatoes were believed to be banned in France from 1748 to 1772, as they were thought to be poisonous and even cause leprosy! Fortunately, potatoes are a hearty vegetable packed full of nutrients and minerals, so feel free to enjoy them as much as you'd like.
Ingredients
3-4

large

Potatoes

sliced

4

tbsp

Olive Oil

2

large

Sweet Red Peppers

cut Into thin strips

2

Onions

peeled and sliced

4

Garlic Cloves

thinly sliced

to taste

Salt and Pepper

Parsley

roughly chopped for garnish
Instructions
Heat the olive oil in a large frying pan. Add the sliced potatoes and toss for 5 minutes.

Add the sliced peppers, onions, and garlic and continue to cook while stirring regularly. Season and transfer to an oven dish. Bake for about 25-30 minutes at 350'F until browned and cooked. Garnish with parsley and serve!
Other Potato Recipes You Might Enjoy
Provencal Baked Potatoes
This potato recipe is an easy side dish that you can serve with meat or fish. It can easily be prepared in advance.
Check out this recipe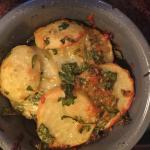 Provencal Tomatoes and Potatoes Gratin
Easy side dishes to accompany roasted meats or fish or even just a green salad
Check out this recipe