How to Make French Fruit Tarts Seasonal Recipe Variations
One of my favourite desserts is seasonal fruit tarts (tartes aux fruits). These tarts also make nice afternoon treats. So, I make them all year with local, in-season produce. In California, you find puff pastry sheets at most grocery stores (Ralphs, Gelson's) and at French supermarkets like Carrefour or Intermarché.
Typically, I make the French-style fruit tarts with pastry cream, but I suggest other options below. For variety, experiment with different shapes – rectangles, squares and circles. Next, I build an extra layer of puff pastry around the form, creating a container for the pastry cream (or other creams). Then, fill the container with fruit, followed by a glaze (nappage) and finally the optional garnishes. Often I make individual servings, although large fruit tarts are perfect for a bigger gathering. For parties, bite-sized mini tarts are a crowd favourite!
My latest version of this seasonal fruit tart is the "long and skinny", which has been a big hit with my friends and dinner guests. Though this is not typiquement français (typically French), this new shape is a winner!

French-style Seasonal Fruit Tart
A French fruit tart is really about the endless delicious possibilities - fruit combinations, shapes and decoration. This past summer, I served a "long and skinny" version several times, and there were never any leftovers. The tart below serves about 4 people. I recommend that the pastry cream be prepared the day before you serve the tarts, so there is adequate time for it to cool and thicken.
Equipment
Digital scale

Microplane

Pastry brush

Pizza Cutter

Silpat baking sheet or parchment paper

Forceps (for assembly)
Ingredients
Seasonal Fruit

see note

1

large

Egg

for egg wash

½

package

Pepperidge Farm Puff Pastry or equivalent

2

oz

Sparkle Sugar
Optional Garnishes:
Mint, Microgreens, Lemon or Orange Zest, Edible Gold or Silver
For the Pastry Cream:
8

oz

Whole Milk

3

large

Egg Yolks

2

oz

Sugar

½

Vanilla Bean

scraped

½

oz

Corn Starch

½

oz

Unsalted Butter
Instructions
The day before: Make the Traditional Pastry Cream (crème pâtissière):
Whip the egg yolks, sugar and cornstarch in a bowl until the mixture is smooth and turns light yellow.

Heat the milk with vanilla bean until it boils, then turn off the heat.

Slowly pour the milk into the egg yolk mixture while whisking vigorously so the eggs do not cook.

Return the pot to the stove and whisk until the pastry cream boils and thickens.

Add the butter at the very end and cool immediately using an ice bath.
Make the Tart Shells:
Defrost the puff pastry for 20 minutes. Roll out the rectangular shape using a rolling pin. Depending on the size of your pastry and the number of guests, calculate the size of your tart.*

Gently brush an egg wash (egg yolk plus a splash of milk and beat with a fork) on the pastry.

Build a sidewall and re-brush the top edge. Using a fork, punch the bottom edge of the pastry. Sprinkle sparkle sugar on the rims of the pastry. Place your creations on a baking sheet lined with either a Silpat baking sheet or parchment paper.

Chill the pastry in the refrigerator for 10 minutes before baking.

The bake time will be dependent on the size of the pastries. I typically bake my pastries for 20 minutes at 400°F (200°C) or until golden and puffed. Then, let the pastry cool completely.

*NOTE: I used ½ package of a Pepperidge Farm puff pastry package for this recipe. Using a pizza cutter, cut the rolled out pastry to approx. 28 x 20 cm.

For a more traditional tart, cut the dough into four, 8 X 12 cm shapes and then line each edge with a 1 cm strip of dough to create a walled container.

For a "long and skinny" version, cut the dough into two, 10 x 22 cm shapes and line all 4 edges with a

1 cm strip of dough with the remaining puff pastry to create a walled container.

Any leftover dough can be twisted into fun shapes and baked as small treats!

Now, choose a cream for your pastry dessert. The recipe for Pastry Cream is shown above.
Last Minute Assembly - Just before serving:
Have you wondered what coating professional pastry chefs use to make the fruit tarts glisten and shine? It's a fruit glaze called "nappage" Dilute apricot or apple jam with water (3 to 1 ratio, jam to water) and heat on the stove for 5 minutes to make a clear glaze. Then, brush this glaze (using a pastry brush) on top of your fruit tarts – it will be a shiny glossy finish that prevents the dessert from drying out.

Arrange the cream on the bottom of the pastry shell (I use a pastry bag), then gently arrange the fruit on top. I use very large forceps. Next, coat the fruit with the glaze/nappage. Finally, garnish with mint, zest, microgreens or edible gold or silver!
Notes
Spring and Summer Fruits (traditional choices):
Strawberries, blueberries, raspberries and blackberries, tangerines, pineapple and mangoes, cherries, apricots, peaches, kumquats, figs and kiwi.
Fall and Winter Fruits
Figs, grapes, apple, pears, melon, goldenberries and seasonal berries (depending on where you live), pineapples and kiwi.
Of course, there is a cross-over on seasonal items! As an example, figs arrive in late summer through early fall. The best choice to use is whatever is seasonal, available and local.
Cream Filling Options:
• Pastry Cream, traditional
• Pastry Cream and Whipped Cream combo, a lighter version of pastry cream
• Whipped Cream Cheese & Whipped Cream combo, an American option
• Vanilla Whipped Mascarpone Cream and Whipped cream, A rich Italian alternative
• Whipped Coconut cream (full fat), a dairy-free alternative
Pastry shell alternative – use filo dough!
If you don't have puff pastry, try using layers (6-8) of filo dough (brush melted butter in between each sheet and placing them on a 3.5-inch ramekin and then bake at 375 degrees Fahrenheit for 8 minutes to create a shell!
Fruit tart made with a filo dough shell, pastry cream, fresh blackberries, raspberries and mint chiffonade.

More Fruit Tart Recipes
Pear Frangipane Tart
This pear tart is an excellent choice if you're looking for a delicately tart to add to a pastry table or serve with your afternoon tea. It's light, flaky, and the perfect accompaniment for a steaming hot pot of Earl Grey.
Check out this recipe

Chocolate and Pear Tarts
These tarts are easy to make and a delicious finish to a fall menu. Make sure to leave enough time to prepare and rest the dough.
Check out this recipe

Banana Tarte Tatin
This delicate and flavourful dessert is a twist on the French Apple Tarte Tatin, a classic. Enjoy it with some creamy vanilla ice cream for a delicious treat that's sure to impress!
Check out this recipe

Almond Tartlets with Red Berries (Tartes Amandine aux fruits rouges)
Here is a simple enough and versatile recipe for a delicious tea time or a goûter (snack time). Tartlets make a fun dessert to share with your friends or loved ones and should delight all gourmets.
Check out this recipe

Fig and Buttermilk Custard Tart 
The recipe makes a 1-10 inch tart, which should serve 6-8 people.
Check out this recipe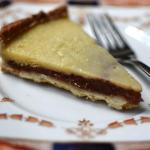 Apple Tarte Tatin aux Pommes
This variation of Tarte tatin uses puff pastry. Alternatively, you can make your own shortcrust pastry.
Check out this recipe

Quince Puff Pastry Tarts with Roasted Pecans and Vanilla Sauce
The colours of fall (orange quince, brown nuts and vanilla sauce) come together in this dessert. The trick if you are having company is to make the pieces (pastry, quince compote and toppings) in advance.
Check out this recipe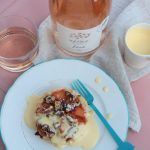 All rights reserved. Perfectly Provence articles and other content may not be published, broadcast, rewritten (including translations into other languages) or redistributed without written permission. For usage information, please contact us.
Syndication Information
Affiliate Information
As an Amazon Associate, this website earns from qualifying purchases. Some recipes, posts and pages may have affiliate links. If you purchase via these links, we receive a small commission that does not impact your price. Thank you in advance for supporting our work to maintain Perfectly Provence.