Sweet Canistrelli a Corsican Breakfast Tradition Coffee and Cookies
Sweet canistrelli cookies are a Corsican specialty, which are available in many different flavours. Although the recipe comes from Corsica the cookies are easy to find in Provence, from grocery stores, to markets to specialty shops. Or better yet, make them yourself.
Ginger and Nutmeg discovered canistrelli on their trip to Corsica. It is an easy voyage to the beautiful island from several ports in Provence (Marseille, Toulon and Nice) or via airplane.  Here is what Nutmeg shared:
---
It is highly probable, that Nutmeg's nutritionist friends will not consider this practice remarkably healthy. So only do so sparingly, or when they are not watching.
There is something decadent, childish and delightful about eating cookies with your morning coffee. Ginger and Nutmeg have discovered along their travel routes to Italy and Corsica that this "sweet" tradition is decidedly a part of the routine in some areas.
The Canistrelli are a Corsican classic. These cookies can be found throughout the island and specialty sections of grocery stores in southern France. These biscuits are crunchy and flaky at the same time; the secret is in the olive oil. Canistrelli are not as hard as Italian biscotti. Read the full post here.
Recipe attribution is below.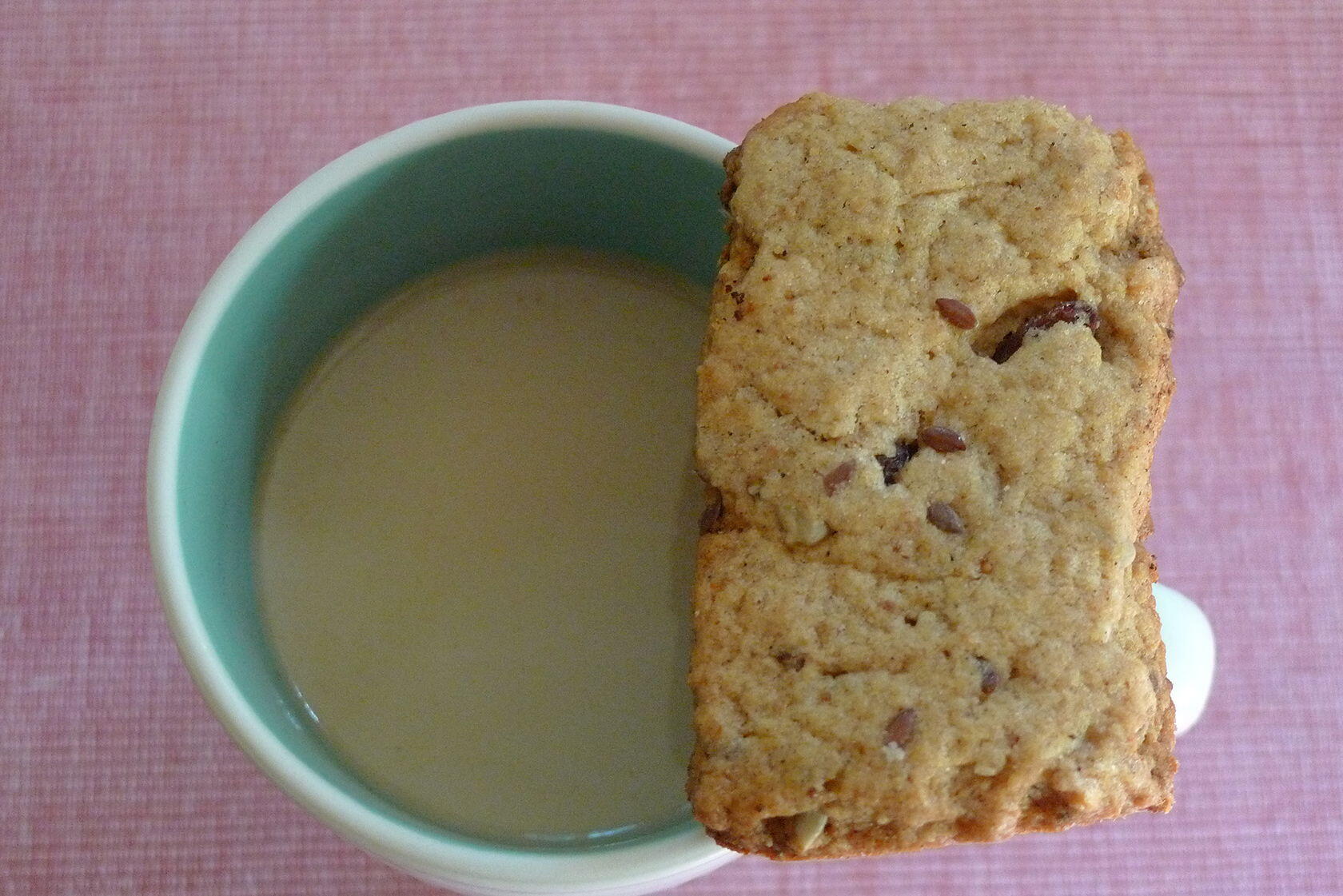 Canistrelli (Corsican Cookies)
These Canistrelli are very easy to make and will keep in an airtight container for a few weeks (if you can resist them).
Ingredients
2 2/3

Cups

Whole Wheat Flour

1 1/3

Cups

Chestnut or Almond Flour or Whole Wheat

3

Teaspoons

Baking Powder

1/2

Cup

brown sugar

1

Lemon

for zest

2/3

Cup

olive oil

2/3

Cup

Dry White Wine

1

Cup

Raisins, Nuts or Chocolate pieces

optional
Instructions
Preheat the oven to 350°F (180°C) and line a baking sheet with parchment paper

In a medium bowl, combine the flours, baking powder, sugar, and lemon zest

Stir the liquids into the solids, working gently with a fork, until the dough comes together and forms a ball

Knead quickly until smooth, but do not overwork

The dough will be moist, if it is too sticky add a bit of flour

Transfer the dough to a lightly floured work surface

With your hand work to a thickness of ¾ inch (2 cm) in thickness

Slice the dough, with a knife into squares

Transfer the pieces onto the baking sheet, leave a bit of room for expansion

Bake for 15 minutes then lower the heat to 325°F (160°C) and bake for another 15 minutes, the cookies should be just starting to turn golden brown

Cool completely on a rack
Notes
The basic recipe is fully attributable to CLOTILDE's EDIBLE ADVENTURES IN PARIS by Clotilde Dusoulier, Copyright c 2008 by Clotilde Dusoulier. Published by Broadway Books, a division of Random House Inc. Title : Clotilde's Edible Adventures in Paris Author : Clotilde Dusoulier Publisher: Broadway Books.