Flavours of Provence a Fall Dinner Party Menu
In the northern hemisphere, fall weather is around the corner, but not in Sydney, Australia, where Jean-Marie Liere has since 1997. Born in Poitiers, France, Jean-Marie's family moved several times, including a two-year stint in Mexico City. He runs small cooking classes in Sydney, focusing on French cuisine and plans "Our French Impressions" group tours in Bordeaux and Provence. Read more about Jean-Marie.
As the weather turns cooler, we gravitate towards warm, heartier dishes. We thank (and you might too) Jean-Marie for taking the time to curate our Fall Dinner Party Menu from Provence.
Fall weather brings markedly shorter days and leaves changing colours to rich, warm tones (reds, oranges and yellows). The harvest is done for most kitchen gardens, ahead of the frosty days. In Provence, the grapes are harvested and starting to become the next vintage. Bright root vegetables are on display in local markets. Foragers search for mushrooms in their "secret" spots.
Designed for a fall weekend dinner with friends, this menu includes four delicious courses that can be prepared in advance.
Contact us here for a PDF copy of the menu

Starter Course
This recipe is seasonal mainly because it is a warm starter but can be prepared more
or less all year round, although fresh basil would be more difficult to source
in winter.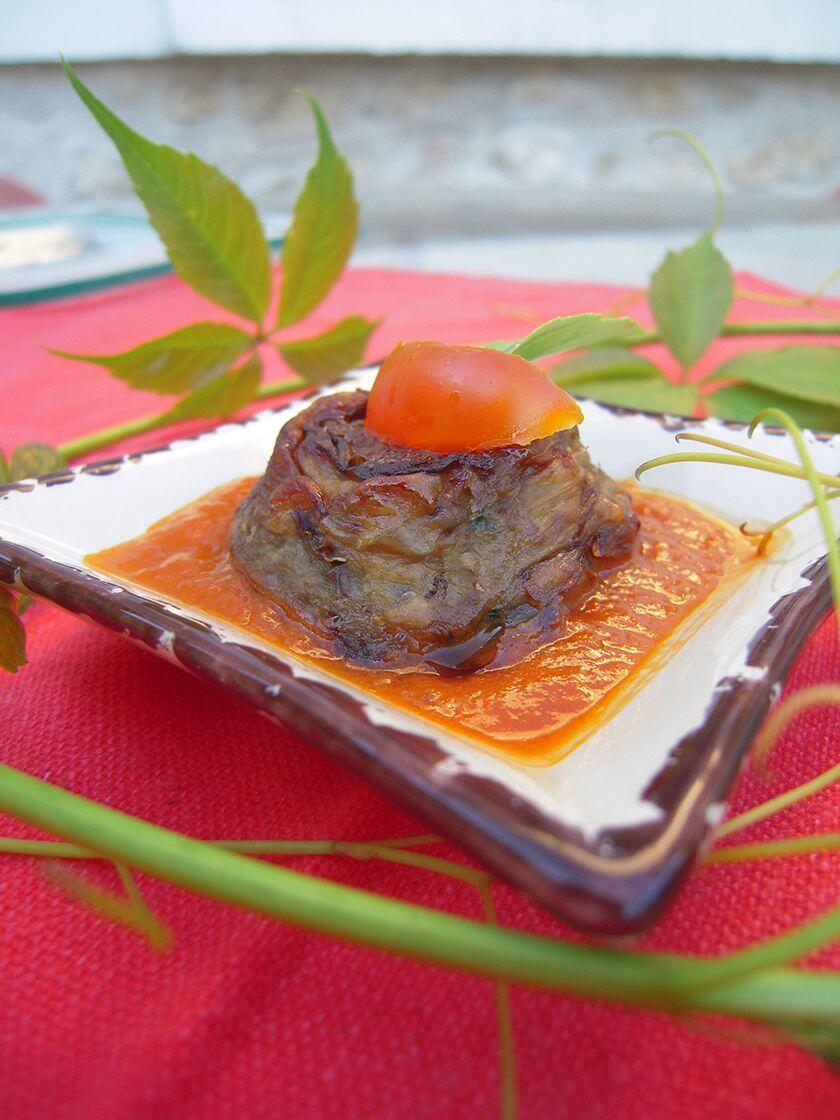 Eggplant Cakes with a Pesto Sauce
Think of this as a savoury cake. Once the eggplant is cooked, simply combine it with the rest of the ingredients and bake. The dish can be served with the pesto sauce (below), a tomato sauce or combine the two sauces for a rich flavour experience.
Ingredients
To Make the Savoury Cake:
1

kg (2.2lbs)

Eggplant (Aubergine)

washed and cut in cubes

1

medium

Onion

chopped

2

Garlic Cloves

crushed

4-6

tbsp

olive oil

3

Eggs

100

g (3.5 oz)

Wheat Flour

250

ml (1 cup)

Liquid Cream (full fat)

Parsley

chopped

Salt

Pepper
For the Pesto Sauce:
1

cup

Pine nuts

roasted

1

cup (or more)

Fresh Basil

washed, stems removed

1-2

Garlic Cloves

crushed

2-3

tbsp

olive oil

3/4

cup

Parmesan cheese

grated

Salt and Pepper
Instructions
Preheat the oven to 180 °C (350 °F). In a skillet, cook the eggplants (in cubes) and onion in olive oil.

Cover and cook on low heat for 30 minutes.

Add parsley and garlic.

When the eggplants are tender, put in a blender and mix to smooth consistency.

In a large bowl, beat the eggs and add the cream. Mix well.

Add the flour and the cooked eggplant.

Add salt and pepper.

Grease small pots or one large baking dish.

Bake for 30 minutes (check to see if it's done with a knife).

Serve with a homemade tomato or pesto sauce (recipe below).

Optional: You can also add one small mozzarella ball.
To Make the Pesto:
Put all the ingredients together in a small mixer and blend until smooth. Serve with the Eggplant cake, tossed with pasta or on a sandwich instead of mustard.
The Main Event
The rich flavour of olive tapenade is well-suited to autumn weather. Although the dish
could be served in summer too because of its lightness.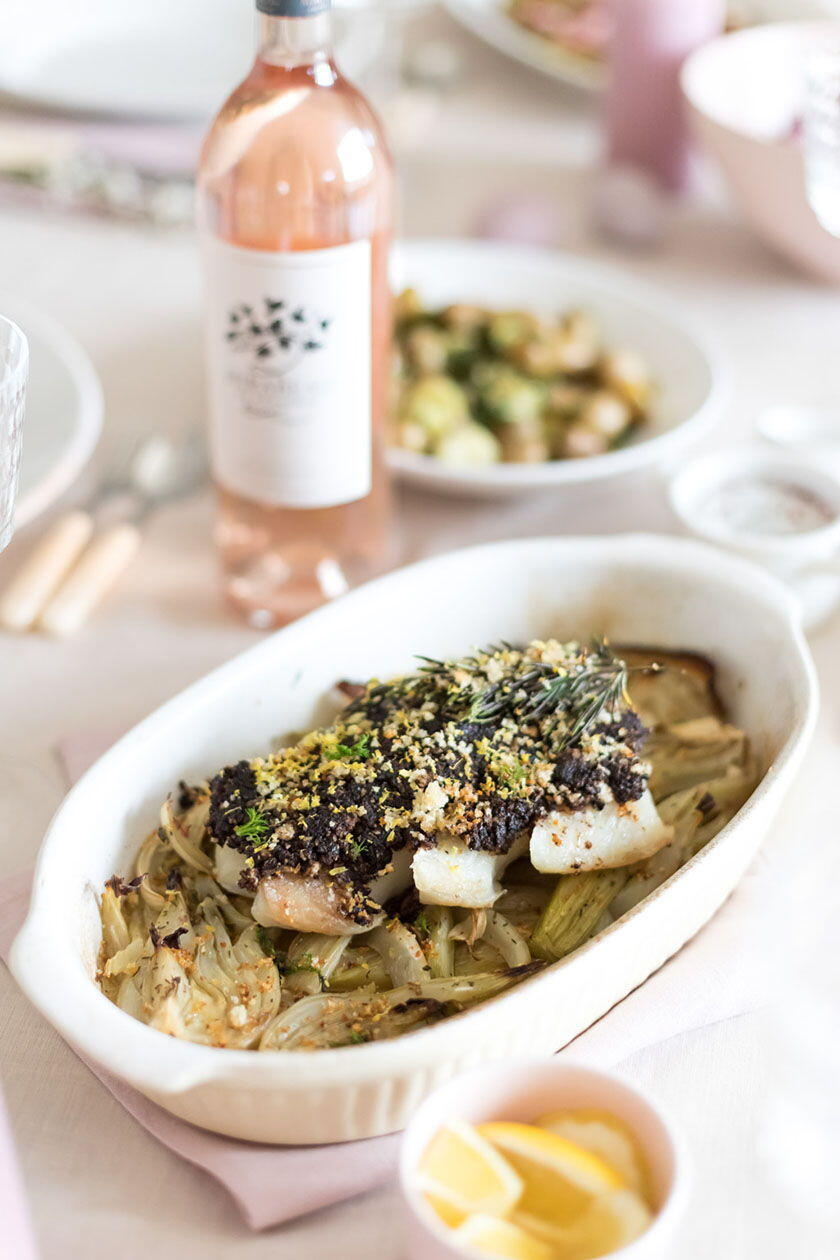 Cod with Tapenade Crust and Rosé Braised Fennel
There are a few steps to this recipe. However, as long as you prepare the fennel and black olive tapenade in advance the cod takes no time to cook.
Ingredients
For the Braised Fennel:
30

g (1 oz)

Salted Butter

4

Garlic Cloves

1

tbsp

Fennel Seeds

2

large

Fennel Bulbs

1

glass (200ml)

Mirabeau Rosé Wine

1/2

cube

Chicken or vegetable stock

Note: I use Kallo brand

Sea Salt and Freshly Ground Black Pepper
Roasted Cod with Black Olive Tapenade:
900

g (2 lb)

Skinless, Boneless Cod Fillet

ideally in one (1) piece

2

tbsp

Fresh Breadcrumbs

blitz a slice of bread in the food processor

1

tsp

Olive Oil

1

stem

Fresh Rosemary

2

Lemons

4

tbsp

Black Olive Tapenade

I use Belazu version (UK) or Trader Joe's (US)
Make Your Own Black Olive Tapenade:
200

g (7 oz)

Black Olives

with pits

3

tbsp

Capers

2

Anchovies

1

Garlic Clove

1

Lemon

4

tbsp

Extra virgin olive oil
Instructions
Prepare the Braised Fennel:
Heat the oven to 200°C (180°C fan) 400°F (350°F convection).

Put the butter into a small frying pan over medium heat while you peel and slice the garlic.

Add the garlic slices to the pan along with the fennel seeds, and cook gently while you prepare the fennel.

Cut the very ends off the fennel stalks, keeping any feathery fronds to use as a herb at the end of cooking.

Chop the fennel bulb in half from root to stalk, then cut the root ends off. Then cut each half into slices around 5mm (¼ inch) thick from root to tip.

Lay the fennel in a deep-sided ceramic or glass baking dish, around A4 size.

When the garlic is gently golden and soft, add the wine to the pan and allow it to bubble for a minute before adding the stock cube and 100ml (half a cup) boiling water.

Use a spatula to squish the cube into the liquid until combined, then take off the heat and pour it over the fennel slices. Tightly cover the fennel dish with foil, then bake for 45 minutes until the fennel is tender.

When the fennel is ready, either season with lemon zest and juice and a final splash of wine and serve immediately or use as a base for the cod. Once the fennel is cooked, it can sit in the fridge for 4 days and can be reheated in the oven.
Cooking the Cod:
Preheat the oven to 200°C (180°C fan) 400°F (350°F convection).

Put the breadcrumbs into a small frying pan with a teaspoon of oil and a whole stem of rosemary, cook on medium heat for around 6 minutes, shaking occasionally until they turn a dark golden brown and rustle when you shake the pan. These can be done the day before and sit out of the fridge.

Season both sides of the cod with salt and pepper then, mix the tapenade and two-thirds of the breadcrumbs and spread over the top of the fish. It is easier but slightly messier to do this with your fingers.

Place the cod on top of the cooked fennel or cook it on its own on a lightly oiled metal baking tray. Cook for 10-15 minutes, depending on the size of your piece of fish. A single piece will take longer. Check after 10 minutes, and once you see the large flakes starting to separate, take a look at the centre, it should no longer be cold and should gently flake when you push it. If it doesn't flake, put it back in the oven for 2 minutes before checking again. Remember, the fish will continue to cook for a few minutes, so it is worth playing a waiting game and keep checking every 2 minutes at this stage.

When the fish is ready, take it from the oven and zest a lemon all over the tapenade before sprinkling the remaining toasted breadcrumbs over the tapenade for a final contrasting crunch.

Serve the fish and fennel with wedges of lemon. A blog of good homemade or shop bought mayonnaise would be pretty lovely alongside too.
Make Your Own Olive Tapenade:
Make the salty, pungent tapenade for the recipe above and use any leftovers as a topping for crostini, stirred through pasta or boiled potatoes or spread on a sandwich. I love it dotted on tomatoes too. The saltiness makes it the perfect thing to dip into alongside a glass of rosé before dinner.

Use the side of a knife to squish the olives then rip them to remove the stones. Discard the stones.

Put all the olives, capers, anchovies and garlic in a food processor and pulse until you have a fine mush. Alternatively, crush in a mortar and pestle or chop finely with a knife.

Add the olive oil and the juice and zest of half a lemon and mix or blend again. Taste and add more lemon juice and zest as needed. A jar will last for a week in the fridge.
Serve this fish a traditional ratatouille or another side dish of your choice.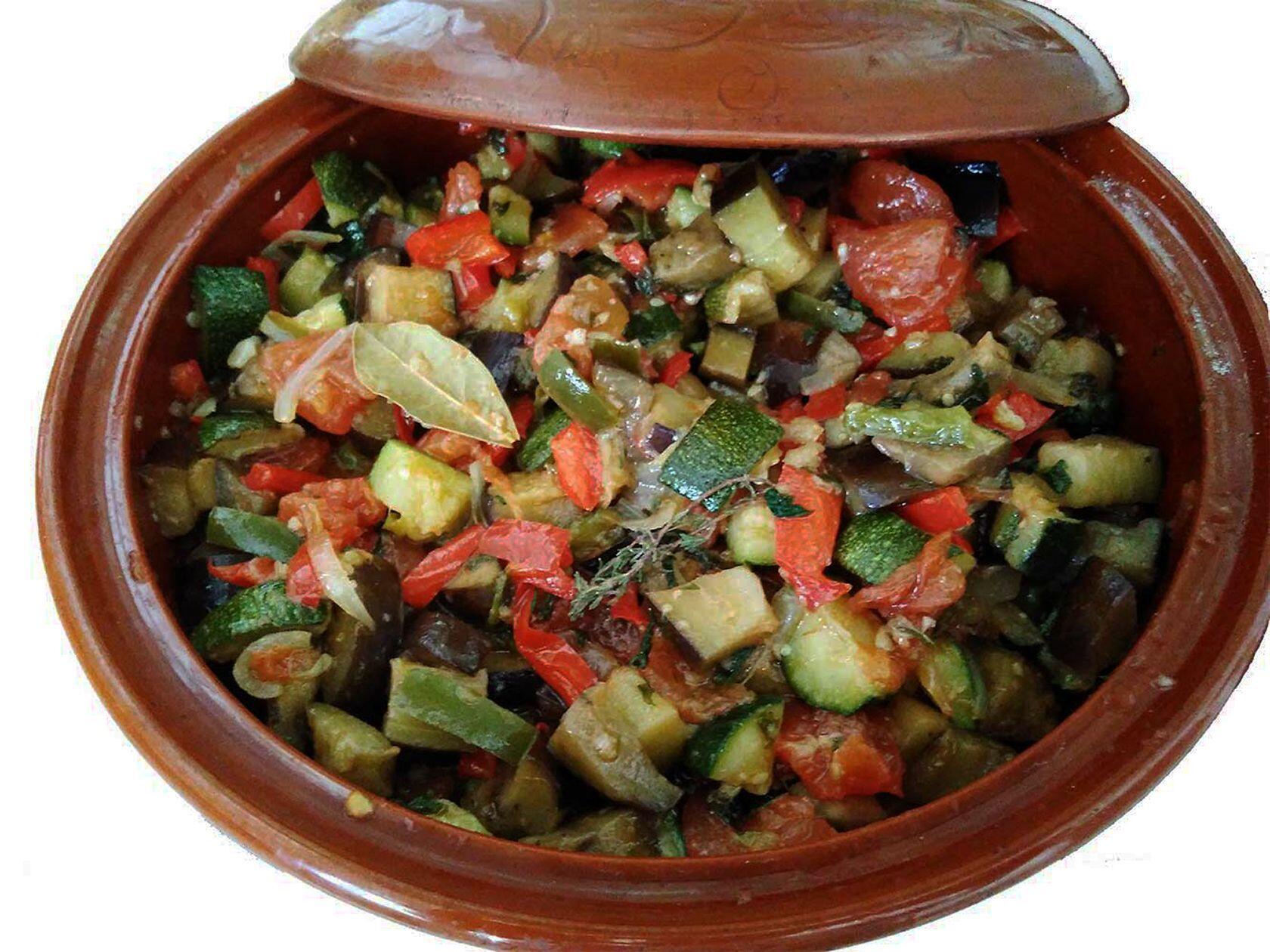 Provencal Ratatouille Recipe
The traditional ratatouille recipe calls for vegetables to be browned in olive oil in a frying pan, each one separately and do not peel them at all. All the vegetables are cooked with their skin to preserve a maximum of taste. Then, they will be mixed and will confit together in an earthenware casserole.
Ingredients
2

kg

Ripe

Fleshy Tomatoes

8

Zucchini

6

Aubergines

or 4 big ones depending on size

2

large

Red Peppers

1

Green pepper

6

Garlic Cloves

1

bunch

Flat Parsley

2

Bay Leaves

2

branches of

Thyme

1

cup

olive oil

2

Yellow Onions

Salt and Pepper
Instructions
Preparation of the peppers: Cut the red and green peppers into thin sections after having seeded them, without removing the skin. Blanch them in boiling water for a few minutes to make them more digestible. Remove from the water when slightly softened. Drain water over a colander.

Meanwhile, trim the eggplants into cubes with their skin. First cut them in the direction of their length, then cut perpendicularly to get dice.

Peel and crush two garlic cloves.

Wash and chop the parsley.

Lightly heat half a cup of olive oil in a skillet. (Preferably a Provencal olive oil!)

When the pan is hot but not too hot (because the olive oil loses its beneficial qualities if it's burnt), sauté the aubergines with garlic and a large handful of parsley.

Stir occasionally.

Preparation of the tomatoes: Score the bottom of the tomatoes. Dip the tomatoes in boiling water for about 3-5 minutes for ease of peeling the skin.

Wait until they cool to cut and seed them. You can fry the tomatoes with peppers or separately, still with olive oil and garlic. Stir occasionally.

Slice the onions.

In another pan, brown the onions with two tablespoons of olive oil, then add the peppers. After about 10 minutes, or as soon as the peppers have softened, add the tomatoes. Stir often to prevent vegetables from clinging to the bottom of the pan.

Remember to check the eggplant, which should brown a little on the flesh side. Remove the eggplant from the heat once it begins to brown.

Preparation of zucchini: Cut zucchini into cubes. Prepare two cloves of garlic again, and chop parsley.

Brown zucchini cubes in a skillet over medium heat in the preheated olive oil. You can use a little less oil than for eggplant.

Add the pressed garlic, and a good handful of chopped parsley. Stir often. Add a spoon of olive oil to the zucchini if necessary.

When the zucchini is browned, season with salt and pepper.

Stop cooking already cooked vegetables, and drain juices. Watch the others as they must not be crisp.

Bake the ratatouille: When all the vegetables are cooked and drained, mix them in a casserole dish.

Add thyme sprigs and bay leaves.

Adjust the seasoning according to your taste.

Cover and simmer in the oven (150C or 300F) for at least two hours (minimum). Stir occasionally.

Serve and enjoy!
Notes
Several variants exist: replace the thyme with basil or add onions, according to taste. Making a homemade ratatouille is not complicated, it's just a bit long, but it's worth it.
A Sweet Finish
Autumn is the time for pears and a lukewarm dessert if you prefer to serve it without ice cream (sans glace).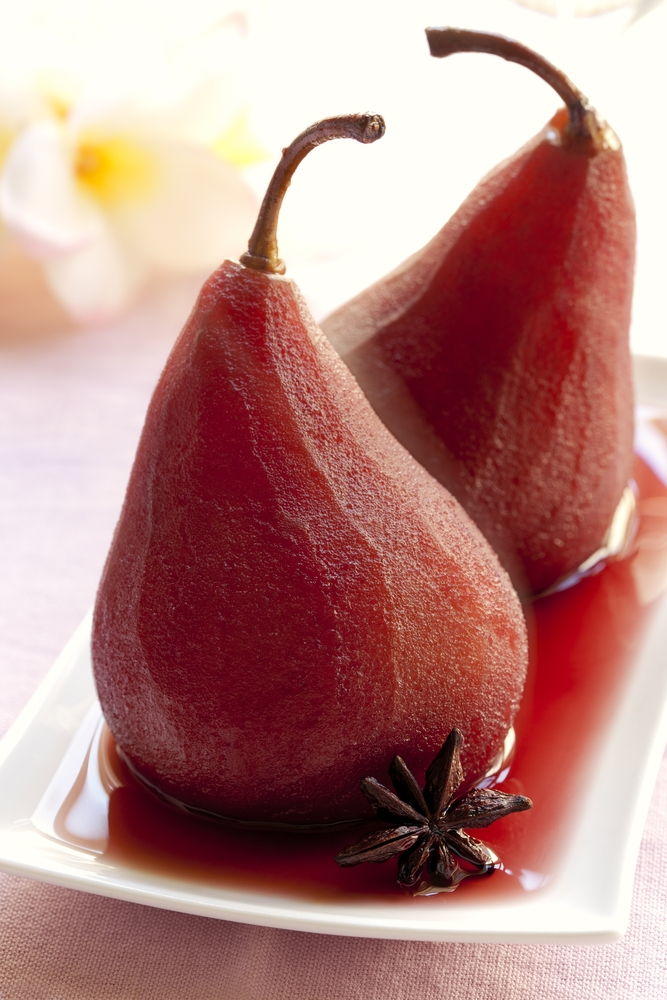 Pears Poached in Red Wine
Celebrate the harvest season with this fruit-based dessert. Poached pears are easy to make and versatile. Serve with ice cream, crème Anglaise or even a strong cheese.
Ingredients
4

Pears

not too ripe, hard flesh varieties are best

2

cups

Red wine

1/2

Orange

12

Prunes

pitted

3/4

cup

Powdered Sugar

1

tbsp

Cinnamon powder
Instructions
Peel the pears keeping their stalks.

Rinse and arrange the pears standing up in a pot of a corresponding size.

Cover the fruit with a blend of red wine (75%) and water (25%).

Slice the 1/2 orange in about 8 parts.

Add them into your pot with the sugar and a tbsp of cinnamon.

Heat post and just before boiling turn to low heat.

Cover your pot and let cook for an hour.

After 55 minutes add the prunes.

Make sure to serve the pears individually with the sauce and prunes when cool.
Bon appétit!
For more seasonal recipes, explore our Tastes of Provence section, and put together your own menu.
For Pinterest fans:

All rights reserved. Perfectly Provence articles and other content may not be published, broadcast, rewritten (including translations into other languages) or redistributed without written permission. For usage information, please contact us.
Syndication Information
Affiliate Information
As an Amazon Associate, this website earns from qualifying purchases. Some recipes, posts and pages may have affiliate links. If you purchase via these links, we receive a small commission that does not impact your price. Thank you in advance for supporting our work to maintain Perfectly Provence.