Attempting to Make Croissants at Home
Reflecting on 2020, the tail end of the year, rather like the beginning and if I'm perfectly honest, the middle bits too, have been a tad chaotic. All the plans we thought we may have made, have had to be ripped up again and again.
At least when I was with Andy in France, we could potter out in our car Fifi and just sit at a boulangerie, with a coffee and a viennoiserie. Continue reading here for the Vaucluse Dreamer's photos of croissants, cycling and living in France. The following is her successful attempt to make croissants and pain aux chocolat at home. The process is not difficult but requires plenty of time.

Making Croissants
Croissants are a wonderful pastry to enjoy at any time of day. Fill them with both sweet or savoury toppings to make it a meal, or simply enjoy with a cup of tea as a mid-afternoon snack! These croissants are a bit of an all-day affair, so I recommend preparing the dough prior to baking them. However, they are so worth it when you get to enjoy a warm, fresh-out-of-the-oven, flaky, buttery pastry you made yourself!
Ingredients
1.1

lb

Strong White Flour

1/3

oz

Salt

2 3/4

oz

Caster Sugar

1/2

oz

Instant Yeast

1 1/4

cups

Cool Water

10 1/2

oz

Unsalted Butter

1

Egg

lightly beaten
Instructions
Combine the flour, sugar, yeast, salt, and water and mix until it forms a sticky dough. Cover with plastic wrap and place in the fridge for an hour.

Flatten the butter with a rolling pin until it's a few centimetres thick. This works best if it is chilled.

Remove the dough from the fridge and roll it with a rolling pin until it's slightly thicker than the butter. The butter should cover around two-thirds of the dough when placed over the top. Fold the dough over one half of the dough, then cut the remaining butter and place it on top of the dough you just folded over. Then, fold the bottom part of the dough letter-style over the remaining butter (it should make a sort of "triple-layer-butter-sandwich"). Place into the fridge to chill for another hour.

Remove the dough, roll it out, and fold it again in 3 ways. You will need to do this 3 more times with an hour in between to chill in the fridge (making these croissants is an all-day affair).

Preheat the oven to 400°F (200°C). Roll the dough out one last time and cut into squares. Then, slice in half, and slice each half into acute triangles.

Take each triangle and roll, starting with the small end, into crescent shapes. Brush with a lightly beaten egg and place into the oven for 8-12 minutes. Then turn the oven down to 375°F (190°C) and bake for another 8-12 minutes.

Sprinkle with some sea salt or sugar and serve butter and with your choice of sweet or savoury jams or jellies.
More Pastry Recipes
Croissants and Pain aux Chocolate
Ok it's not easy to make croissants and pain aux chocolate, but it's a fun and rewarding weekend project.
Check out this recipe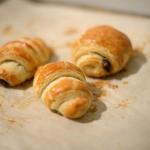 Focaccia
Focaccia is an oven-baked flatbread seasoned with herbs to create a hearty, flavourful bread. Focaccia makes a perfect addition to any meal or enjoyed on its own with some oil and balsamic vinegar. Enjoy this simple recipe and make it your own by adding meat, cheese, or any vegetable of your choice!
Check out this recipe

Tarte Soleil - Puff-Pastry Appetizer
From the chef, "Provençals like things sunny and pretty, so this is a popular take on the local, traditional fougasse. It can be filled with any strong-flavoured spreadable mixture such as tapenade or anchoiade or a sundried-tomato paste or even a spinach/ricotta or goat cheese." 
Check out this recipe

Pain aux Noix - Walnut Bread
Making bread take a bit of time, but there is nothing more satisfying. For this bread recipe make sure to use fresh.
Check out this recipe