Seared Lamb Medallions with Asian Flavours
The following recipe for seared lamb medallions with an Asian inspired tamari-ginger glaze is a happy consequence that I almost butchered. It wasn't a special occasion, but I had a menu plan to pair with a red wine blend from Domaine de la Citadelle – Gouverneur Saint-Auban Rouge.
The result was a delicious, the "Big. Bold. Luscious" wine paired perfectly with the Japanese flavours tamari, honey, ginger, sesame, and togarashi on the lamb and bok choy. Experimenting with Asian flavours and this Provencal wine from the Côtes du Luberon was risky. However, the Gouverneur, a well-balanced vintage (2011), held-up well with this main course.
Enjoy!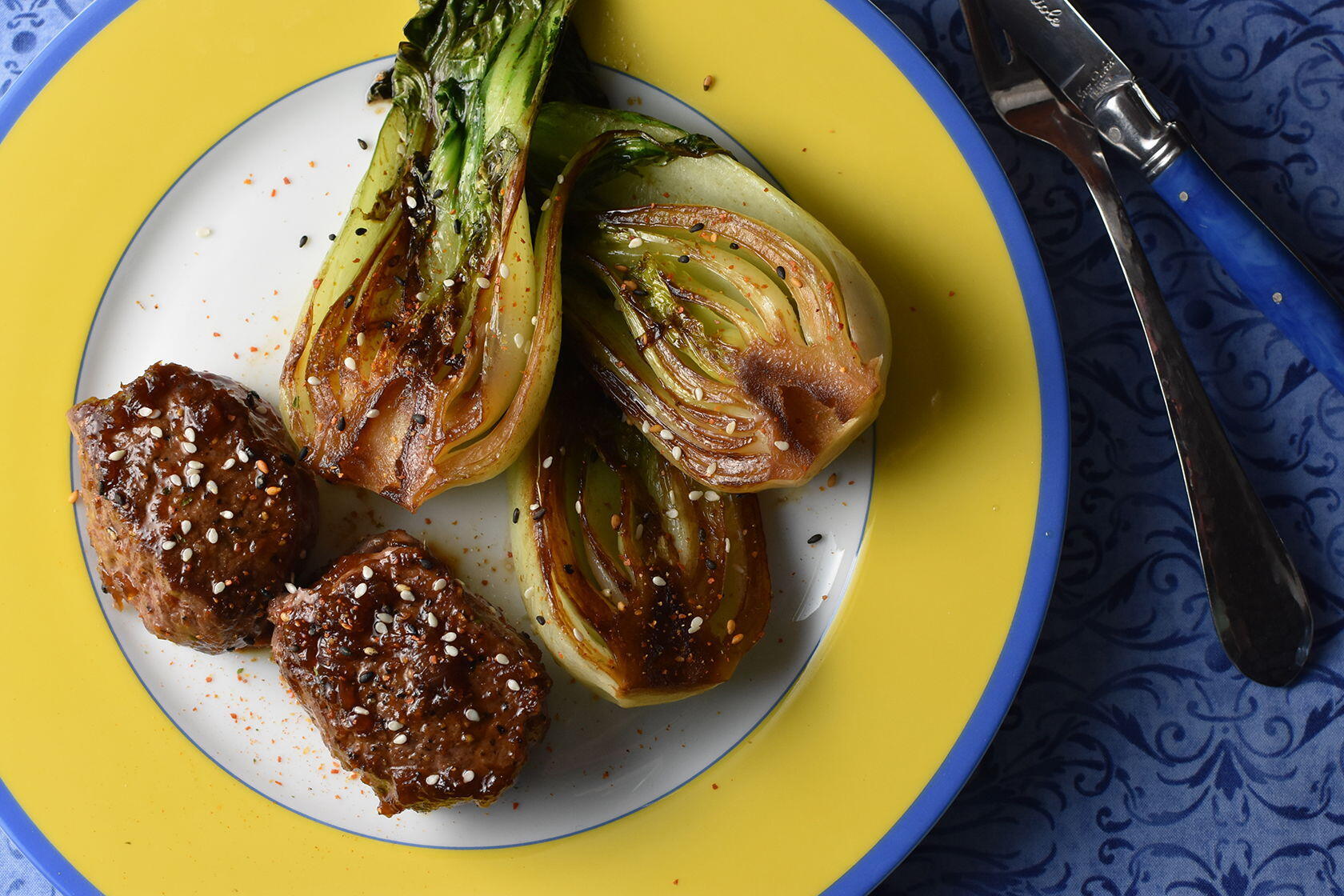 Seared Lamb Medallions with Tamari-Ginger Glaze
This recipe is quick to make, you can easily increase the quantities for a larger crowd.
Ingredients
3

tsp

Neutral Oil

divided

1/2

cup

Onion

chopped

1/3

cup

Tamari Sauce

1

tbsp

Honey

1

tsp

Rice Wine Vinegar

1-inch

piece (2.5cm)

Ginger

peeled and grated

3

Baby Bok Choy

2

tbsp

Sesame Oil

2

tbsp

Water

2

tbsp

Soy sauce

1

Lamb Loin

about 8 oz *

Freshly ground black pepper

Togarashi **

White Sesame Seeds
Instructions
Preheat oven to 350°F (175°C).

Heat 1 teaspoon of neutral oil in the small saucepan. Add the chopped onion and cook on medium-low heat for 5 to 7 minutes, until onion is clear.

Add the tamari sauce, honey, rice wine vinegar, and grated ginger, and bring to a simmer. Cook for about 5 minutes, until thick and syrupy. Set aside.

In a large nonstick skillet, heat 2 tablespoons sesame oil over medium-high heat. Cut the baby bok choy in half lengthwise, and add them, cut side down, in the skillet. Cook for 2 to 3 minutes, until the cut sides of the bok choy, are golden brown.

Add the water and soy sauce, and continue cooking until dark green leaves are wilted, and the white parts are tender. The bok choy should remain cut side down throughout the process.

Meanwhile, heat the remaining 2 teaspoons neutral oil in a medium nonstick skillet. Cut the lamb loin into four 2-inch thick medallions, pat dry, and season liberally with freshly ground pepper. Add to the skillet, and cook for 2 to 3 minutes per side until nicely browned. While the second side is cooking, brush the top side of the lamb loins with the tamari-honey glaze. Brush it twice to make sure there is a thick coating. Set the skillet into the oven and cook for five minutes. Remove the skillet, and brush again with the tamari-honey glaze,

To serve, place 3 halves of bok choy on each plate, and 2 lamb loin medallions. Sprinkle everything with togarashi and white sesame seeds. Serve immediately.
Notes
* If lamb isn't your thing, this would work perfectly with medallions of pork or beef tenderloin.
** Togarashi is the Japanese word for red chili peppers and a general name for a group of condiments that blend chili pepper with other ingredients. Shichimi-Togarashi: (schee-CHEE-mee) A peppery Japanese condiment.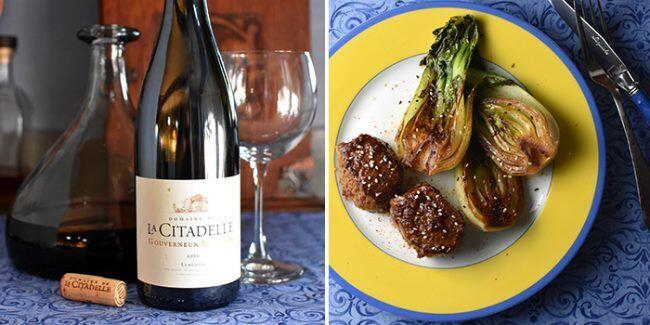 Other Lamb Recipes from Provence:
Provencal Daube Lamb Stew with Côte du Rhône Wine
Provencal Lamb Chops with Honey and Moroccan Couscous
Herbes de Provence Crusted Lamb Lollipops
Braised Lamb Shank with Provencal Spices
Baked Eggplant and Lamb with Tomatoes and Pine Nuts a Perfect Casserole