Razor Clams à la Provencale an Easy Appetizer
Razor clams have long been a popular and easily foraged delicacy found on sheltered ocean shores, most often during low tide. You can usually see them with the naked eye, but if you toss some salt on the water above their burrows, you can watch the little white clams wiggle their way to the surface. There are guidelines, depending on where you live, regarding the harvesting of Razor Clams, to maintain their sustainability and preservation. The following preparation for Razor Clams à la Provencale includes white wine and herbs. For more great seafood recipes like this one checkout, Cook'n With Class in Paris and Uzes.

Razor Clams à la Provencale
Razor clams are similar to clams and mussels. To cook them requires only a bit of liquid and flavouring. This recipe makes an easy appetizer.
Ingredients
1

lb

Razor Clams

2

Garlic Cloves

1

Shallot

2

tbsp

Fresh Parsley

1

tbsp

Fresh Chives

1

cup

White Wine

3

tbsp

Olive Oil

2

tbsp

Butter

to taste

Salt and Pepper
Instructions
Peel, cut, and chop the shallot, garlic, chives, and parsley (keep separately).

Clean the clams in cold water, soak them with water and salt for 2 hours. Wash them in water several times to remove the sand.

In a large saucepan, heat olive oil, add the clams, and all the ingredients, cook on high heat 5 minutes, salt and pepper and serve.
Other Seafood Recipes from Provence:
Spaghetti allo Scoglio 
Prepare this Mediterranean seafood pasta with the shellfish that you find (and like). We used fresh mussels, clams, shrimp and calamari with very simple seasoning.
Check out this recipe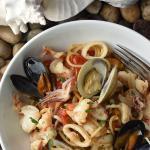 Provençal Seafood Stew
This recipe from Cocoa & Lavender was adapted from a recipe by Mark Bittman.
Check out this recipe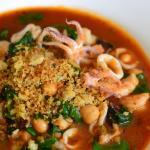 Brandade de Morue
This recipe for a salt cod (morue) gratin is easy to make. Serve this seafood dish with a green salad and some crusty bread. The key to the recipe is allowing for the overnight soaking period for the cod, to remove preservative salt.
Check out this recipe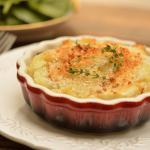 Salmon and Prawn Parcels
Crispy, flaky Filo pastry parcels hide a delicious seafood secret of buttery salmon and prawns with a tart and creamy lemon butter sauce.
Check out this recipe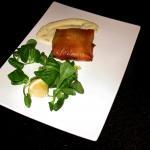 Salmon Wellington (en Crôute)
This classic seafood dish is a bit of a nod to old school recipes (think Julia Child) and definitely, a dinner party hit.
Check out this recipe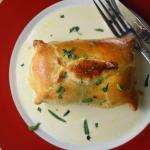 Marseille Classic Bouillabaisse
A Bouillabaisse, to be served in perfect conditions, should be prepared for a party of at least 6 to 7. This allows the cook to purchase a wider variety of fish. You will have to be persevere to find all the different types of fresh Mediterranean fish. If you are far from the Mediterranean, use your local white fleshed fish. The recipe proposed here, consists in poaching the bigger fish into the small fish soup. It is the luxury version of the recipe, as it differs from the original fishermen who were simply recuperating the damaged and unsold parts. Follow the steps to create this a gastronomic recipe.
Check out this recipe