Simple Mediterranean-Inspired Seafood Pasta Recipe
A recent trip to Sicily, Italy influenced this seafood pasta recipe. Although Italy is the birthplace of pasta, "typical" foods of the Mediterranean do not have any borders anymore, and it is quite common to find pasta on restaurant menus in Provence and other parts of France. With easy access to fresh seafood (mussels, calamari, clams, and shrimp) from local Provencal fishmongers, Spaghetti allo Scoglio is quick to prepare.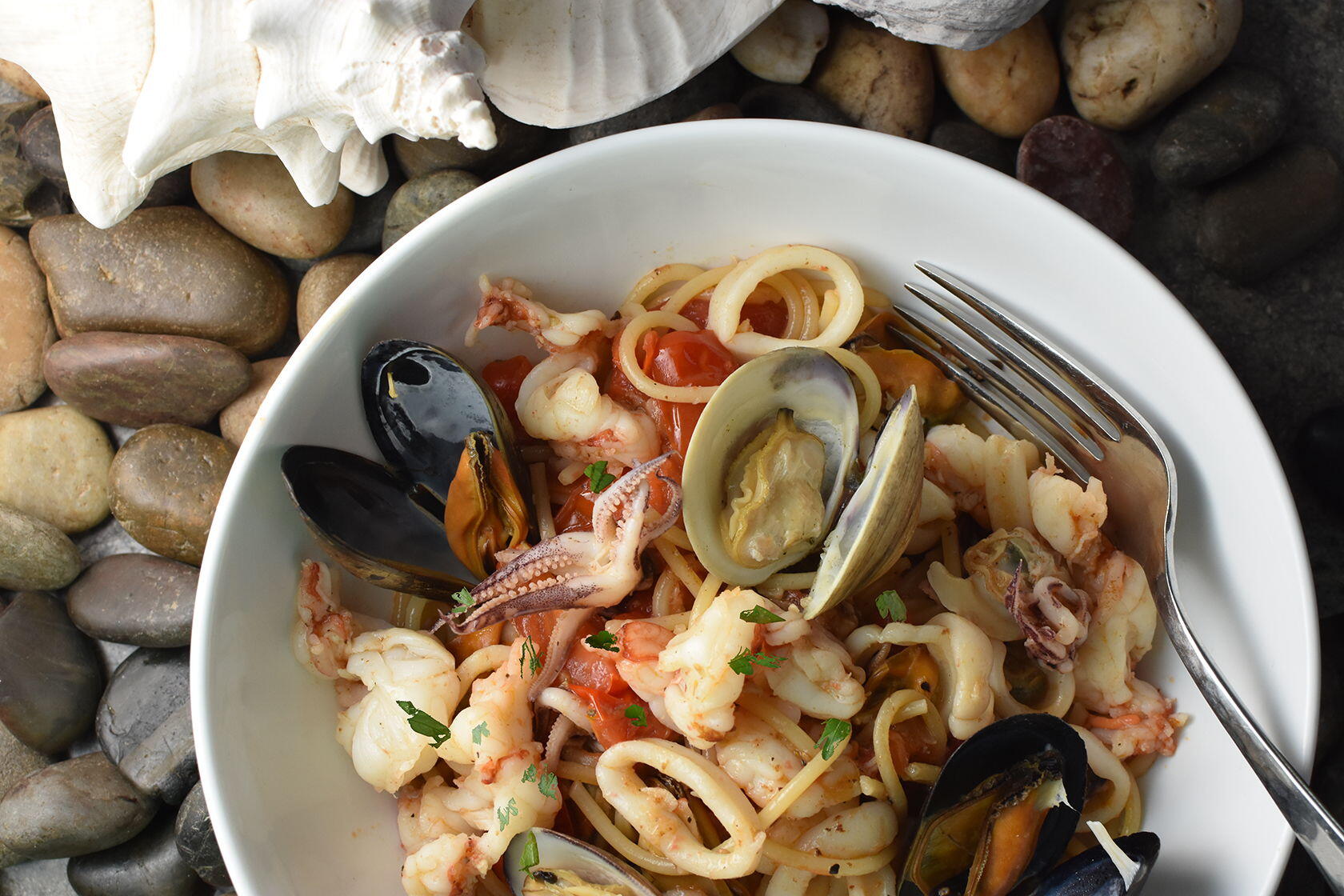 Spaghetti allo Scoglio 
Prepare this Mediterranean seafood pasta with the shellfish that you find (and like). We used fresh mussels, clams, shrimp and calamari with very simple seasoning.
Ingredients
12

oz

Dried Spaghetti

4

tbsp

Extra virgin olive oil

divided

1 1/2

lbs

Mussels

debearded and scrubbed

1 1/2

lbs

Clams

8

Calamari Tubes

with tentacles if desired

1

shallot

peeled and halved

1/2

cup

White Wine

24

grape or cherry tomatoes

quartered

16

Large Shrimp

peeled and deveined

Freshly ground pepper

to taste

2

tbsp

Fresh Parsley

chopped
Instructions
Heat a large pot of water for the pasta. Measure out the 12 ounces spaghetti

Scrub your shellfish to remove seaweed and grit. Discard any that are broken or already open and do not close when you handle them. Note: I generally soak the clams in some salted water for a bit giving them the chance to eject any sand.

Heat a large skillet over medium-high heat and add two tablespoons olive oil. Add the mussels and clams along with 1/4 cup water or wine, cover, and cook for 5-10 minutes until the shells open. This signals that the seafood is cooked. The shells should start to open at around 5 minutes. Remove any that have opened and place them in a large bowl. Re-cover the pan, and continue to cook, checking every couple of minutes, until all the shells have opened. NOTE: If any shells are broken or do not open, throw them away.

When mussels and clams are cool, remove the meat and discard the shells. Note: you may serve the mussels and clams in their shells. It is a beautiful presentation but much messier at the table!

Add the spaghetti to the boiling water. Cook for about 8 minutes.

While the spaghetti cooks, heat another 2 tablespoon oil in a large skillet until shimmering. Add the calamari and shallot (cut sides down), and sauté for about 5 minutes. Add the wine and cherry tomatoes and cook for another 3-5 minutes. Remove and discard the shallot.

Add the partially-cooked spaghetti to the skillet along with the reserved cooking liquid from the mussels and clams and 1/2 cup of the pasta water. Bring to a boil, cooking for a couple of minutes. Add the shrimp and the reserved mussel and clam meats. When the shrimp are just opaque, season with freshly ground pepper.

Divide among 4 heated pasta bowls, sprinkle with parsley and serve.
Notes
Note: Depending on which kind of clams you get, they can take longer to cook than the mussels. Keep an eye on them and remove any mussels as they open so they don't overcook. As you remove them, place the shellfish in a bowl. When all are cooked, strain broth through a fine-mesh sieve and reserve. Set aside. Note: I do not add salt this dish other than the salt that naturally occurs in the seafood and the salt in the pasta water.