The Benefits of Provencal Village Life in Cotignac
Cotignac in Provence's Var
Susana Iwase Hanson is the founder of Provence Living Cotignac, after living on several continents, she and her husband discovered Cotignac, a quiet village in the Var, a decade ago (read her interesting backstory). Cotignac's residents enjoy the benefits of living in the Provencal countryside with the Mediterranean beaches an hour away. Surrounded by vineyards, agricultural lands and a stunning backdrop, this village should be on your must-see list. Susana agreed to answer some questions and share a few local's tips about where she lives in Provence.
---
Provencal Village Life in Cotignac
Tell us a bit about where you live in Provence?
We live in Cotignac, the village is one of 43 towns that form the heart of the Provence Verte. Our children were young when my husband and I decided to move from the coast to enjoy the benefits of a small town and a slightly slower pace that was ten (10) years ago. We share the locals' sentiment that Cotignac is a combination of picturesque and tranquil. Like the rest of the region, our weather is generally terrific with cobalt-blue skies and plenty of sunshine. Here are five (5) benefits of living in a rural village in the Provencal countryside.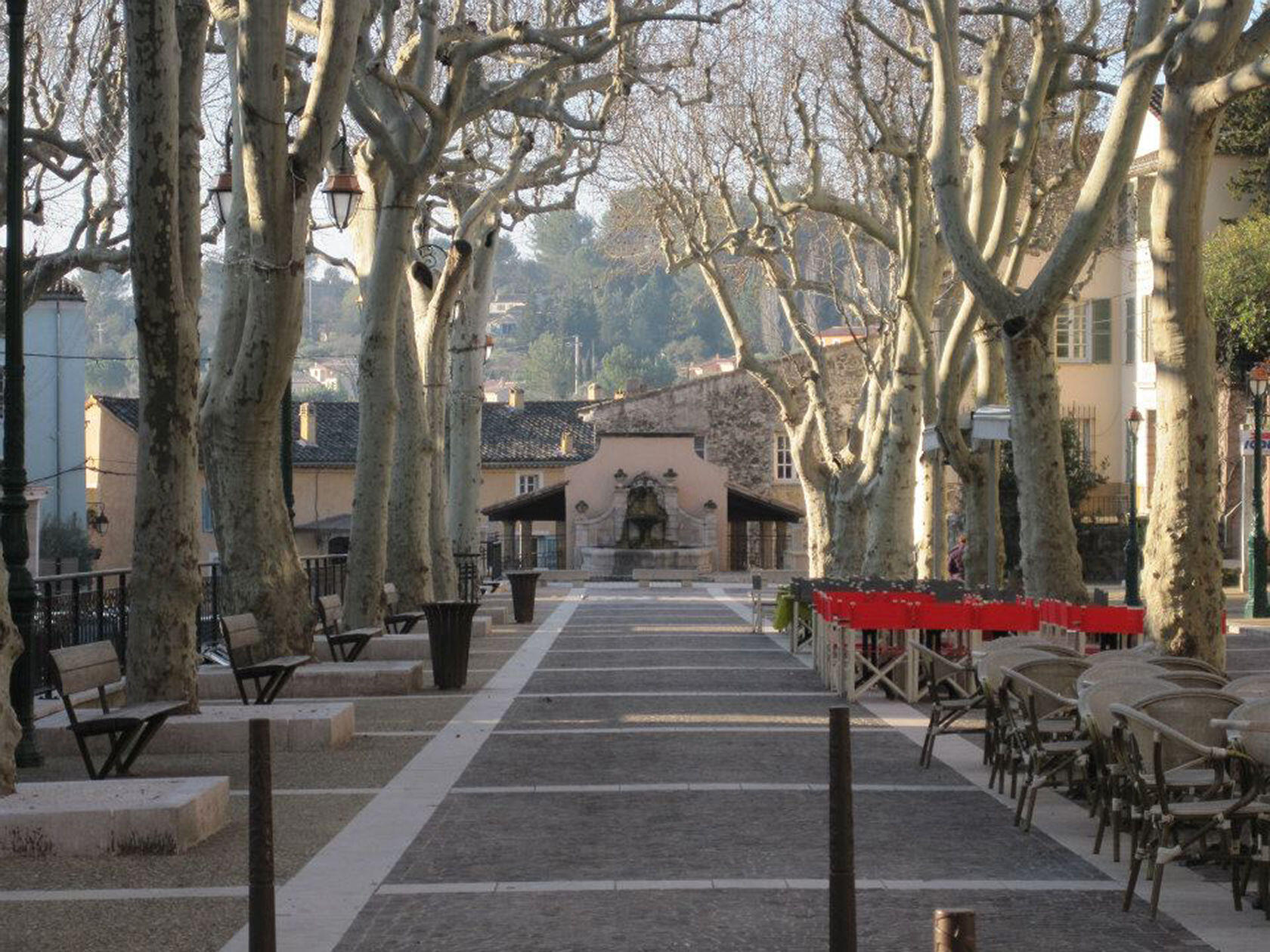 Cotignac is a jewel tucked into the middle of the Var. The village's nickname is "le petit Saint Tropez" because back in the 1950s and '60s, the jet-set pack (Brigitte Bardot and filmmakers, members of the Rolling Stones and David Bowie) would run away from the paparazzi and hide out here. The much loved and famous singer Joe Dassin had his wedding to his second wife at the old Lou Calen (village hotel).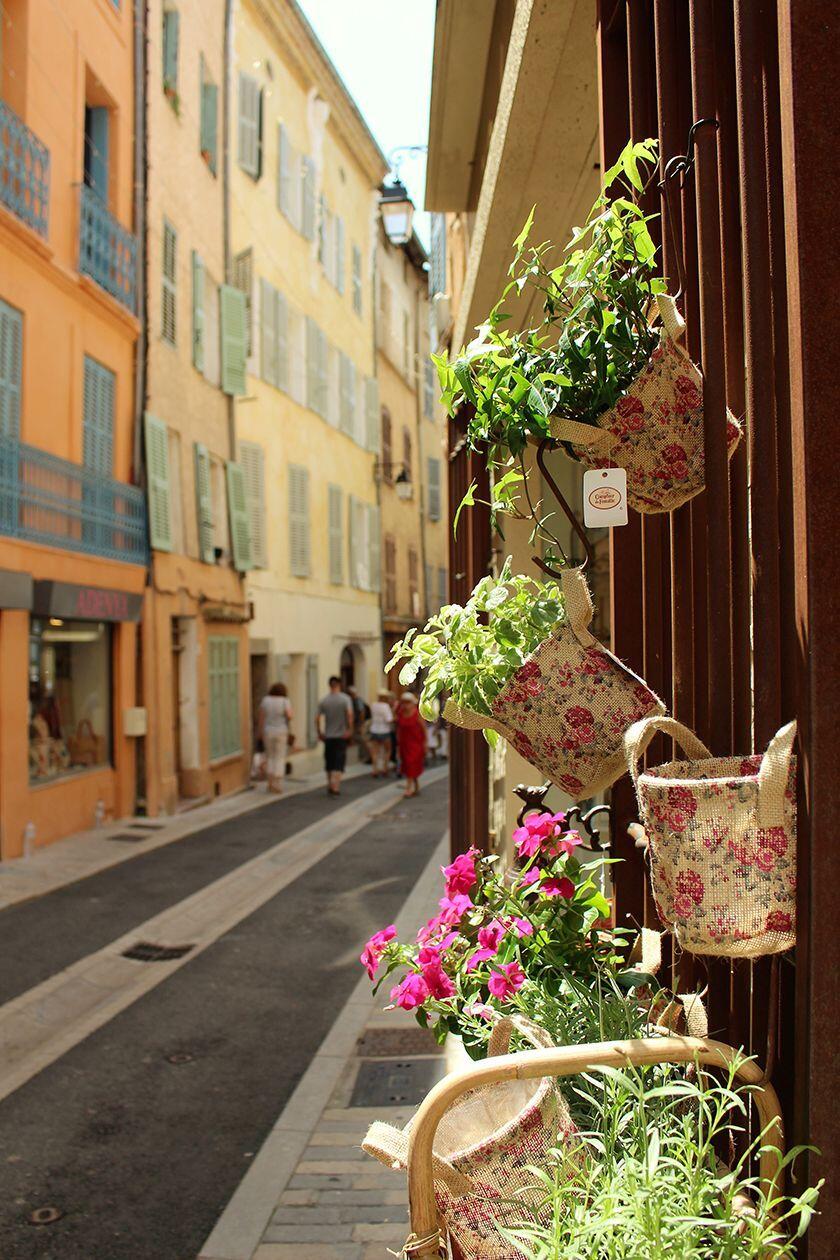 Experience the town for yourself, and you begin to fall in love with its charms. In 2019, Cotignac was named one of the top six (6) most "preferred villages" by the French in all of France. A recent feature on national television (channel 3), presented by celebrity Stéphane Berne, helped to raise the town's profile as well.
Market Day in Cotignac
Our market in Cotignac is on Tuesday mornings throughout the year. In the summertime, we also enjoy night markets on Wednesdays and Fridays. If you visit during the summer, I recommend arriving early (before 9 am) to find a parking space before it gets too crowded.
My favourite market stall is the rotisserie chicken guy on the Cours Gambetta. Before roasting, he rubs garlic and dark olive paste all over the insides; the chicken is delicious. He also sells mini hams, sausages, and potatoes cooked in the chicken juices. Buy a roast chicken (grade-A) for about 14 euros, and it will feed a hungry family of five. For the perfect Provencal lunch, pick up some olives from the next stand, a ripe melon, salad greens and of course, a bottle of chilled rosé.
Cotignac is a great place to visit any time during the year, but it is particularly active with festivities during the summer months.
Why (in your opinion) is Cotignac an excellent place for someone to visit?
My village of Cotignac is a wonderful place for anyone of any age to visit, particularly for active people who like walking, hiking, or running. Many stunning walks lead to impressive waterfalls, vineyards, olive groves, and up hills from which you can catch panoramic views stretching for miles.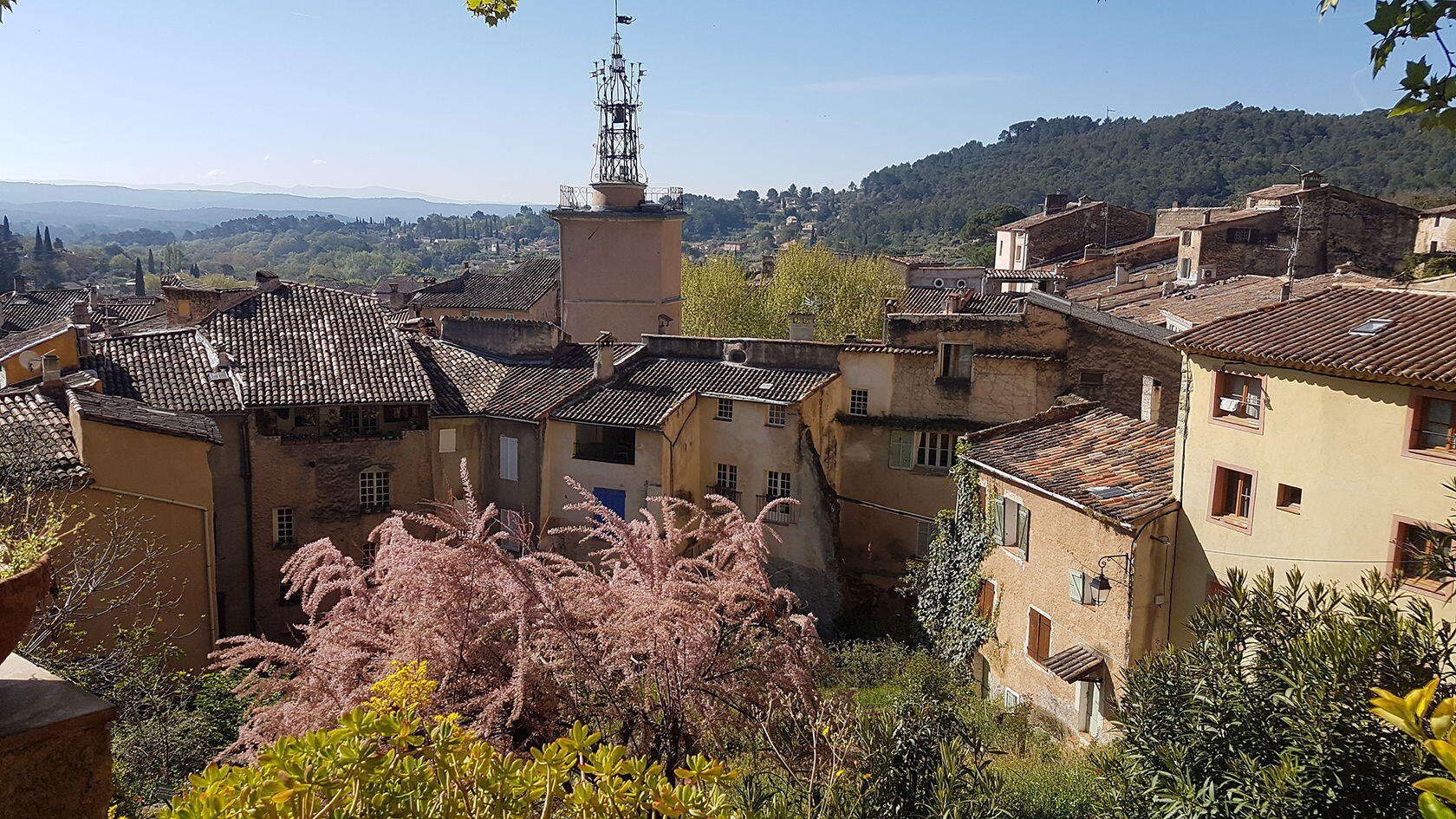 There are some lovely shops in our village for home déor and gifts, including, A l'Ombre du rocher at 8 Grand Rue and also L'Intemporel on the rue Léon Gerard.
Is there a must-see attraction in Cotignac?
Climb our old limescale cliffs that were troglodyte dwellings for thousands of years. There are two Medieval forts at the top that will eventually be restored. Here are five (5) reasons to visit Cotignac.
Eating and Drinking in Town
Where do you go for coffee?
My favourite café in Cotignac is the family-run – Le Temps de Pose. The café in Place de la Mairie has a view of the limestone cliffs behind the town hall. Enjoy your favourite coffee (mine is a café crême) with croissants from the bakery next door, order. This café is also a prime spot for people-watching.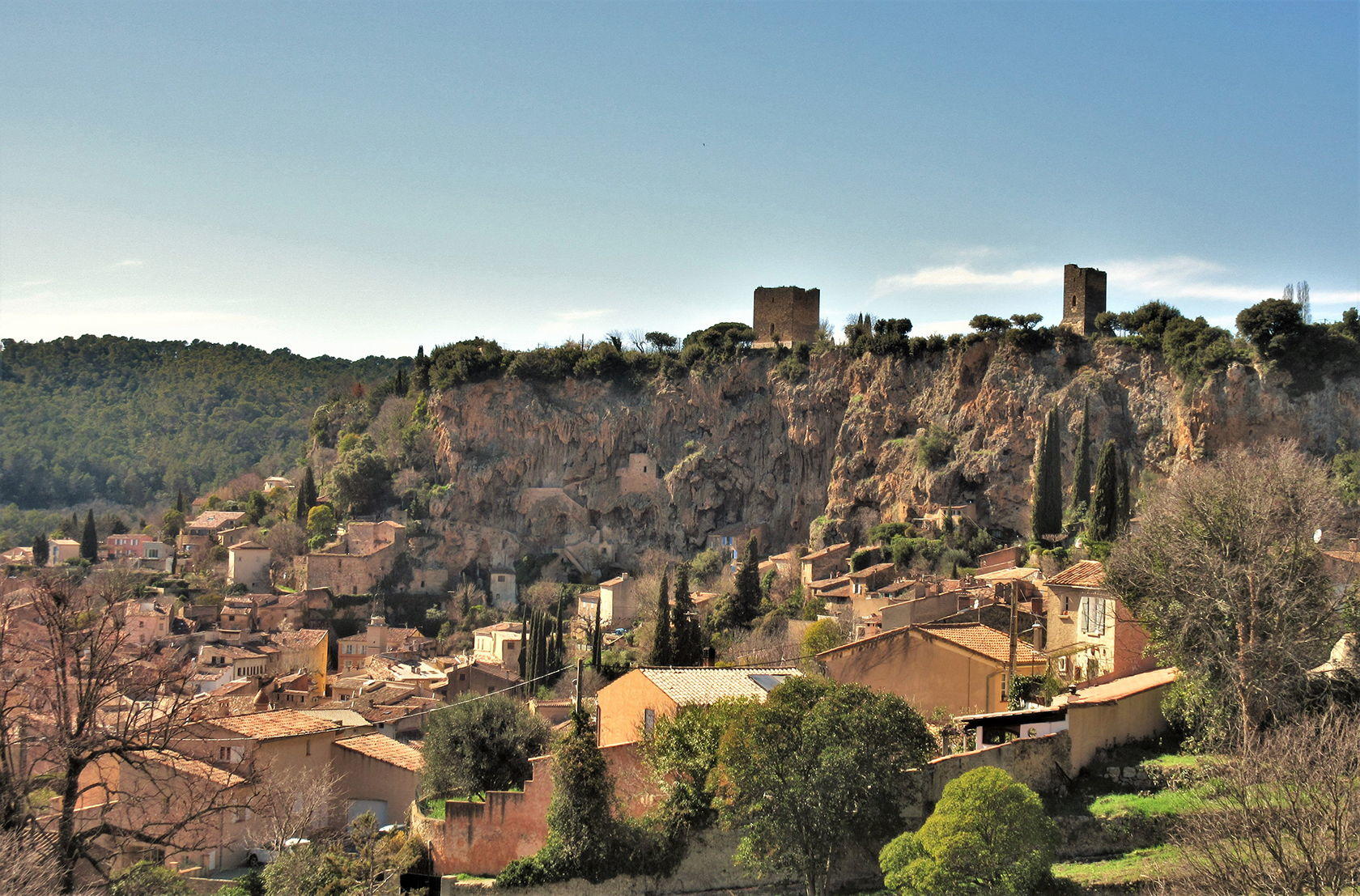 Do you have a favourite bakery?
Yes! My favourite bakery is Lou Gourmandise. They have the best miniature caramel choux (puff pastry) with custard inside and topped with toffee. At just over one euro each, they are irresistible.
Where do you recommend for a casual lunch with friends?
I like the rustic Restaurant du Cours on the Cours Gambetta in the winter. They have weekday menu formulas for 14 euros, which includes a salad, a main, and a dessert. You can't beat the price; the servers there are cute and friendly. I like to dine al fresco during the summer, so I go to either Le Temps de Pose café or La Table des Coquelicots on the Cours Gambetta.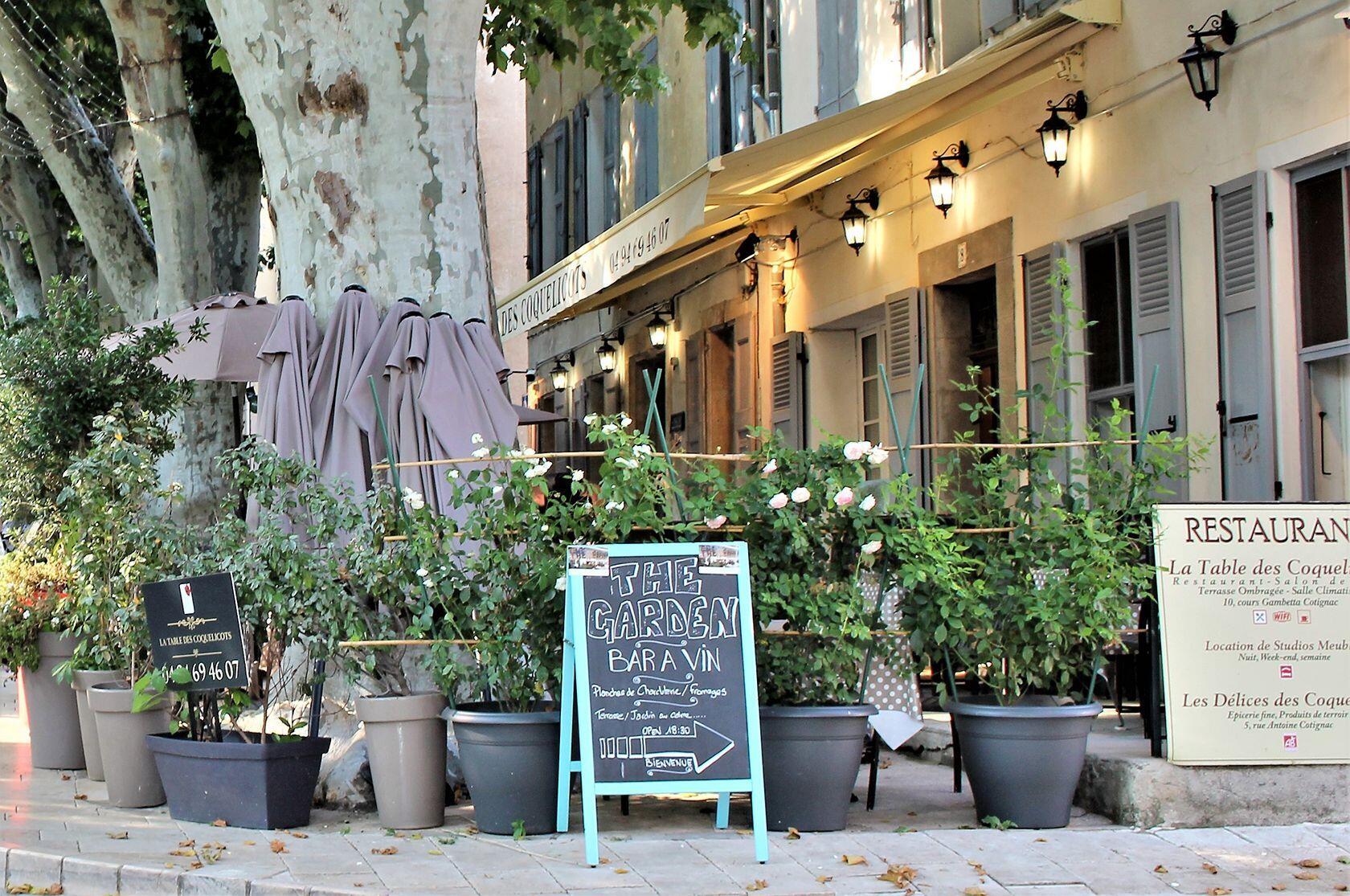 Where is your go-to spot for an apéro?
I like going to the new La Tuf for a glass of rosé (of course, their beer is fantastic too, but I'm more a rosé gal) where the young and gorgeous people work and hang out and on weekends, there is always live music. It's Cotignac's version of a neighbourhood "Cheers" bar with a classy, urban-chic feel.
What is your top pick for a romantic dinner?
One must drive from the village to Le Mas de Cotignac, just three (3) kilometres south. The food is fantastic, and the setting is romantic. It's a high-end B&B where the owner is also an excellent cook. The menus start at 32 euros for four (4) courses, it's great value in a quaint setting with exceptional service to boot!
Where do you like to go for dinner with friends?
These days I like to keep things simple, order a takeaway "curried chicken" pizza at SOS and head to La Tuf (just across the street) to have my rosé or beer with a few friends. La Tuf encourages people to do this, and I love this system. It's cheap and cheerful, fun, and delicious.
For more casual dining in Cotignac, we also have a few regular food trucks.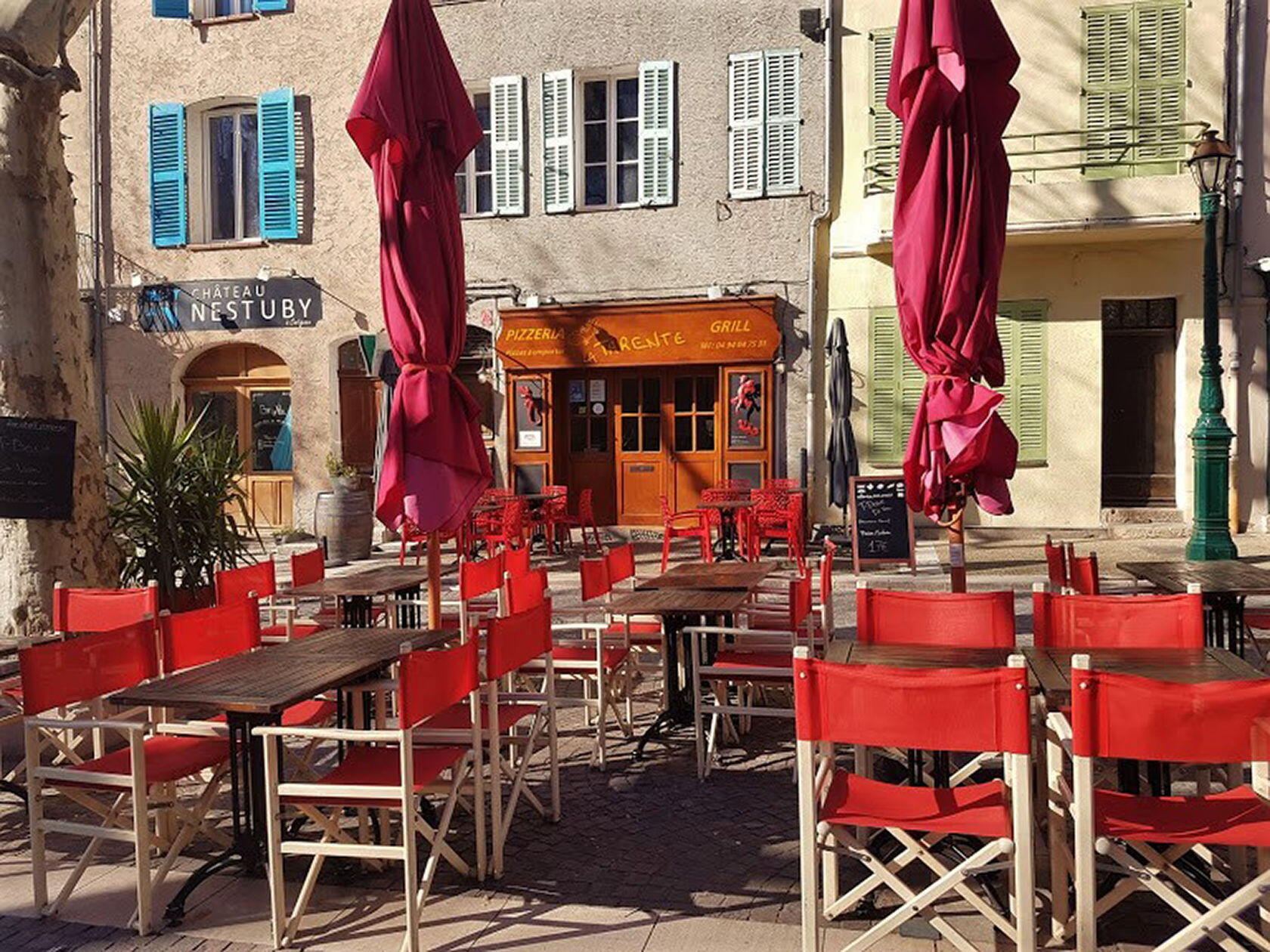 What is your pick for nearby family-friendly dining?
Almost all the restaurants in Cotignac are family-friendly (except Le Mas de Cotignac unless the children are older). Les Quatre Saisons has burgers and casual fare. The Trois Marches and La Tarente have good pizzas (in winter La Tarente serves mountain cuisine like fondue and raclette). In May 2020, a restaurant is opening as part of the new Lou Calen retreat. We understand that the talented American chef plans a farm-to-table style menu.
Here is a full list of top picks for restaurants in the Haut Var.
Touring Provence from Cotignac
What is the best day trip from Cotignac?
I love to go to the lakes (Lac St Croix), only a 35-minute drive away. In the summer, it's a relaxing place to swim and catch some rays. You can easily hire an electric boat or pedalo (if you have the energy) and navigate into the famous Gorge du Verdon (Verdon Canyon) with its turquoise waters. There are some great restaurants and walks on the Bauduen side of the lake. Discover why you should visit the Gorges du Verdon and Lac de Sainte Croix.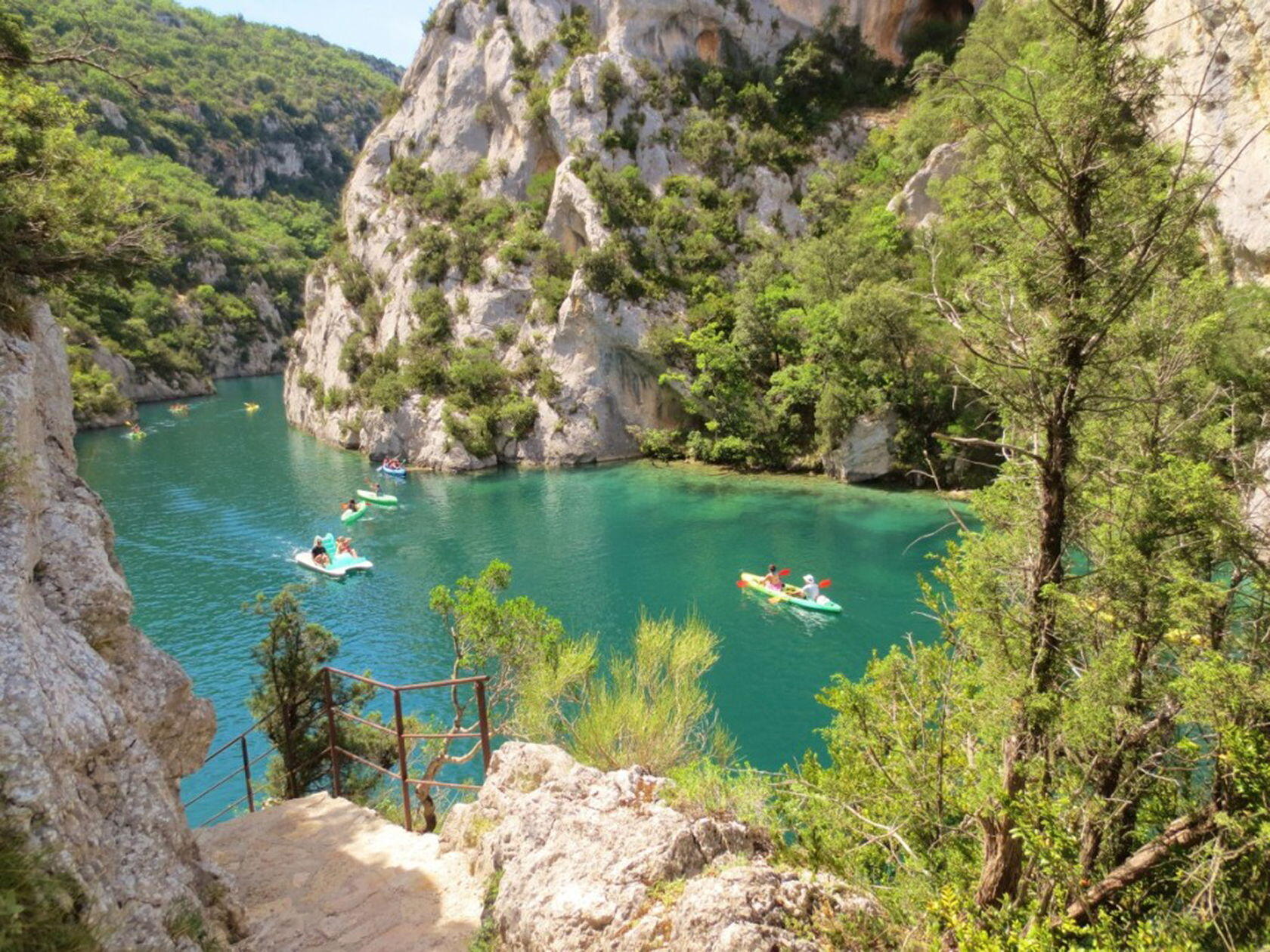 For clothing shopping, I drive over to Aix-en-Provence or Cannes for the day in the spring when the roads aren't too busy. Both cities are within an hour's drive away.
Are you visiting the Var with the kids this summer? Here are my top 10 family-friendly activities.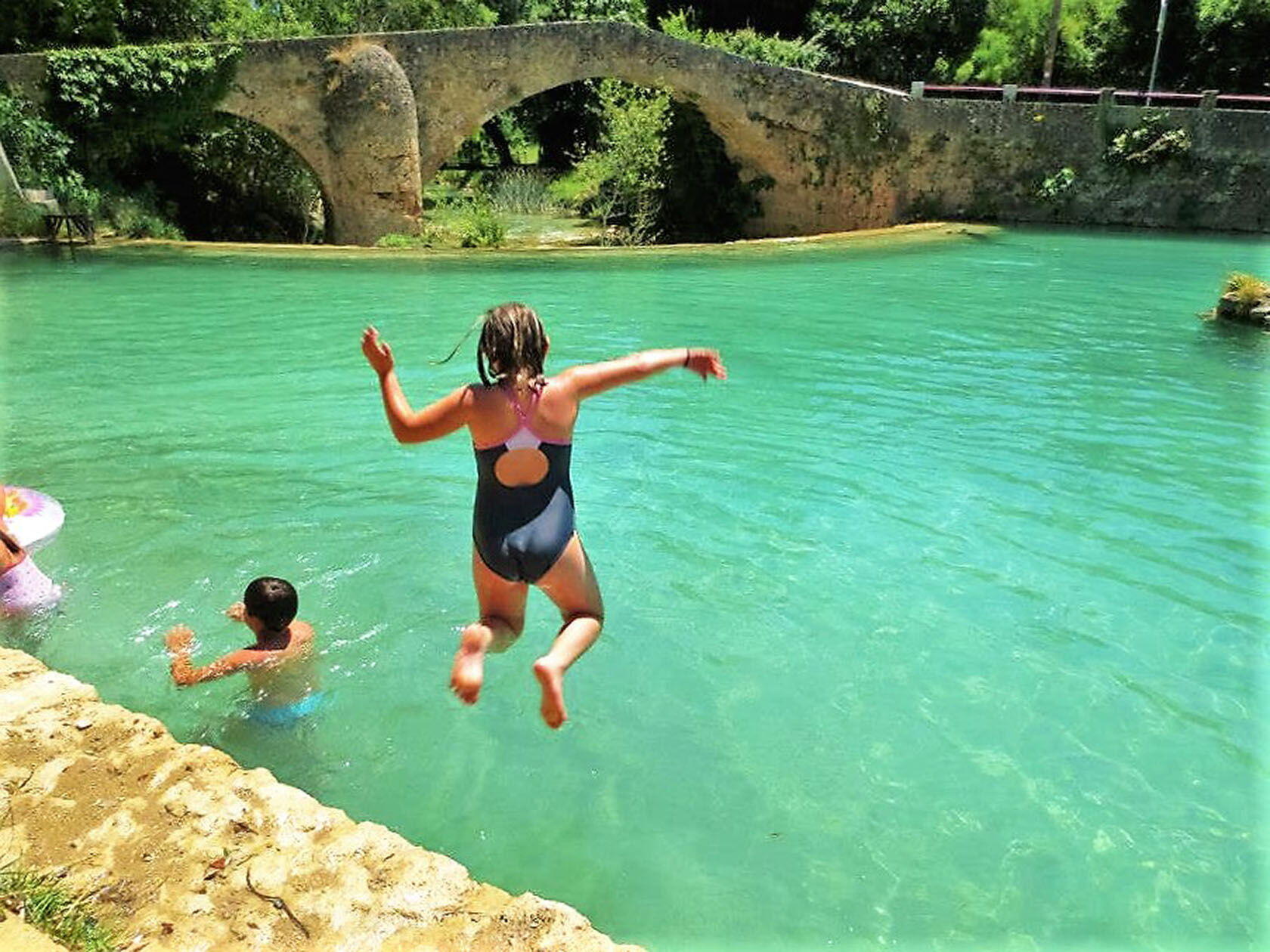 Where to Stay in Cotignac
If money was no object, where would you recommend staying?
At present, I would stay at Le Mas de Cotignac. However, once the Lou Calen opens its luxurious setting in the heart of the village in May 2020, that would be my pick.
Where do you recommend for comfortable accommodation?
For comfortable and reasonably priced accommodation, I highly recommend my village house. The house is within walking distance to all the action yet tucked into a quiet area of Cotignac. Rentals are available by night (a three (3) night minimum), week, or monthly for the best discount. Prices start at 85 euros/night for accommodation for up to five (5) people.
Image credits: Unless otherwise noted, all photos were provided by and published with the permission of Susana Iwase Hanson.
All rights reserved. Perfectly Provence articles and other content may not be published, broadcast, rewritten (including translations into other languages) or redistributed without written permission. For usage information, please contact us.
Syndication Information
Affiliate Information
As an Amazon Associate, this website earns from qualifying purchases. Some recipes, posts and pages may have affiliate links. If you purchase via these links, we receive a small commission that does not impact your price. Thank you in advance for supporting our work to maintain Perfectly Provence.