Discover the Artists of Saint-Quentin-la-Poterie
Art Lover's Tour
During my fall 2019 art tour "Provence From an Artist's Point of View," I discovered a gem, Saint-Quentin-la-Poterie, which is an old village with colourful Provençal houses and medieval history. Clay has shaped the history of Saint-Quentin-la-Poterie since the middle ages.
Come and join me this spring to discover the artists of Saint-Quentin-la-Poterie while we visit other artful places in Provence.
A History of Ceramics
Saint-Quentin has had a history of pottery making for centuries. Kilns for baking clay date back to the 13th century here. Today, the town is full of ceramic artists' workshops. As an artist, with a strong love of pottery, I have created limited-edition tile creations during my career. The entire vibe of this village fascinated me.
The vestiges of a potter's kiln dating from the 12th or 13th centuries indicate that the pottery industry there is ancient. The village experienced its heyday in the Middle Ages when the popes in Avignon ordered their floor and wall tiles and other objects from the potters of Saint Quentin. Not to be missed when visiting the village is the kiln of refractory bricks, one of the oldest kilns still intact. Over a few floors, you can discover the workings of an authentic kiln. It's quite an amazing experience!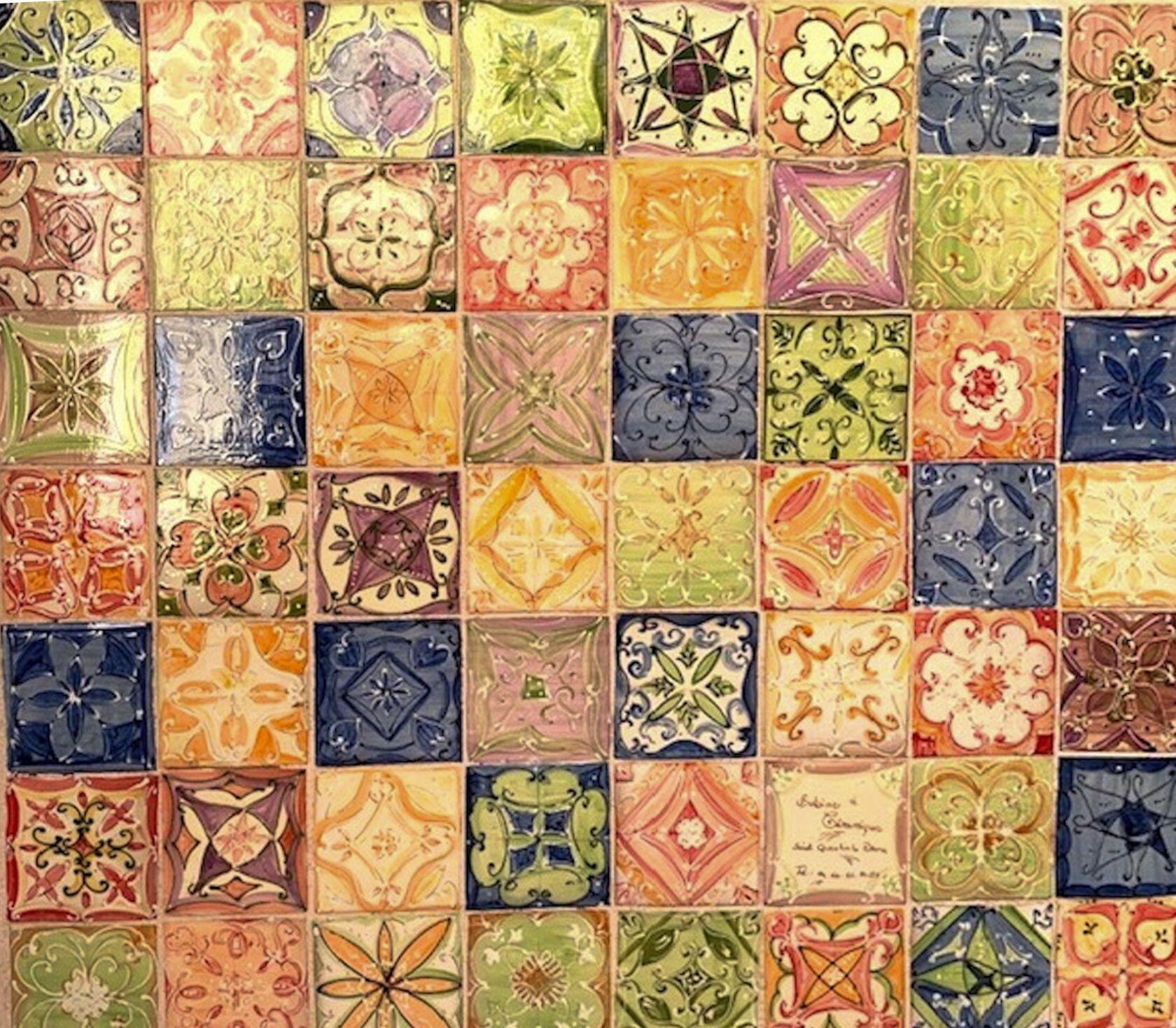 Discover Saint-Quentin-la-Poterie
The village is situated northeast of Uzès between the forests and the farmlands of the Uzège region, Saint-Quentin-la-Poterie is a village that has remained off the beaten path and is quaint and quiet. However, the town remains lively thanks to the presence of its masterful potters and craftspeople, and many artist's studios, galleries and shops and businesses open throughout the year.
As I strolled through the streets and alleyways of the village photographing the colourful mosaics that donned the exteriors of the homes and studios, I had the pleasure of meeting some of the artisans and potters. I found that each artists' pottery had a unique and personal style, presentation and glazing technique.
Meet the Ceramics Artists
Some of these talented artists invited me into their private studios and talked with me about their particular techniques. I have highlighted a few below:
Françoise Escale Agnan is such a talented artist, and I entered her studio and gallery because of her display of prints made from clay plates and ink. Her work is lovely and delicate. She took me down into the cave of her gallery where hanging among the stones were the fragile bird-like sculptures made of porcelain hang from the ceiling. Shadows reflecting off the stones gave a new depth to the slow-moving installation. As I turned to leave, there were her wonderful sculptural lights, sheer as paper and rigid as stone.
Artist Statement :
"An engineer by training, I met engraving in 2000 at the bottom of my staircase in Paris. Engraving was my school of art, of contemporary art. Then paint. Oil. Freedom. And sculpture. The sublime. My work has always told about movement, life, in fact. This vital energy which comes to us from the bottom of the gut."


FEA-Art
1 place du monument aux mots
Tel: +33 (0)6 81 69 72 44
---
As I continued through the village, I came upon the beautiful raku pottery of Hélène Dizier. Although I did not get an opportunity to meet and talk with her, I found her work fascinating with many layers of images and techniques. I also found the shapes of her pots so unique.

Artist Statement:
"My pleasure is to play with enamels and earth to create an imaginary and personal microcosm filled with poetry. My approach to clay through the Raku technique, 15 years ago, allowed me to discover the vast possibilities of creation offered by earth and enamel"


Hélène Dizier (Website)
Detours Savoir Faire (Raku Ceramics)
35 Grand Rue
---
My first impression of Isabelle Roger and Pierre Bernier's shop and atelier was how brilliant the glazes were, shining like jewels in deep reds and cobalt blue. I purchased small coffee cups to stuff in my suitcase, my travel buddy Nancy purchased a beautiful hanging planter in blue for Christmas. The shapes of the vessels were intriguing, and I spent a long time talking with Pierre about his work while he walked me through his studio.
Isabelle Roger and Pierre Bernier (Website)
24 Grand Rue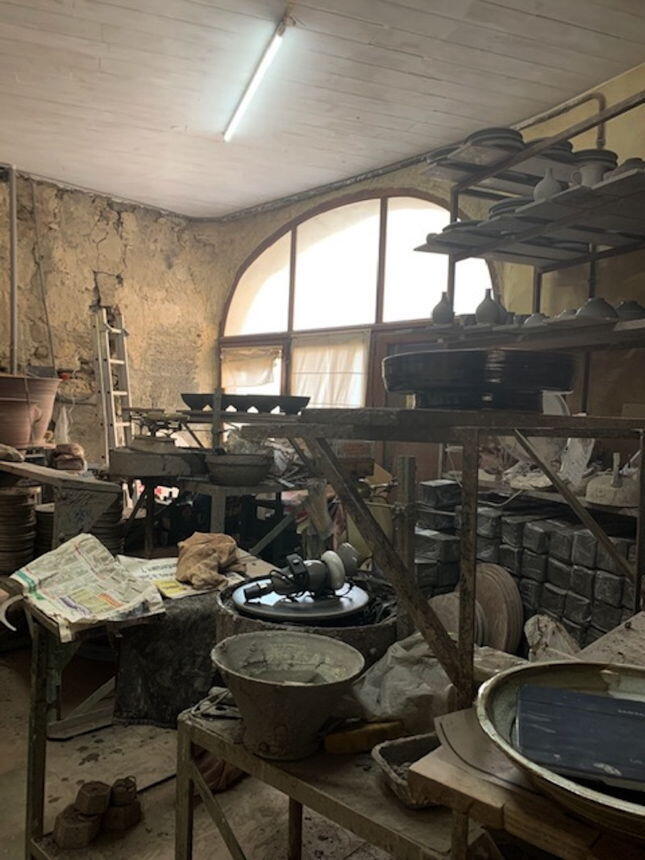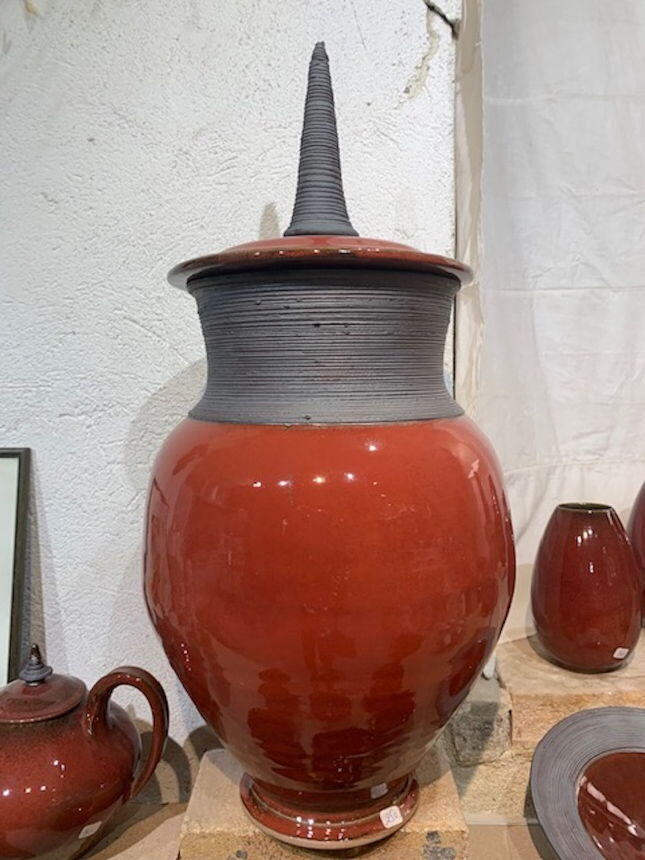 ---
While visiting with Hélene Raynal in her studio/gallery, I could not keep my eyes off her unique black and white painted porcelain vessels. Deceptively simple, each piece requires no less than three (3) firings to achieve her unique approach to glazing to resemble traditional ink calligraphy on paper. Each piece is one-of-a-kind, and while you gaze at your piece, you see something new each time.
Website
12 Rue De La Fontaine
Tel: +33 (0)6 34 10 34 26

All rights reserved. Perfectly Provence articles and other content may not be published, broadcast, rewritten (including translations into other languages) or redistributed without written permission. For usage information, please contact us.
Syndication Information
Affiliate Information
As an Amazon Associate, this website earns from qualifying purchases. Some recipes, posts and pages may have affiliate links. If you purchase via these links, we receive a small commission that does not impact your price. Thank you in advance for supporting our work to maintain Perfectly Provence.