Visiting the Var with kids this Summer? My top 10 things to do
Guest Post: by Susana Iwase Hanson of Provence Living Cotignac the website and online community for sharing information about Cotignac and its nearby villages.
Discover how this accomplished lady and her family ended up in the beautiful town of Cotignac. It's summertime in Provence and are her suggestions for ten (10) things to do with kids (and adults) in the Var.
---
Provence is blessed with cobalt blue skies and almost rain-free summers that make it the ideal outdoor destination for nature lovers and families with kids. You can even drink wine or beer at lakes and beaches in France, which may be one of the reasons why it is the most popular country to visit in the world. Just remember to drink lots of water too, and use that SPF crème solaire!
Outdoor fun
Cotignac
Walk along the river Cassole – the Vallon Gai – to the waterfall.  Or, if it's too hot climb the rocher in Cotignac, which is famous for the troglodyte dwellings. This short but pretty river walk leads to a spectacular waterfall where you can take a swim at your own risk (but it's safe). However, before you make sure the weather is not due to change suddenly as a heavy rainstorm would make walking dangerous. The walk, called Vallon Gai, starts at the end of the little bridge next to the Police station. Keep walking up the stream, and after about 15 minutes you'll get to the "Lagoon" waterfall, it's a stunner!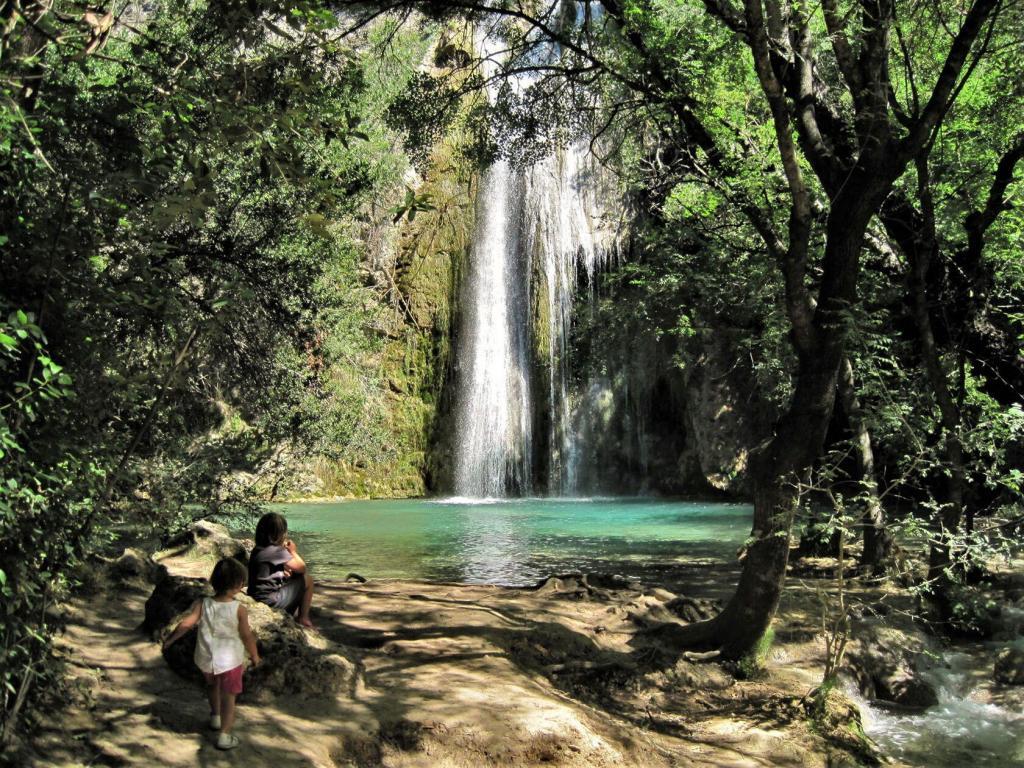 Read: 5 reasons to visit the village of Cotignac.
Salernes
Le Plan d'Eau: at the West entrance of the village make a right turn (first large roundabout) then another right onto the road that leads to the large gate. The gate is open in summer, and anyone can go in and swim or have a picnic on the grassy lawns. The area is called La Muy quartier in Salernes. There is also a good restaurant in Salernes called Food'Amour next to the church. It's a bit fancy but so worth the money.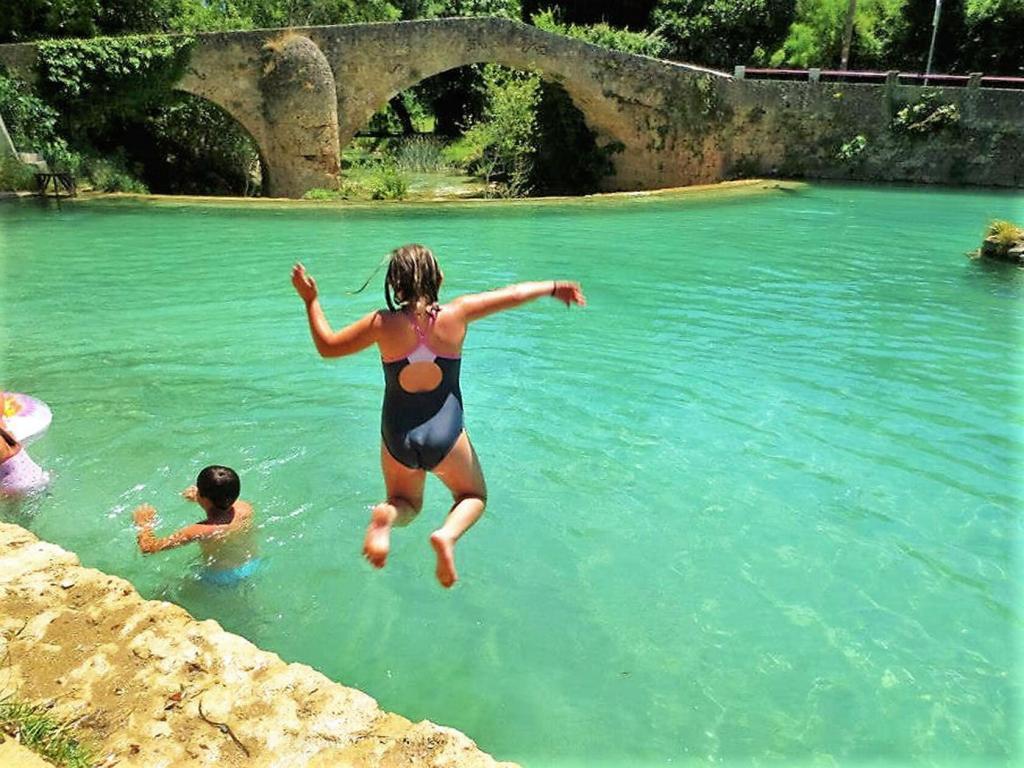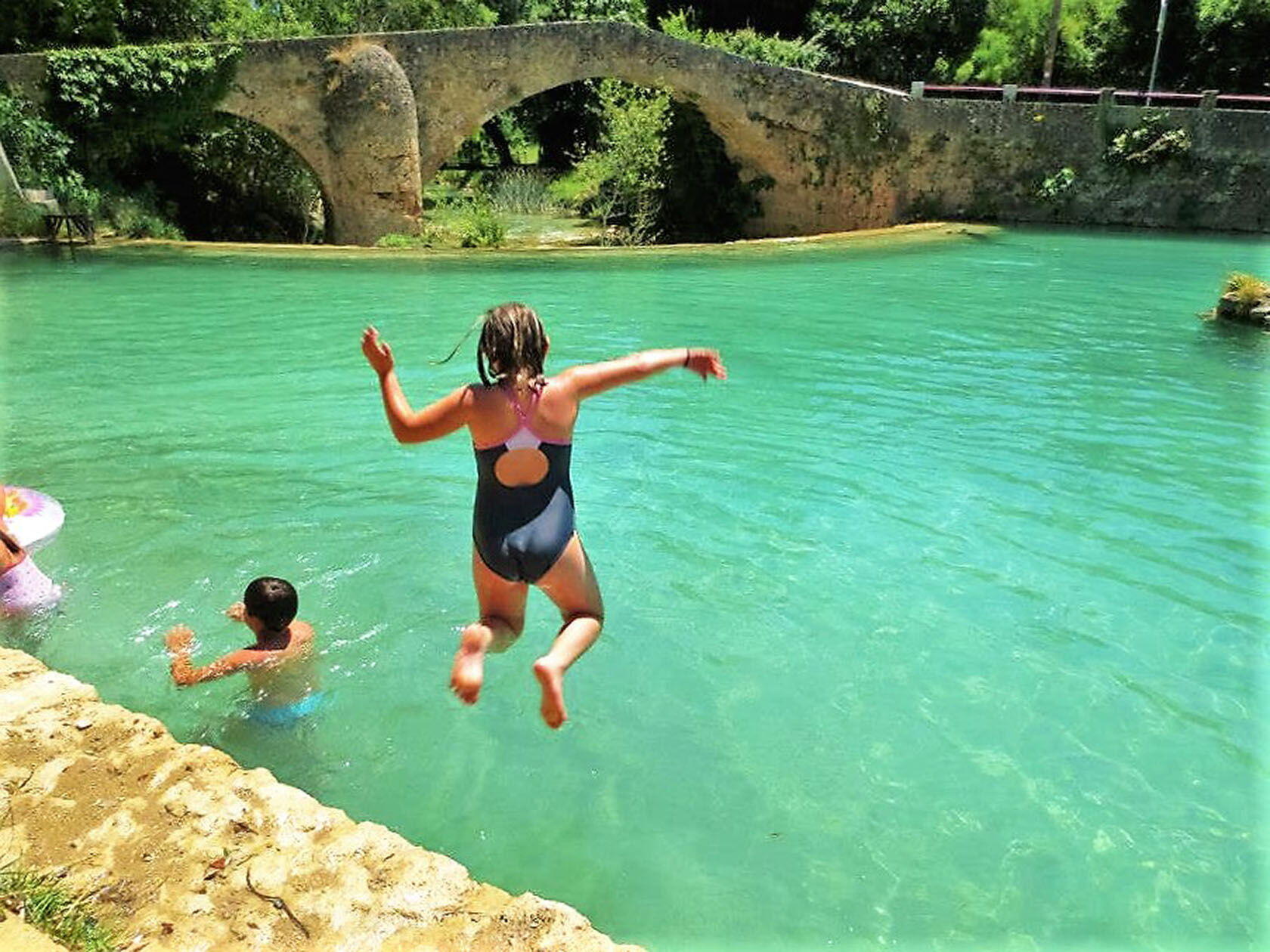 This town is well-known for its terracotta tiles.
Le Lac St Croix
Several areas offer excellent swimming and sunbathing in the Var without the discomfort of sand and saltwater. Bauduen, near the village of St Croix, is quite popular but not too crowded. There are also pedalos and other fun equipment you can rent and explore the lake which has a glorious emerald colour all year 'round. You can make a day trip of combining a lake visit with a village visit to Moustiers-Ste-Marie which is a MUST DO but crowded in the summer. It is best to visit this town in the spring or fall.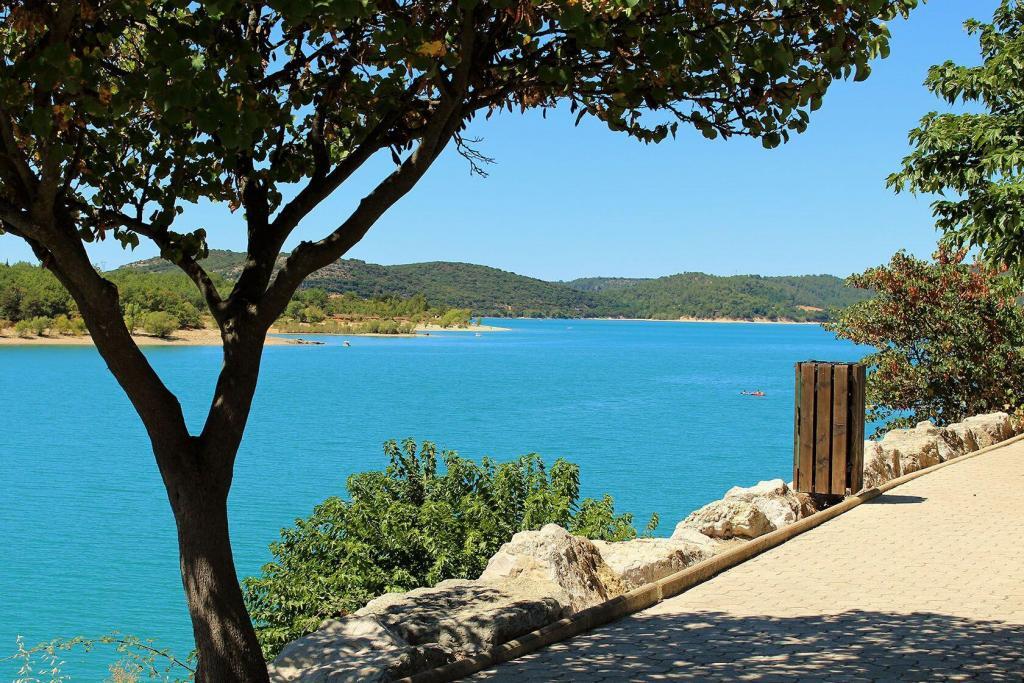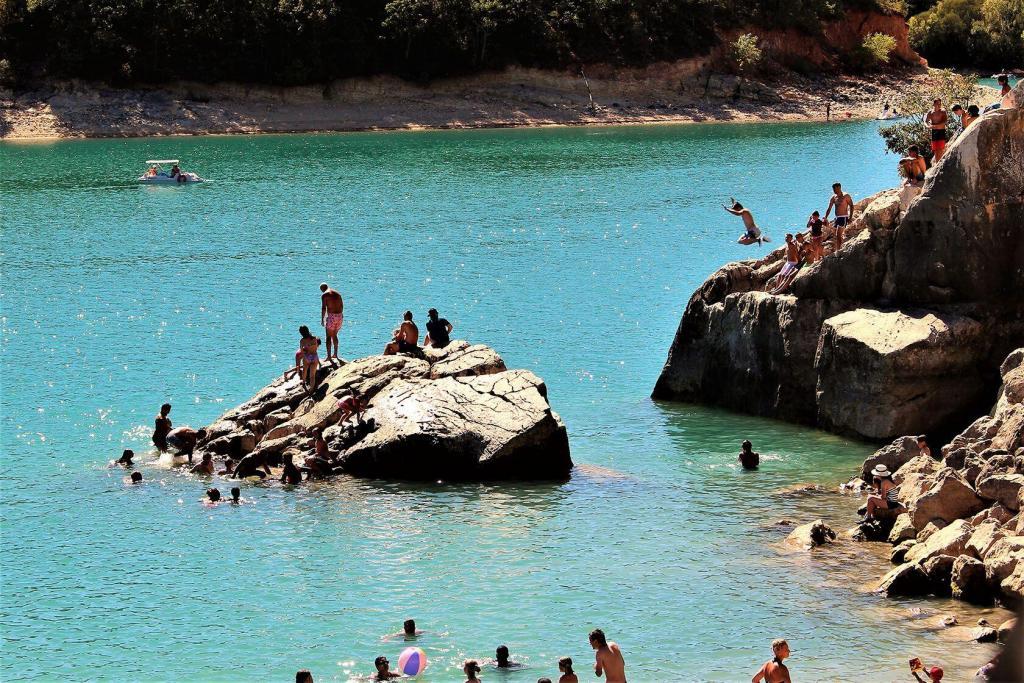 Read: Daytripping in the Var by the team at Mirabeau Wine.
Quinson, Gorge du Verdon
The most visited and famous part of the Var is no doubt the Gorge du Verdon and the gorgeous water that can be seen by either hiking next to (take Quinson side entry for a walk up the quarry) or paddled through by pedalo, electric boat, or canoe. You might see some crazy adolescents jumping off the bridge here also, but this is technically illegal, and there have been deaths recorded so do not try this. In Quinson you'll also find the Musée de Prehistoire (Prehistory Museum), which is popular with children.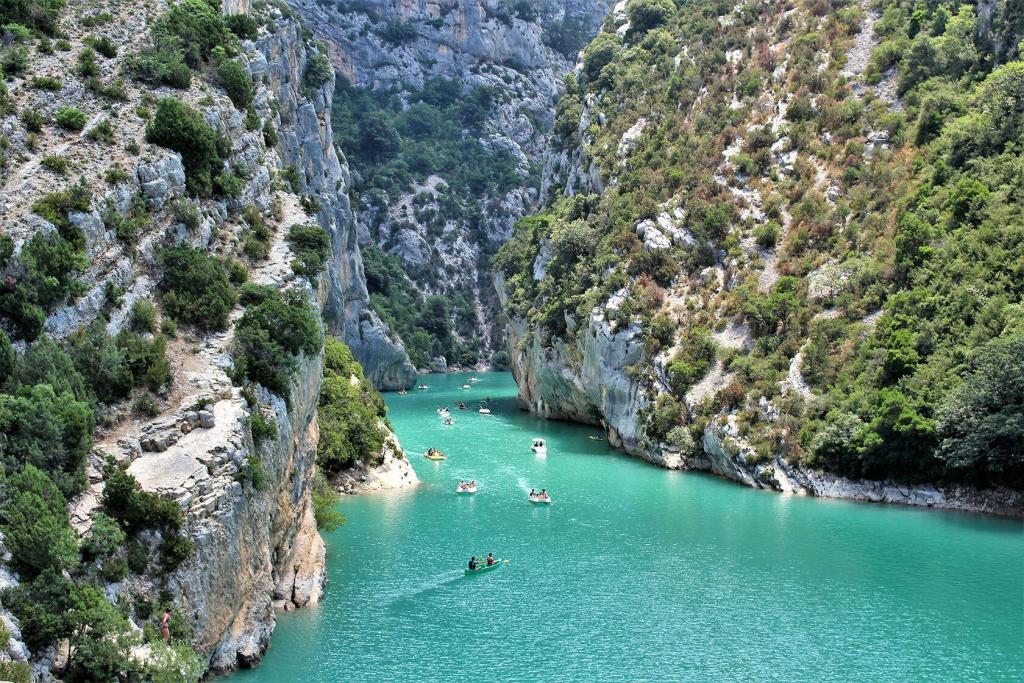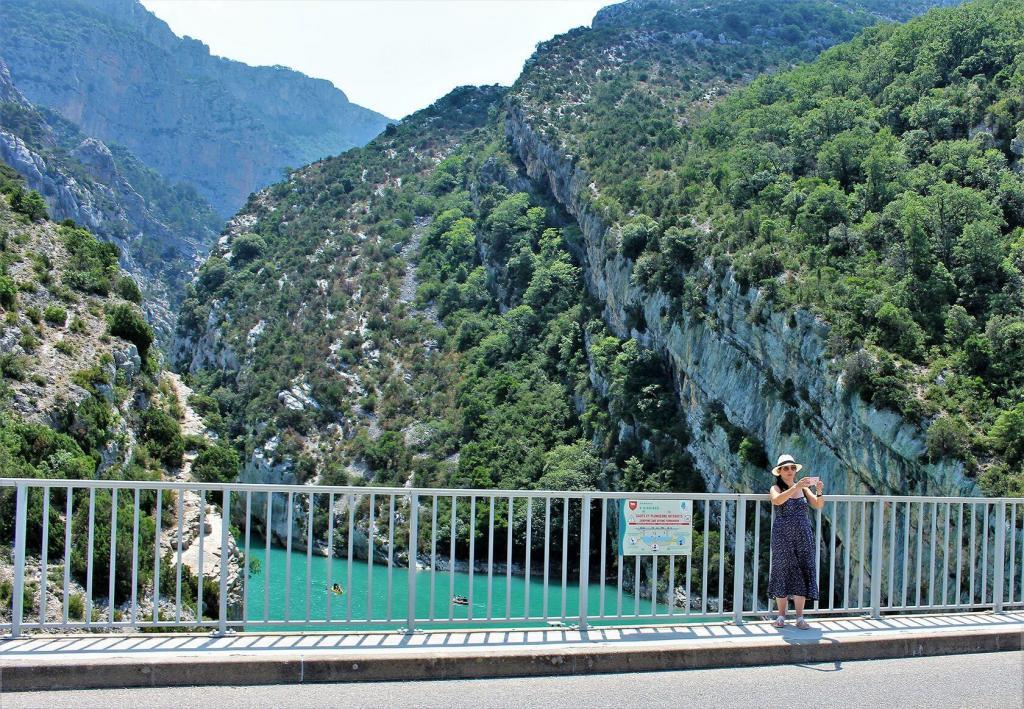 Ramatuelle – Les Plages Pamplonne
The beaches of Pamplonne are world-famous for its gorgeous long beach with white sand and all the fancy beach restaurants (like Club 55 and Tahiti Plage)– easily accessed via Ramatuelle there are plenty of public areas for bathing also. I recommend Key West Beach (mid-way down) where there is a good snack bar for the public beach next to the private ones (private means you pay for a matelas (lounge chair mattress) to lie on, usually around 17 -20 euros for the day).
Bormes Les Mimosa's Estagnol beach
This one is my favourites. It can be accessed by the narrow roads via Pierre Feu and Le Londe, in Bormes Les Mimosas. It costs 8 euros to park near the beaches here. Best to arrive early, before 10 am to guarantee a space. The water is clear and shallow for a good 300 metres into the sea which makes it fun to play with younger children. Bring a big parasol and lots of water in a cooler. There is a great restaurant here called L'Estagnol in case you wish to have lunch in style.
Frejus' Waterworld
This water park is a gigantic bouncy-castle type amusement right off the beach. Although Waterworld costs money to get in, it is always a hit with the kids.
St Cyr sur Mer's Aqualand
Located between La Ciotat and Bandol, Aqualand is another a park with choices of different swimming pools. However, be warned entry tickets are quite expensive (28 euros for adults, 20 euros each for children 5 – 10 yrs old).
Cool Indoor Fun:
Too hot? Here, are some air-conditioned activities for kids under 14 years of age.
Brignoles's Royal Kids
Royal Kids in Brignoles is an indoor activity centre. If you want a break with a nice coffee and want to surf the web while your kids' play, this is the kind of place to go. The centre is always well-airconditioned, so your kids never feel too hot. Entry cost is usually 9 euros per child, one euro for an adult (with coffee included) and there are bouncy castles, large physical activity mazes, trampolines, go-carts, etc., to entertain the kids for hours. The one in Brignoles (zone industriel) is called Royal Kids and is open every day during the summer holidays (July – August). There is also a similar centre in Toulon.
Toulon – La Valette's Avenue 83
There are movie theatres in most villages, but they tend to be small (maximum occupancy of 55). There is a huge cinema in Toulon La Vallette at the new mall (called l'Avenue 83) and lots of fun themed restaurants you can choose to dine in. Kids loved the pirate-themed restaurant called Pirates Adventures, which closed in January 2020. There is a play area where you can leave kids under 14 for up to 2 hours for an additional fee. The mall is just near the big IKEA, so if you're shopping for furniture or want a cheap lunch, you can head to l'Avenue 83 first.
Enjoy the summer enfamille!