Provence Living Top Picks for Restaurants in the Haut-Var
Sadly, restaurant meals do not always live up to our expectations for service, food quality, price and ambiance. We asked Susana Iwase Hanson the founder of Provence Living Cotignac for her top picks for restaurants in the Haut-Var.
Why Visit Haut-Var
The Haut-Var is filled with striking scenery, hilltop villages and plenty of unspoilt nature to explore. The stunning Gorges du Verdon defines the upper limit of the Haut-Var and beautiful villages such as Tourtour (charming streetscapes), Moustiers Sainte-Marie (pottery, a suspended star, and a perched church), Sillans-la-Cascade (known for the waterfall), Bargème (highest village in the Var), and of course lovely Cotignac.
Read: Need 5 Reasons to visit Cotignac.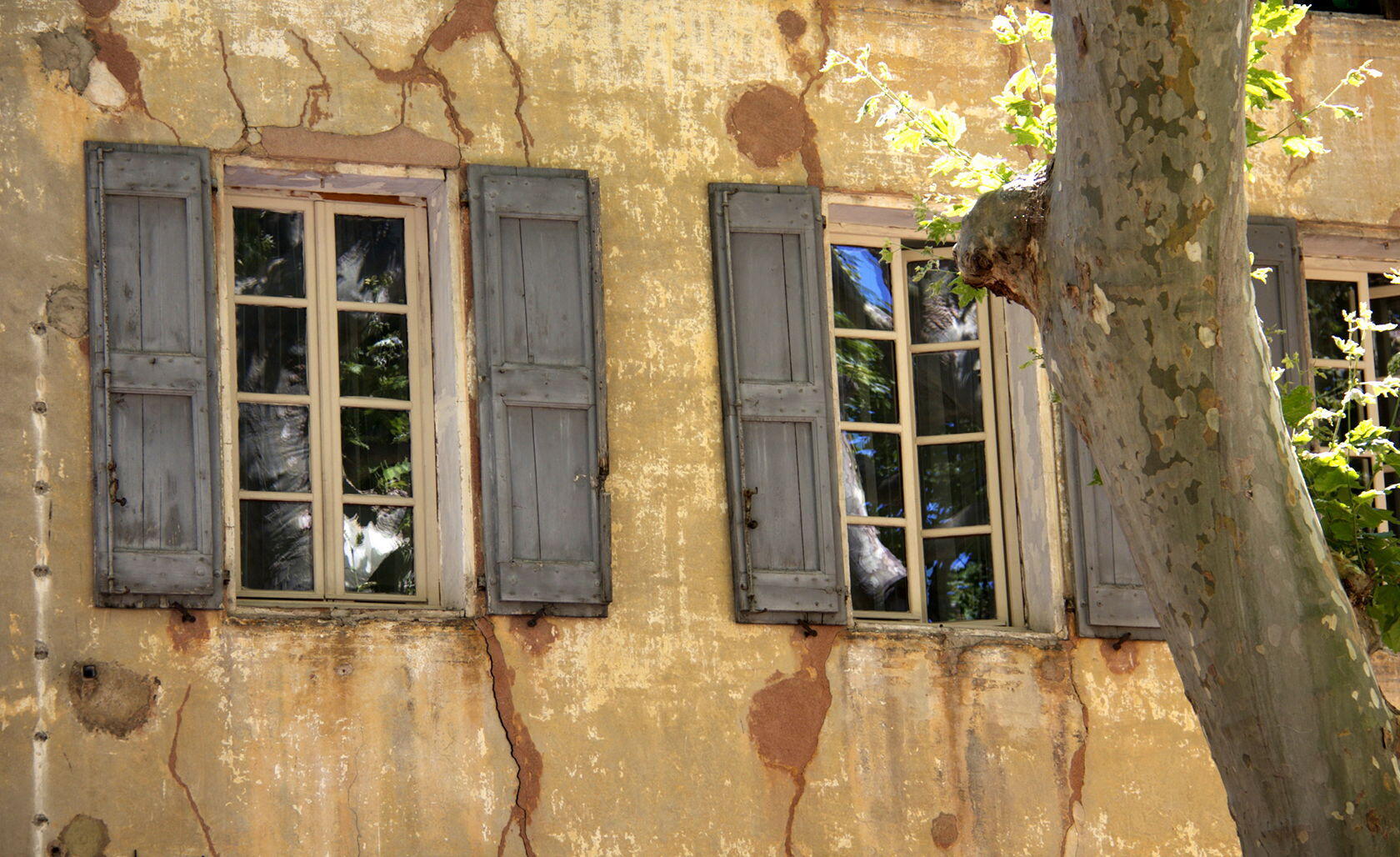 Haut-Var Restaurant Picks
To claim that the following are the best restaurants in the Var would be biased and relative, of course. I have not tried every single restaurant here in our department of the Var. However, after living here for 16 years, I have tried many restaurants because a foodie like me does get around.
Read: Why Susana launched Provence Living, her website, Facebook page and consulting service for non-French speakers who are considering a move to the heart of Provence Verte.
However, it's important to note that restaurants come and go and the ones that are just starting out could be more motivated and attentive to cooking and service. For the moment, I do have personal favourites that I'll share with you. I have made a point of choosing restaurants that are affordable rather than Michelin-starred as those types of restaurants merit a different kind of review. My preference is casual joints where you might find something unique and just a little different to eat, or a touch of "wow." I like my wines too so if the restaurant doesn't have a decent rosé selection it's off my list, sorry.
Do note that restaurants in France often have lunch specials and formulas that are very reasonably priced making eating out during the day an economic affair that is enjoyable and less stuffy/formal. You can save around 30% off the price of dinner by going at lunchtime instead. And I've noticed we tend to drink less alcohol at lunch, making the drive home less risky.
Food'Amour, Salernes
Food'Amour has been at their Salernes premises for at least four years. They can be found just across the tourist office there, and they have a terrace just next to the church for outdoor dining in the warm seasons. I have never been disappointed with them.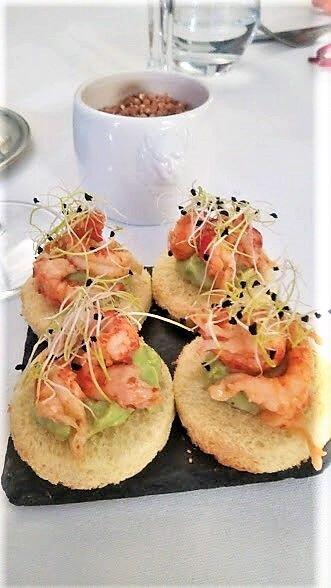 Their lunch menus, based on seasonal produce and high-grade meats and fish start at around 28 euros and include an amuse-bouche, appetizer or dessert, and main course. They usually have either a fish or meat choice and can be asked to do vegetarian platters upon request (call in advance). The chef uses only fresh ingredients, and linen tablecloths and elegant cutlery enhance the décor. I love their black dishes too, where the edible creations take centre stage, and the food is displayed in perfect harmony.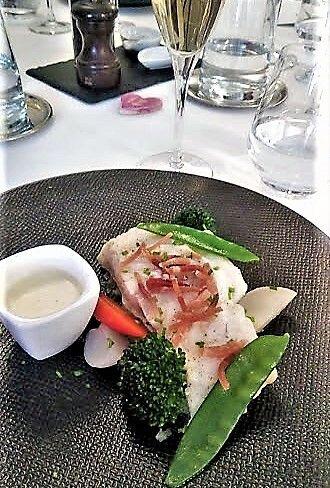 If they continue the way they cook they could easily earn a Michelin star, it's that good. They might have to move premises for that though as it's a little cramped in the indoor part. Trip Advisor has them rated at number one out of 14 restaurants in Salernes, and this is not surprising. Count on spending about 33 euros per person for lunch including wine. Dinner obviously is more expensive.
Food'Amour (Facebook Page)
4 rue Pierre Blanc
83690 Salernes (see map)
Telephone +33 (0)9 81 93 19 49
La Table de Bruno, Saint Maximin-la-Sainte-Baume
At first glance, this restaurant is not flashy, but I walked in for supper one hot summer evening, and the air-conditioning was refreshing. The décor isn't to my taste but oh my gosh, the food! I was with my husband on a date, and neither one of us was disappointed by the Iberic sautéed pork with perfect veggie accompaniments. Even the carrots were peeled à la technique Cordon Bleu correctly. The starter of Buffalo mozzarella salad was done with a twist and was melt-in-your-mouth perfect. Then the dessert of wine-poached-whole-peach and homemade strawberry sorbet made me feel like I went on a culinary trip to paradise.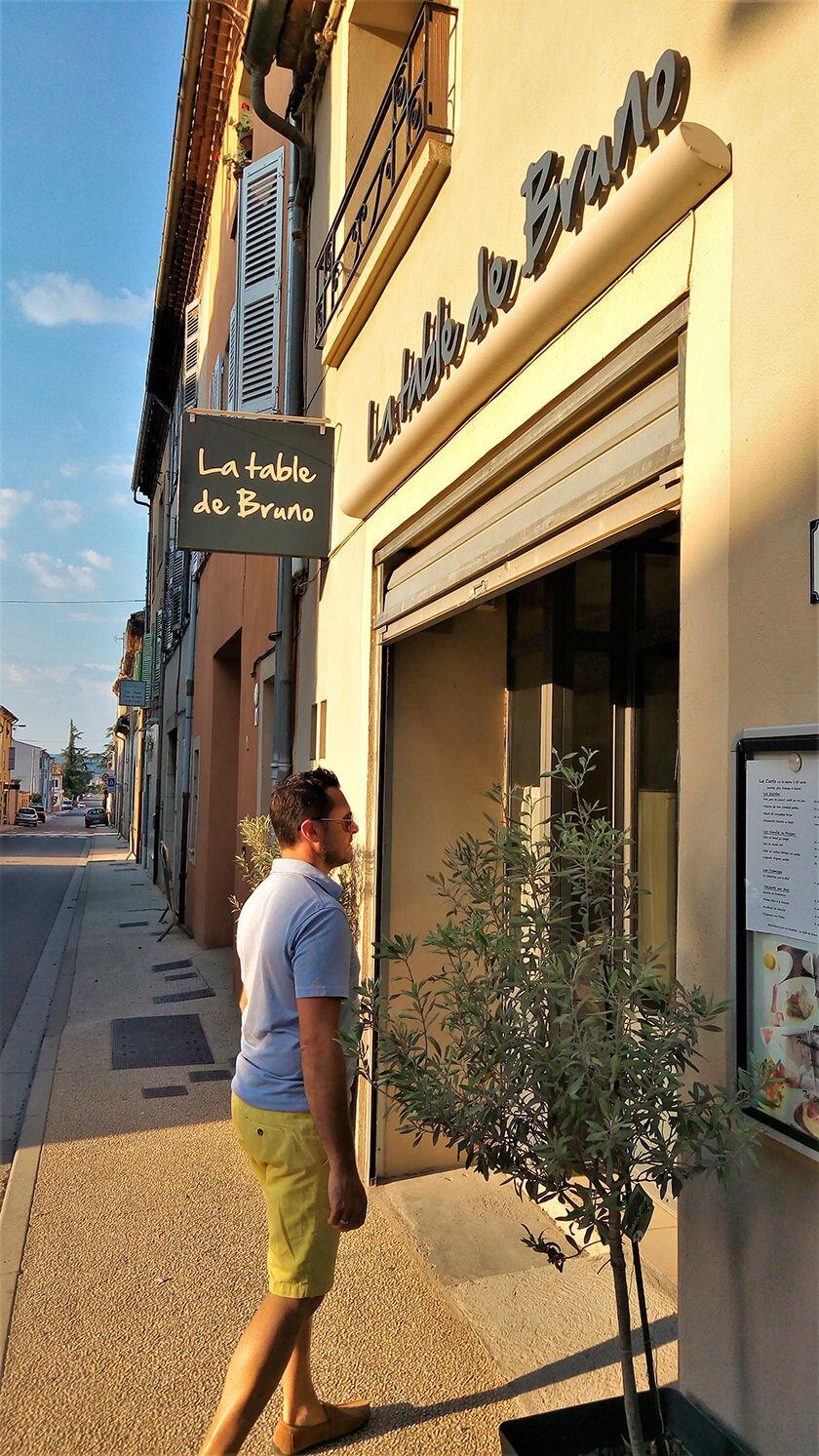 This restaurant rocked my boat. The only sour note was the lack of friendly warmth by the server, but that's somewhat typical in France. We paid 85 euros for dinner for two including a bottle of Cote de Provence rosé.
La Table de Bruno (Facebook Page)
2 Avenue Maréchal Foch,
83470 Saint-Maximin-la-Sainte-Baume (view on map)
Tel: +33 (0)4 94 80 50 39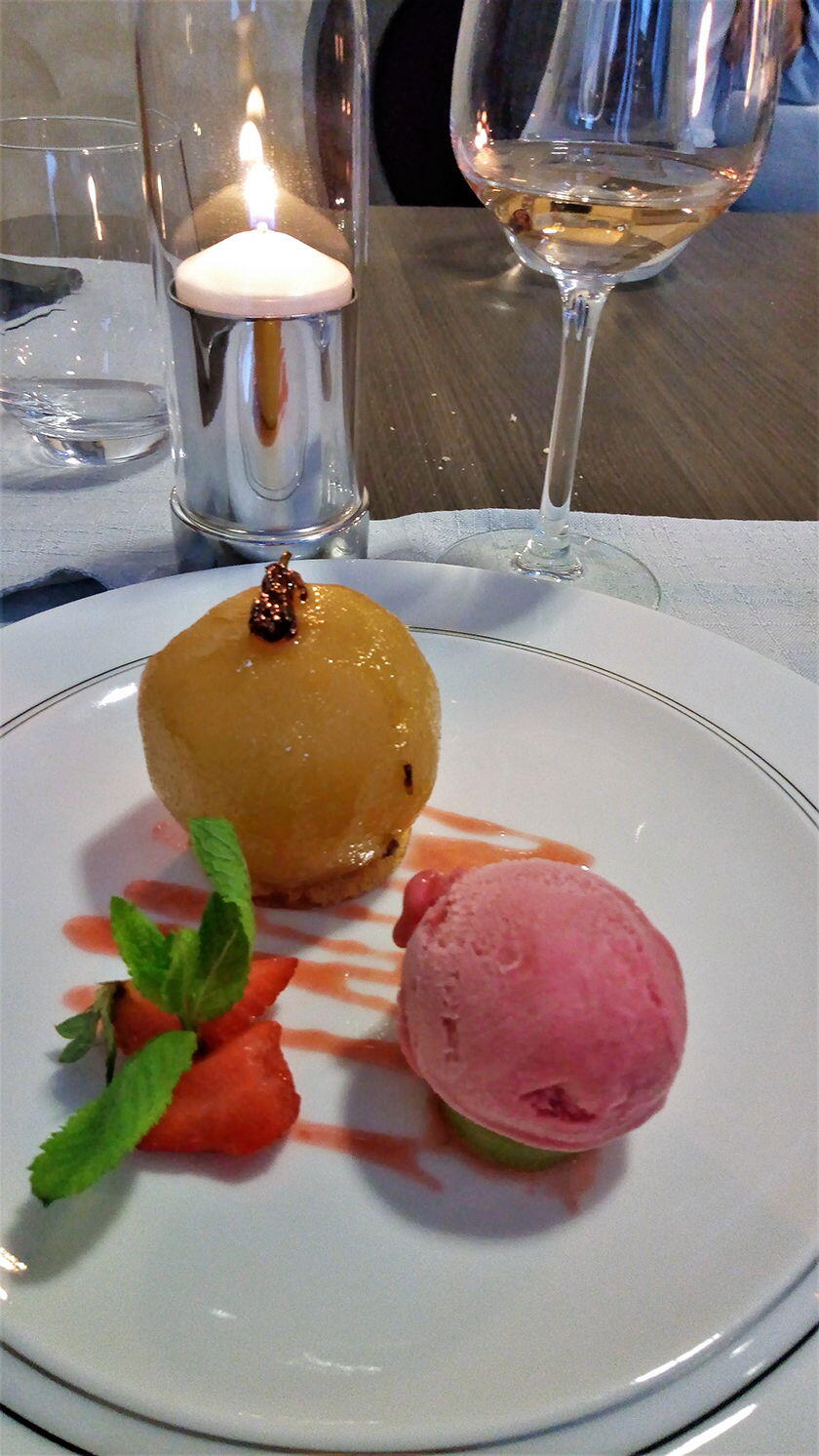 Hirondelle et Kaneyl, Bauduen
For a casual lunch after a walkabout in Bauduen, Lac St Croix, you can't beat the deliciousness of crêpes both sweet and savoury at Hirondelle et Kaneyl. They do, hands down, the best galettes made with sarrassin (buckwheat) flour and filled with eggs, ham, tuna, or ratatouille and the price is right. About 12 euros for a meal with a drink. We took our two kids for lunch at Hirondelle et Kaneyl and paid 52 euros which included drinks.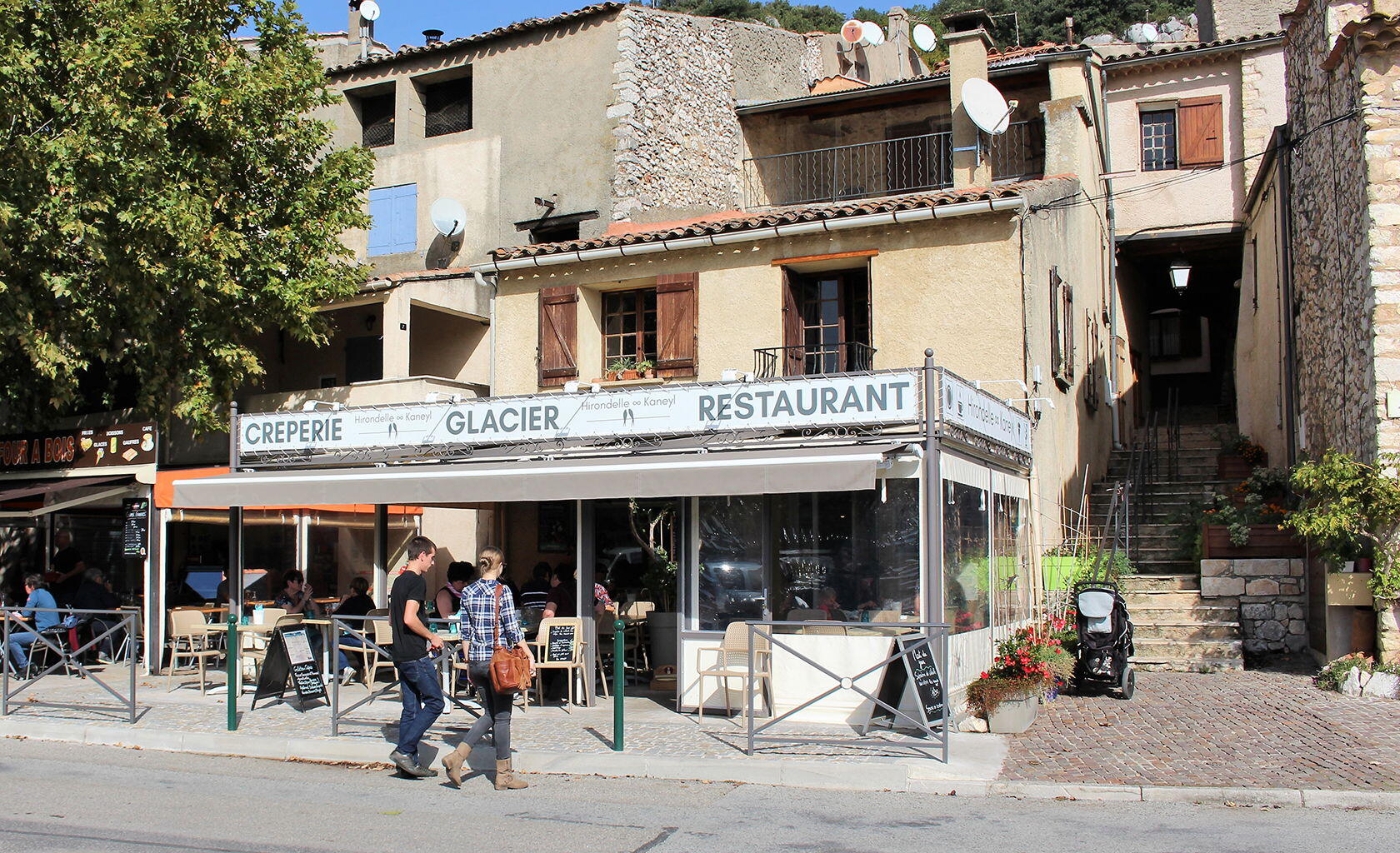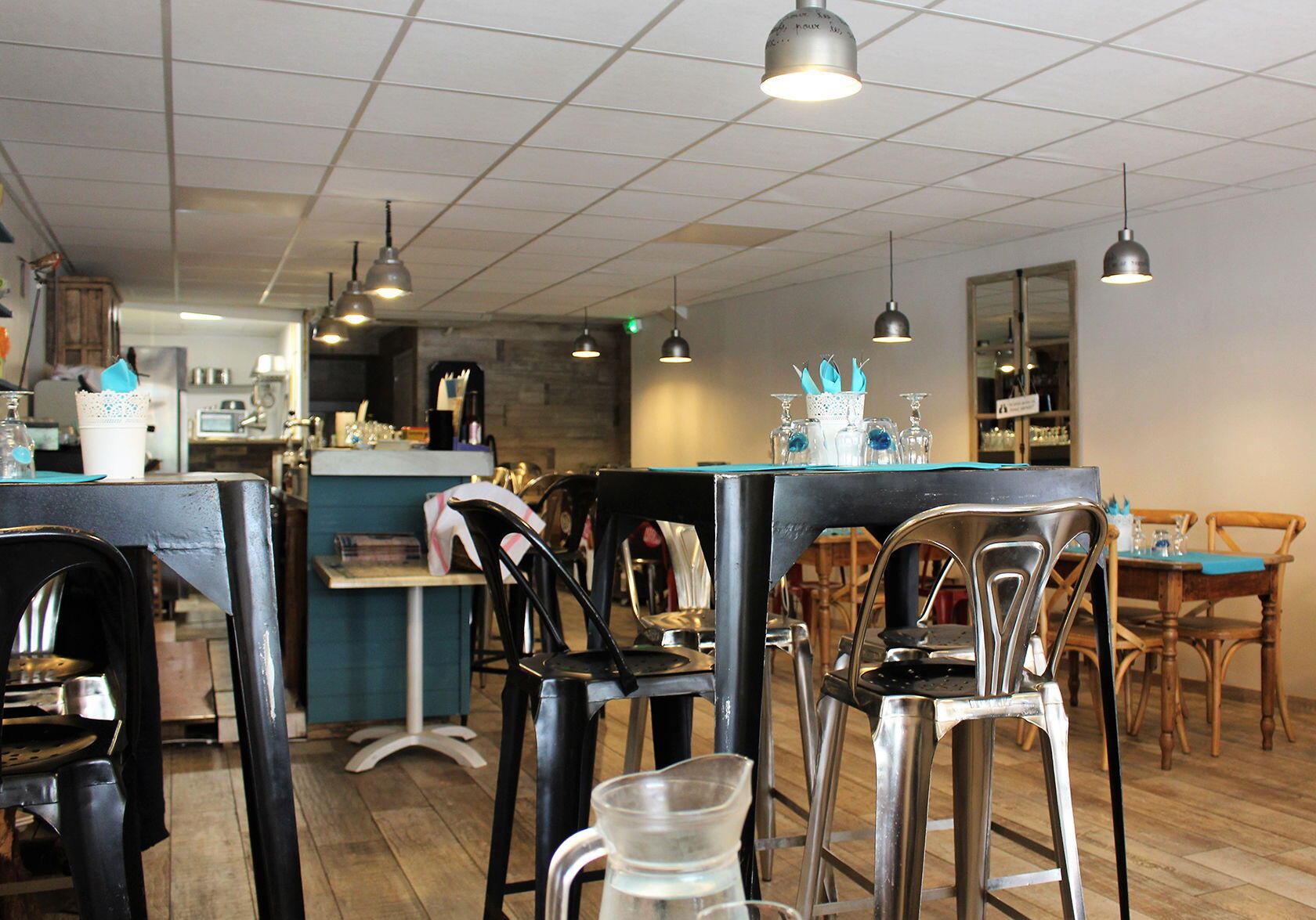 Bonus: just next door is one of the best organic wine bars (Le Papillon) that has charcuterie and/or fresh cheese platters too, so if that's your thing you can go there but may but here's my best tip: go at dusk for a sunset view of the lake as a double treat!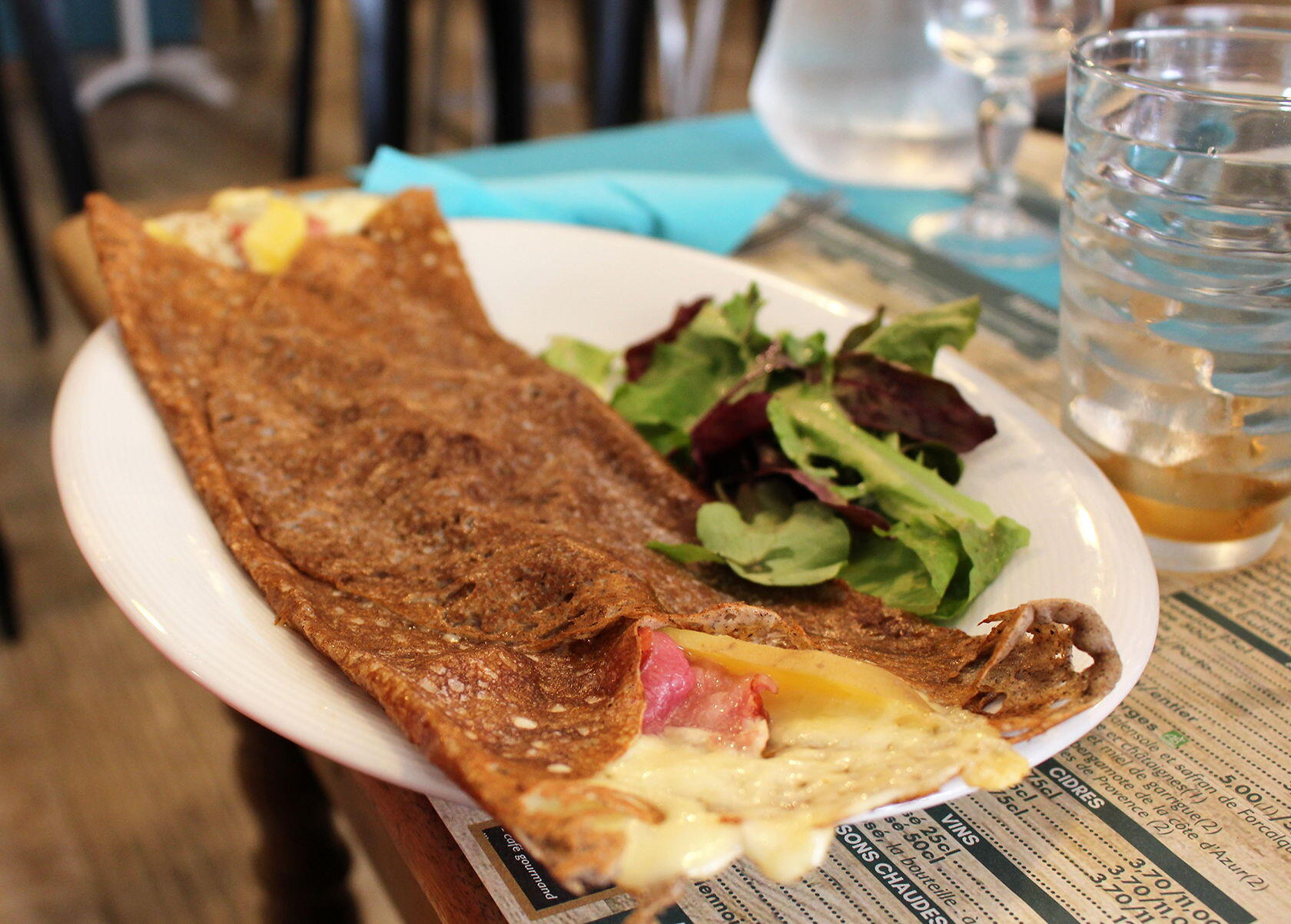 Hirondelle et Kaneyl (Facebook Page)
9 Rue des Jardins,
83630 Bauduen (see map)
Tel: +33 (0)4 94 84 39 13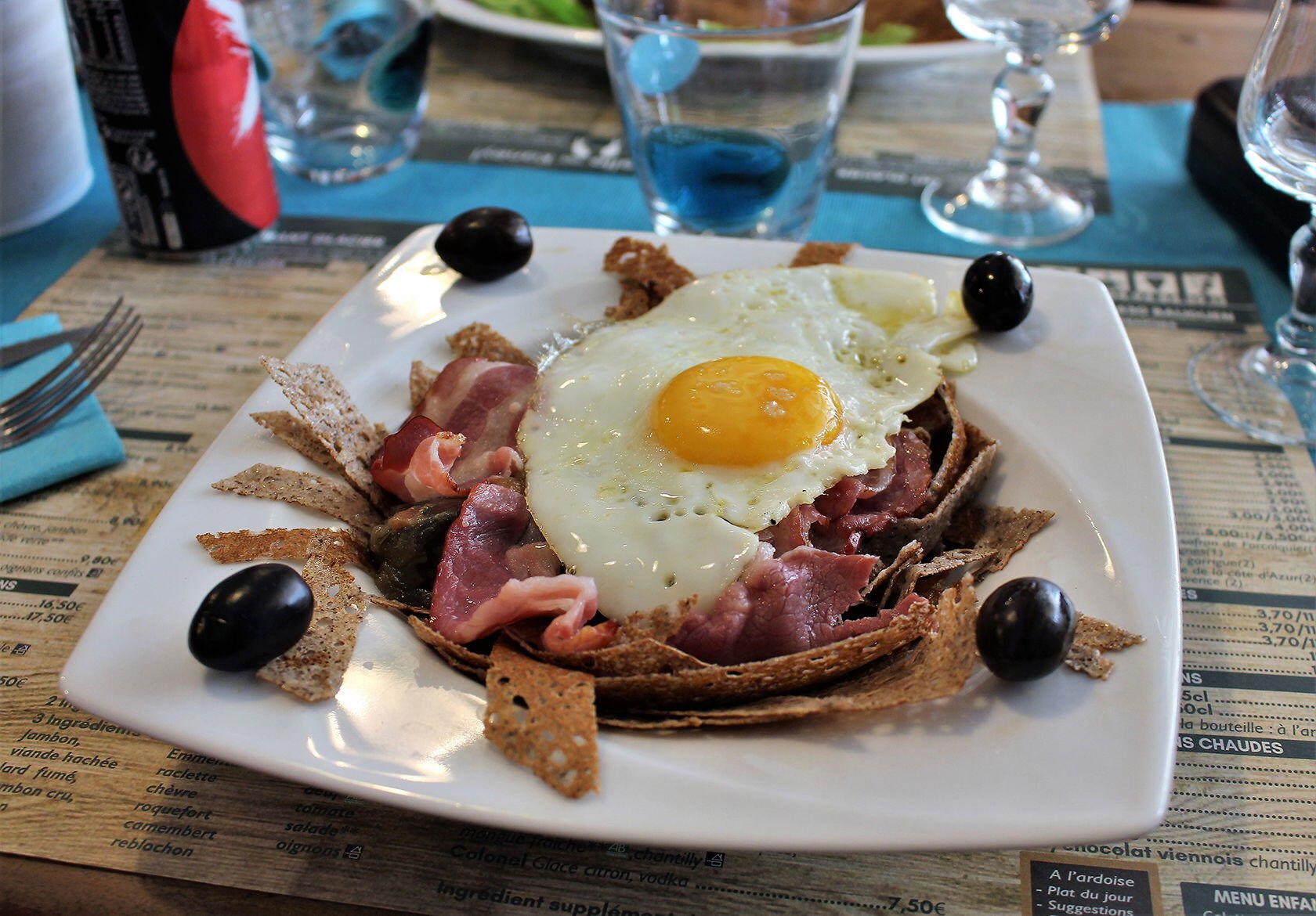 Read: Visiting the Var with kids? My top 10 things to do.
La Tarente, Cotignac
If you ever get a chance to visit my home village of Cotignac, this is my current favourite casual restaurant: La Tarente, on the Cours. They make great salads, chicken with basil or mushroom sauce, and good fries. They also do fantastic raclette and fondu in the winter season, so this is an excellent choice all year round.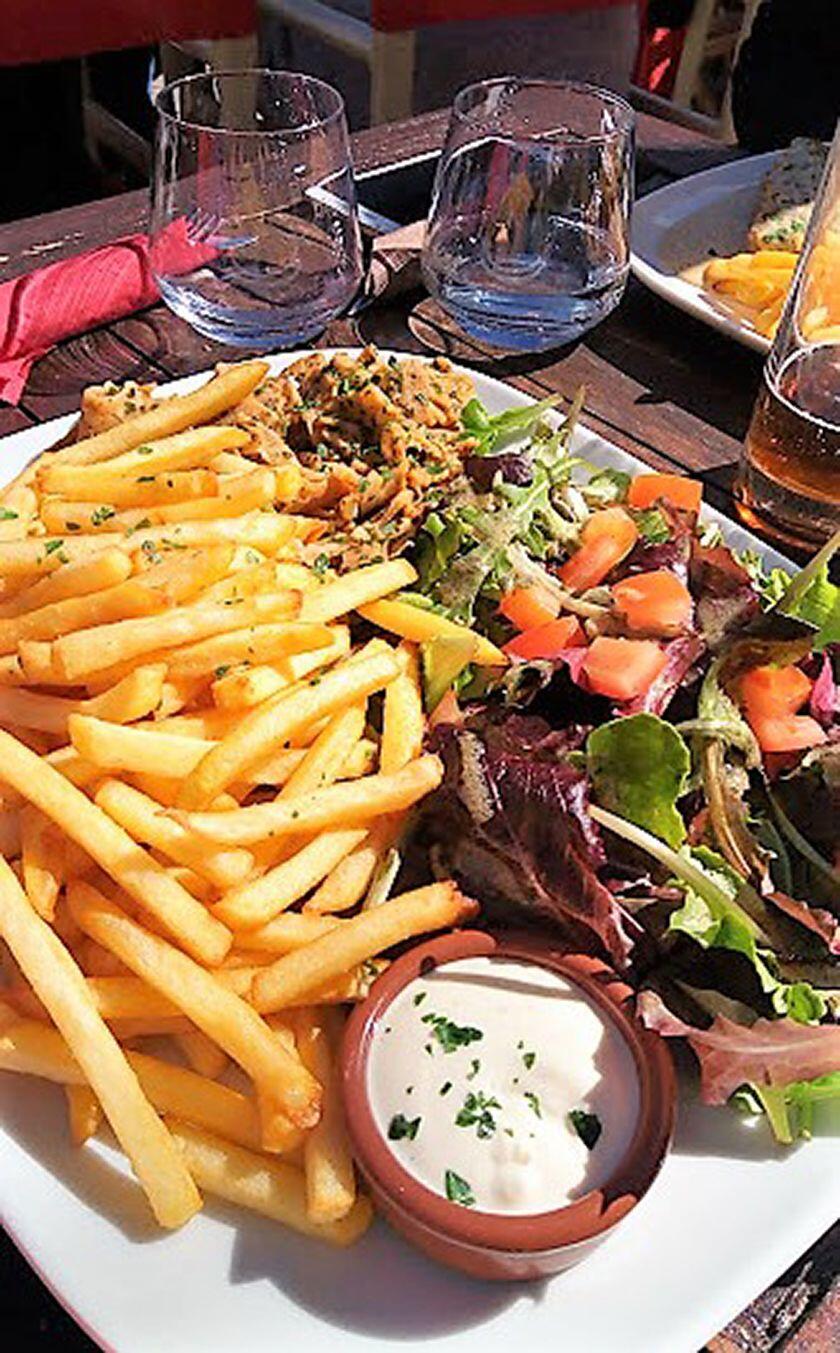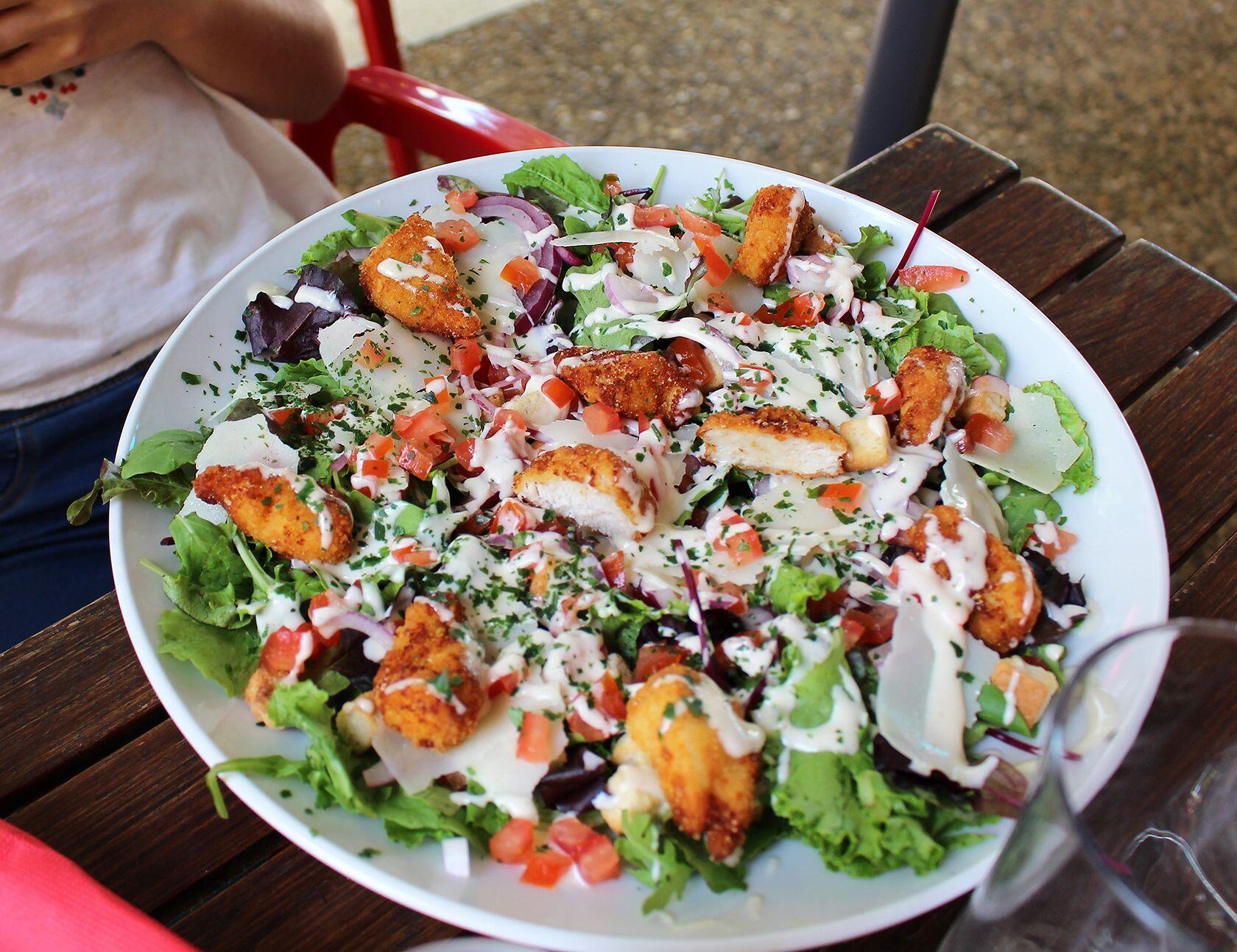 However, if you think you'll be sticking to your diet by ordering a salad think again, they are copious and are well dressed so ask for dressing on the side if you're watching your weight. Reasonably priced and casual, this place has pleasant terrace dining decorated in red, and inside there's lots of wood, it's cozy warm and reminiscent of ski holidays! And, they have great fries.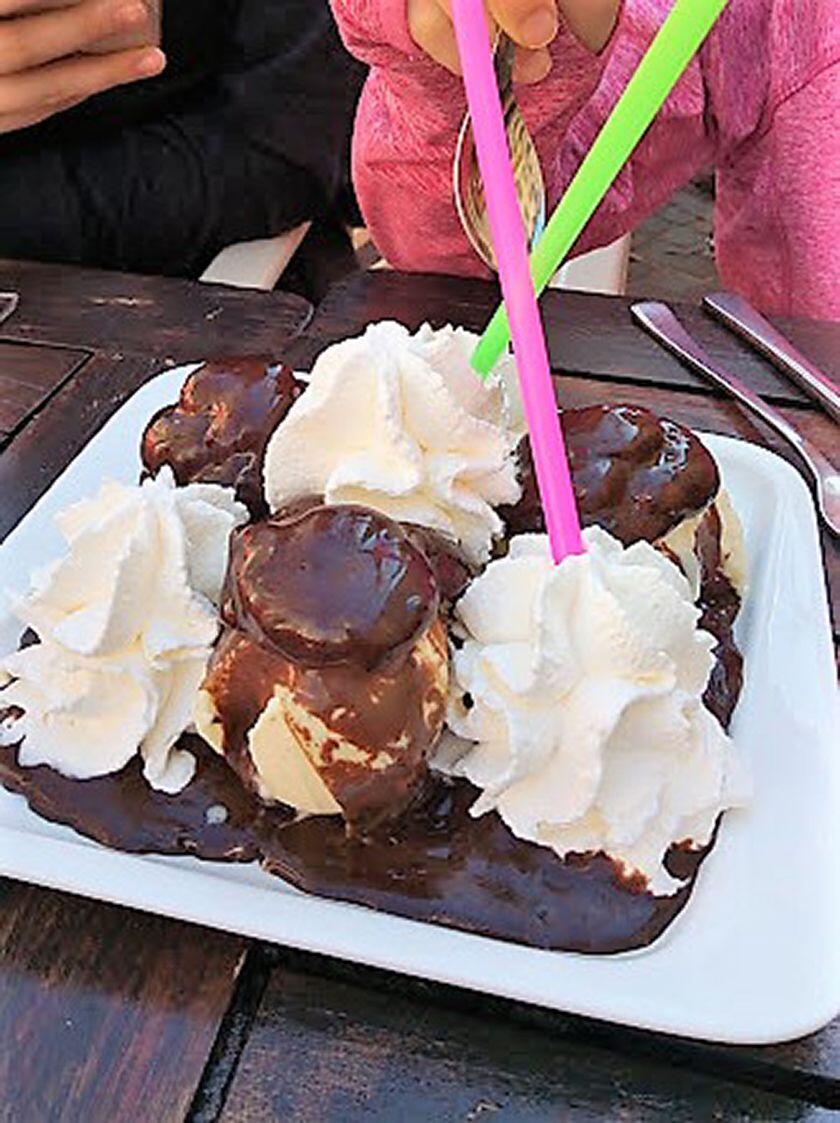 La Tarente (Facebook Page)
15 Cours Gambetta,
83570 Cotignac (map view)
Tel:+33 (0)4 94 04 75 31
Le Mas de Cotignac
My favourite formal restaurant at the moment is Le Mas de Cotignac. If you check out their internet site, you'll be impressed with their luxuriously decorated and impeccably clean guest rooms as they started as a high-end B&B. Now, they have opened a restaurant where the menus change every week in the summer and monthly in the winter. My suggestion is to check to see what's on offer before you book and make sure to a reservation at least 24 hours in advance.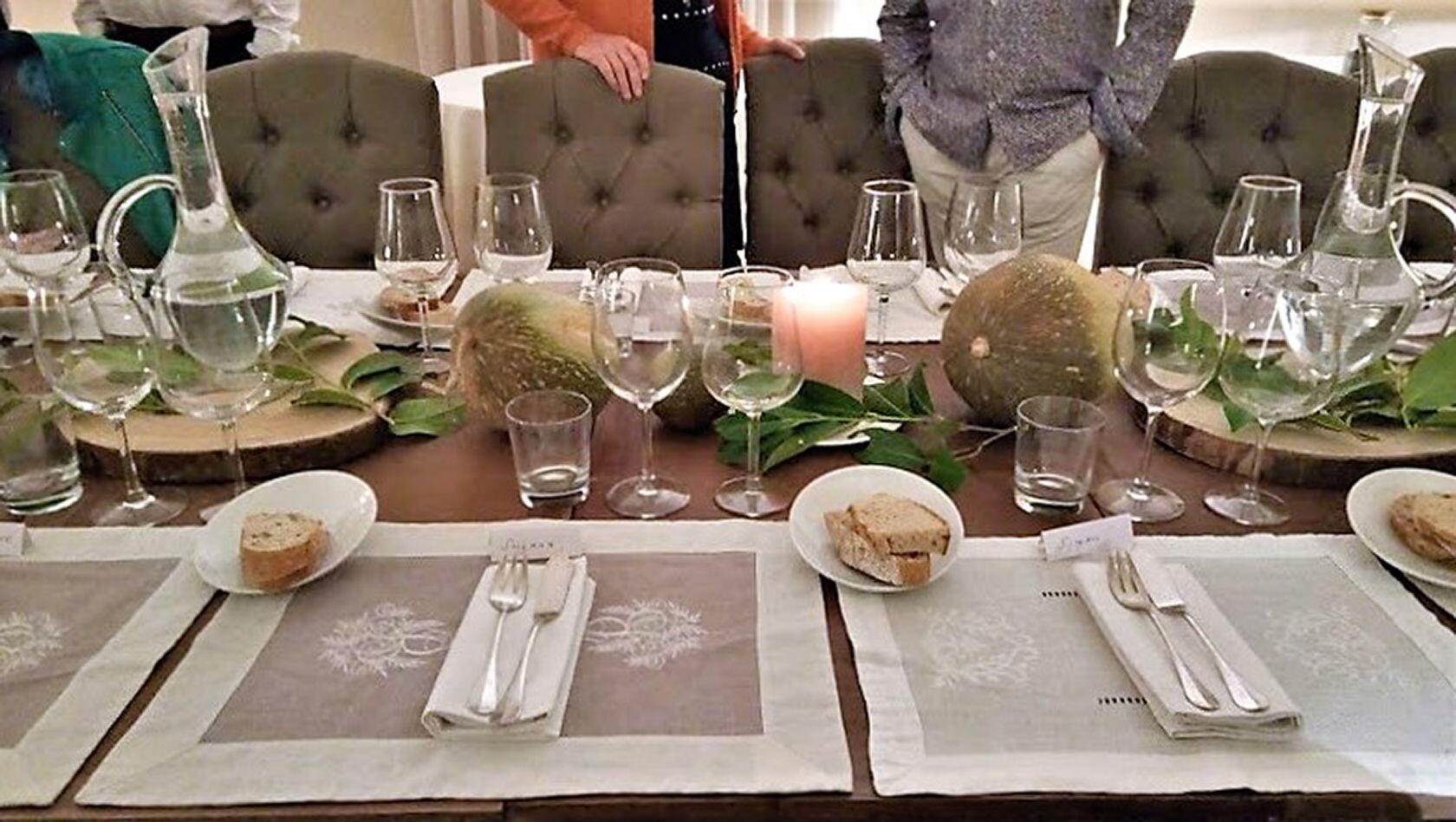 The food is outstanding at Le Mas de Cotignac (the cod with Mediterranean vegetables was sublime), and the service is top notch. They also have a good selection of local wines. However, I would suggest going hungry, and you will be extremely well-fed and happy.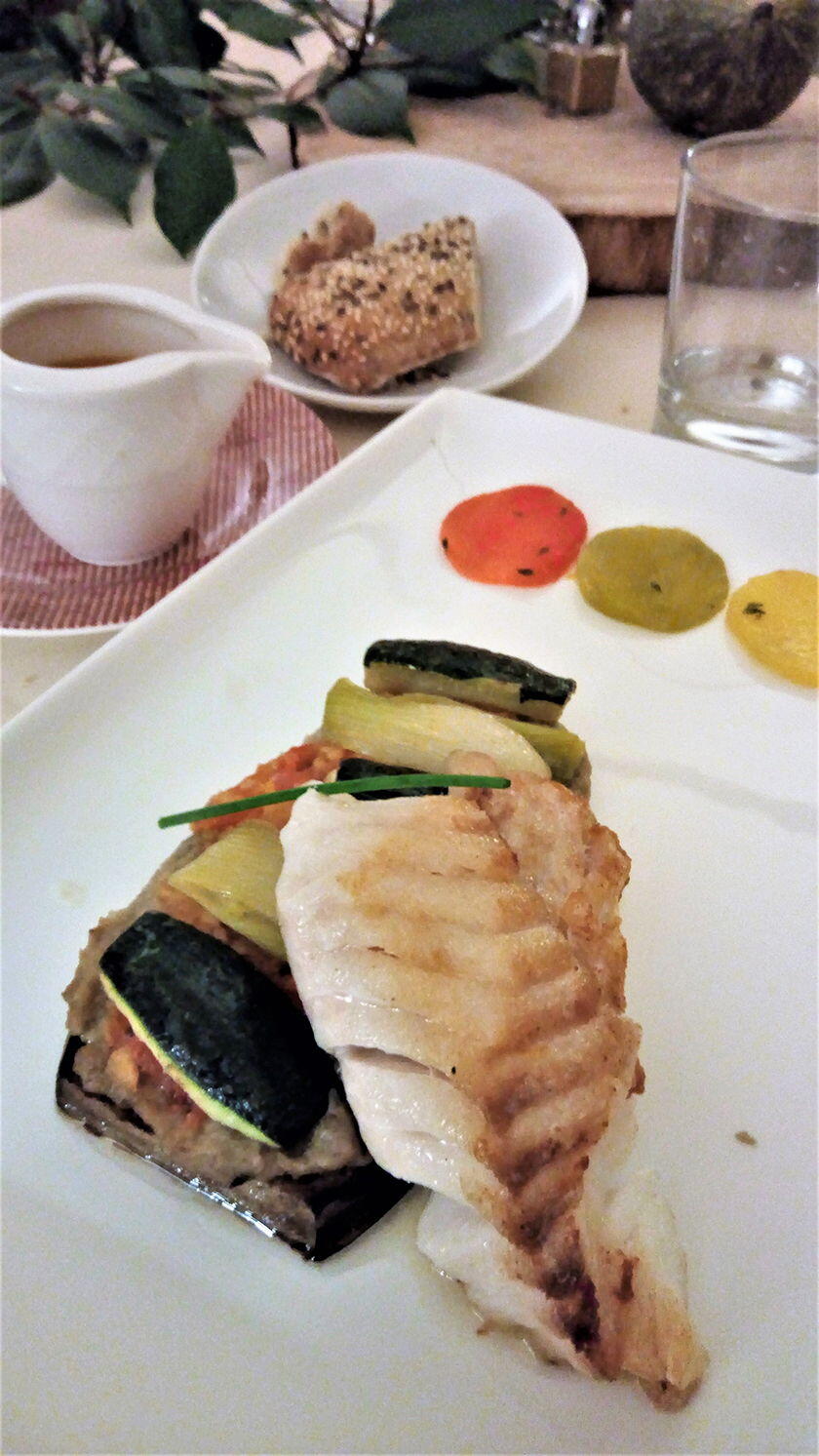 The décor is simple and tasteful, with low-lighting and candles, making it a romantic place perfect for date night. I liked the music in the background too; not at all offensive or cheesy (like elevator music, ick). The best part of dining here is the price: dinner for 30 euros per person includes amuse-bouche, appetizer, main, dessert and mignardises (little treats to go with coffee or tea at the end of your meal).

It's also great to rent out the place for dinner parties. Recently, I went to a 15-person dinner, and we all fit around a big table, perfectly decorated with comfy chairs. The only downside to this place is that it is located outside the village, so you'll need to drive about 5 minutes.
Le Mas de Cotignac (website)
2930 route de Carcès,
83570 Cotignac (map view)
Tel:+33 (0)6 80 30 36 55
I hope you enjoyed my recommendations and do hope to hear your views if you try any of the above restaurants. Remember that it's always preferred that you book at least 24-hours in advance, for the best service and seating in France.
Bon appetit! -Susana
---
Image credits: all food photos were provided by and published with the permission of Susana Iwase Hanson.
All rights reserved. Perfectly Provence articles and other content may not be published, broadcast, rewritten (including translations into other languages) or redistributed without written permission. For usage information, please contact us.
Syndication Information
Affiliate Information
As an Amazon Associate, this website earns from qualifying purchases. Some recipes, posts and pages may have affiliate links. If you purchase via these links, we receive a small commission that does not impact your price. Thank you in advance for supporting our work to maintain Perfectly Provence.