Provencal Staples Goat Cheese and Olives
Goat Cheese and Olives
The Provencal diet is a Mediterranean one that relies heavily on local produce, seafood, cheese, olives and olive oil. In Provence, locals eat "de saison" focusing on what is in season and fresh at the market. A visitor to the area should certainly try some- if not all – of the local specialities.
Goat cheese or "chevre" as it is known in French is ubiquitous in Provence. There are many different types, different shapes and different colors.
Fresh goat cheese is white, creamy and spreadable and is often found in a log, sometimes decorated with flowers or herbs. Soft-ripened goat cheese can have a natural rind or a "bloomy" rind. The natural rind occurs when the air dries the outside of the cheese, creating a soft crust. To create a "bloomy" rind the cheese-maker coats the outside of the cheese with penicillium candidum creating a "fuzzy" edible rind. Soft-ripened goat cheeses are often coated in edible ash and have a gray color.
The olive tree was introduced to Provence 2500 years ago, and its fruit has played a major role in the cuisine of the region ever since. Olive trees bloom with a delicate white flower from April through June. The fruit is harvested from mid-fall through early winter, depending upon the region and the weather. As the olives ripen, they turn from green to black (no, there is no such thing as a black olive tree). Guests on my "Taste of Provence" Tours sample plenty of these Provencal staples.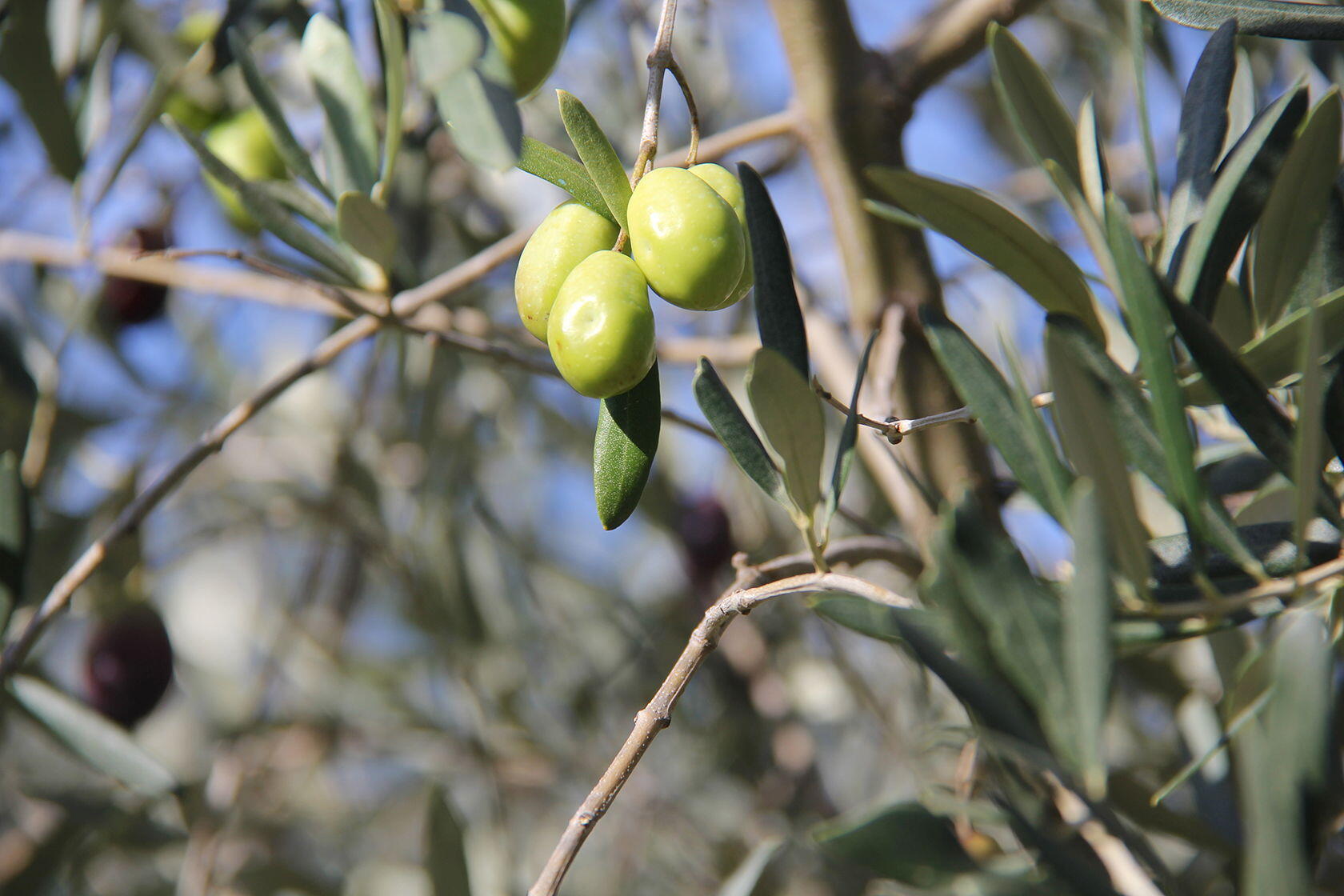 Recipes with Olives
Mediterranean Sea Bass with Olives and Tomatoes – This is an easy fish dinner with all the delicious flavours of the Mediterranean.
Mediterranean Chicken with Tomatoes, Olives and Lemon – This recipe was featured in "Waitrose Weekend." The ingredients are few, and there is only one pan to clean. What could be better? Well, maybe a glass of Pure rosé.
How about a weekend getaway and a chance to participate in the olive harvest in Provence?
Cake Aux Olives Vertes – Green Olive Cake – A quick bread that blends savoury ingredients. Serve as an appetizer or a light lunch with a green salad. Change the ingredients to suit the season and your tastes.

Recipes with Goat Cheese
Zucchini Flowers Stuffed with Artichokes and Goat Cheese – Zucchini flowers are beautiful, delicate, and can be a bit tricky to cook. However, they are also delicious, so don't shy away from trying this recipe. Serve as a starter course or with a bit more mesclun for a lunch-size salad.
Warm Goat Cheese Salad with a Lemony Vinaigrette – This salad with chevre chaud is quick to prepare. Toast the pine nuts and make the dressing in advance, so there are just a few final steps before serving.
Fresh Summer Flavours in a Tomato Goat Cheese Tart – This savoury tart combines flavourful tomatoes and tangy goat cheese in a pretty shape.
All rights reserved. Perfectly Provence articles and other content may not be published, broadcast, rewritten (including translations into other languages) or redistributed without written permission. For usage information, please contact us.
Syndication Information
Affiliate Information
As an Amazon Associate, this website earns from qualifying purchases. Some recipes, posts and pages may have affiliate links. If you purchase via these links, we receive a small commission that does not impact your price. Thank you in advance for supporting our work to maintain Perfectly Provence.