Poached Pears with Chocolate Sauce for Dessert
Helen of Troy was known for her great beauty. In Greek mythology, she was Zeus and Leda's daughter and was said to have been the most beautiful woman in the world. She wasn't without her issues, though. Just read up on her, and you will be glad she wasn't your next-door neighbour. She was no saint; I'll tell you that. Continue reading here to learn about Helen of Troy and the inspiration for this poached pear with chocolate sauce recipe.

Poires Belle Hélène
This decadent dessert is a great way to enjoy fresh pears. Not only is it easy to make, but it's a surefire way to end a meal with a great impression.
Ingredients
4

Small Firm-Ripe Pears

Bartlett or Bosc

1

cup

Sugar

1/2

cup

White Wine

Water

2

tbsp

Heavy Cream

1/4

tsp

Unsalted Butter

1 1/2

oz

Bittersweet Chocolate

72% cacao, chopped

1

tbsp

Milk

1%, 2%, or whole

Vanilla Ice Cream

Mint Leaves
Instructions
Put the sugar, wine, and 2 cups of water in a small saucepan just big enough to fit the pears. Bring to a simmer and stir to dissolve the sugar.

Peel the pears, then core them from the bottom; level the bottom so that they stand up well. Add the pears to the saucepan, and then add more water to make sure the pears are covered. Bring back to a simmer and cook for 5-7 minutes, or until pears are easily pierced with the tip of a paring knife. The pears will tend to bob around and should be turned from time to time. When they are done, remove from the heat and allow to cook in their liquid. Refrigerate until ready to serve.

To make the chocolate sauce, place the cream and butter in a small saucepan over medium heat. Add the chocolate and stir until the chocolate is melted and you have a smooth sauce. Add the tablespoon of milk to loosen, as it will be thick.

To plate, drain the pears and pat them dry. Divide the chocolate sauce among four dessert plates, off-center to one side. Place the pear in the puddle of sauce, and add some ice cream on the other side. Garnish with mint, and serve. (For my mint garnish, I kept the stem and two perfect leaves, used a tiny skewer to make a hole in the pear near the stem, then inserted the mint stem.)
Notes
Variations: If you want to flavour the pears — vanilla or ginger, for example — add it to the poaching liquid. Half a vanilla bean or several slices of fresh ginger are just about perfect. If you use the ginger, omit the mint and use some crystallized ginger for a garnish — it pairs beautifully with the chocolate sauce.
More Recipes for Pear Lovers:
Chocolate and Pear Tarts
These tarts are easy to make and a delicious finish to a fall menu. Make sure to leave enough time to prepare and rest the dough.
Check out this recipe

Rosé Poached Pears
This dessert is delicious either served warm or chilled. Once cooked the pears will keep covered in the fridge for three days.
Check out this recipe

Roasted Pears with Crème Anglaise
Serve one to two pear halves per person, adjust the proportions after deciding the serving size. In this case, I used 1/2 pear per person, but it doesn't hurt to make extra.
Check out this recipe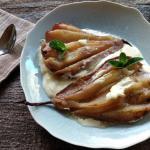 Stained Glass Pear Slices
These pear slices are festive and can be colourized to represent any holiday using natural food dyes such as beet juice or powder, dragon fruit powders, kale powder, matcha tea or traditional pastry dyes. (Note: the number of slices will depend on the size and quantity of your pears)
Check out this recipe