Chicken, Carrot and Apricot Tagine Recipe
Here's a recipe for chicken, carrot and apricot tagine that will take you straight to Morocco via France. Sweet, savoury, and quick to prepare. This beautiful tagine conjures up images of spice-filled Marrakesh. No need to go to North Africa, though, to enjoy this deliciously sweet and savoury dish. You find tasty tagines on menus throughout France, as there are historical links between France and North Africa. And if you have a tagine pot from Uno Casa made of cast iron, you can easily make this recipe at home, for a slice of Moroccan-inspired cuisine.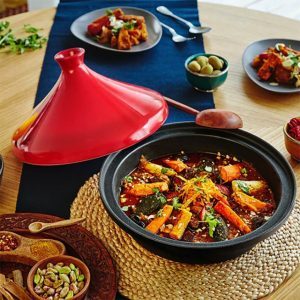 Chicken, Carrot and Apricot Tagine
The sweetness of the apricots paired with the savoury chicken and golden roasted almonds makes for a meal to remember.
Ingredients
7

tbsp

Olive Oil

divided

1

tsp

Ground Cinnamon

2

tsp

Fresh Ginger

grated

½

tsp

Ground Turmeric

1

tsp

Ground Coriander

1

tsp

Ground Cumin

½

tsp

Ground Black Pepper

3

lbs

Chicken (either 2 ½ lbs chicken breasts, or a 3lb whole chicken)

cut into pieces: discard the wings and backbone

1

tbsp

Butter

1

Red Onion

diced (large pieces)

4

Garlic Cloves

finely diced

4

Carrots

diced

1 ½

tsp

Sea Salt

5

sprigs of

Fresh Cilantro and Flat-leaf Parsley

each

½

cup

Vegetable Broth

1

cup

Water

2

tbsp

Honey

1

Cinnamon Stick

3 inches long

½

cup

Dried Apricots

halved

1/3

cup

Slivered Almonds
Optional ingredients for serving:
Couscous or cooked buckwheat

gluten-free option

Pomegranate seeds

Raisins

Harissa sauce
Instructions
Heat 1 tablespoon of olive oil with the butter in the base of your skillet or tagine pot over medium heat.

While the oil and butter heat up, mix the spices (except the garlic, salt, and cinnamon stick) with 2 tablespoons of olive oil in a large bowl. Add the chicken and toss to coat it with the marinade.

When the oil is hot, brown the chicken in your tagine pot for 8-10 minutes. Turn frequently to make sure it doesn't burn and check that the chicken is cooked by putting a knife through. The juices should run clear, not pink.

When the chicken is cooked, take it out of your tagine pot and set it aside.

Sauté the onions and garlic in the tagine pot with any remaining marinade for a few minutes, till the onions are soft. Toss in the carrots and cook for 2-3 minutes more. Add the salt.

Put the chicken back into the pot, along with the cilantro, parsley, salt, and vegetable broth. Turn down the heat and let simmer on low for 30 minutes, uncovered.

While the chicken is cooking, put the honey, water, cinnamon stick, and apricot halves into a saucepan and bring to the boil. Reduce the heat and simmer, uncovered, for a few minutes or till the apricots have softened and the liquid forms a glaze (about 10-15 minutes).

While the apricots are softening, heat ¼ cup olive oil in another skillet or small pan, and sauté the almonds for 1-2 minutes, or till golden. Remove the almonds from the oil with a slotted spoon and let them drain on a plate lined with paper towels.

Now add the apricot glaze to your chicken in the tagine pot. Remove the cinnamon stick and any extra parsley or cilantro (you can leave the herbs if you wish).

Serve your tagine with a sprinkling of golden slivered almonds, raisins, pomegranate seeds, or olives.

And for those who want an extra kick, harissa sauce is the perfect versatile accompaniment – served on the side.
Tagine Pot FAQs
Do I put a tagine in the oven or on the stove?
Tagine pots are usually used directly on the stove, but you can use them in the oven as well.
The coned top keeps the moisture inside the tagine pot. Your food is marinated as it cooks, which is why food in a tagine tastes so much better than in a skillet.
Can I use my tagine on a gas stove?
If you have a clay tagine, you'll need a heat diffuser (a spatula that goes between the stove and the bottom of the tagine pot). You'll also want to start with your tagine on the cold stove and raise the heat gradually so that it doesn't heat up too quickly and crack.
If you have a cast-iron tagine, you can put your pot directly on the gas stove, and you don't need to worry about how hot it gets.
How do I clean my tagine pot?
Avoid soaking your pot. The best way to clean your tagine pot is to do it as soon as possible after eating, with a small amount of gentle soap in warm water.
What should I serve with a tagine?
Mixed salad works well: lettuce, tomatoes, cucumbers, red onions, and olives are an excellent place to start. You could also sauté some bitter greens on the side such as spinach or bok choy.
What other ingredients can I put in a tagine?
You want a variety of textures and flavours, ideally. Here are some other ideas:
• chopped prunes instead of or in addition to the dried apricots
• pulses such as lentils or beans
• turnips
• baby spinach
• chickpeas (canned and drained, or dried, soaked overnight and cooked)
• potatoes
• squash
• corn
• mushrooms
How long will my tagine keep?
Your chicken, carrot and apricot tagine will last for up to 3-4 days in the refrigerator. Frozen tagine will keep for two months in the freezer in an airtight container.
Enjoy your sweet, spicy tagine!
All rights reserved. Perfectly Provence articles and other content may not be published, broadcast, rewritten (including translations into other languages) or redistributed without written permission. For usage information, please contact us.
Syndication Information
Affiliate Information
As an Amazon Associate, this website earns from qualifying purchases. Some recipes, posts and pages may have affiliate links. If you purchase via these links, we receive a small commission that does not impact your price. Thank you in advance for supporting our work to maintain Perfectly Provence.