March 2023 Visit Marrakesh with Pitcher and Powell Culinary Adventure
It is hard to believe that our last visit to Marrakesh was in October 2019. However, the good news is that Pitcher and Powell are planning a return trip to Morocco from March 3-9, 2023. Join the founders for an unforgettable six (6) night getaway to exotic North Africa.
Getting to Marrakesh from Provence is a quick flight from the Marseille-Provence airport. The riad selected by Pitcher and Powell is a sanctuary inside the Medina. Beautifully renovated and decorated by an Italian-Swiss couple who have lived on the African continent for almost 40 years. The boutique hotel only has eight (8) rooms. Ideally suited for Pitcher and Powell, the group enjoys the whole riad, providing guests with a "home away from home" experience.

Travel with Pitcher and Powell
You would think that Barbara Pitcher and Tasha Powell had been in the tour business forever – they thought of everything. As a result, their Morocco tour itinerary pace allows for enough downtime, options for excursions, and enough of a taste of Marrakech to persuade you to return.

Barbara and Tasha are food lovers, so cooking classes are core to their Pitcher and Powell culinary adventures. Discover the secrets of Moroccan cuisine, including salads, spices, tagines, pastilla, couscous and the hard to resist pastries. From Ras el Hanout to orange blossom water, the days pass with a whirlwind of tempting aromas.
Explore Marrakesh
After a seamless transfer from the airport and a warm welcome to the hotel, it's time to settle into your room and change into yoga clothes. On the riad's private rooftop, the trilingual instructor will lead the first restorative yoga session, a perfect body-friendly recipe after a travel day. Following yoga, it's time for the first bites of Moroccan cuisine and dinner al fresco. The magical week began to unfold.
Pitcher and Powell's program includes:
Daily yoga classes
Cooking classes
A guided tour of the Medina
A visit to the famous Jardins Majorelle and the Yves St Laurent Museum
And, time to explore, shop in the souks, and enjoy a hamman experience
Discover the Pitcher and Powell culinary adventures here.
The Founders
Barbara Pitcher is a Canadian artist living in Provence, and Tasha Powell is a food stylist and Cordon Bleu-trained chef who splits her time between Los Angeles and the South of France. This creative duo met in Provence, where they discovered shared interests, including food, art, travel, and yoga. After many conversations and dinner parties, the idea for a boutique travel company emerged – Pitcher and Powell – International Cuisine and Culture. Read more about their culinary tours here.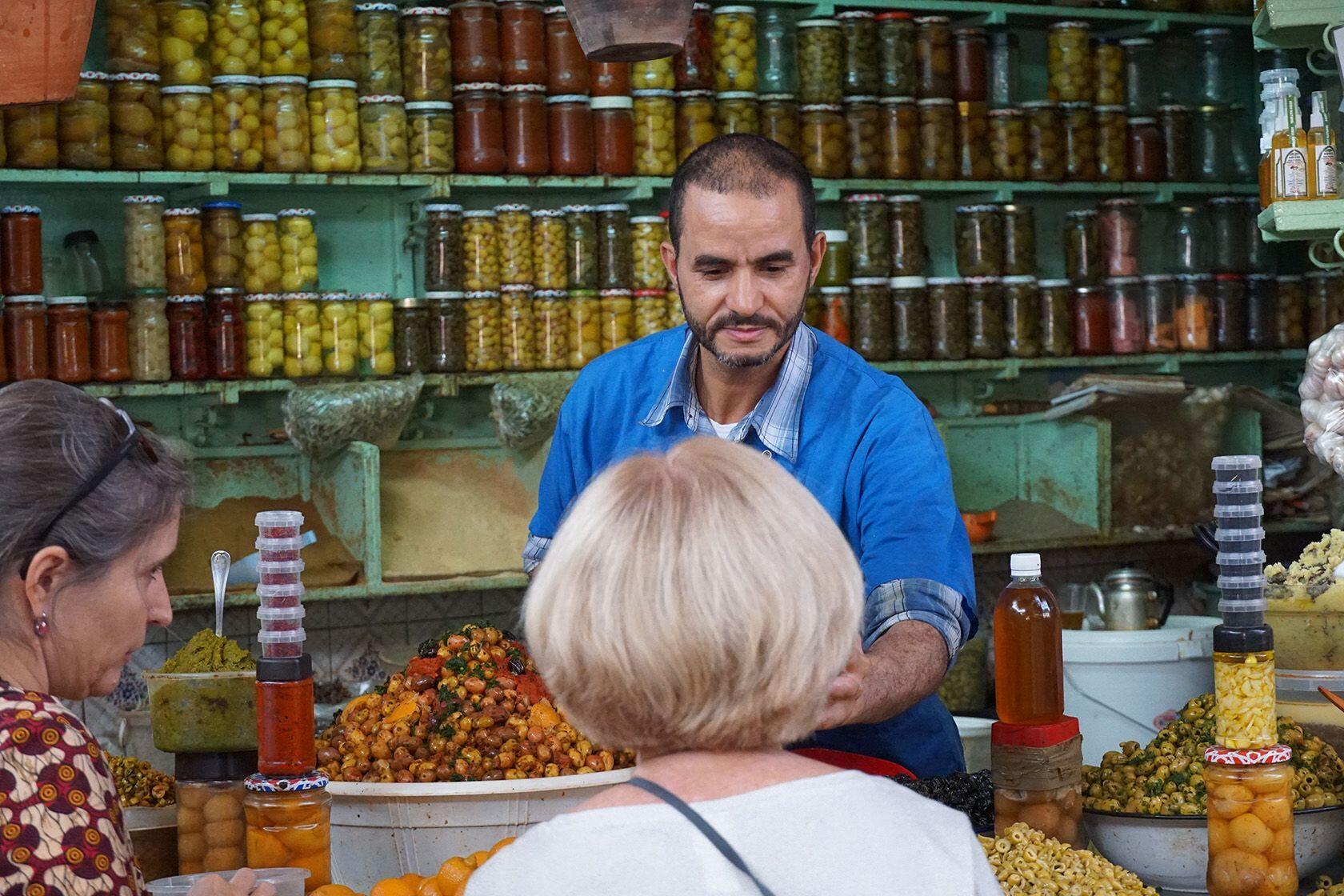 Try These Moroccan Recipes
Here are a few Moroccan specialities to make at home:
Chicken, Carrot and Apricot Tagine
The sweetness of the apricots paired with the savoury chicken and golden roasted almonds makes for a meal to remember.
Check out this recipe

Chicken Tagine with Green Olives and Preserved Lemon
Adapted from a recipe by Tyler Florence.
Check out this recipe

Moroccan Tagine with Seasonal Vegetables
Preparing a tagine requires a bit of effort to clean and cut the vegetables. After that, it is all about layering and allowing the slow-cooking process to take over. Please note that your vegetable selection may vary depending on what is available.
Check out this recipe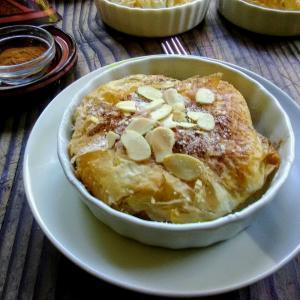 Moroccan Pastillas - Vegetable and Shrimp
The methodology for making pastilla is the same whether you create vegetarian, poultry or seafood versions. First, prepare the filling, wrap it in the dough and bake until hot. Enjoy!
Ingredients
1/4

lb

raw shrimp

cleaned, (defrosted if frozen)

1/4

cup

olive oil

to marinate the shrimp

1

tsp

Red Pepper Flakes

2

medium

Carrots

2

medium

Zucchini

1

Yellow Onion

sliced thin

1

package of

Phyllo sheets

found at most supermarkets

2

Eggs

1/4

lb

Unsalted Butter

melted
Dry Ingredients for the Filling:
1

tsp

Dried Ginger

1

tsp

Cinnamon

1

tsp

Paprika

2

tsp

Salt

1

tsp

Black pepper

1

tsp

Coriander

1

tsp

Garlic Powder

1

pinch

Saffron

2

tsp

Cumin

2

tsp

Dried Parsley

or 1 tbsp fresh, chopped

1/2

Lemon

for juice
To Finish:
6

oz

Toasted Almond Slices

2

tbsp

Cinnamon

2

tbsp

Powdered Sugar
Instructions
Marinate the ½ pound of shrimp with olive oil and red pepper flakes for one hour.

Mix all dry ingredients for the filling in a bowl and whisk together and set aside.

Saute the onion slices until translucent and set aside.

Grate zucchini and carrots and cook on medium/low heat and add the onions to the pan.

Sprinkle the dry spice mixture over the grated, cooking vegetables, add the lemon juice and allow to cook for about 10 minutes (until some of the moisture from the zucchini and carrots is cooked off).

Let the mixture cool for 15 minutes.

Whip 2 eggs with a fork for 30 seconds and add to the cooled mixture. Mix well.

Place a mound (3 oz) of the filling on a ½ sheet of phyllo dough. Brush the inside dough sheet with butter and fold over the top of the filling. Flip this on to a new sheet of phyllo, paint the sheet with butter and fold towards the center. Repeat this process 4 more times and place in ramekins.

For the shrimp version, add 2 medium uncooked shrimp (cut in half lengthwise) to each pastilla.

Bake for 20 minutes at 400 degrees Fahrenheit (200.

Sprinkle each pastilla with powdered sugar, cinnamon and top with toasted almonds!
Notes
Note: Phyllo (or filo) dough works well for this recipe. The traditional pastry in Morocco is called warka, and it is a highlight of our culinary tours to see the dough made by specialists with quick hands.
Moroccan Lamb Mechoui
Since I do not have enough people to feed a proper mechoui to I generally cook a leg or preferably a shoulder of lamb. The shoulder lends itself to the longer cooking time and yields incredibly tender and juicy meat. I marinate the lamb for at least two hours but preferably overnight. I like to cook the mechoui in a hot smoker or charcoal grill but an oven at 375°F will work as well. Serve with saffron rice or golden couscous.
Check out this recipe

Sweet Moroccan Cucumber Salad
This recipe serves 4 people as a starter or salad. Alternatively, serve as a side dish with grilled meat or fish.
Check out this recipe

Moroccan Carrot Salad
Easy to make and a delicious side dish with roasted meat or fish. Also, perfect for a picnic or just because.
Check out this recipe

Lavender Honey Brushed Lamb Chops Served with Moroccan Chickpea Couscous Salad
Prepare the salad in advance and then the only thing that is left to do when your guests arrive is to roast the lamb. Easy and delicious with all the flavours of Provence combined on a plate.
Check out this recipe